News
Former UNLV standout takes home biggest check at the inaugural Major Series of Putting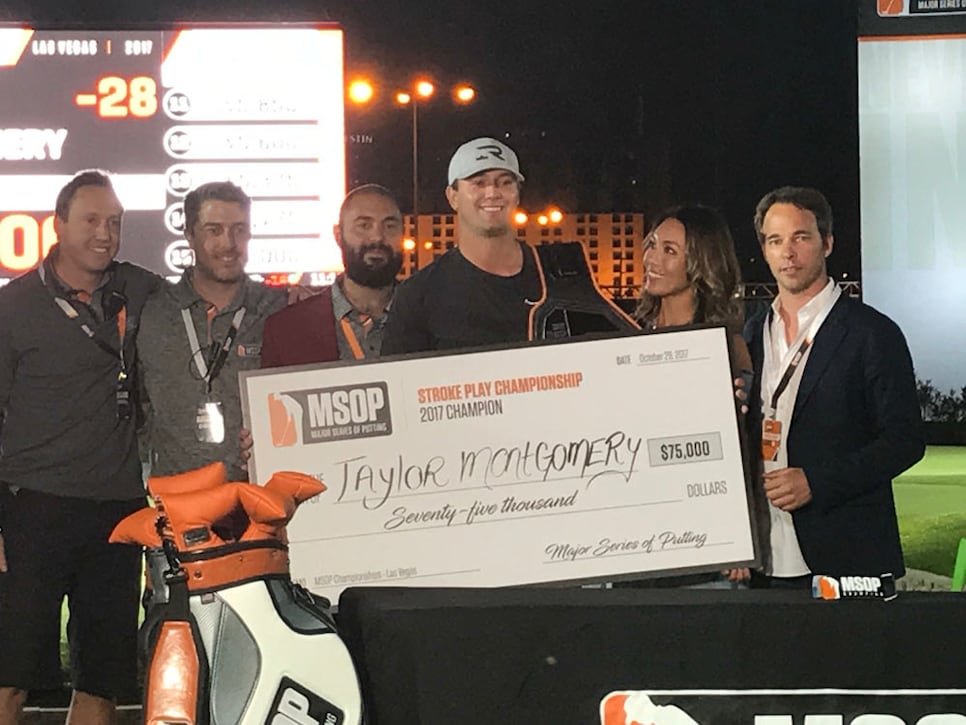 LAS VEGAS -- Taylor Montgomery went to UNLV, but the education that prepared him for Sunday night's big win at the inaugural Major Series of Putting started before college. Long, long before.
"I've grown up playing in a lot of pressure situations with my dad being at Shadow Creek," said Montgomery, whose dad, Monte, is the GM at the famed Vegas course. "I've been putting for money for awhile, and I've seen some crazy stuff out there, so it's kind of normal to me."
That explains why Taylor, 22, kept his cool throughout the final of the MSOP's Stroke Play Championship, which featured the 10-day event's biggest purse ($250,000) and biggest first-place prize ($75,000). Even as fellow pro Chris Johnson chipped away at his six-stroke lead and pulled even with a birdie on the penultimate hole. At least, momentarily. Taylor responded with his own make from 11 feet to stay in front and moments later, he wrapped up the win and by far the biggest payday of his young career.
"My buddy wants me to put it all on red, but that's probably not the smartest thing to do," said Montgomery as he held a giant check and a championship belt. "It's going to help with paying for tournaments and traveling."
That buddy was fellow UNLV teammate Redford Bobbitt, who finished T-10 in the six-round event, and later in the night, took down the $15,000 first-place prize for the MSOP's second Turbo Singles tournament. Good timing for someone who just turned pro last month.
"I always dreamed of winning one of these big checks," said Bobbitt, who will caddie for Alex Cejka at this week's Shriners Open. "I just never imagined it would come at a putting contest."
But those running the MSOP believe this will become a more common sight in years to come, both at this annual event -- where players either earned a spot through qualifiers or by paying a hefty entry fee ($5,000 for the stroke play) -- as well as at other tournaments in select cities. And despite two locals winning big on Sunday night, the MSOP is already drawing participants from all across the country and beyond. Look no further than Anders Olsson, whose long trip from Sweden paid off with a solo fourth-place finish in the stroke play and a T-2 in the turbo to earn nearly $30,000.
Jeff Gibraltar, a 49-year-old pro poker player from Dallas had himself a nice night as well with a solo third in the stroke play and a T-4 in the turbo. And Gianfranco Guida flew in from Toronto and won $15,875 for finishing fifth in the stroke play on the Jack Nicklaus-designed putting green that's located just off Vegas' inviting main strip.
"It's good," Guida said, "because I won't have the actual money in my hands tonight!"