The Loop
This year's crop of WGC-HSBC Champions promo photos might be the best yet -- and that's saying something
We already knew the WGC-HSBC Champions pre-tournament photo shoot is a tradition unlike any other, but we didn't think it could get any better. Wrong. This year's PR stunt puts the emphasis on "stunt" with a collection of delightfully awkward pictures that are sure to bring a smile to your face no matter what type of day you're having. Enjoy!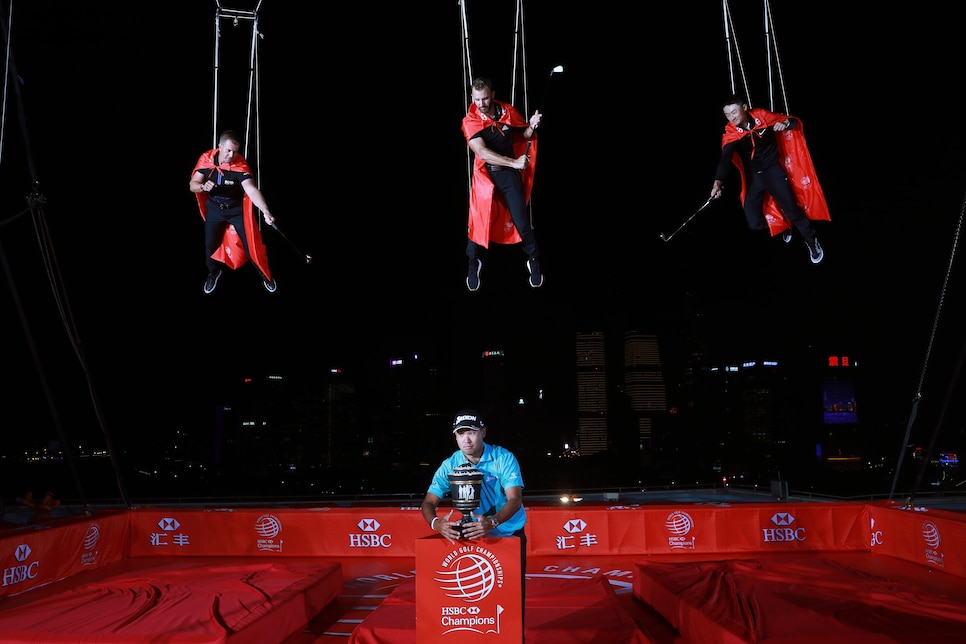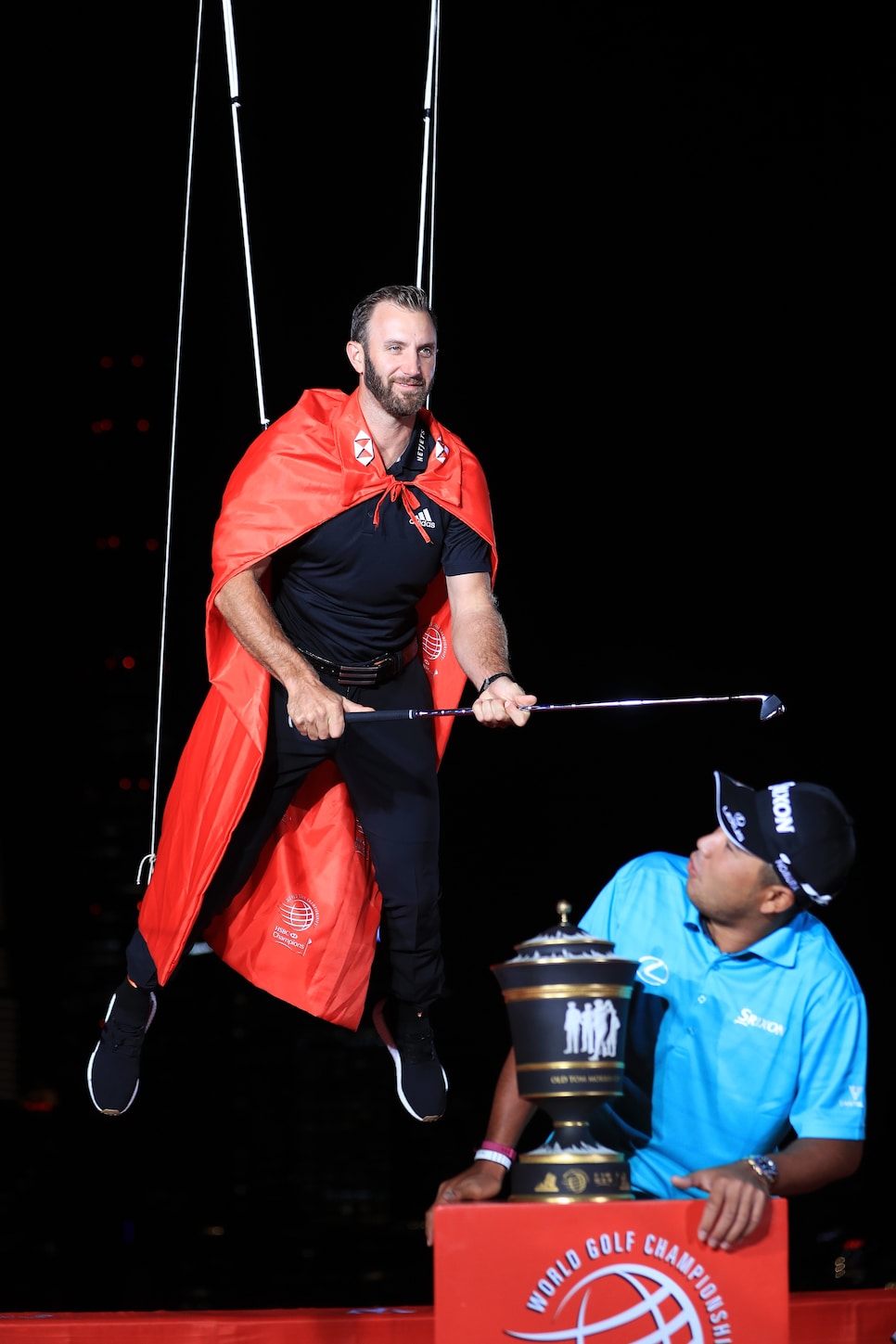 In case you're trying to figure out what the heck is going on here, it's simple. Hideki Matsuyama is the event's defending champ so everyone is trying to get his coveted trophy. By flying around with golf clubs. Duh.
It's hard to keep topping yourself every year, but that's exactly what the creative geniuses behind these do each year. This time, Beijing-born contemporary artist Li Wei directed the shoot. So kudos, Mr. Wei. Of course, it helps when the golfers play along. Look how into it Henrik Stenson was!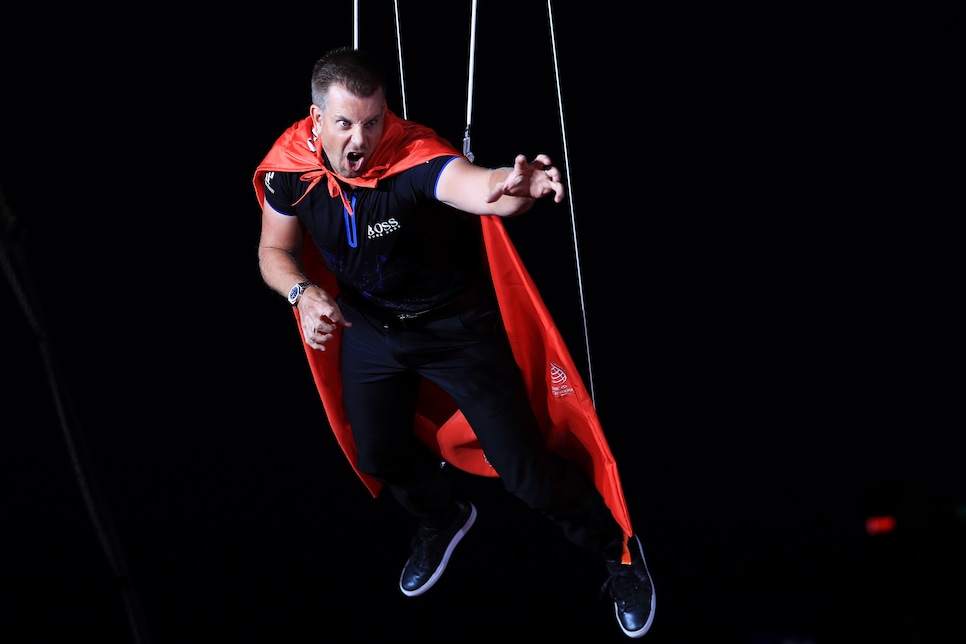 The description of the photo shoot is almost as good:
You've heard of 'flying up the rankings' but surely this is a step too far? Not for long-term golf sponsor HSBC, who crafted the mid-air spectacular to launch this year's World Golf Championships-HSBC Champions event in Shanghai. World Number 1 Dustin Johnson, Swedish superstar and last year's runner up Henrik Stenson and local hero Haotong Li made sure that 'Asia's Major' got off to flying start as they were suspended in mid-air far above the iconic Shanghai skyline and the watching gaze of defending champion and World Number 4 Hideki Matsuyama who was keeping his feet firmly on the ground.
OK. . . And here's some more:
The four players lined up as follows: Dustin "The Heat" Johnson, Hideki "The Mountain" Matsuyama, Henrik "The Machine" Stenson and Haotong "The Force" Li. World Number 1 Dustin Johnson said: "I've heard it said I am on the rise, but this is pretty extreme!
The shoot, which took place at Shanghai's Peninsula Hotel, also featured more "traditional" photos. Like posing with the trophy: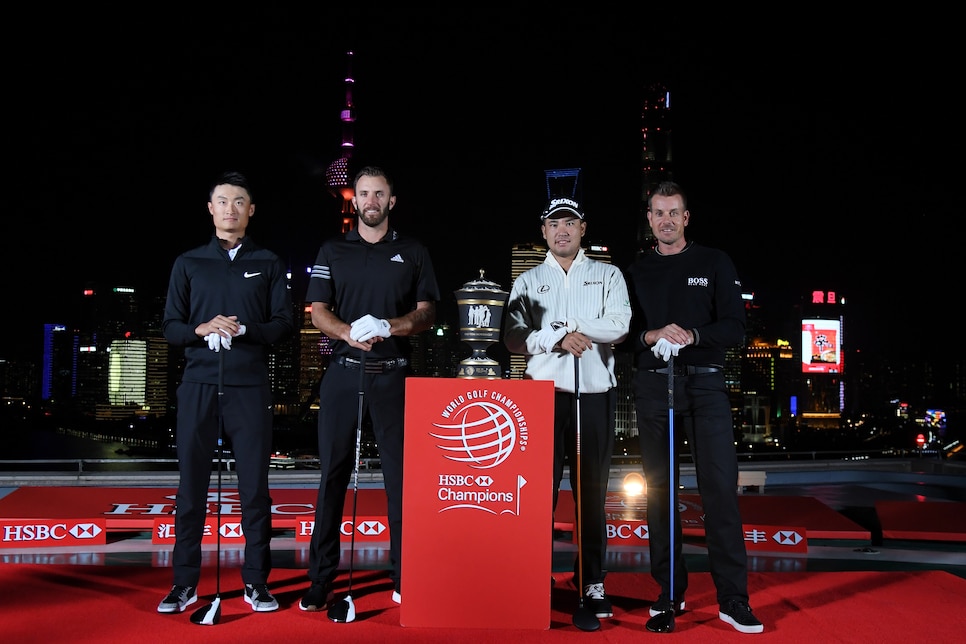 And taking golf swings on top of a tall building: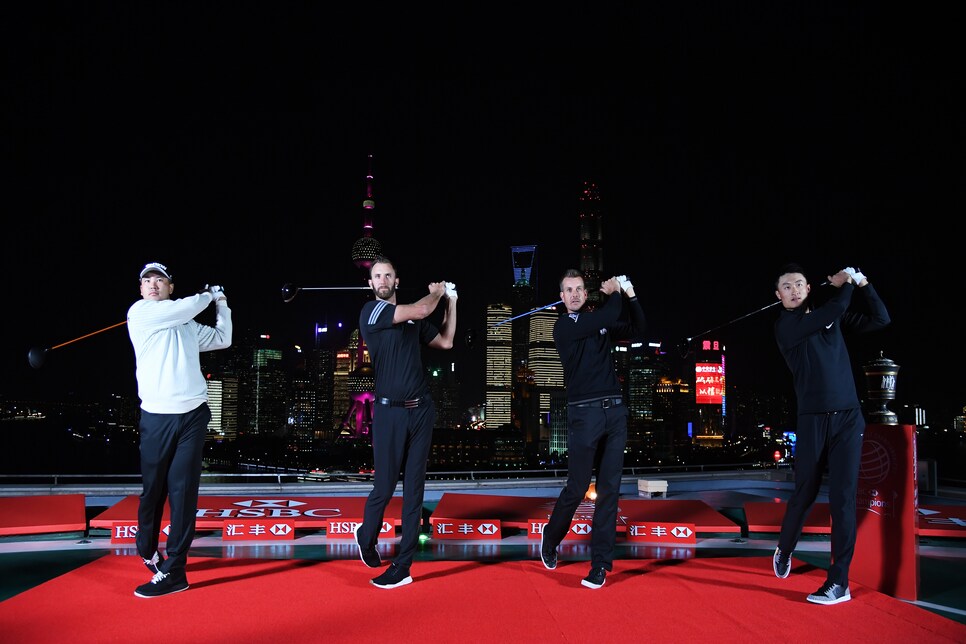 All kidding aside, this week's WGC-HSBC Champions has a star-studded field and we're excited to watch the action unfold. But we're more looking forward to next year's pre-tournament photo shoot. Whoever directs that one, will have some pretty big shoes to fill.