The Loop
Tiger Woods Comeback Bingo, Justin Thomas' curious trophy, and Jordan Spieth's impressive golf crew
Welcome to another edition of The Grind, where we've got a new favorite game. It's called Tiger Woods Comeback Bingo (Actually, let's go with "Big Cat Bingo" -- that's catchier) and we invite you to play along as we track the latest return of the 14-time major champ to competitive golf. So far we've seen pitching, "smooth iron shots," driving, a vintage club twirl, a Sunday-red shirt and now, a patented Stinger(!). We're just missing a few things now including a return tournament, a return press conference in which Tiger assures everyone, "I'm here to win," and, sadly, an inevitable return of back problems for the soon-to-be 42-year-old. Here, we even made a helpful card for all to follow: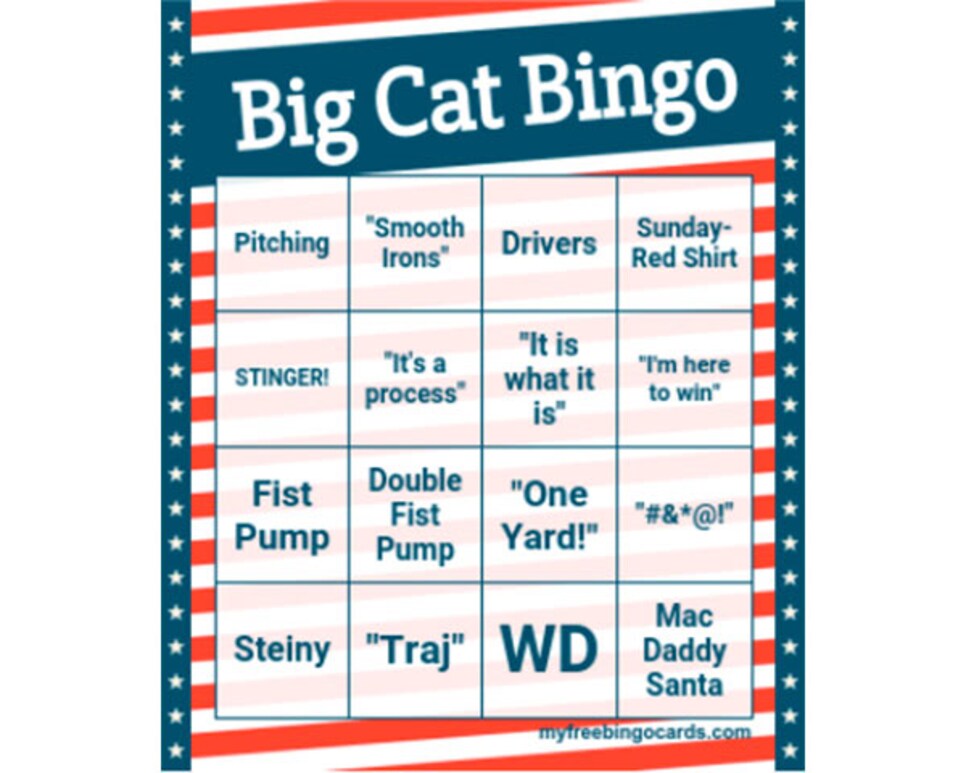 So happy playing, everyone! And see you soon, Big Cat. We hope. OK, here's what else has us talking this week.
Justin Thomas: Forget what the Official World Golf Ranking says, Thomas is the best golfer on the planet right now. Officially, he moved up to No. 3 following his latest victory at the CJ Cup @ Nine Bridges, but neither Dustin Johnson or Jordan Spieth come close to matching the reigning PGA Tour Player of the Year's six wins and a major in the past 12 months. Heck, he's topped Tom Lehman's entire career during that span. But JT looked just as confused as anyone when he discovered the CJ Cup trophy isn't a cup.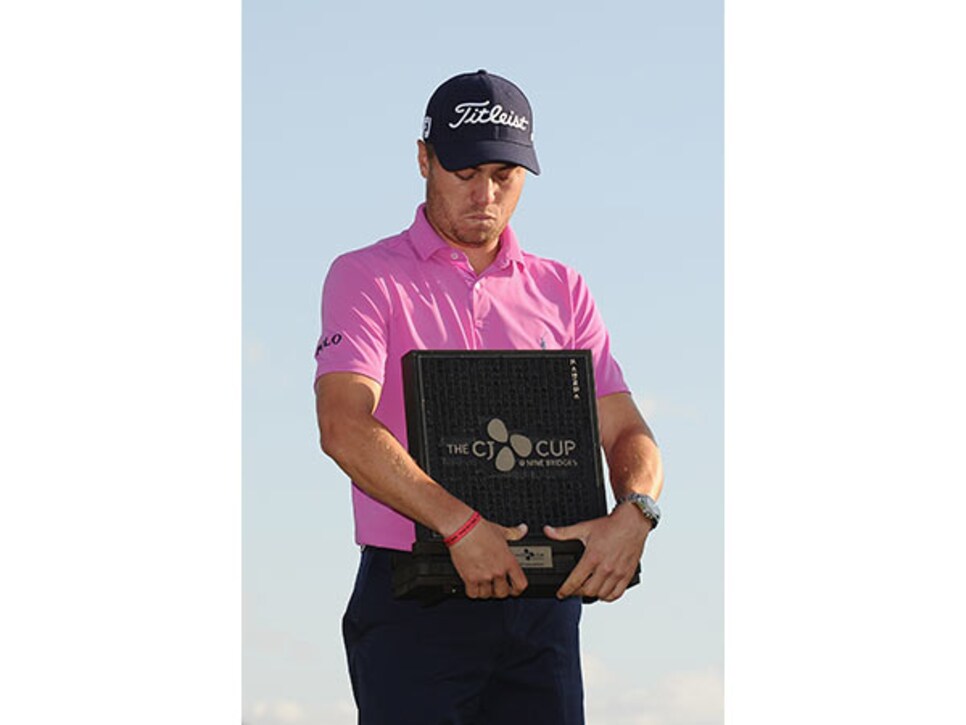 Bernhard Langer: The only guy more dominant right now than the 24-year-old Thomas is the 60-year-old Langer. Seriously, this guy is actually getting better even though golfers his age should be playing from the gold tees. Langer picked up his sixth win of the season on the PGA Tour Champions -- a new career high -- by making an eagle on the final hole of the Dominion Energy Charity Classic, the first event of the Schwab Cup Playoffs:
What a stud. And yes, the Schwab Cup is actually a cup. Langer would know because he's won it three years in a row.
Sergio Garcia: The Year of Sergio got back on track (on the golf course) with the Spaniard's one-shot victory at the Andalucia Valderrama Masters, a tournament in his native country being put on by his own foundation. It's the first time Garcia has won three European Tour events in a season and not even a visible foot slip on the last hole could keep him from stuffing one final iron shot:
And then he dedicated his latest victory to his wife and their baby girl who is due in March. Good timing because he's got a pretty big tournament to defend in April.
K.J. Choi's voice: Known as "Tank," the South Korean also has some powerful pipes off the course.
You're probably all wondering, "Why doesn't he go on Korea's Got Talent"? And it's a good question with an easy answer: The show was cancelled in 2012 (Thanks, Google). Too bad.
Korean LPGA decision-making: Thanks to a golf course where the greens were tough to distinguish from the fringe (Not exactly Augusta National, in other words), there was a back-and-forth on how to penalize players who had accidentally marked their golf balls off the green. But instead of either just penalizing or not penalizing said players, the tour decided to wipe out the ENTIRE FIRST ROUND. This would be like starting a football game over because an officiating crew couldn't decide whether to flag a team for pass interference in the second quarter. Absolutely mystifying.
PGA Tour Latinoamerica timing: More weird news involving the cancellation of a round of golf on another pro golf tour around the world. This time, the PGA Tour Latinoamerica announced its Lexus Peru Open would be shortened to 54 holes because Sunday's final round was played on the same day the country was conducting its 10-year census. Whoops. So don't feel so bad the next time you schedule two meetings that overlap.
Fluky penalties: Scott McCarron was about to take a drop, but because he dropped his golf club on his golf ball right before he did, he was assessed a penalty. That sucks. Although it did lead to an entertaining tantrum:
That could loom large in McCarron's pursuit of Bernhard Langer in the Schwab Cup Playoffs. . . Kidding! No one is catching Bernhard!
The PGA Tour heads to Shanghai for the WGC-HSBC Champions, aka that event where tour pros are always forced to take the most awkward promo photos. And this year is no different. In fact, the creative geniuses behind these PR stunts managed to top themselves yet again!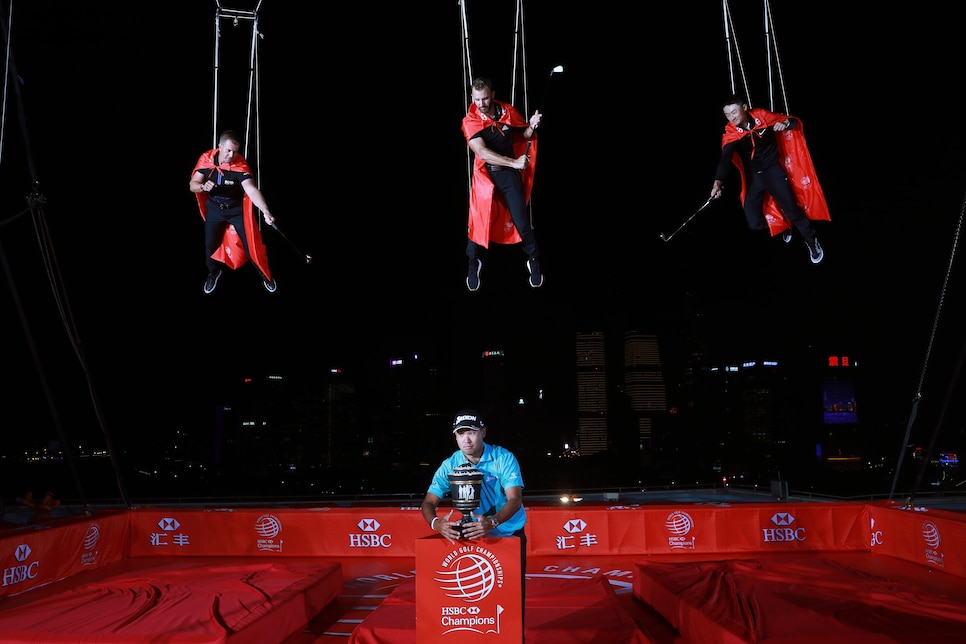 Random tournament fact: U.S. clocks get turned back at 2 a.m. on Saturday night, meaning American golf fans get an extra hour to sleep if they decide to stay up late to watch the final round. Also, Hideki Matsuyama is the defending champ, which is why Dustin Johnson, Henrik Stenson and Haotong Li are flying over him in that photo. Just roll with it.
RANDOM PROP BETS OF THE WEEK
-- Tiger Woods will win the 2018 Masters: 100-to-1 odds
-- Justin Thomas will win the 2018 Masters: 12-to-1 odds
-- More people suckers will bet on Tiger Woods: LOCK
Our apologies to the sixth person in the group for not knowing who he is, but we're big fans of that shirt.
Tiger Woods. Hitting a stinger. Obviously.
Is there anything better? Actually, how about that beautiful swing in full speed?
We could watch that on loop all day.
VIRAL VIDEO(S) OF THE WEEK (NON-TIGER DIVISION)
Jamie Donaldson is quickly becoming our new favorite player. At last week's Italian Open, he hit the prettiest driver-off-the-deck you'll ever see, and he gave us a couple more goodies this week. First, this energetic dance routine in the gym before his final round in Spain:
And then, this fully-clothed dip in the pool following that round in which he finished fourth and kept his European Tour card for next season:
VIRAL VIDEO(S) OF THE WEEK (TRICK SHOT DIVISION)
Noted trick shot artist Joshua Kelley has the best balance of anyone in the world, gymnasts included:
And I had the pleasure of meeting another trick-shot artist, Tania Tare, and watching her do her thing up close on our office putting green:
I wish I could say I learned a few things, but I'm hopeless with that stuff.
"I'm so excited to not do anything. I officially have nothing left in the tank."-- Justin Thomas, proving the wrap-around season is exhausting even for 24-year-olds.
THIS WEEK IN TOUR PROS MAKING US FEEL BAD WITH THEIR TRAINING
Lexi Thompson may have a new haircut, but she's got the same focus when it comes to hitting the gym:
THIS WEEK IN DUSTIN JOHNSON-PAULINA GRETZKY RICKIE FOWLER-ALLISON STOKKE PUBLIC DISPLAYS OF AFFECTION
The couple that runs stadium stairs together stays together. But these lovebirds enjoyed themselves as well while on a recent vacay in California:
Do yourself a favor and read Brian Wacker's piece on two friends who played the world's longest "golf hole" by hitting shots 1,250 miles while trekking across Mongolia. And then don't even think about trying something as nuts as that yourself. . . . Hall-of-Fame pitcher John Smoltz recently said he, Greg Maddux and Tom Glavine once played 73 of the country's top-100 golf courses during a single baseball season. That might be more impressive than his career totals of 213 wins and 154 saves. . . . Speaking of great courses, the U.S. Women's Open will go to Pebble Beach for the first time in 2023. It's about time. . . . A Scottish woman less than seven months into a nearly four-year prison sentence for tax fraud was recently seen playing the Old Course at St. Andrews during one of her two weekly prison release days. In other words, she gets to play more golf than most of my friends who have kids. . . . New Mets manager Mickey Callaway has three holes-in-one, including one with a 3-wood on a 253-yard hole. I already don't like this guy. . . . And finally, I saw this sign over the weekend in Charlotte, N.C.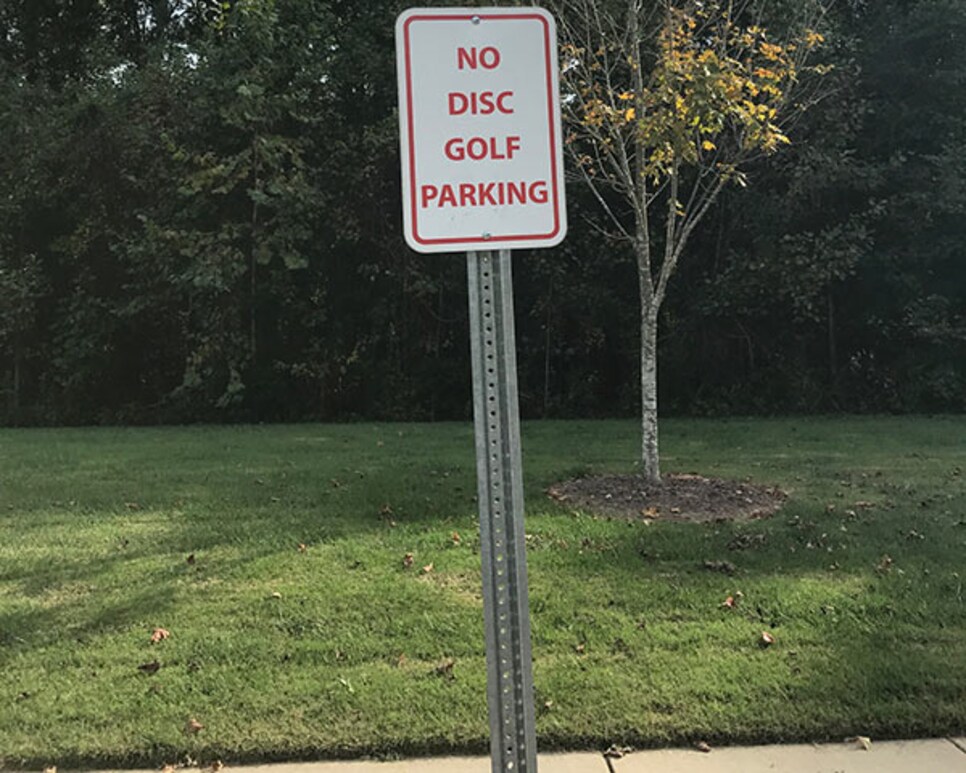 The struggle is real for disc golfers around the country.
RANDOM QUESTIONS TO PONDER
How many golf courses have I played in my life?
How long would I have lasted on that Mongolia trip?
When will we see the "Stinger" for real?