News
Conquering the world's longest golf hole
Two friends trekked 1,250 miles across Mongolia, hitting a golf ball as they spread the word about the game. In the end, it was the adventure of a lifetime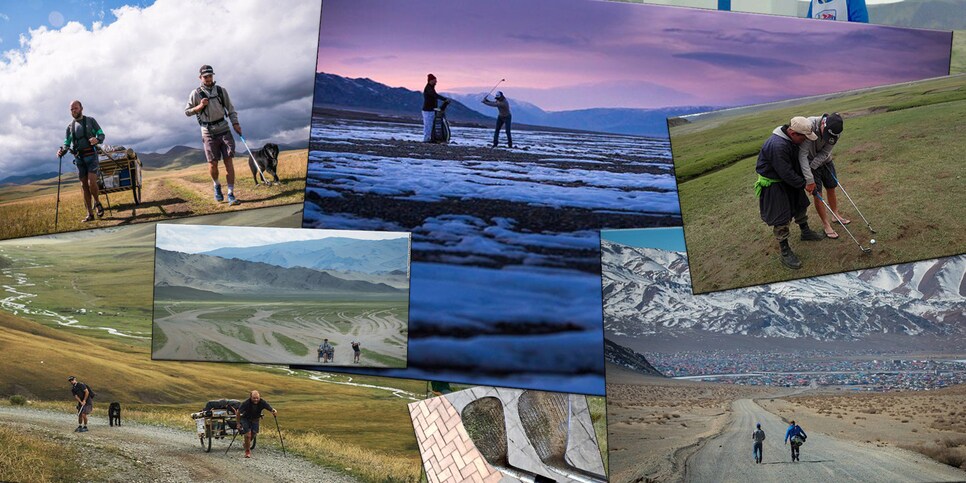 The longest hole in golf runs 1,250 miles and spans an entire country. It has been played only once, and it took 82 days and 20,093 strokes to complete. That included the first shot, struck at 1 a.m. on June 29 of this year at the base camp of Khüiten Peak, the highest and most western point in Mongolia, and it was promptly lost. No breakfast balls here.
"We were looking at each other like is 400 balls going to be enough," laughs Adam Rolston, a 28-year-old former rugby player from Northern Ireland who is also a scratch golfer and adventure seeker. "It was extremely tough golfing. We set a goal of 25 kilometers a day, but the first day we only covered 2½ kilometers [1.5 miles] because of snow and sleet and lousy weather."
These would be the least of the problems for Rolston and his caddie/Sherpa/friend, Ron Rutland, during their nearly three-month odyssey across one of the most remote and rugged corners of the globe in an attempt to set a world record and spread the game of golf to parts unknown.
If all this sounds a little nutty, it is. This is not lost on Rolston and Rutland. But the two friends, who'd met years earlier in Hong Kong, have always been worldly and audacious in their pursuits. In 2013, Rutland, a former banker and amateur rugby player from South Africa, spent more than two years cycling across Africa and Europe so he could watch his beloved Springboks play in the rugby World Cup. He dubbed the trip "Lettie's Ride—A #FatKidOnABike Adventure," in honor of a friend who was battling breast cancer at the time, and he pedaled more than 26,000 miles, raising money for Laureus Sport for Good Foundation along the way.
'Everyone said you're going to be so good at golf by the time you get back. Well, I was hitting a pitching wedge about 400 times a day over rock, sand and whatever is in front of me. It's nothing like normal golf.' —Adam Rolston
Not long after, Rolston and Rutland re-connected while the former was on a rugby tour in Kenya. The two got to talking over a couple of Arabica coffees at a local café, and while Rolston had no interest in cycling he was game for an extreme golf trip.
"I said, 'That's a great idea,' " recalled Rutland, 42, who played golf often as a youth and had been to Mongolia about a decade earlier. "You're talking to the right person."
And in Rutland's eyes, Mongolia was the perfect location. Situated between Russia to the north and China to the south, the Asian country is the world's 18th largest in area, with more than 600,000 square miles of vast expanse of grass steppe, mountains to the north, the Gobi Desert to the south and a sparse and scattered population of about 3 million people (roughly the number of residents in Chicago, but 2,500 times bigger in land mass). It also has just one 18-hole golf course, Mt. Bogd Golf Club on the edge of the capital city Ulaanbaatar.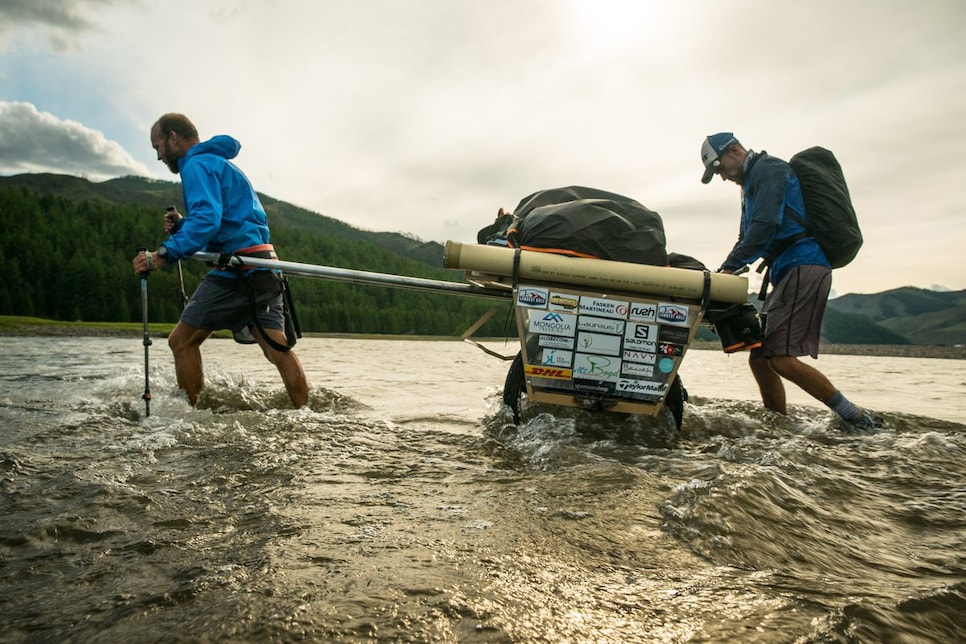 So away they went, and their goals were ambitious: They planned to walk 15½ miles a day and take about 14,000 total shots to complete "the hole," Rolston hitting the ball and Rutland acting as his caddie. Along the way, they'd find a place to camp and cook each night. To make the journey more hospitable, they had a special cart designed that Rutland pulled to tote food, water, camping equipment and, of course, balls and clubs, the latter provided by TaylorMade (driver, putter, 4-iron, 7-iron and pitching wedge, in case you're planning a visit).
"Everyone said you're going to be so good at golf by the time you get back," Rolston said. "Well, I was hitting a pitching wedge about 400 times a day over rock, sand and whatever is in front of me. It's nothing like normal golf."
And often nothing like what they expected, despite meticulous planning. Just to get to the "tee box" required a five-hour drive, followed by a five-hour horse ride alongside camels carrying their gear. When they got to basecamp in the Altai Mountains on the western edge of Mongolia, the sun vanished and didn't return for five days.
"We didn't really take into account how hard that first week would be," said Rolston. "The weather threw everything at us."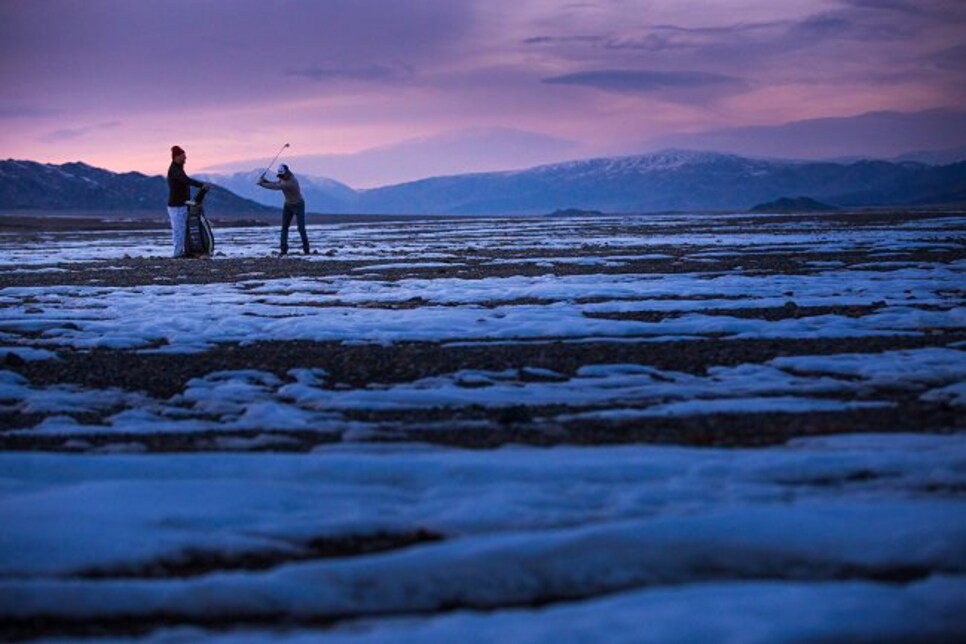 So did the terrain. Tall grass, marshes, rivers, gullies, mountains, desert—all while trying to play one continuous hole, hitting hundreds of shots a day. There were wild temperature swings, cold to scorching hot back to cold, as well as aches, pains, blistered hands, at times crippling back spasms for Rolston and hip issues for Rutland.
The pair came prepared with a few 21st-century necessities. They had a satellite phone, GPS and computers to stay on course, documenting their trip in real time via social media. They also created a homemade first-aid kit the rival of some Mongolian hospitals.
Among the unexpected encounters: mosquitoes, the biggest Rutland had ever seen. Delirium and an occasional onset of bad-decision making sometimes set in, too.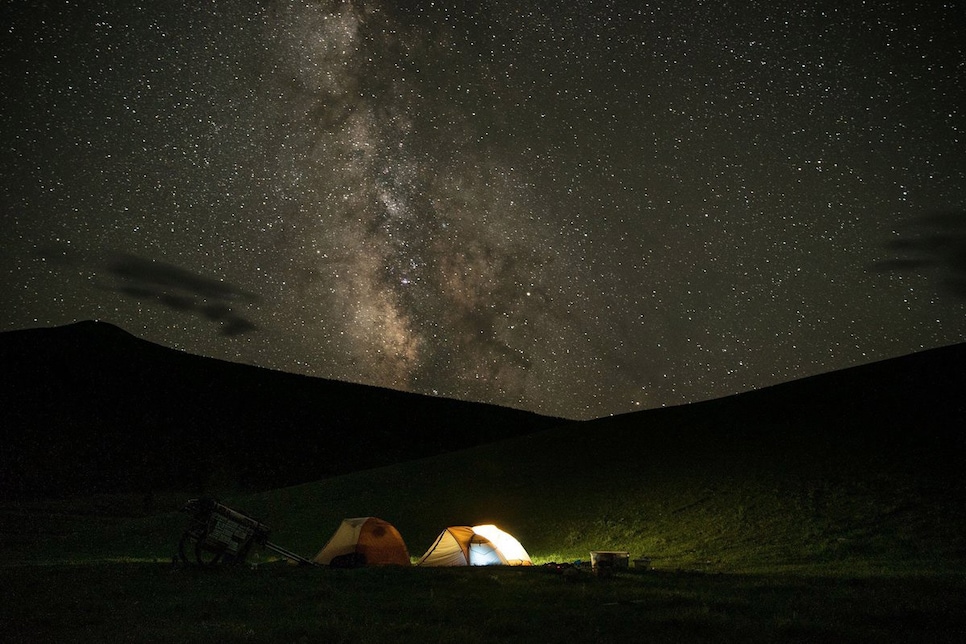 "At one point we came across a well in the desert," Rolston said. "We emptied our water out to fill up with well water, which was ice cold, but discovered while cold it was so saline. Undrinkable. That was a stupid mistake."
Also unexpected was the reaction they got from locals, despite not actually being the first to venture across the country in an attempt to spread the word about golf. Thirteen years ago, Andre Tolme, a civil engineer from New Hampshire, embarked on a similar trip, dividing land once roamed by ruler Genghis Khan into 18 "holes" and playing his way across the 2.3 million yards armed only with a 3-iron. About a decade later, Mt. Bogd opened and remains the country's only international-standard course.
"Sometimes you felt like a freak in a circus show," Rutland said. "There was a lot of staring and bewilderment."
Plenty of curiosity and enthusiasm, too.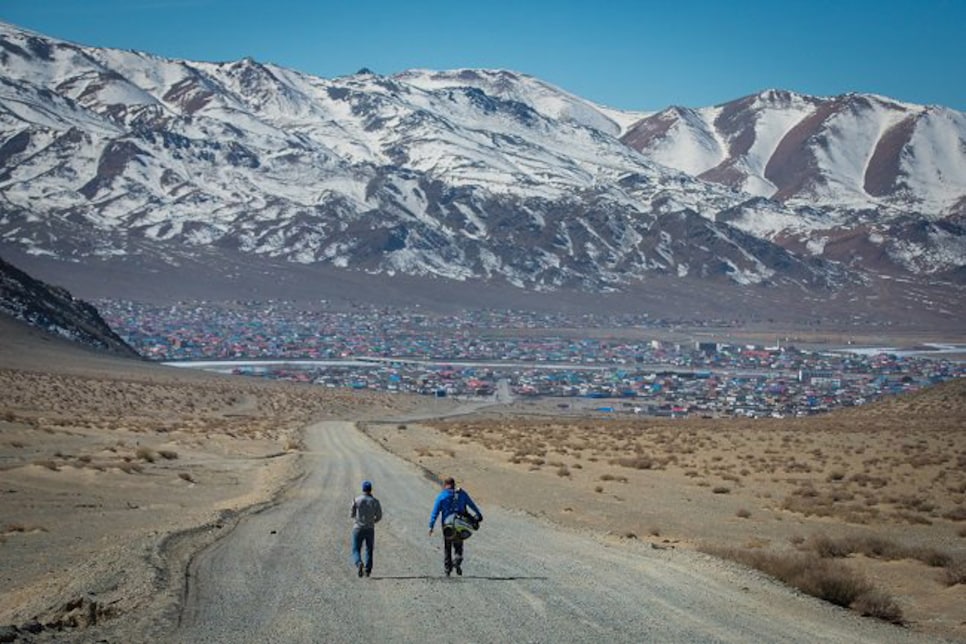 On more than one occasion, the two would be walking across a barren plain. Out of nowhere, a beater of a car would come driving toward them, stop so its occupants could stare and laugh in amazement. They often provided water or food and inevitably want to try the "stick and rock" game themselves.
"I'd hit the ball, and it was like I was a magician," said Rolston, who added that the two carried letters and cards written in Khalkha, the native language, with the help of Google translator to communicate whom they were and what they were doing. (Neither Rolston or Roland spoke the language themselves, using the cards to connect.) "They've never seen something like it, but when they see it they'd want to have a go. We found a lot of guys cracking it 130 yards on their first swing. They sort of know how to stand, maybe see me do it once and have a crack."
One of the more memorable encounters, though, involved a four-legged mammal. At some point early on a wild dog started following the two, hovering around 30 yards behind them for a bit. Hungry and thirsty, the big black canine soon became their best friend after being provided food and water. They named him UB, shorthand for their final destination, the 18th hole at Ulaanbaatar.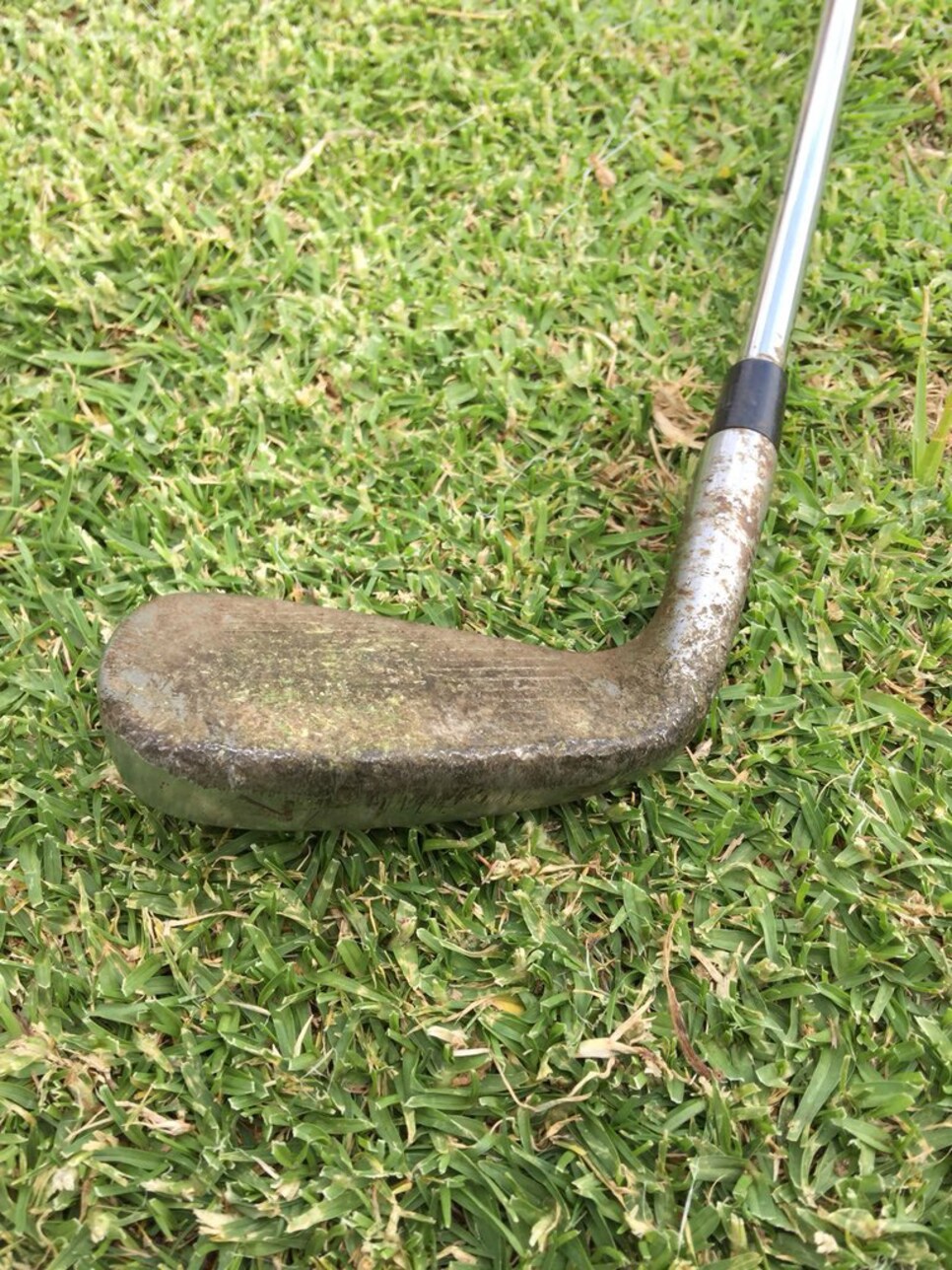 The relationship proved useful, too. In addition to some added company, their four-legged friend was part hunter, part protector.
"One day he half-killed this 25-pound marmot [a large squirrel] and sort of brought it over and dropped it right in front of us," Rolston said. "I didn't want him to kill it but he did, and I had to put it out of its misery with my pitching wedge. We skinned and gutted it and cooked it up that night with some garlic and some other spices. So, he was quite an impressive animal."
Especially one night when things got a little out of hand with a few drunk Mongolians. Enjoying a few pops of their own in a village watering hole, a local staggered in, bloodied from an encounter with UB. He'd made the mistake of trying to have some fun with the cart.
"This dog had none of it," Rolston said. "We pulled out our medical kit and patched the guy up."

Most encounters, however, mimicked the former, and on it went for days, weeks and months. Eighty days after the first shot, on Sept. 16, Rolston hit his last, using his putter for the first time along the trip. Playing an actual golf course, and on shot 20,093, he knocked in a seven-footer on the 18th at Mt. Bogd to finish 6,093 over par on golf's longest hole.
Perhaps surprisingly, Rolston has no interest in slowing down either. The trip only inspired him to play more golf at home. And both men hope their adventure will get Mongolians to do the same.
"People can go back to their towns and villages after they saw these two crazy white guys who had this stick and were hitting this white rock across the country," Rutland said. "Hopefully, they spread the gospel of golf across Mongolia."
"It's a cool thing, bringing something that no one's seen before," Rolston added. "Mongolians are actually good at golf. They just don't know it yet."