News
Fore! Beware the wayward golf ball
Spectators think PGA Tour pros never miss a shot. But that's not the case, and when they do, it can be awfully painful for unexpected fans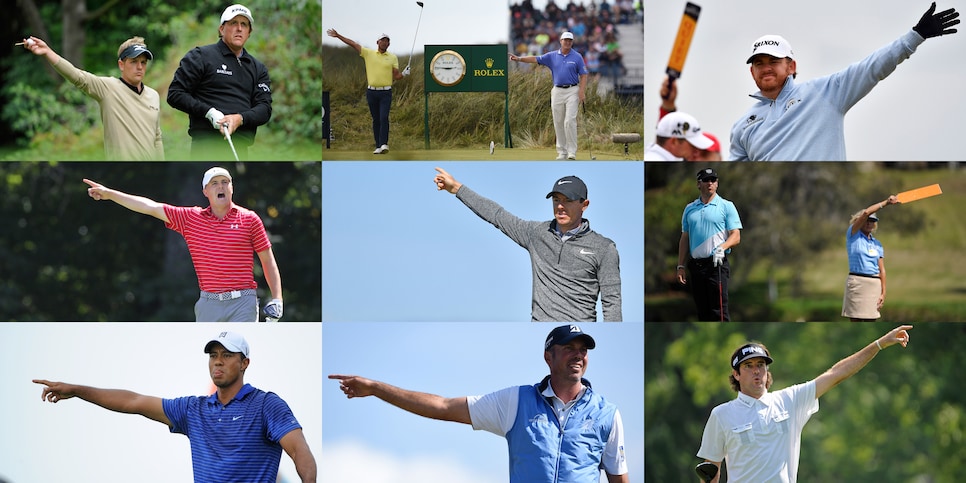 It was the opening round of this year's PGA Championship and from the tee box it was clear Brooks Koepka's drive was off target, the ball sailing wide right on Quail Hollow Club's dogleg-right 16th hole. Yet as the reigning U.S. Open champion walked up the hole, he saw his ball sitting nicely in the fairway, 30 yards from where it was headed. An obvious question arose.
Koepka's first thought was perhaps that the ball hit a tree and he'd gotten a favorable bounce. However, he quickly discovered that wasn't what happened. Witnesses told him it only sounded like the ball had hit a tree. In fact, it had actually caromed off the head of a volunteer working on the hole, who, when Koepka got there, was lying on his back, hat soaked in blood and medical personnel attending to him.
Thankfully, the man only suffered a cut to the noggin. Koepka spoke with him, gathered his name and information and later even connected with him to make sure he was alright.
"I felt terrible about it," Koepka said. "He was laughing and joking when I was up there, kept telling me, 'You got a good break.' I was like, Well, I still feel like crap."
The PGA Tour slogan is true, these guys are good. But they're also human. For all the years they've spent playing the game and practicing their million dollar swings, sometimes their golf ball disobeys. And when a shot wanders offline at a professional tournament, with spectators present (albeit not always paying attention), well, there's a decent chance somebody will meet the working end of a Titleist.
We'll let you in on another secret: This happens more than you might imagine. In a four-hole stretch during the Genesis Open at Riviera Country Club outside Los Angeles, Pat Perez managed to drill three spectators with errant shots. One of them had to leave on a stretcher.
"Everyone thinks we're going to hit it straight all the time," Perez said. "We don't."
If there's a tournament being played, chances are someone is going to get hit. Sometimes a lot of someones.
Brendan Steele recalled all three players in the group behind him this year at Riviera hitting spectators. At the 2010 Memorial, Tiger Woods hit three spectators in a single day, doing so with his first swing of the final round, again on the second hole and once more on the 15th.
The incoming pellets aren't limited to fans or volunteers, either. At this year's British Open, Dustin Johnson's approach to the ninth at Royal Birkdale left a memorable imprint on the cheekbone of a journalist from the Irish Times.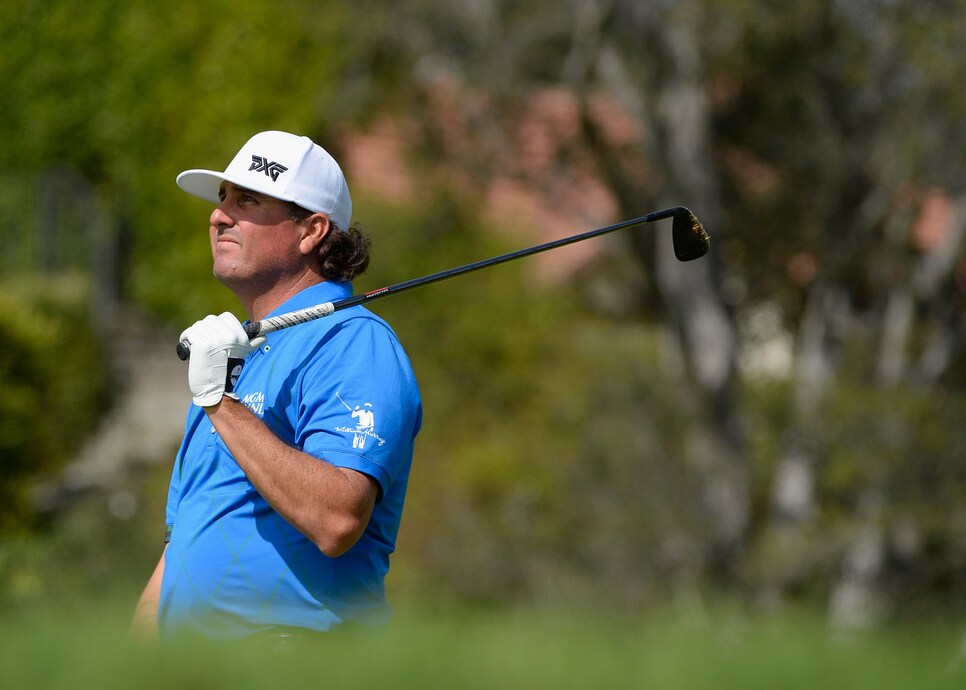 Thankfully, the end result usually isn't catastrophic and sometimes is even lighthearted: A moment of brief pain eased by a fan getting a signed glove, something most are willing to endure for the 15-second brush with fame.
"Sometimes I want people to jump in front of it," Steele said of a bad shot, noting that fans can provide players some good breaks.
Arguably golf's most famous incident of a player hitting a fan, Lu Liang-huan (more well known as Mr. Lu) treated Lillian Tipping and her husband to an all-expenses-paid vacation to his home country of Taiwan after having struck her in the head during the final round of the 1971 British Open at Royal Birkdale, where he went on to finish second to Lee Trevino by a stroke.
It doesn't always go so smoothly, though, for the player or the fan.
"I've hit an old person, all the way down to a 1-year-old," says Jason Day. "I hit a kid in the head the year [2015] I won at Torrey Pines. He was bloody. It was bad. That shook me up a bit."
While reassured that the Quail Hollow volunteer at the PGA Championship was not seriously hurt, Koepka appeared to be unnerved, at least for a moment. Despite being in the middle of the fairway, he hit his next shot heavy and fanned it right of the green, leading to one of just two bogeys on the day in which he shot a three-under 69 to sit one stroke off the Day 1 lead.
"I called him that night to see how he was doing. He was shocked. I said, 'Bro, I almost killed you. It's not that much for me to call you.' " —Pat Perez
Rory McIlroy recalled a similar scenario unfolding on the final day at Wentworth one year playing alongside Pablo Larrazabal. "He went from chance to win to finishing wherever," said McIlroy of Larrazabal's shot that split a fan's head open. "He couldn't hit a shot afterward he was so shaken up.
"If you hit someone, and they're OK, it's fine. But if you've done some damage, that's tough. It's not nice. It can be hard to get over, yeah."
McIlroy himself hasn't been immune from needing to apologize for an errant swing. On the last day of this year's WGC-Bridgestone Invitational, one of his last shots tagged a woman in the gallery. By the time McIlroy got there, she was gone. He found out later when trying to contact her through tour officials (they usually assist when a player follows up) that she suffered a fractured wrist.
That wasn't the most unnerving moment from McIlroy's past. Five years ago, during the first round of the British Open at Royal Lytham & St. Annes, McIlroy hit a drive on the 15th hole that struck 16-year-old Jason Blue in the head. When the teen fell to the ground and his eyes were closed, his buddy, 17-year-old Ross Furnival, momentarily thought Blue was dead. Mercifully, he turned out to be OK, and McIlroy ended up putting the two up in a hotel for the night, giving them £100 for dinner and a taxi and taking a picture with them.
Perez, too, followed up with the fan he'd sent to the hospital earlier this year, calling him that night, offering to pay his medical bills and take care of anything else the man needed. Months later, the incident was still fresh in his mind.
"Of course, it's unsettling," Perez said. "He had to leave on a f---ing stretcher. You make sure the guy's OK, but you've got to keep going unfortunately.
"I called him that night to see how he was doing. He was shocked. I said, 'Bro, I almost killed you. It's not that much for me to call you.' He said, 'I'm good.' I said, 'Sorry.' I gave him a glove, but what is that gonna do? He was bleeding. It sucks. It's hard to hit a shot after that, but it's one of those things you just have to move on from."
Often, though, that's easier said than done. In 2009, David Duval was five under through his first nine holes and leading the Memorial when his wayward tee shot on the 10th struck a spectator in the head, causing him to bleed. Still shaken, Duval bogeyed the hole, doubled the 12th and shot 40 on the back.
"You end up giving them a signed golf ball or glove," Duval said at the time.  "But like that really matters at that point, you know? It's like, 'Great, I got hit in the head and I got a golf ball for it.' "

Mercifully, there are times when the injured spectator helps defuse the situation. Four years ago during the Presidents Cup at Muirfield Village when, in the Friday foursomes matches alongside partner Phil Mickelson, Keegan Bradley tugged his drive on the reachable par-4 14th a little left and square into the head of a fan along the rope line. The man dropped, his head split open and wife crying, with blood on Bradley's ball.
"I felt awful," Bradley remembers. "I went to see if he was alright, and he looked up at me and said, 'Just win the hole.' That was kind of cool." Bradley and Mickelson halved the hole but won the match.
Unlike baseball and hockey, no one to date has been killed by an errant golf ball in a professional tournament, a surprise considering that ball speeds from PGA Tour players reach as high as 185 miles per hour. Even by the time a ball comes down a few hundred yards away, its speed is still in the neighborhood of 60 m.p.h. or more.
But stories have turned tragic on the recreational side of the sport. In 1989, a 10-year-old Alabama boy died after being hit in the head by a golf ball, while in 1998 a 13-year-old boy was struck and killed by a ball while walking a course in Ireland.
In 2010, a 69-year-old man was hit in the back of the head by a tee shot from 10 yards out while walking ahead of his playing partners at a course in Chino, Calif. His brain swelled and despite several surgeries he eventually passed away. That same year, a 42-year-old course worker in Sanford, Fla., died when he was hit in the temple by a ball from about 100 feet away as he cleared debris around a tree.

Yelling "Fore!" can help, though most players, caddies and officials agree that by the time fans hear it, it's usually too late. Nonetheless, players and marshals do their best to alert fans of the incoming object.
For spectators, the best advice is to always be alert, especially if you're anywhere along the rope line on a hole. There are specific places, too, that you might try to avoid. In most cases, the victims were standing in what Jason Dufner calls "the hot zone." That's the area between approximately 270 and 300 yards from the tee. Often it's on the opposite side of where the trouble is on a hole.
"I always tell people not to stand there," Duf deadpans. "I've hit plenty of people. It sucks. But we're in an open environment that's not as controlled as most other sports."
Indeed, no matter how hard pro golfers try, or how good the pro might be, it's inevitable that they'll hit the occasional bad shot that finds an unsuspecting fan. When it happens, the player is left to make the long, anxious walk to his ball and hope for the best-case scenario: The fan is unharmed, and their ball is luckily back in the fairway.