News
After Katrina: From Ruin to Renewal
How one group of New Orleans natives moved past the destruction brought by the 2005 hurricane and revitalized a community thanks, in part, to golf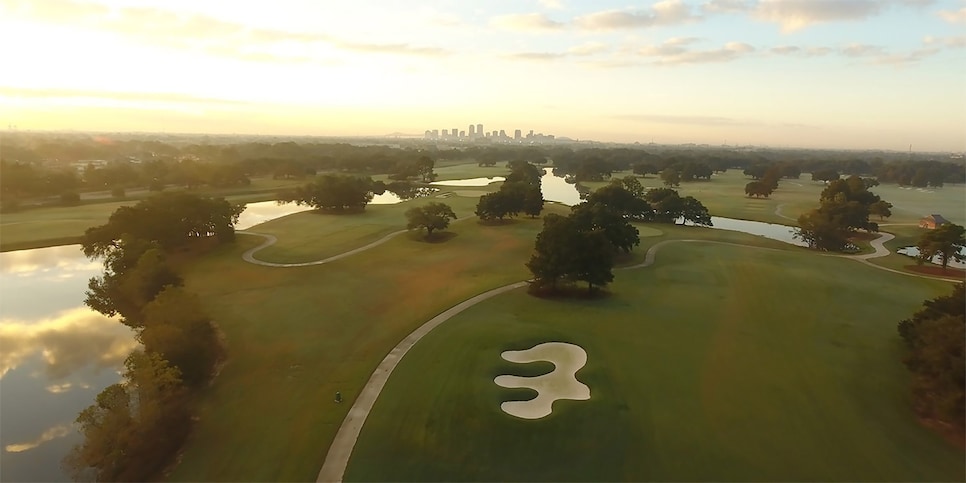 NEW ORLEANS — It started with an email on Nov. 10, 2005, at 10:23 a.m. New Orleans time. The sender was Charlie Yates, then an executive with Zurich Insurance, the title sponsor of the PGA Tour's event in the Big Easy. He was also the man behind the revitalization of one of the worst neighborhoods in America, the crime-ridden and crumbling East Lake section of Atlanta. It was sent to Mike Rodrigue, a former director of the Zurich Classic and the Fore!Kids Foundation. Rodrigue is from New Orleans, having grown up in Gentilly, a diverse, working-class section of town five miles north of the Superdome, on Lake Pontchartrain. From there, it's a half mile to the St. Bernard housing projects, which witnessed 25 homicides between 2002 and 2003 alone and hundreds more felonies.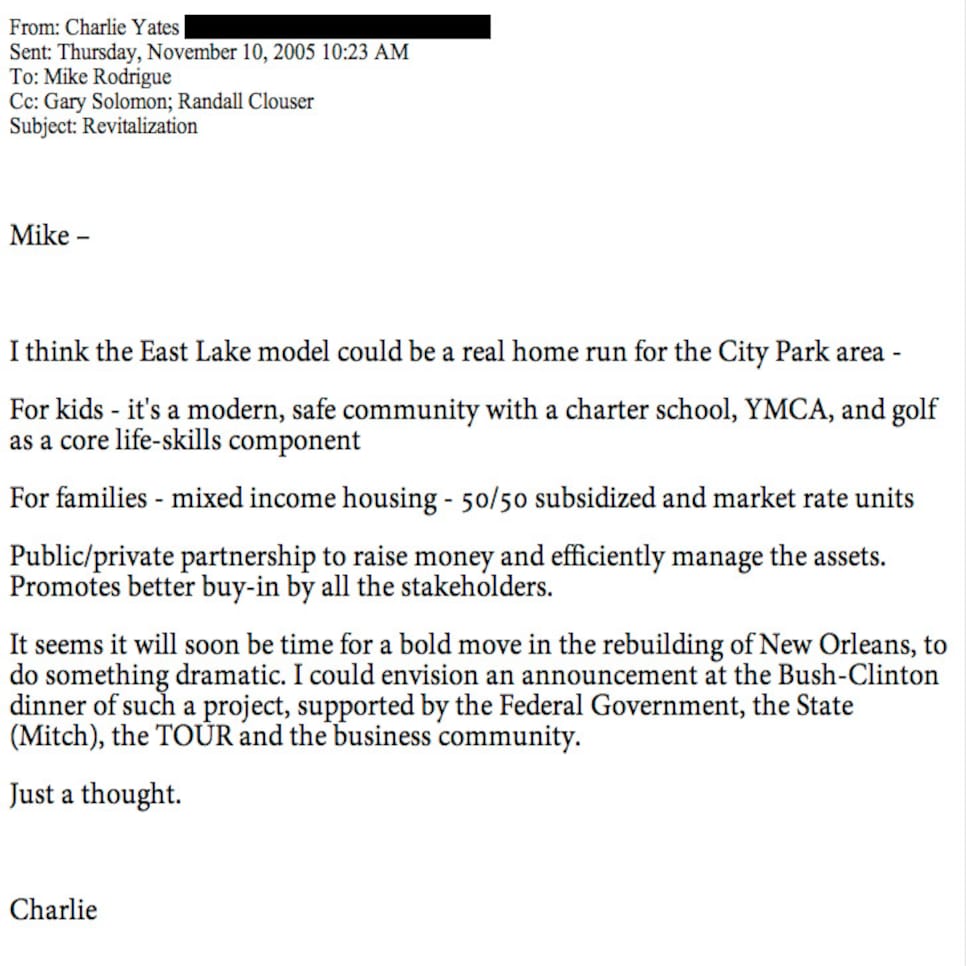 Though golf might seem like an afterthought in a city known for music, food and its beloved pro football team, the Saints, there is a long history between its residents, the game and City Park, the 1,300-acre urban open space once home to 81 holes of public golf. This is where the story of Bayou Oaks and its two 18-hole courses really began.
At the time, New Orleans had bigger problems, memories of which have most recently surfaced after watching the tragic images from Hurricanes Harvey, Irma and Maria in the last six weeks. Less than three months earlier, just after 6 a.m. on Aug. 29, 2005, Hurricane Katrina made landfall an hour south of downtown. That Category 3 storm had sustained winds of 125 miles per hour, but was slow moving, and unleashed hell on southeastern Louisiana. By 9 a.m., a levee was breached in the city's Lower Ninth Ward and breaks were reported in the Industrial Canal and 17th Street Canal with uninhibited rivers of water tearing through the eastern side of the city. At 11 a.m., the storm ripped a hole in the Superdome, where some 26,000 residents who had refused to leave the city had been sheltered in place.
When it was over, more than 1,200 people were dead, 80 percent of New Orleans was underwater and Katrina would prove to be, at the time, the costliest natural disaster in U.S. history with more than $108 billion in damage.
But here was Rodrigue, along with Gerry Barousse Jr., a local real-estate developer and banker, and Gary Solomon, a venture capitalist, asking to rebuild a couple of golf courses, develop a new neighborhood where the St. Bernard projects once stood and build a school, all about 15 minutes north of downtown.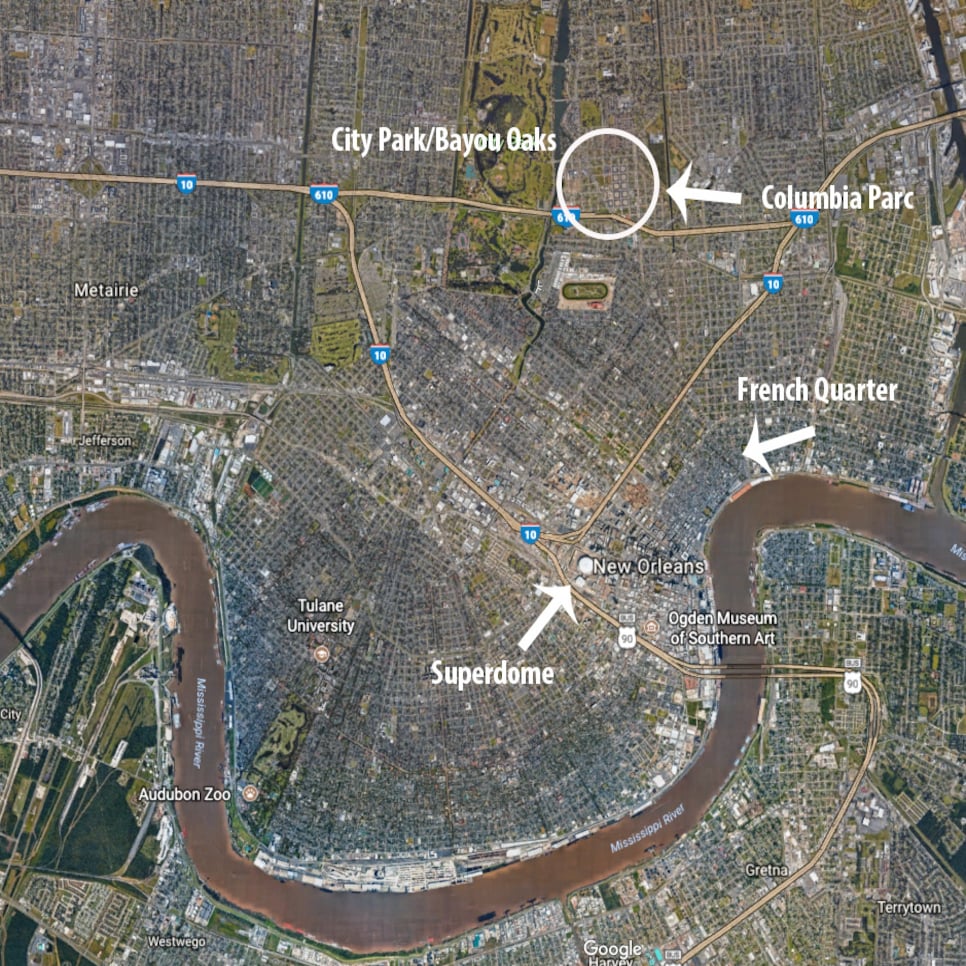 "There was talk of why build back the city," says Rodrigue, who lettered on the Tulane golf team before graduating in 1975 with a degree in economics and later bought New Orleans' famed Acme Oyster House in 1984. "I wanted my grandkids to grow up here. My mother still has her house here. We had to build our little section of the city back so that people wanted to return."
As Yates mentioned, East Lake was the perfect model.
In 1995, Tom Cousins, an Atlanta real-estate developer and philanthropist, purchased East Lake Golf Club out of receivership and created the East Lake Foundation. Partnering with the Atlanta Housing Authority, he tore down East Lake Meadows, an adjacent 650-unit housing project that, less than a year after opening its doors 1971, came to be known as "Little Vietnam" because it was rife with violence, crime and drugs. In its place, he helped build the Villages of East Lake, a complex of spacious and airy apartments surrounded by grassy knolls, a swimming pool and playground. Soon, a charter school, YMCA and nine-hole golf course followed.
Proceeds from the Tour Championship at East Lake, home to the tour's season finale in alternating years from 1998 to 2002 and every year since 2004, are also funneled back to the foundation for neighborhood programs.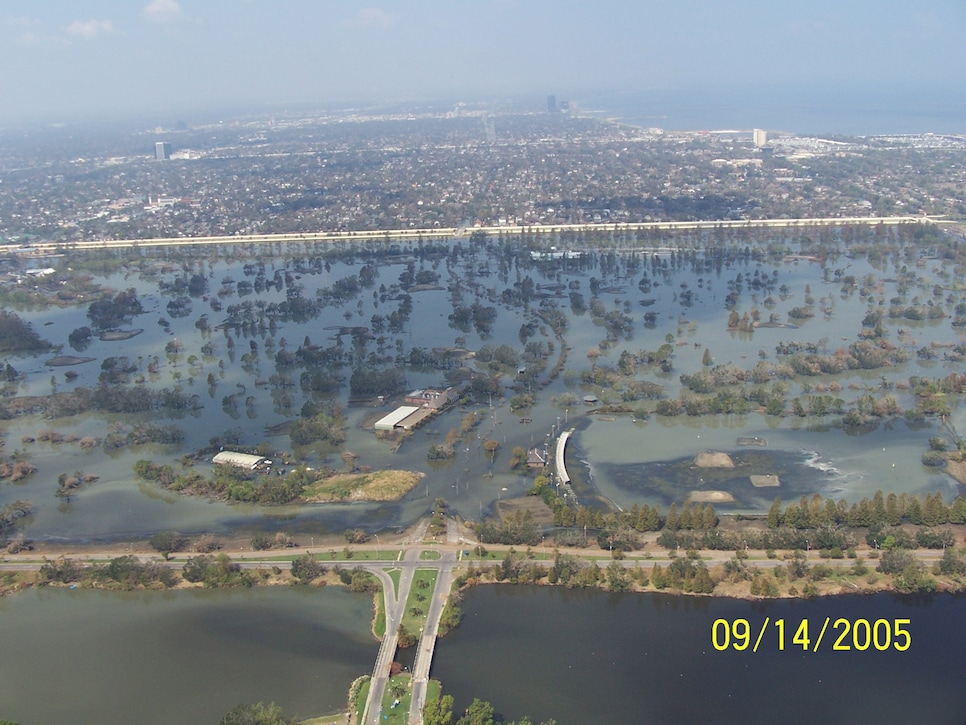 Before the project, East Lake's crime rate was 18 times the national average, the unemployment rate 86 percent and 60 percent of households were on welfare with the average household income just $4,000 a year. The dropout rate was nearly 75 percent and only 5 percent of kids were able to pass the state's math test.
In the decade following, overall crime dropped 87 percent and violent crime 95 percent. Just 5 percent of residents received welfare and 75 percent of students passed the state's math test.
As Cousins made his push, Yates was a staunch supporter thanks to his local ties. He grew up near East Lake's fourth green and went on to star as a golfer at Georgia Tech. He also won the state amateur in 1931and '32, and in 1934 won the NCAA title, in '38 the British Amateur and five times was the low amateur in the Masters. He was also the secretary of Augusta National Golf Club and often played at East Lake with his boyhood idol, Bobby Jones.
At that year's Tour Championship, Yates took Rodrigue and his group of business leaders around. "He said, 'You know, if you could replicate this in New Orleans, post‑Katrina, you won't just revitalize a few city blocks. It'll be an enormous swath of the city,' " Rodrigue said. "Then Charlie sent the email inviting us to go back. It was so simple, and he just floated it out there as a thought."
Much more complicated was what was taking place in post-Katrina New Orleans. Amid the wasteland of destruction was a mountainous web of bureaucratic red tape—not to mention a long history of muddy politics that had plagued the city for decades. The complicated and troubling aftermath was best captured in a pair of Spike Lee documentaries, "When the Levees Broke" in 2006 and "If God Is Willing and Da Creek Don't Rise" in 2010, each shedding light on the disaster things truly were.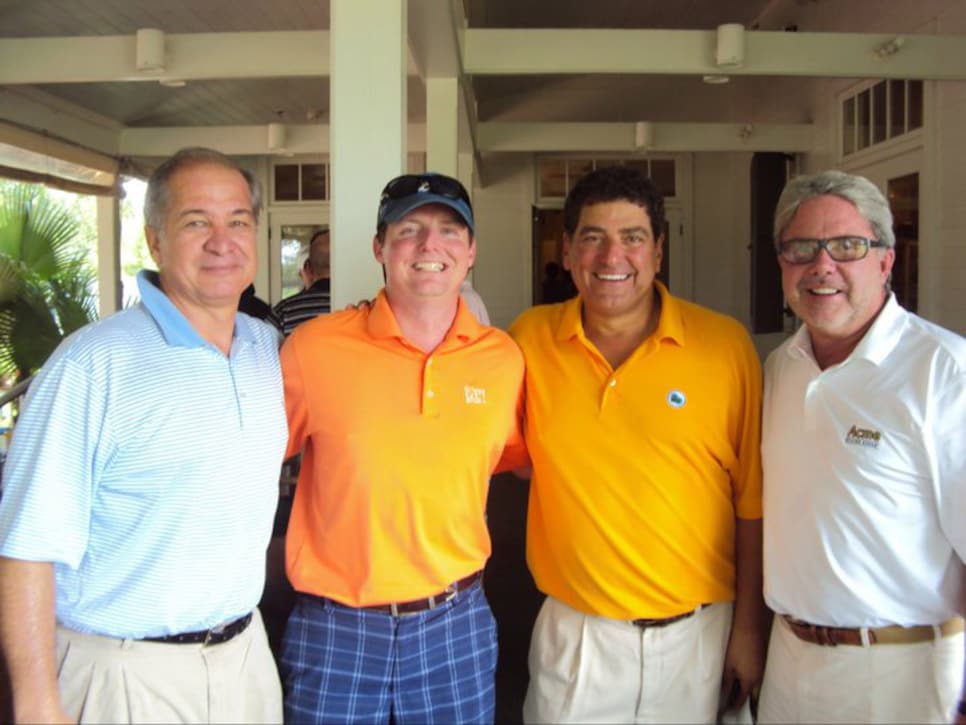 Sides feuded over how in general to move the city forward. New Orleans had been home to about 7,000 public-housing units. Roughly 1,330 of those were at St. Bernard, which had been destroyed by the flooding. Despite charges of discrimination and gentrification, the city council voted in 2006 to demolish its four biggest housing projects, including St. Bernard. But that plan was held up in court for more than a year after a civil-rights group in Washington, D.C. sued to keep the projects from being leveled.
The project pushed forward, though, when New Orleans' housing authority received $120 million in low-income housing tax credits from various federal programs. In turn, the housing authority listened to various groups pitching proposals on what to do with the land. Having taken their idea and formulated it into a viable plan in the form of the the Bayou District Foundation, Rodrigue, Barousse and Solomon made their pitch, which was ultimately picked as the city's partner.
In all, 685 mixed-income residences, along with a school, play fields and gardens and new streets, were built over a span of 13 blocks in the new Columbia Parc neighborhood. It drew national attention when President Barack Obama visited in 2010, the year it opened and the fifth anniversary of Katrina.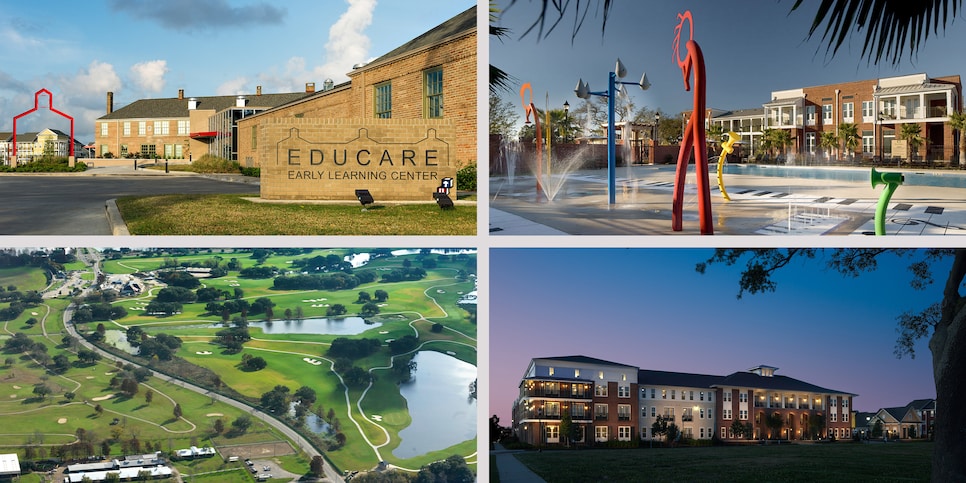 "I think we didn't know what we were signing up for," laughs J.T. Hannan, the director of public and governmental affairs for the Bayou District Foundation. "All these things came together into a model, and it really basically flipped the script on that entire area. We went from being the most violent community or neighborhood in the city to one of the safest."
In the seven years since Columbia Parc opened, only a handful of felonies have been committed. A few hundred yards from where St. Bernard once stood, and where gunshots often rang out, is now the third green on the South Course at Bayou Oaks.
Following Katrina, floodwaters lingered in the park and on the golf courses for months after being routed from city streets, through City Park and back into Lake Pontchatrain. Rather than re-do two courses in City Park (the East and West), Rees Jones was brought in to design one championship 18-hole layout, the South Course at Bayou Oaks, that officials hope will prove the same type of attraction as Torrey Pines and Bethpage Black, two other municipal venues Jones redesigned that have hosted the U.S. Open. Though the New Orleans tour stop is currently played at TPC Louisiana, officials can see a day where Bayou Oaks, which opened this past April, is the host site for the event. It's certainly good enough.
The 7,400-yard layout cost $24 million to build—$15 million in public money and addition $9 million in contributions—and still has several of its historic oak trees that survived the storm and many lagoons that come into play as well. Though there are few forced carries, six sets of tees offer flexibility for a variety of skill levels. The third and 13th holes also offer views of the city's skyline, there is a short-game area and there's a large but understated gleaming new clubhouse. Prices are also affordable, ranging from $49 to $120. Across the street, meanwhile, is the venue's North Course, built in 1968 and redesigned by Jones in 2008, opening the following year.
Approximately 40,000 to 50,000 rounds are played on the North Course, netting about $1 million a year with couple hundred thousand dollars going to other areas of City Park. On the South Course, about 30,000 rounds or so are expected to be played annually.
"It's like having a golf course in your backyard," says Claudette Ashford, a single mother of one who moved to the Columbia Parc neighborhood following Katrina. "We couldn't have lived here before, and we wouldn't have wanted to."
Ashford, a native of New Orleans who turned 50 in July, works for the department of motor vehicles now but during Katrina worked for another state agency and was on disaster relief duty following the storm. While many residents left never to return, she chose to stay. She was also looking for a safe place to raise her 9-year-old son, Jonathan, so five years ago they moved into a three-bedroom townhome in the neighborhood, complete with stainless-steel appliances and granite countertops. Though it's a mixed-income development, all residents have to be employed for at least 20 hours a week, in vocational training or enrolled in a college or university.
"When I did come back, the city looked like someone set off a bomb," she said. "But New Orleans is the type of city that once it gets in you, it's in your soul."
And golf as it turned out was in hers, too. She briefly took up the game in college but didn't pick it up again until years later. Once she did, she was hooked. While her son plays other sports, Tiger Woods was, as Claudette says, "a face like his" that he could look up to in an otherwise white game. With tennis and golf schedules conflicting, Jonathan had to make a choice.
"He got the bug," she said. "He chose golf."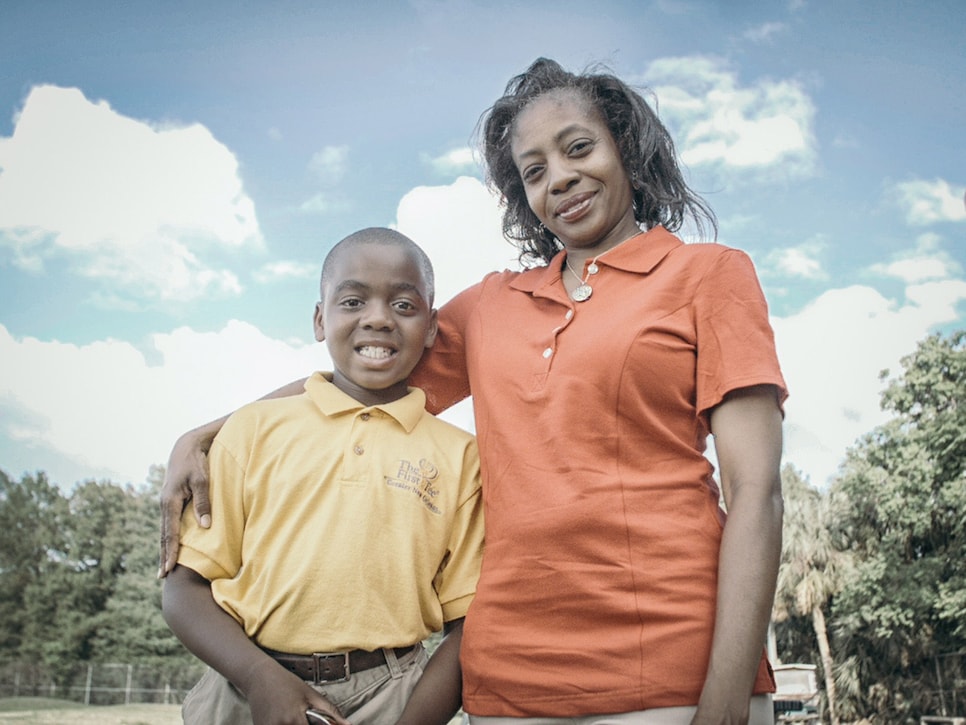 "It's very important so other kids could see how to acclimate into society, to see they do have other choices. There are other sports available, not just football or basketball. They see Jonathan doing it as well. When I was young I didn't see faces that look like mine. He sees other faces like his now."
And in a revamped City Park, they, with a lot of other faces, have a course that stacks up to other accouterments the city has to offer.
"I like to play golf a lot," says Jonathan, whose best score so far is even par over nine holes earlier this year. "I go over to [City Park] almost every day."
It's something Rodrigue hoped would be the case, his vision having become a reality. It's something, too, that the people of Houston can perhaps take some solace from as they stare at all the water in their neighborhoods and streets and wonder what now. There is a future. You have to look no further than Bayou Oaks.