Autralian PGA Championship
Cam Smith's fifth win of 2022 was the least surprising but most emotional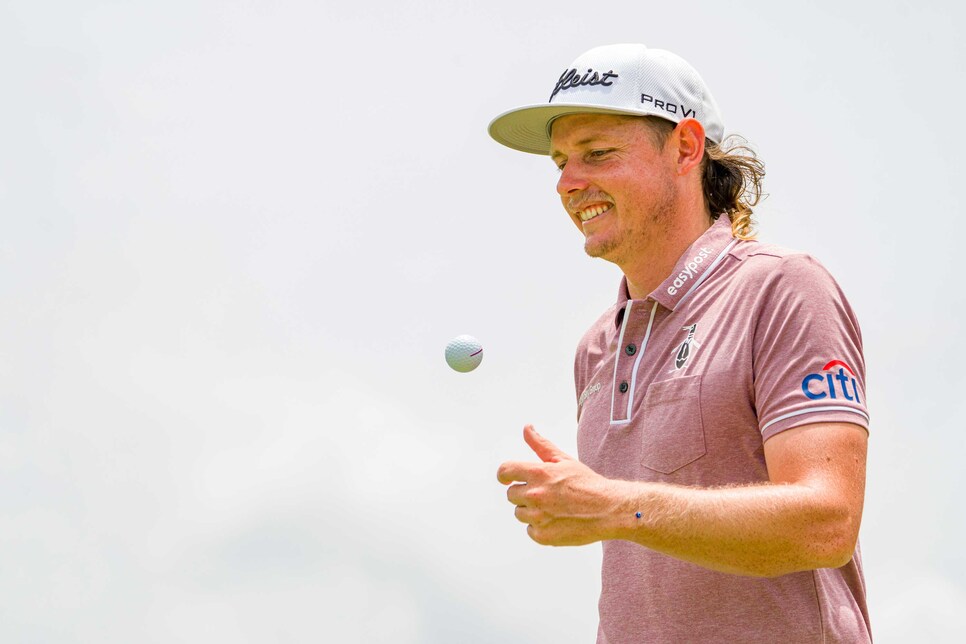 To close out his third career Australian PGA Championship victory, the 2017 and 2018 champion battled two weather delays in Sunday's final round at Royal Queensland Golf Club en route to securing a three-shot victory at the DP World Tour co-sanctioned event. Three birdies in his final seven holes, and a clutch bunker save at the 18th, gave Smith a closing 68 and a 14-under-par (270) total. Japan Tour regular Ryo Hisatsune (65) and Australia's Jason Scrivener (67) tied for second at 11 under.
Among the loved ones at Royal Queensland was Smith's grandmother, Carol, who recently underwent two chemotherapy treatments. Impressively, she walked all 72 holes this week, including Sunday's seven-hour, weather-interrupted final day. In all four rounds, Carol wore a custom-made "Team Smith" maroon T-shirt, the color Smith chooses to wear in final rounds because it is worn by his beloved Queensland state rugby team.
"I can't believe she did it," Smith said as he choked up on the 18th green at Royal Queensland. "Everyone at the start of the week was telling her to pace herself and she was out there all day every day, so it was pretty amazing. It was definitely inspiring. I don't know how she did it, but it was also my dad's birthday as well. After I got back to the tie for the lead there after 11, I really wanted to do it for those two."
Smith seems stoic, as he showed at St. Andrews when he overcame a four-shot deficit to Rory McIlroy and Viktor Hovland in the final round. But is he actually an emotional player who handles nerves and sentiment better than most?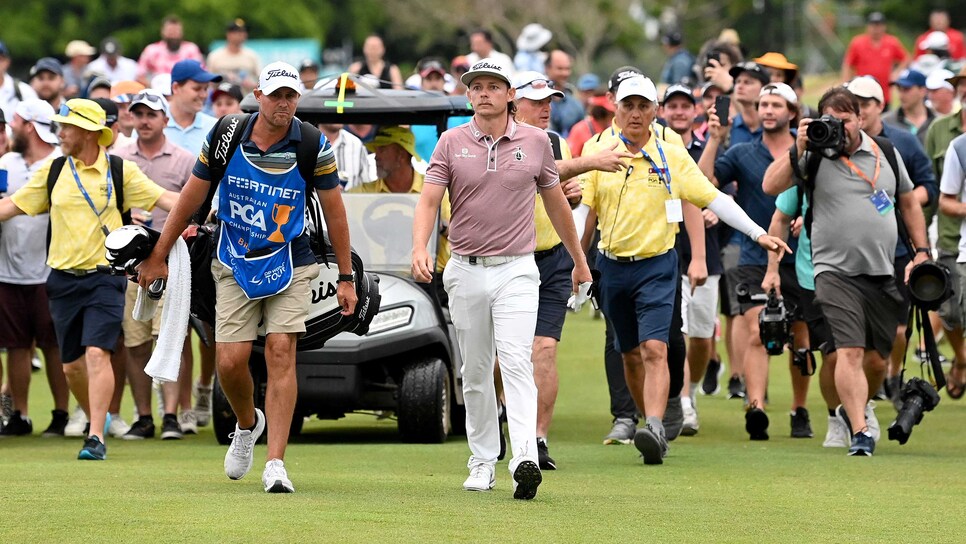 The crowds followed Smith in up the 18th fairway as the Brisbane native was putting the finshing touches on his three-shot victory at the Australian PGA Championship.
Bradley Kanaris
"I wouldn't say I let emotion get in the way of what I'm trying to do, but it's nice to have a little bit of fire in the belly for sure," he said.
At the par-3 11th, after the first weather delay, there was a turning point. Smith made a bogey, moments after Scrivener had birdied No. 13. It dropped Smith to a tie for the lead after starting the day with a three-shot cushion. Then, Smith hooked his tee shot into the trees on the driveable par-4 12th. But he pulled off a miraculous flop shot over a tree to close range for birdie. He made it and never looked back. "Scriv is a great player and I knew he'd keep putting the pressure on me," Smith said.
Smith's win was also meaningful given he is conscious of criticism he faced after leaving the PGA Tour, where his six career victories were establishing a legacy. That criticism came from icons like nine-time major winner Gary Player, who questioned why Smith would defect to a tour that features 54-hole events, no cut and 48-player fields. "What sort of tour is that?" Player said.
Former Masters winner Fred Couples also spoke up, although his was more of a swipe. He posted on social media: "To all my friends who I missed birthdays & weddings … so sorry, I was busy earning a living on the @pgatour and in my line of work the goal is to EARN your way to work weekends … and by weekends I mean 72 holes." It was a reference to one of the reasons Smith offered for why he'd left the PGA Tour for LIV: apart from the massive, guaranteed money, which he acknowledged being able to return to Australia for prolonged periods of time was a factor in his move, Smith said it had been "tough to miss out on family and friends' weddings and birthdays" in the PGA Tour's wraparound schedule required him to spend the majority of the year in the U.S.
"I wanted to prove to myself and to others that I'm still a great player," Smith said after winning LIV's $20 million event in Chicago.
Smith's return to 72-hole stroke play for the first time since the PGA Tour's FedEx St. Jude Championship in Memphis proved he remains one of the world's best golfers, regardless of the format. He became the second LIV golfer to win a DP World Tour event, joining Spain's Adrian Otaegui who won the Andalucia Masters in October (a February court hearing in the U.K. will determine if LIV golfers can be prohibited from playing DP World Tour events.)
Although the strength of field at the Australian PGA did not offer the same threat PGA Tour events used to for Smith, he still lined up against DP World Tour winners like Min Woo Lee, who finished tied fourth at seven under, Rasmus and Nicolai Hojgaard, and Ryan Fox, along with PGA Tour winners like Adam Scott, Marc Leishman, Cameron Davis and Lucas Herbert. Smith only won 10 World Ranking points, so there won't be any movement within the top 10 in the World Rankings. But he will remain World No. 3 and that is not likely to change even if he were to win next week's Australian Open in Melbourne.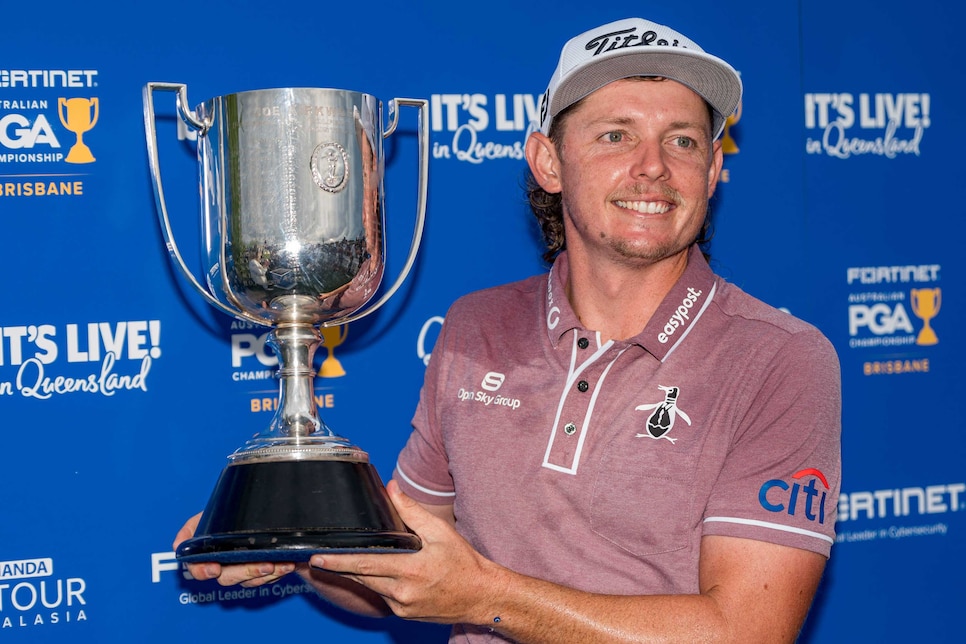 Smith's win was his fifth title in 2022, but the first in which so many family and friends coudl see it in person.
Andy Cheung
No matter. Smith signed off on a whirlwind year with the Australian PGA Championship's Joe Kirkwood Cup, which sat beside his claret jug in the clubhouse at Royal Queensland Sunday night. Joe Kirkwood was an Australian PGA pro who is credited with putting Australian golf on the map, via his 13 PGA Tour wins in the 1920s and 1930s but also with a series of trick-shot events he held with Walter Hagen.
Those who drank out of the claret jug and Joe Kirkwood Cup Sunday night included family, friends, and fans. High-profile Australian athletes also wanted a drink out of the jug, like some of the rugby league football players from Smith's beloved Queensland Maroons, past and present. One of them is ironically named Cameron Smith, considered one of the greatest players in rugby league history, and fellow icon Johnathan Thurston.
"The reception from everyone has been pretty outstanding," Smith said. "Guys that I have look up to on the [football] field are coming up and asking me for a beer or a game of golf. It's pretty cool."
BRISBANE, Australia — The claret jug is one of the most famous trophies in sports, engraved with the names of many of the most iconic golfers in history. Each year, the winner of the Open Championship receives a replica to show off for 12 months and then hand back the following year.
As significant as it may be in the golf world, the claret jug does not, however, get any special treatment by security staff at Los Angeles International Airport. This is something that its current holder, Cameron Smith, found out recently on a long journey back to his native Australia.
Smith, who won the 150th Open at St. Andrews in July, recently undertook the 9,000-mile trek from his base in Jacksonville, Fla., to his home in Brisbane to compete in this week's Australian PGA Championship. Upon arrival at LAX, airport security made Smith open the traveling case in which the trophy was kept so that they could perform a very routine bomb search before the 15-hour flight to Australia's east coast.
Once Smith, his father, Des, and childhood best friend and support staffer, Jack Wilkosz, had touched down in Sydney, there was another claret jug curve ball: the case for the trophy, which is 20¾ inches tall and 7¼ inches wide at its base, wouldn't fit in the overhead for the final flight from Sydney to Brisbane. In the end, airline staff allowed the 29-year-old Smith to stash the jug in the compartment where jackets are kept for business class passengers.
Some 30 hours of travel later, Smith was in his homeland after a three-year absence caused by Australia's harsh COVID-19 border restrictions.
"Cam had a window seat flying into 'Brissie' and his eyes were glued to the view outside after a long time away," Wilkosz told Golf Digest on Tuesday at Royal Queensland G.C., host of the Australian PGA. Added Smith: "I've teared up a few times since I've been home. Seeing family and friends, doing stuff I haven't been able to do for three years, has made it emotional."
"It's insane," Smith said of Australians' reactions to the claret jug so far. "It's like they've seen a ghost the first time they've seen it."
The claret jug's tour Down Under then made a sentimental stop at Smith's childhood home course, Wantima Country Club, last Saturday. It's not really a country club as such, more a blue-collar, publicly accessible golf club 30 minutes north of Brisbane where Smith honed his game before moving onto Royal Queensland as an elite teenage amateur. Wantima hosted a celebration for Smith and 200 members inside its modest clubhouse. Smith sat down for a 45-minute Q&A session before passing the jug around to the members to chug XXXX Gold, Smith's favorite beer from his home state of Queensland, from its sterling silver spout.
"It was an amazing night for members," said Jason Patterson, Wantima's general manager on Tuesday as he showed Golf Digest several proud, but understated, shrines to Smith inside the clubhouse. "Everyone got photos, some were drinking XXXX Gold out of it and some were holding it like a baby."
Adds Smith: "It was pretty neat for a little club like that on the north side of Brisbane to have that jug in the clubhouse, something those people will never forget."
The homecoming formalities were turned up a notch Tuesday morning when Brisbane mayor Adrian Schrinner handed the keys to the city to Smith, the 52nd recipient to receive the honor but the first golfer. "Not in my wildest dreams did I ever think I'd get the keys," Smith said, before joking that "thought it was for important people, not golfers."
Smith then held a press conference at Royal Queensland to talk about his primary purpose for coming back to Australia: to try and win a third Australian PGA Championship, having won the 2017 and 2018 edition, and to try and earn a maiden Australian Open win next week in Melbourne. Smith came close at the 2016 Australian Open when he lost in a playoff to Jordan Spieth at Royal Sydney. This week, he'll face strong competition from solid players such as 2013 Masters winner Adam Scott, Lucas Herbert and Cam Davis, as well as DP World Tour star Ryan Fox from New Zealand and Min Woo Lee. But after some rest following LIV Golf's Team Championship in Miami last month, where Smith took his all-Australian team to second-place finish the World No. 3 is feeling good.
"I took a couple of weeks off, and now I feel probably more mentally fresh than I ever have coming down to Australia," Smith said. "The golf course looks great so it should be a good week."
After this upcoming stretch of golf, Smith will take almost two months off and remain in Australia before LIV's second season starts in February. He said he was confident he could arrive at the majors in 2023 competitively sharp, despite LIV's format of 54 holes and no 36-hole cut. If nothing else, he says he's motivated to win another Open so that he can keep that claret jug for another year.
"I think coming close in a few majors has made me really hungry; I felt like I should have had one before this, but I'm happy this was the first one," Smith said, referencing his close calls at the Masters, including a tie for third behind final-group partner Scottie Scheffler at Augusta this year and a share of second to Dustin Johnson at the 2020 Masters. "I think I can do it. [St. Andrews] something that I'll never forget. It still hasn't sunk in; I still can't believe I won it. I don't want to give it back. I want to keep hanging onto it."