True To Himself
Players 2022: The biggest win of Cameron Smith's career came in vintage Cameron Smith fashion
A wild finish at TPC Sawgrass was fitting for a golfer who only knows one way to play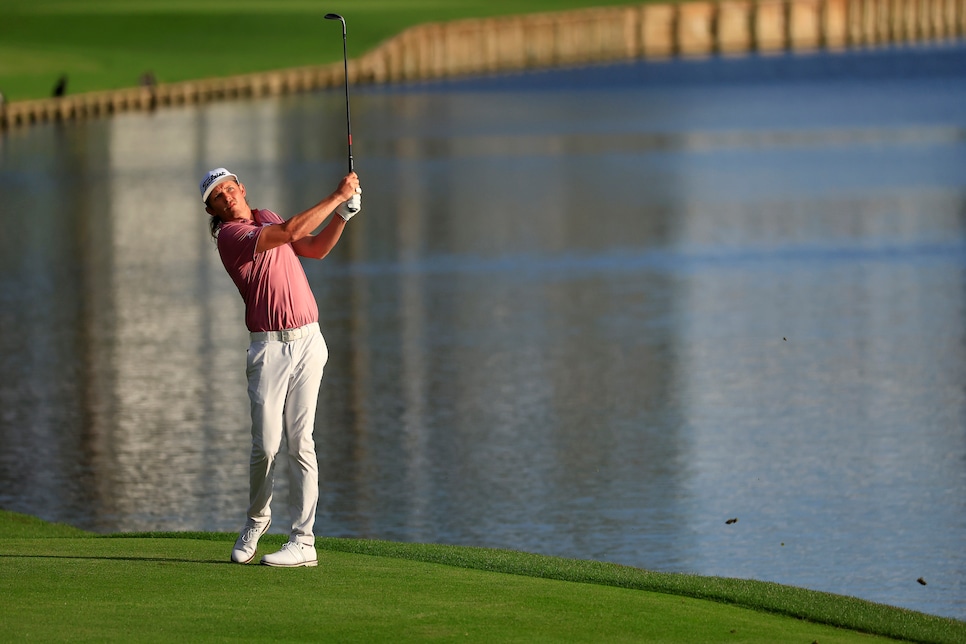 PONTE VEDRA BEACH — He grabbed the D-stick, and he did not hesitate. Never mind the block on 14, the pull on 15, the violent smother-hook on 16, the two-shot lead, the water encroaching from the left, the $3.6 million up for grabs. Cameron Smith, his blond locks cascading over his shoulders, didn't bother asking his caddie, bald as a bowling ball, for input on that 18th tee at TPC Sawgrass because he didn't give a damn what he had to say. He was going to smash driver and live with the consequences. He doesn't know how to play any other way.
It didn't go well, a flare into the pine straw well right of the fairway. The next shot brought disaster into play, an overly aggressive punch-out that trickled into the drink. He cannot be serious. That's the one thing he couldn't do. The crowd panicked. Smith did not, his mustached face conveying an attitude imported from the shores of Australia: No dramas, mate.
Sam Pinfold, Smith's caddie, paced off the number, 58 yards, and said nothing else. "I try to stay away from 60 yards and in," he said. "He is a genius on and around the greens." The genius nipped a lop wedge that sunk its teeth into the pillow-soft greens, flirted with a front-left hole location and finished 38 inches from it. There was not a chance in the world he would miss the putt. Dead-center. He hooped 10 birdies on the day, but it was his fourth bogey that clinched the biggest win of his life. A final-round 66 brought him a one-shot victory over Anirban Lahiri, who failed to hole a chip that could've sent this tournament into a sixth day.
"I felt really comfortable on the range with my irons," Smith says, "and I knew if I could somehow get it in the fairway, I felt it was mine to win from the start. I feel really comfortable on the greens around here, so I just needed to get it on the fairway, and if I could do that, then I knew I had a red hot chance."
Smith lives five miles up A1A in Jacksonville Beach. He practices on the PGA Tour-only back range at TPC Sawgrass but tries to avoid playing the course. The typical setup, he says, is unrecognizable from that of the Players, so he finds little value in clouding his mind with conflicting information. (A jam-packed tee sheet of vacationers is also a strong deterrent, but he's too polite to admit that). But he's here often, and each time he pulls up to that palatial clubhouse he'll be greeted by the Australian flag, a reminder of the remarkably brash round of golf that capped a truly bizarre week.
To summarize: rain, more rain, angry rain, gale-force winds, freezing cold, Monday-evening finish. Smith preached patience all week. While others holed up in the Marriott during those delays, he chilled in the comforts of his home. A steady climb up the leader board kicked into overdrive Monday afternoon—he shot off the mark with four straight birdies to start the round, and after a fifth at the sixth, you wondered if a week defined by chaos would coast to the finish. But he made three straight bogeys before the turn, and an up-for-it Lahiri and steady Paul Casey kept clawing at him.
He hardly seemed to notice. This is the same man who watched the world's best player shoot 33 under par for four rounds and beat him. In an era increasingly characterized by course management systems and mathematically optimized strategy, Smith plays the sport's biggest tournaments with a freedom you'd expect from a tour pro screwing around with his friends on an off week: unbothered, unfettered, unrelenting. He followed up the three straight bogeys by stuffing his approach on 10 to kick-in range. He capitalized on the reachable par-5 11th and drivable par-4 12th with birdies, then curled in a fourth consecutive one from 11 feet at the par-3 13th. For once, the eye-test and the numbers agree: Observationally speaking, Smith's end-over-end rolls appear magnetized to the bottom of the cup. Statistically speaking, he led the field in strokes gained putting, picking up more than four on Sunday alone and more than 11 for the week. A genius on and around the greens.
"He swings the putter on plane and in sequence," says putting guru Stan Utley. "He has a dead-straight stroke. That means the putter head accelerates early in the downswing and crashes into the ball at coasting speed. That's why his through stroke isn't too long."
Whatever the mechanics are, just don't change them. Smith one-putted 42 greens for the week and 13 on Sunday alone, including a 14-footer for par at 14 and an eight-footer at 15. His tee shot at 16 traveled 179 yards forward and 40-odd yards left. The sequence quite resembled a slugger turning on an inside fastball, ripping it over the jumping third-baseman's head, and sighing after it turned foul. A no-nonsense punch out still left him with 238 in. He played safely left of flag, fully confident in his ability to two putt and preserve a two-shot lead. He did exactly that, and 99 percent of tour players would cite that cushion as justification for playing safely into the middle of the 17th green. But Smith is not normal in that way. He took dead-aim, holding a fade into a right-to-left wind that landed right of the flag, in Rickie Fowler territory.
"I hit a really good shot," Smith says. "The wind didn't quite hit it as much as what I thought it was going to. Kind of left it alone there for a long time and just kind of helped me out there at the end. I'd be lying if I said I was aiming there. I was probably aiming 10 feet left of that. But still wanted to stay aggressive, still wanted to make birdie.
"There were a few pin spots out there that were very gettable, and being the way that the course played with all the rain, just soft and sticky, I just knew I had to make plenty of birdies."
It finished four feet, and this will shock you, but he hearted the putt. His adventure at 18, coupled with a gamely effort from the unheralded Lahiri, meant he needed each of the 10 he made.
"For me, I'm just relieved," Lahiri says, proud of his effort, encouraged by his progress, disappointed with the L. "I've gone through two years of playing horrible…It's been a long time since I've been in this position and since I've played in this position in a quality field like this. It's huge, because when you go through such a lean period for such a long time, you start asking yourself, man, was that a flash in the pan? What are you doing? You haven't played good in so long. Your belief takes a hit, so this for me is … I'm going to re-cement the foundation and work upwards from here.
Smith took care of business in the scoring tent. Behind him, the party had begun. The Australians are quite the clique on tour, often playing practice rounds together and genuinely pulling for each other's success. Marc Leishman's caddie Matty Kelly bear-hugged Pinfold to kick off festivities. "Come here boy!"
Smith beelined for his mother, Sharon, and his sister, Melanie, who're back in the States for the first time since pre-pandemic. His record payday couldn't have been further from his mind. At last year's Tour Championship he said he genuinely had no idea what he'd do with the $15 million grand prize. "I'm pretty set," he said. Maybe some fishing equipment? On Monday, he refused to even hypothesize on how he might spend the dough. "That's a lot of money," he acknowledged. "I'm not sure what I'm going to do with it." When asked how her son has changed over the past couple years, besides his bank account and world ranking, Sharon had no answer. Melanie cut through the awkward silence: "He's the exact same."
Jack Wilkosz, Smith's right-hand man/best friend, relayed the same message as he held back tears: "This won't change him. That's what makes him so great as a friend, person, countryman and player."
Given the opportunity once more, Smith would reach for that driver all over again. It's a fearlessness that stops just short of recklessness, a recipe for a round with only four pars. A winning recipe.