Players Championship
Players 2022: Keegan Bradley can live with the 'what ifs' after nearly crashing the party Monday at TPC Sawgrass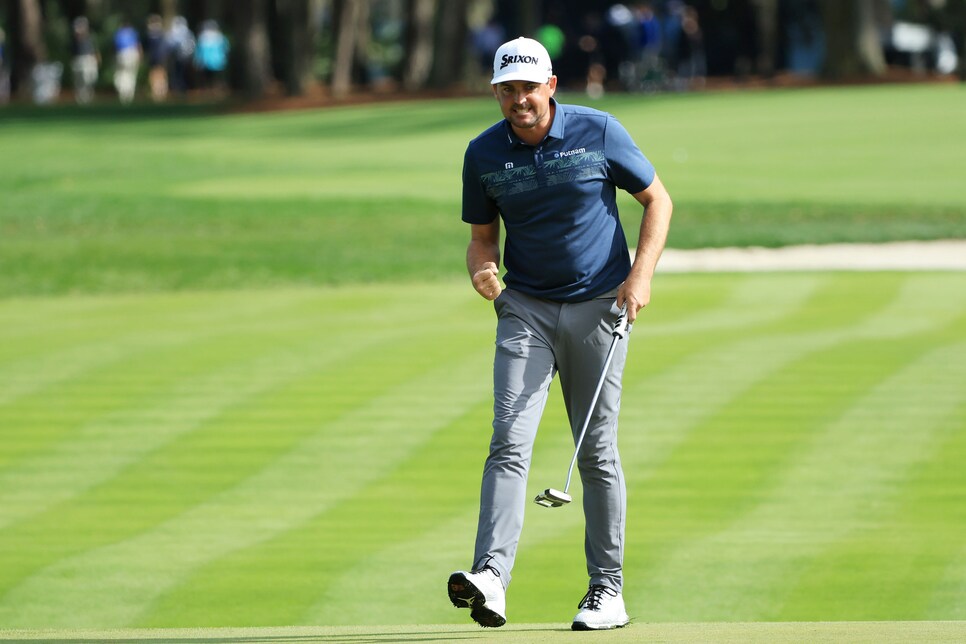 It might have all turned out about the same in the end for Keegan Bradley—an end about as dyspeptic as you can imagine when you blow more than $1 million on your last two holes—but for now it's probably best that the former PGA champion eschew the what-if game that every golfer can't help but play at the conclusion of a tournament he could have won.
And, yes, he very well could have won the Players Championship on Monday. A bogey/double-bogey finish dropped Bradley from second to fifth place, and in the ether of time, no one will remember that disastrous blot on an otherwise stellar performance. Fifth place will appear as his best showing in the PGA Tour's flagship event and will give him another top-10 to go with 45 he already owns. His $820,000 payday gives him more than $30 million in career earnings. It's all good. It's just not, well, satisfying.
OK, in reality, it stinks.
"That was tough. I played really well today. Really well all week. I had a two-shot penalty on Friday and still was right there," Bradley said after a final-round 68 left him with a nine-under 279 total, four behind winner Cameron Smith. "Yeah, I'm sorry, I'm having a hard time thinking of words to say. I'm pretty bummed out, but proud of the way I played."
Bradley, 35, arrived at the famed par-3 17th hole trailing Smith by a stroke but three-putted from 71 feet after a tee shot eaten up by an ill-timed gust of wind. Then, needing to press on the 18th, he struck a tee shot that didn't turn over and then hit his second shot from behind the right trees into the water, proceeding to scrape it home for a double bogey.
But Bradley has a right to think about what might have been, what he might have chosen to do differently, if not for the aforementioned two-stroke penalty on the par-5 16th hole during his second round on Saturday. He made a five but had to write down seven when a gust of wind moved his ball after he marked it. Rule 13.1 d(2) says he needed to play his ball from the new spot, not where he marked it. His fault. He should have known the rule or conferred with an official. The mistake had consequences.
Like, he would have been tied with Smith, not two back, as he played the final hole. What if.
"Yeah, figured I probably had to make birdie to have any chance," he explained about the aggressive punch out that turned into a gut punch. "It's probably not a shot that I probably would have tried otherwise, but you're trying to win the tournament."
Ranked 86th in the world and four years removed from the last of his four PGA Tour wins, Bradley played brilliantly until he didn't, with eight birdies against one bogey—this after birdies on 16, 17 and 18 Monday morning to complete to close out a 68 in the weather-delayed third round. He began the final round four strokes behind Anirban Lahiri after making birdie on four of his last five holes to complete his third round. He wasn't really in the conversation for the title until all of a sudden he was. And then, just as suddenly, he was out of it.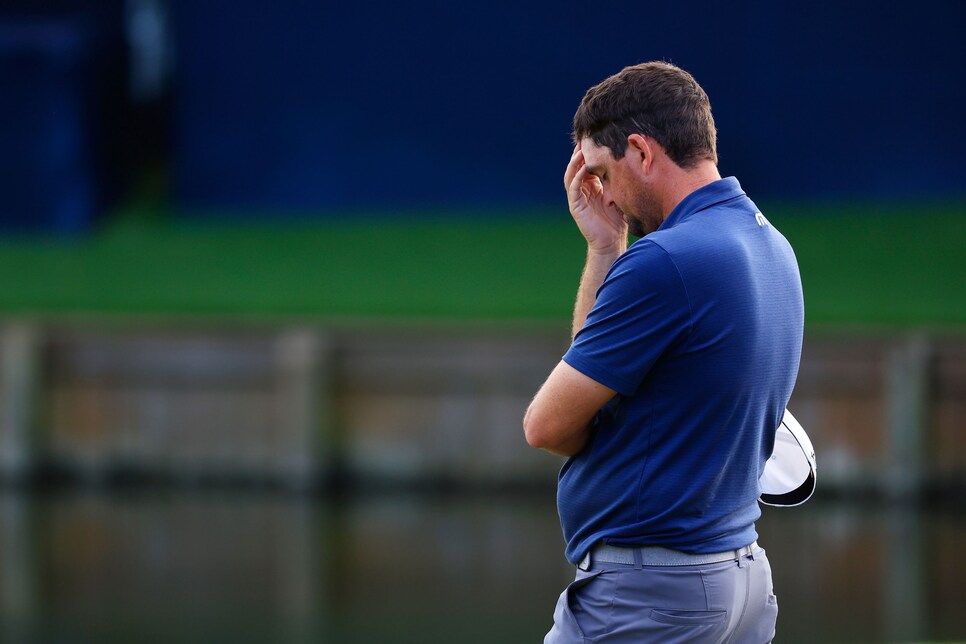 A bogey/double-bogey finish dropped Bradley to a solo fifth-place finish, but that was still his best performance at TPC Sawgrass.
Mike Ehrmann
He had reason to be disappointed. The lost revenue has to hurt, no matter how much he's earned in his career. But after the what ifs, you have to find positives. He managed to do that.
"I was actually pleasantly surprised how calm I was. I really felt calm. I was having fun," he said. "I wasn't uncomfortable in the slightest. This is a course when you're in 50th place you can feel uncomfortable, so truthfully I really felt good. I feel great when I get myself in those positions. I hope to do that more the rest of the year."