Rules Controversy
Players 2022: 'You're wrong': Daniel Berger has testy rules exchange with Viktor Hovland and Joel Dahmen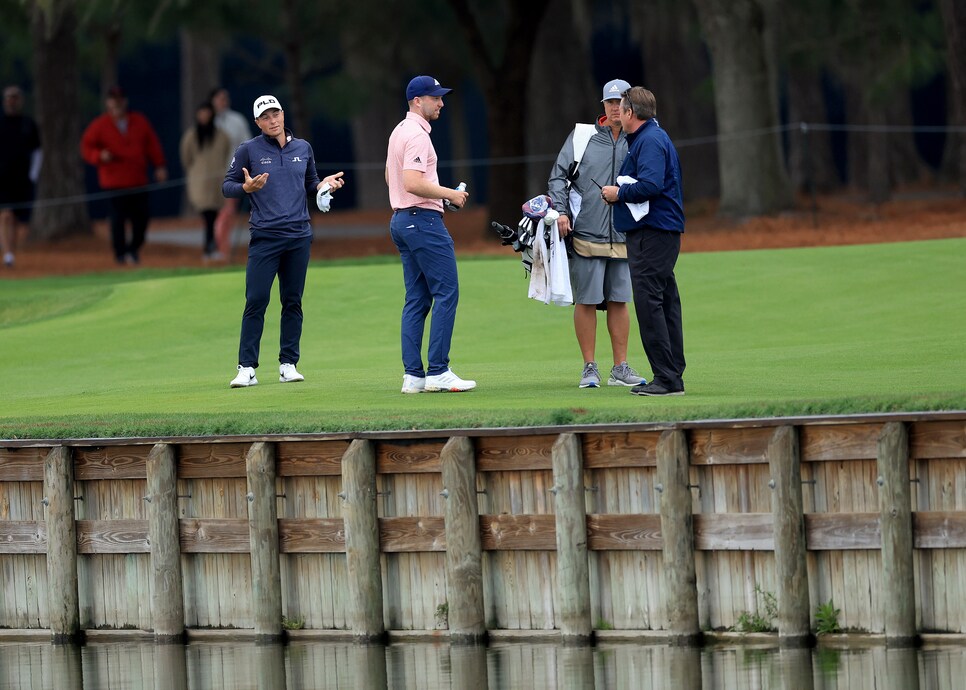 David Cannon/Getty Images
PONTE VEDRA BEACH — If Netflix was hoping for drama in the upcoming PGA Tour docuseries, the streaming service got all of it and then some from the group of Daniel Berger, Viktor Hovland and Joel Dahmen in the 16th fairway on Monday at TPC Sawgrass.
The video clip, which took over Golf Twitter immediately, features a testy exchange between Berger and his playing partners, who didn't agree with a particular drop Berger was going to take at the par 5. Berger, who found the right side of the fairway off the tee, struck his approach shot from 233 yards out and knew it was dead right after impact. "Water ball," Berger yelled.
That's when things got interesting. In the clip below, you'll hear Berger say "it's a bad drop, that's all I'm saying." Berger believed his ball had started left of the pin and therefore crossed land up near the green, where he was hoping to drop and attempt to get up and down for par. Hovland and Dahmen disagreed, believing it had started farther right and last crossed land farther back then where Berger had thought.
"To be honest with you, I'm not really OK with [the drop] being up there," Hovland says. "That's not really what I saw." Because Dahmen agreed with Hovland, Berger didn't have any other choice. It's up to the group to come to a group decision in matters like this one. Berger did not take it well, as you'll see in the clip below:
"You know what, I'm going to drop here for the sake of you guys, but you're wrong," Berger says. Wow, spicy stuff.
As you can hear chief referee Gary Young say, Berger had to just agree on it and play on, or risk being hit with a slow-play penalty. He went on to make bogey on the hole, then went par-par to finish at six under instead of seven under, the difference between T-9 and T-13. To put it in a more painful way, a difference of nearly $200,000 in prize money. Ouch.
After the round, Dahmen declined to speak with the media. Hovland obliged, shedding some light on the controversy.
"So obviously I was in kind of more of the left side of the fairway, Berger hitting from the right side," Hovland said. "And Joel was kind of in the middle. But as soon as Daniel hit it in the air, he said, 'oh, water ball', and then I was watching the whole flight, and it was just short right of the green in the water on 16.
"From my perspective, obviously I was a little further left than Daniel, in my opinion I did not think the ball started very far left of the pin. It looked like it kind of started at the pin and then cut towards the end because the wind was also a little bit off the left.
"He obviously thought that he started it way left of the pin and then he kind of cut hard at the end, but that's not what Joel and I saw. I'm not going to put words in Joel's mouth, but he was closer to Daniel's line, and we both saw the same thing, that it kind of started pretty close to the pin and then cut to the right at the end, therefore not really crossing all the way up there close to the green. We thought it was closer to the grass bunker there, just past it, and yeah, we had a little discussion about it."
Despite Berger pushing back, Hovland wouldn't budge.
"It's not a fun conversation," he added. "Daniel's game is great, and I have massive respect for him as a player. But at the end of the day, we've got to protect the field and protect all the other guys. It's not a fun conversation, but when you strongly believe in something, you kind of have to stand your ground."
As for the post-round pleasantries, the young Norwegian said they kept it professional.
"It's not like we're trying to dog on Daniel and trying to screw him over," Hovland said. "It's just, that's what we believe, and he obviously felt strongly the other way. It's just what it is. I'm not accusing him of anything. The golf ball is in the air for a couple seconds, so it's tough to exactly pinpoint where it crossed and not. But Joel and I saw it in one way and he saw it differently."
Berger, who originally had declined to speak with the media, stopped for a chat with Golf Channel not long after signing his scorecard. The four-time tour winner said the issue was settled and he's moving on, though he did reiterate his stance that he felt his ball had crossed much closer to the green then where he wound up dropping.
"I felt strongly that my ball crossed here, they felt strongly that it didn't," Berger said. "In the end, it's a decision that you have to make between your playing partners and it is what it is. I'm not upset about where I dropped, I think it 100 percent was the correct place to drop, but I thought it would have been a little further up. In the end, it was the right decision."