News & Tours
Cameron Smith returns to Australia for the first time in three years—and takes the claret jug on a victory lap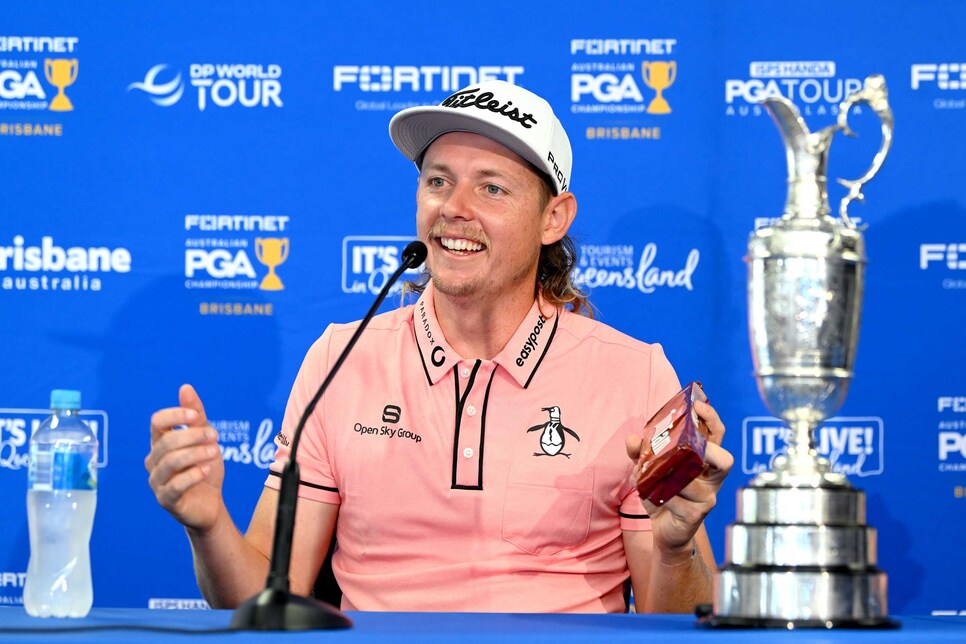 Cameron Smith greets the press, claret jug in tow, ahead of this week's Australian PGA Championship.
Bradley Kanaris
BRISBANE, Australia — The claret jug is one of the most famous trophies in sports, engraved with the names of many of the most iconic golfers in history. Each year, the winner of the Open Championship receives a replica to show off for 12 months and then hand back the following year.
As significant as it may be in the golf world, the claret jug does not, however, get any special treatment by security staff at Los Angeles International Airport. This is something that its current holder, Cameron Smith, found out recently on a long journey back to his native Australia.
Smith, who won the 150th Open at St. Andrews in July, recently undertook the 9,000-mile trek from his base in Jacksonville, Fla., to his home in Brisbane to compete in this week's Australian PGA Championship. Upon arrival at LAX, airport security made Smith open the traveling case in which the trophy was kept so that they could perform a very routine bomb search before the 15-hour flight to Australia's east coast.
Once Smith, his father, Des, and childhood best friend and support staffer, Jack Wilkosz, had touched down in Sydney, there was another claret jug curve ball: the case for the trophy, which is 20¾ inches tall and 7¼ inches wide at its base, wouldn't fit in the overhead for the final flight from Sydney to Brisbane. In the end, airline staff allowed the 29-year-old Smith to stash the jug in the compartment where jackets are kept for business class passengers.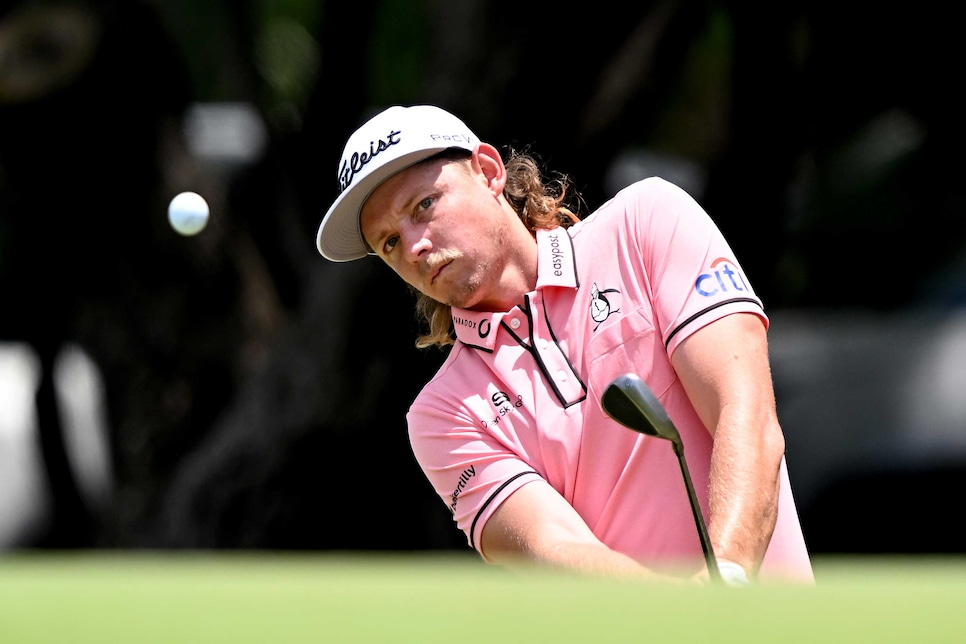 Cameron Smith's return to Australia is a mix of pleasure and business as he'll be playing in this week's Australian PGA Championship and next week's Australian Open.
Bradley Kanaris
Some 30 hours of travel later, Smith was in his homeland after a three-year absence caused by Australia's harsh COVID-19 border restrictions.
"Cam had a window seat flying into 'Brissie' and his eyes were glued to the view outside after a long time away," Wilkosz told Golf Digest on Tuesday at Royal Queensland G.C., host of the Australian PGA. Added Smith: "I've teared up a few times since I've been home. Seeing family and friends, doing stuff I haven't been able to do for three years, has made it emotional."
"It's insane," Smith said of Australians' reactions to the claret jug so far. "It's like they've seen a ghost the first time they've seen it."
The claret jug's tour Down Under then made a sentimental stop at Smith's childhood home course, Wantima Country Club, last Saturday. It's not really a country club as such, more a blue-collar, publicly accessible golf club 30 minutes north of Brisbane where Smith honed his game before moving onto Royal Queensland as an elite teenage amateur. Wantima hosted a celebration for Smith and 200 members inside its modest clubhouse. Smith sat down for a 45-minute Q&A session before passing the jug around to the members to chug XXXX Gold, Smith's favorite beer from his home state of Queensland, from its sterling silver spout.
"It was an amazing night for members," said Jason Patterson, Wantima's general manager on Tuesday as he showed Golf Digest several proud, but understated, shrines to Smith inside the clubhouse. "Everyone got photos, some were drinking XXXX Gold out of it and some were holding it like a baby."
Adds Smith: "It was pretty neat for a little club like that on the north side of Brisbane to have that jug in the clubhouse, something those people will never forget."
The homecoming formalities were turned up a notch Tuesday morning when Brisbane mayor Adrian Schrinner handed the keys to the city to Smith, the 52nd recipient to receive the honor but the first golfer. "Not in my wildest dreams did I ever think I'd get the keys," Smith said, before joking that "thought it was for important people, not golfers."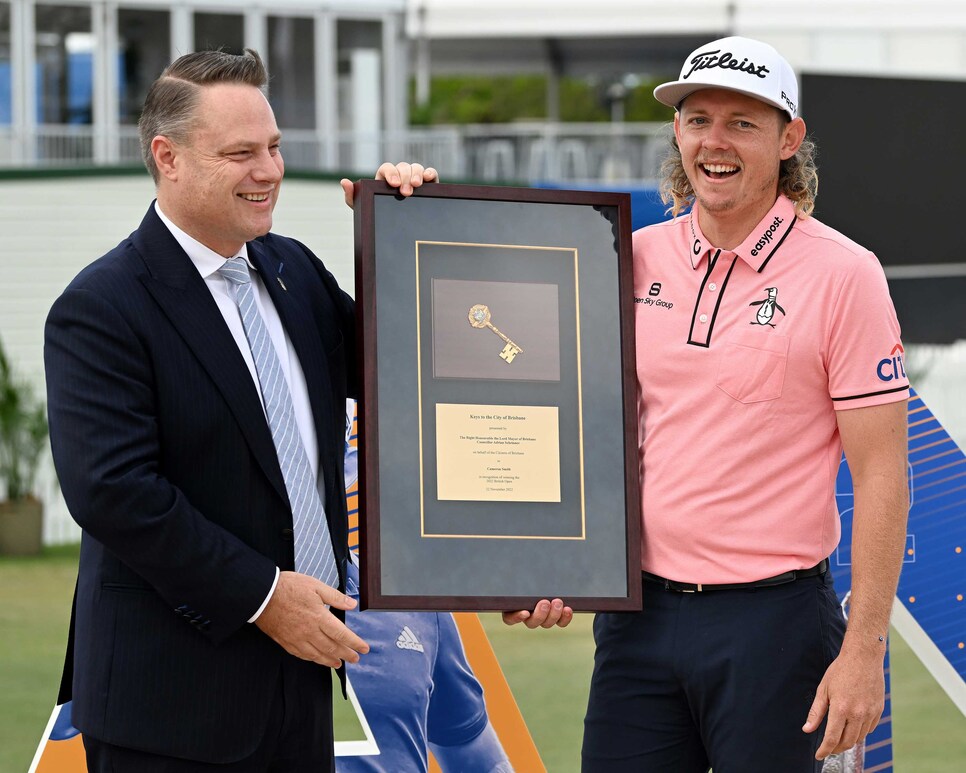 Upon Cameron Smith's return to Brisbane, the city's Lord Mayor, Adrian Schrinner, gave him a key to the city, the first time a golfer has earned that honor.
Bradley Kanaris
Smith then held a press conference at Royal Queensland to talk about his primary purpose for coming back to Australia: to try and win a third Australian PGA Championship, having won the 2017 and 2018 edition, and to try and earn a maiden Australian Open win next week in Melbourne. Smith came close at the 2016 Australian Open when he lost in a playoff to Jordan Spieth at Royal Sydney. This week, he'll face strong competition from solid players such as 2013 Masters winner Adam Scott, Lucas Herbert and Cam Davis, as well as DP World Tour star Ryan Fox from New Zealand and Min Woo Lee. But after some rest following LIV Golf's Team Championship in Miami last month, where Smith took his all-Australian team to second-place finish the World No. 3 is feeling good.
"I took a couple of weeks off, and now I feel probably more mentally fresh than I ever have coming down to Australia," Smith said. "The golf course looks great so it should be a good week."
After this upcoming stretch of golf, Smith will take almost two months off and remain in Australia before LIV's second season starts in February. He said he was confident he could arrive at the majors in 2023 competitively sharp, despite LIV's format of 54 holes and no 36-hole cut. If nothing else, he says he's motivated to win another Open so that he can keep that claret jug for another year.
"I think coming close in a few majors has made me really hungry; I felt like I should have had one before this, but I'm happy this was the first one," Smith said, referencing his close calls at the Masters, including a tie for third behind final-group partner Scottie Scheffler at Augusta this year and a share of second to Dustin Johnson at the 2020 Masters. "I think I can do it. [St. Andrews] something that I'll never forget. It still hasn't sunk in; I still can't believe I won it. I don't want to give it back. I want to keep hanging onto it."