LIV Golf
Cameron Smith settles into life on LIV, but one 'heartbreaking' concern remains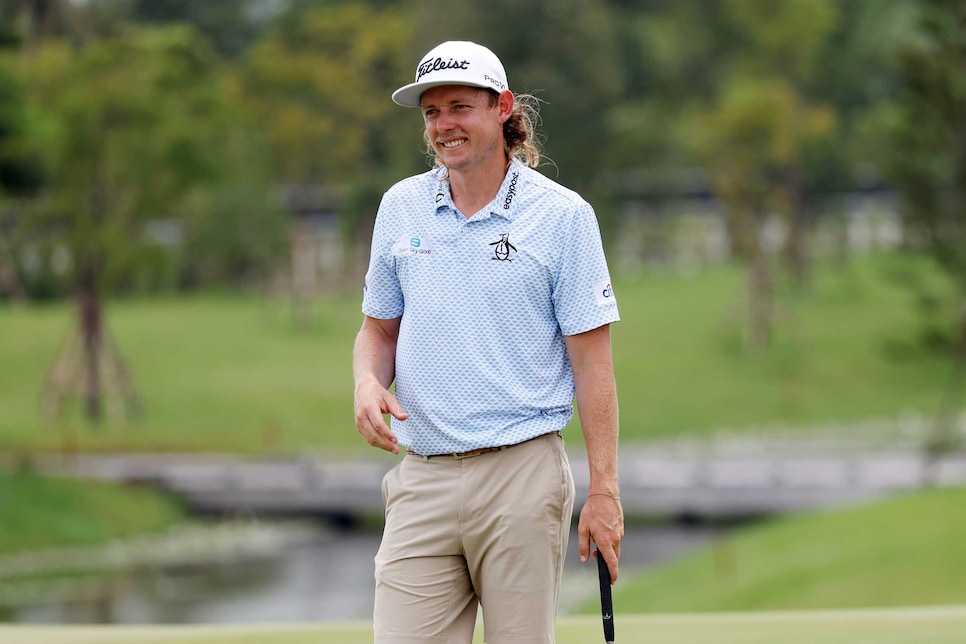 Cameron Smith smiles during the pro-am prior to the LIV Golf Invitational - Bangkok.
Jonathan Ferrey/LIV Golf
After a roller coaster few months, Cameron Smith can almost see the finish line of a wild 2022. The reigning Open champion and World No. 2 has waded through the expected backlash of leaving the PGA Tour at the height of his game for LIV Golf, where he's already claimed one tournament title. With two LIV Invitational events remaining, including this week's stop in Saudi Arabia, an extended break in his native Australia is longingly in sight.
Guaranteed money—reportedly around $100 million—factored into the 29-year-old's decision to sign with LIV, which Smith has acknowledged. But the chance to take an extended stay in his homeland was also something that made the move attractive. It was not practical for Smith to do that while he was on the PGA Tour given its wraparound schedule, but after LIV's finale in Miami later this month, the upstart Saudi-backed circuit doesn't resume play for three months.
"After Miami, I'll probably spend another week in the U.S. and then I'll come down and play the [Australian PGA Championship in November and Australian Open in December]," Smith said on ABC radio in Australia. "I'll basically stay through there until probably the start of February."
Smith said he was enjoying his first handful events in the inaugural LIV series. He debuted in Boston and then won the Chicago event for a $4 million individual prize. He hopes to make amends this week in Saudi Arabia after a surprise 42nd-place finish last week in Thailand. Smith believes he is facing healthy competition from LIV recruits like Dustin Johnson, Bryson DeChambeau, Patrick Reed, Brooks Koepka and Joaquin Niemann, despite former greats Fred Couples and Gary Player questioning whether LIV golfers can maintain their competitive edge given the small fields and no-cut format.
"We've had six or seven major winners over the last three or four years sign with LIV; the competition's still there at the top end," Smith said. "When you're playing against guys like Dustin Johnson, who's won [24 times] on the PGA Tour it still makes you think out there."
Beyond being suspended from the PGA Tour and fans' varying reactions to him jumping to LIV, Smith has felt other ancillary effects. Most notably, he had to forfeit his playing and practicing privileges at TPC Sawgrass, no small thing considering it's not far from where he lives in Palm Valley, Fla., and was a favorite place to work on his game when he was home. It's also where he won the Players Championship in March, earning the defending champion's parking spot next to the clubhouse that he had been enjoying during the summer. Not long after moving to LIV, the PGA Tour changed Smith's reserved spot to "Tour players only." Smith was diplomatic in saying he expected the eviction.
"It was just one of the things they had to do," Smith said. "I knew that was going to come with it, and it's something I've had to deal with. [TPC Sawgrass] is one of my favorite places in the world, and I'd love to be out there more often but [that can't happen] yet."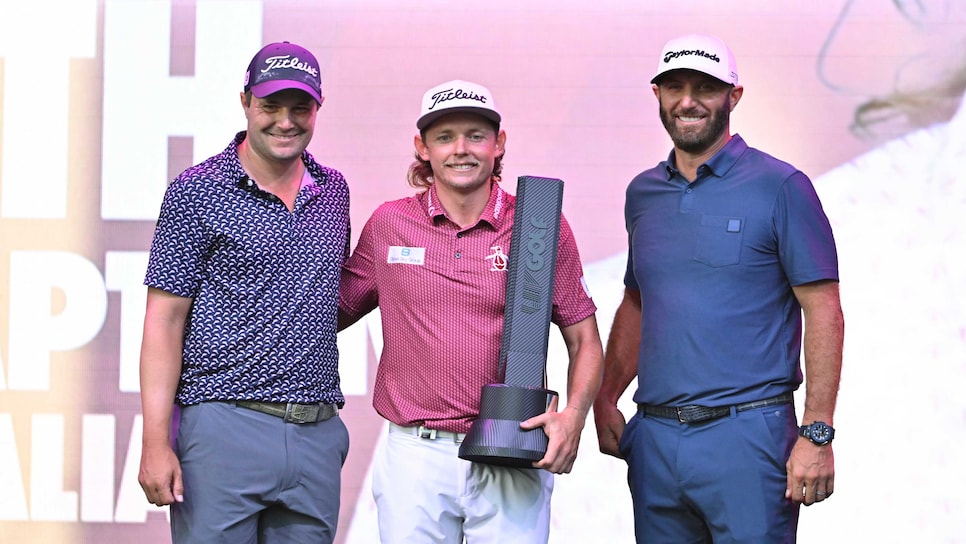 In just his second start after jumping to LIV Golf, Smith claimed an individual title.
Alex Goodlett/LIV Golf
A six-time PGA Tour winner, Smith said he did not regret forgoing the opportunity to create a legacy on the U.S.-based circuit because he wanted to play a more global tour. His presence will likely mean at least one LIV tournament goes to Australia in 2023. Smith was asked whether it was unfortunate PGA Tour fans would not be able to see him add tournaments like the Memorial event or the Genesis Invitational to his trophy cabinet, which included the Sentry Tournament of Champions (2022), the Sony Open in Hawaii (2020) and two Zurich Classics (2017, 2021).
"Those events [Memorial and the Genesis] are great and I will miss [them] for sure, but having the opportunity to bring golf to a world stage [with LIV] I think is something that is going to be well-received," he said. "Hopefully we can make these countries, which have kind of missed out on top-tier professional golf, really get around it [support LIV]."
If there's any apprehension about the switch to LIV, it's the potential impact it might have in his and other his fellow LIV players in participation in major championships in 2023. Both the U.S. Open and Open Championship allowed LIV golfers to play this year, but whether the USGA and R&A will do the same next year, or whether Augusta National and the PGA of America might alter their eligibility criteria for the coming year regarding LIV players, is unclear. Having won the 150th Open at St. Andrews in July, Smith presumably has five years' worth of entry into the four majors (and an Open exemption until age 60). Had he not won the Open, Smith still had locked up a likely Masters invite as the Players champion and for his T-3 finish at Augusta in 2022. It seems unlikely Smith wouldn't be allowed back to the Masters—where he has four top-10s in six starts including a T-2 in 2020—but he admitted it would be disappointing if he couldn't.
"I hope [I can play]," Smith said. "Obviously, I can't speak for them [Augusta]. I'm hopeful that I'll be able to get back there. It's a place I love, and I've got a pretty good record around there, too. So it would be pretty heartbreaking if I couldn't get back there."