Press Conference Performances
Dustin Johnson gave an all-time sarcastic answer about 'regretting' his decision to join LIV Golf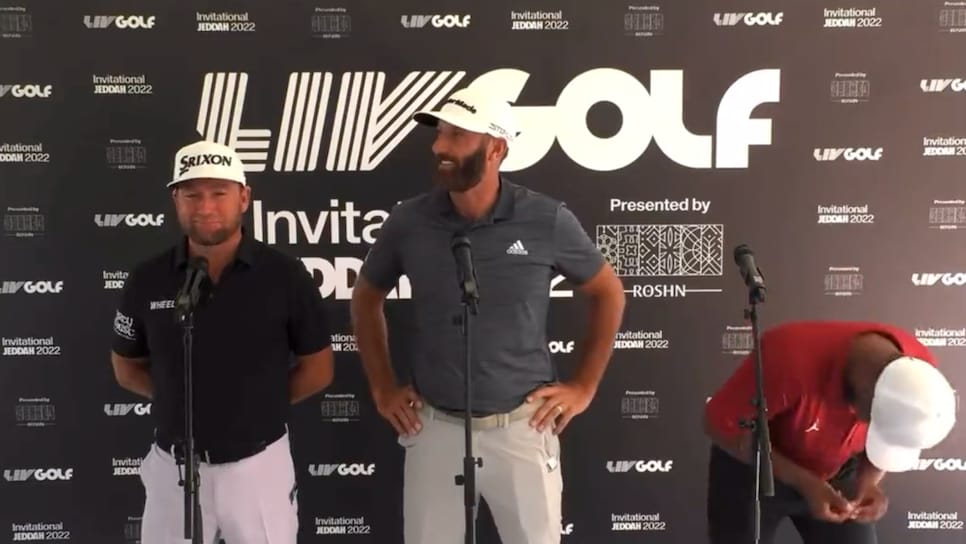 Dustin Johnson was officially announced as the King of LIV Golf for 2022 on Monday after clinching a season-long first-place bonus of $18 million. But he's also now unofficially the game's King of Sarcasm.
At a Wednesday press conference ahead of this week's tournament in Jeddah, Johnson was asked about all the money he's made in such short time since leaving the PGA Tour and whether the jump to LIV has met his expectations. The 38-year-old responded with a masterclass in mockery.
"We talked about this yesterday. I really regret my decision to come here," Johnson joked. "It's just so terrible. I'm sitting there last night thinking about it, it was really bothering me a lot. Yeah, just can't get over it."
Or maybe it was more of a seminar in smugness? Either way, you get the point. DJ is literally laughing all the way to the bank after earning more than $30 million in just six events spread out over four months. And the numbers are even crazier when you consider he's only won ONE of those events.
Anyway, here's the video of Johnson's comments, which at least had Harold Varner III howling with laughter:
So, yeah, Johnson seems pretty happy with the decision he made to sign that reported $125(!) million contract. And he seems even happier with the $30(!) million he's tacked on since. Sure, the two-time major champ has been banned by the PGA Tour, but we're guessing he's not upset that he couldn't play in last week's Shriners Children's Open.
Johnson has always been sneakily entertaining in press conferences, but this is probably his best performance yet. Or, worst, depending on your view of LIV Golf, of course. We're also guessing a few people out there won't find it as funny as Varner.