"Hey, I'm finishing up a build. Can I call you back in about 10 minutes?"
That was Ben Giunta, owner of The Tour Van, a Golf Digest 100 Best Clubfitter based in Portland, Ore., and the man, along with business partner Jason Werner, charged with taking care of the equipment needs of players competing in LIV Golf Invitational events held in the United States.
For background we turned to Giunta, who spent nearly a decade as a PGA Tour rep for Nike, while he was working at the LIV Golf Invitational outside Chicago last month. Giunta says his involvement with LIV was "super organic." Another former Nike employee, Pete Powell, reached out to Giunta after Powell worked as the lead equipment coordinator at LIV's inaugural event outside London in June. Powell was trying to gauge Giunta's interest in filling the role for LIV's second event at Pumpkin Ridge near Portland. Giunta signed on and, eventually, agreed to work all of LIV's U.S. events for 2022. "I had the background for it," Giunta says. "I thought it would be fun."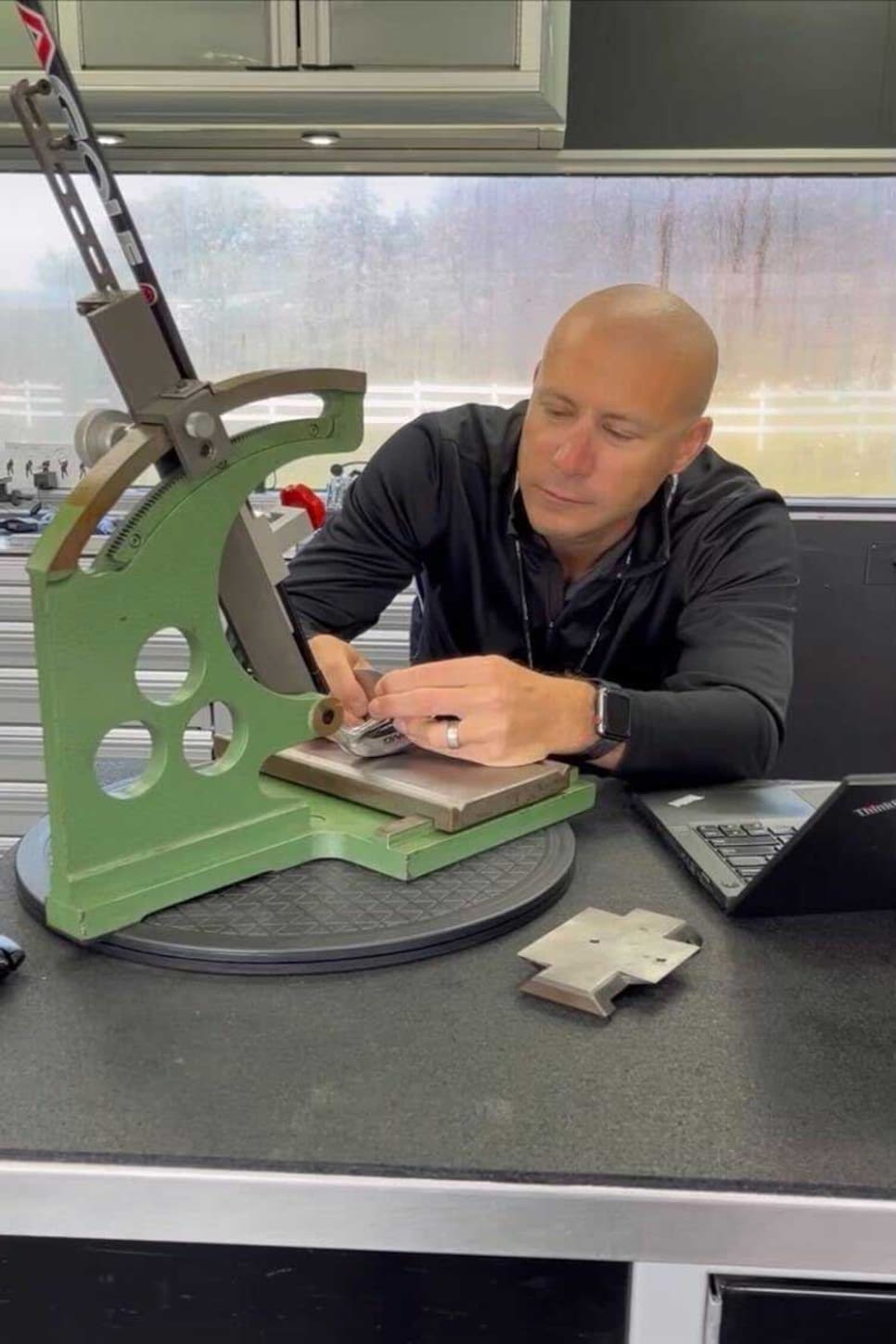 Ben Giunta works on a build inside the trailer he helped LIV Golf purchase earlier this summer. (Photo courtesy of Ben Giunta)
Most weeks on the PGA Tour, upwards of 10-plus companies bring out large and medium-sized equipment vans to tournaments. Company tour reps and club technicians then handle any equipment request one of their staff players has as well as any ask from a non-staff player. That large-scale attention would not be the case at a LIV event, but Giunta wanted to make sure players still felt like they could have their equipment needs met.
To do that, Giunta went in search of a big truck that would establish credibility among players and offer him a viable workspace. His timing proved fortuitous; it just so happened that Callaway was building a new trailer to use on the PGA Tour and was about to trade in its old one. Giunta got LIV to buy it, and suddenly he had his mobile office.
Then came the matter of how to stock it. Giunta wasn't sure initially how much cooperation he would get from equipment companies. "The worst-case scenario was I could leverage product through my retail operation," he said. "But I felt I had strong enough relationships to help facilitate this shift and essentially that's what happened."
Indeed, for manufacturers, LIV has presented a conundrum. No company has publicly supported the circuit, most taking a wait-and-see attitude both on the viability of the tour and whether having LIV golfers associated with their brands would have a positive or negative impact long term with consumers. When Dustin Johnson won the LIV Boston event with an eagle on the first playoff hole, it was a finish at a PGA Tour event that would have had TaylorMade's communications team cranking up the P.R. machine. Instead, crickets. No press release, no social-media post listing the clubs he had in the bag.
From a product standpoint, however, manufacturers are supporting LIV players, and that includes supplying Giunta with what he needs, both in terms of components and information. According to Giunta, Cobra and PXG were very helpful early on, and Ping provided backup clubheads for all its LIV players along with all their specs. So, if Lee Westwood or Louis Oosthuizen break a club, Giunta not only has the product available to make a replacement but the information needed to create an exact duplicate.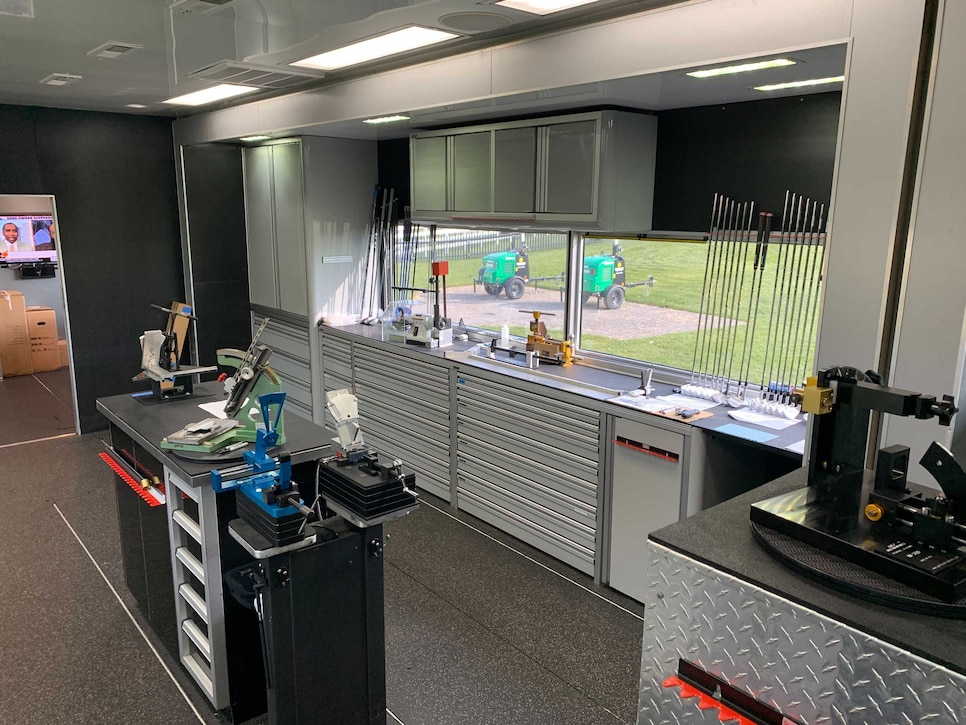 Giunta has equipment in the LIV Golf trailer he is using to get 'blueprints' of golfers' bags so that he can help rebuild equipment in a pinch. (Photo courtesy of Ben Giunta)
Giunta cites as an example of cooperation a build he did for Cam Smith. Playing his first LIV event in Boston, the reigning Open Championship winner wrecked a wedge hitting a shot that was up against a tree. Giunta texted Titleist PGA Tour rep J.J. VanWezenbeeck and asked for his specs, which he received in short order, making the replacement build a breeze.
As time goes by, Giunta hopes the need to reach out for club specs will be less necessary. When he sees a player, he's now asking to make a "blueprint" of the tour pro's bag. Giunta records all the player's specs using his own machines so that he has his own baseline for any future build. That's key, as is the fact it's the same machine Powell has on the truck in Europe. "We can replicate to a very high standard on a global level now," Giunta says.
That includes this week's event in Bangkok and the upcoming tournament in Saudi Arabia; Powell will be on site for both events.
Another difference between LIV and the PGA Tour is how long the equipment trailer stays at a tournament. PGA Tour regulations require trailers be off the premises Wednesday afternoon prior to the start of a tournament's opening round, but Giunta has been staying every day at LIV events—a crucial difference for a player such as Smith who damaged a club during tournament play. That flexibility comes in part from LIV's limited schedule; PGA Tour trailers need to leave tournaments to make sure they have the travel time needed to go from one event to another the following week. LIV's more spread-out schedule eliminates that need.
Although Giunta remains busy—he says he works with about a third of the field on any given week—mostly it's on "maintenance" issues such as repairs, re-shafting and loft and lie adjustments. One thing keeping the work down is the absence of reps from the shaft companies. On the PGA Tour, the shaft reps are omnipresent, trying to get players to test their product, which leads to a fair amount of work for those in the vans.
Additionally, LIV's season to date has mostly fallen outside the window where manufacturers are bringing out new products, resulting in less need for builds in which players are testing new clubs. When OEMs do have something they want to get into LIV players' hands, they'll often send the sticks directly to players to try them out at home. As an example, Titleist recently released its TSR drivers and metal woods to its tour staff, but the company worked with most of its LIV players directly to get them acclimated to the new clubs, some prior to their departure to LIV. Part of that is logistics, but it's also the fact that there's a built-in player-rep relationship already present. Most veteran LIV players have worked with the same tour rep on their equipment for years, and that trust is still important.
As Giunta tries to build a similar relationship with players at LIV events, he's taken a proactive approach to gain their confidence. "I make a point to see the players and let them know I am here to support them if they need anything," Giunta says. "You have to be visible and available without getting into their business. It'll take a little bit, but I know some of these guys from my Nike days and that's made it easier."
But not always easy. Such as working with Bryson DeChambeau, who is notoriously persnickety about his equipment. Guinta admits the time spent with the 2020 U.S. Open champ has been different compared to others.
"Bryson goes through a lot of equipment" Giunta says. "He's super demanding on his equipment from a spec standpoint but also because he hits it so darn hard, he breaks golf clubs. We're constantly checking his gear to make sure it doesn't move and that it's going to hold up under the stress that he puts on it. Is that unusual? I don't know, but it's certainly higher maintenance than any other player that we have."
High-maintenance or low, Giunta will continue doing what he can from his trailer. He is scheduled to be at the season-ending LIV event in Miami at the end of the month and his plan is to work more LIV events in 2023.
"Selfishly I think it's pretty cool," he says. "I'm a guy with former experience in this space, and I kind of went to a retail world and now I blend those two worlds. The less-hectic pace is also a big piece of it. I have already lived that life and it's a grind. This is fun. We're in a cool environment, we can hear the music playing and we've got a nice little setup. That's what I think it comes down to. We enjoy being out here, we enjoy working with really good players. It's just a fun atmosphere to be involved in."
Albeit a little different.