LIV Golf
LIV golfer Bryson DeChambeau lashes out at OWGR, hopes people don't 'believe the lies they've been told'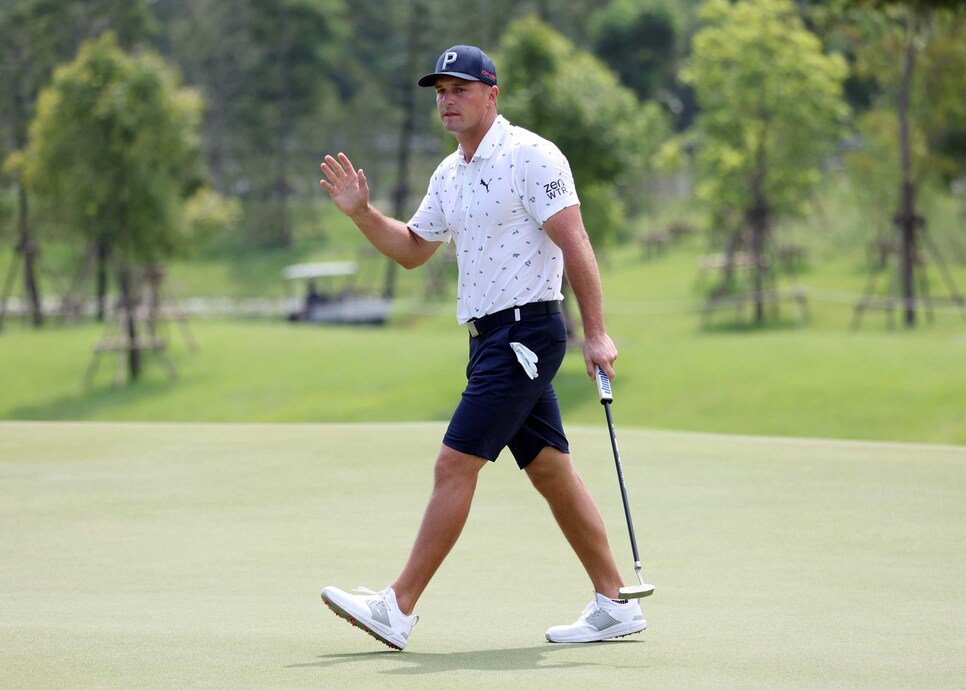 Bryson DeChambeau shot a three-under 69 in the first round of the LIV Golf Invitational Bangkok to sit four off the Day 1 lead.
Jonathan Ferrey/LIV Golf
"The OWGR states: 'The primary objective of the Ranking is to maintain, review, update, administer and promote the recognition of a system that fairly ranks the relative performance of golfers participating in the leading men's professional tournaments throughout the world.' Clearly, the MENA Tour's first event of the 2022/23 season, the LIV Golf Invitational Bangkok, is one of those tournaments and accordingly should be included in this week's OWGR events. Not including our event in this week's OWGR render the results and subsequent player movements inaccurate."
Mind you, Spencer might feel compelled to play things relatively close to the vest if he wants to see things ultimately work out as he and LIV officials hope in the long run. LIV golfers, however, don't necessarily have to hold back their emotions, and a few offered more pointed reactions are competing in the first round of the LIV Golf Invitational Bangkok on Friday.
"Yeah, I don't think it really was much of a response," said Brooks Koepka, who was 20th in the World Ranking in the beginning of June and is now down to 32nd. "I just hate when you sit on the fence. Just pick a side. If it's yes or no, just pick one. So I'm not a big fan of that. Not to say something to where it's not really an answer and we'll think about it. I don't agree with … just pick a side. If it's yes, if it's no, it's fine, we'll figure it out from there."
More vocal was Bryson DeChambeau, who has seen his World Ranking drop from 28th to 48th in the last four months, the lowest it's been since April 2018.
"They're delaying the inevitable," DeChambeau said. "We've hit every mark in their criteria, so for us not to get points is kind of crazy with having the top -- at least I believe we have the top players in the world. Not all of them, but we certainly believe that there's enough that are in the top 50, and we deserve to be getting World Ranking points."
DeChambeau then continued: "When they keep holding it back, they're going to just keep playing a waiting game where we're going to keep dropping down in the rankings to where our points won't ever matter. That's what they're trying to accomplish, and I hope that people can see right through that rather than believe the lies that they've been told. From my perspective, I think we deserve points."
While DeChambeau says that LIV Golf hits all the criteria for OWGR acceptance, others familiar with the OWGR review process contend the circuit actually doesn't under its present structure. Among the areas it would appear to be lacking are 36-hole cuts, field sizes on average of 75 players over a course of a season, open annual qualifying school and and reasonable access for local and regional players at each of its tournaments (i.e. Monday qualifiers).
Opinions vary on whether LIV events should get points. Even one of LIV's biggest critics, Rory McIlroy, thinks the tour has a case to be recognized in some fashion.
"I certainly would want the best players in the world ranked accordingly," McIlroy said last week while playing in the Alfred Dunhill Links Championship. "I think if Dustin Johnson is somewhere around 100th in the world then it's not an accurate reflection of where he is in the game."
That said, McIlroy believes that LIV Golf shouldn't be given special treatment, but rather needs to follow the specific process in place to receive accreditation.
"You can't make up your own rules. If they want to pivot to meet the criteria, they can … I certainly have no problem with them getting World Ranking points, at all," McIlroy said. "But if you don't meet the criteria, it's going to be hard to justify why you should have them."