EDITOR'S NOTE — A version of this story first ran on Aug. 1 after officials with LIV Golf formally applied for accreditation with the Official World Golf Ranking. The OWGR board subsequently announced it was reviewing the application, a process that regularly takes one to two years.
Last Friday, the entire roster of LIV golfers wrote a letter addressed to Peter Dawson, chairman of the OWGR board, calling for him to immediately award OWGR points to LIV events as well as award points retroactively for the five tournaments that have been played since the series began in June. There is nothing in the OWGR procedures, however, that would allow for this to happen, and there are several criteria required for accreditation that the LIV Golf series does not seem to compile with.
The upstart LIV Golf Invitational Series undeniably has been building a head of steam, incorporating new players (many with major-championship credentials), generating publicity and, seemingly, gaining traction in its bid for legitimacy.
But as gold rains down on the select few who populate the LIV Golf roster, a cloud of uncertainty continues to hover over the fledgling enterprise run by Greg Norman and lavishly underwritten by the Saudi Arabia's Public Investment Fund, and it could dampen its prospects for future viability for years. For all the billions at its disposal, LIV Golf can't purchase the most elemental—and necessary—authentication in men's professional golf.
Without being able to offer Official World Golf Ranking points, the LIV Golf Series will remain a relative outlier on the global golf stage, one that can provide its players a future of financial wealth in exchange for, at first glance, what would appear to be dwindling opportunities in the game's major events. Not surprisingly, then, the upstart circuit sent an application on July 6 for accreditation to the OWGR board, submitted via sponsorship from the Asian Tour. Peter Dawson, OWGR chairman, acknowledged receiving it after the board met during the Open Championship at St. Andrews, stating "an examination of the application will commence."
On Sept. 16, the same day that the fifth of eight LIV Golf Invitational scheduled for 2022 held its first round at Rich Harvest Farms outside Chicago, several LIV Golf players signed a letter to Peter Dawson, chairman of the OWGR board, lobby for LIV's inclusion in the OWGR.
"To maintain trust, we urge you—as one of the true statesmen of sports—to act appropriately to include, on a retroactive basis, the results of LIV Golf events in OWGR's ranking calculations," the players wrote. "An OWGR without LIV would be incomplete and inaccurate, the equivalent of leaving the Big 10 or the SEC out of the U.S. college football rankings, or leaving Belgium, Argentina and England out of the FIFA rankings."
The letter noted that Dustin Johnson, winner of the LIV event in Boston earlier in the month, had dropped from 13th in the World Ranking to 22nd despite finishes of eighth, third, second and first in his first four LIV starts. It also noted that Johnson had defeated 15 golfers who had finished first or second in the four men's majors. "For the rankings to be accurate," the letter said, "DJ deserves to move up, not down."
However, it would appear in its current form, LIV Golf doesn't possess the necessary organizational components to be approved. Golf Digest has obtained information that identifies various parameters that need to be met for approval, several of which LIV Golf seems to fall short on if its application to the OWGR reflects its current rules and governance. The following compulsory elements would appear to be lacking:
1. An embrace of inclusion and promoting non-discriminatory practices.
2. Competitions contested over 72 holes, except for developmental tours (like the Abema TV Tour, the Alps Golf Tour, or the EuroPro Tour, among others), which are permitted to be 54-hole events.
3. An open annual qualifying school held before the start of each season.
4. A field size on average of 75 players over the course of a season.
5. A 36-hole cut, whether playing 54 or 72 holes.
6. A clear opportunity to progress to a full member tour, that is, to one of the six members of the International Federation of PGA Tours.
7. Reasonable access for local and regional players (i.e. Monday qualifiers) at each of its tournaments.
Additionally, LIV Golf does not meet the requirement of a 10-event minimum schedule, though it should next year with its plan for 14 tournaments. This bit of short-sightedness at its outset is significant because a prospective tour must adhere to the OWGR guidelines for at least one year immediately prior to inclusion. So even if it somehow were to be fast-tracked for approval, OWGR guidelines suggest the earliest date that points could be distributed wouldn't begin until 2024.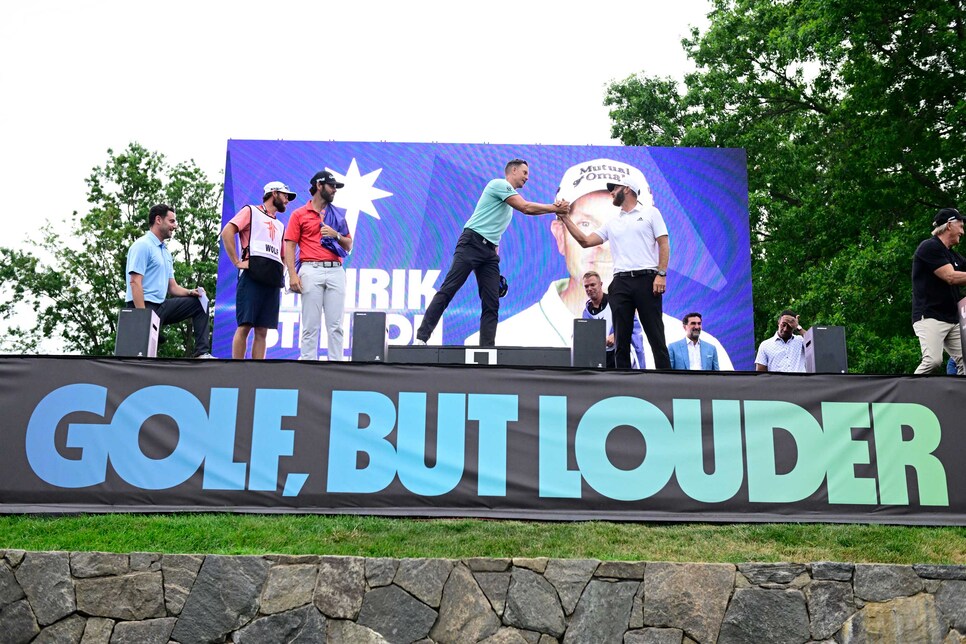 Henrik Stenson receives congratulations for his individual victory at the LIV Golf Invitational Bedminster.
Charles Laberge/LIV Golf
Routinely, the process for OWGR approval can take upwards of one to two years. The application is first reviewed by the 10-person OWGR technical committee, which would work with the applicant to resolve points of contention. Then consideration is taken up by the seven-member governing board that is comprised of representatives from the four major championships, the PGA Tour, the DP World Tour and a representative of the Federation Tours (Asian Tour, Australasian Tour, Japan Golf Tour, Sunshine Tour).
Norman has spoken out suggesting that representatives from the PGA Tour, DP World Tour and other organizations represented on the board that have voiced reservations about LIV Golf should recuse themselves from voting. The Sept. 16 players letter to Dawson also expresses concern that the current board is biased against LIV Golf.
LIV Golf does meet—or it's assumed it will meet—some of the requirements, including playing by the Rules of Golf, offering an average minimum purse of $30,000 (yeah, it's got that covered), having a players' committee as well as tournament eligibility criteria, and fulfilling various administrative necessities such as timely reporting of accurate player data.
LIV Golf officials could well respond to its list of shortcomings by citing a few exceptions that exist in the PGA Tour schedule. The PGA Tour stages five no-cut tournaments, two of which—the Sentry Tournament of Champions and the Tour Championship—fall far short of 75 players. But the tour has 37 full-field tournaments with a cut, and those tournaments feed into the no-cut events.
Then there's the 20-player Hero World Challenge, hosted by Tiger Woods, which also awards OWGR points, but didn't do so until it changed its field eligibility system.
The fact that these exceptions are one-offs or apply to a tour that meets all other criteria in no way translates to an endorsement of LIV Golf, which in its entirety would be requesting certification with all of these exceptions.
A few of the bullet points above require further explanation.
It's murky whether LIV Golf can be considered as an entity that promotes non-discriminatory practices—which is the very first item on the OWGR criteria list. Its series might embrace the philosophy, but it's safe to say that Saudi Arabia, the source of its funding, does not. LIV Golf's "relegation plan" apparently is meant to remedy the third item, a qualifying system. But it's hardly an open system when some players are exempt from the process. Point No. 6 is a real stickler, too, because the Asian Tour is the sponsor of LIV Golf for OWGR, the de facto senior partner in their relationship. And yet, LIV Golf doesn't feed into the Asian Tour; it's set up exactly opposite.
LIV Golf players have discussed the possibility they might seek to supplement their World Ranking points by playing Asian Tour events, but the idea has considerably less merit now that a reconfiguration of the OWGR points distribution metric kicks in starting with next week's FedEx St. Jude Championship. The new system, which has been several years in the making, no longer will award the minimum first-place points to tournaments with weak fields; each event stands on its own. Thus, the Asian Tour's minimum of 14 points for the winner disappears, and its events won't be as lucrative on the OWGR scale. The addition of LIV players who are plummeting down the rankings during a drawn-out application process won't improve field strength appreciably—a vicious spiral of diminishing returns.
Should LIV Golf make the necessary alterations, what would follow is a probation period of at least three years, according to OWGR procedures. And in that time, LIV Golf could not revert to its original scheme once accepted or it would lose OWGR accreditation.
The bottom line is that LIV Golf will have to change its organizational model significantly if it hopes to get the good housekeeping seal of approval of OWGR inclusion. Can it exist without the OWGR? Access to an estimated $620 billion war chest suggests that it can. But what would be the point? With its July 6 application and its follow-up players letter to Dawson, LIV Golf already has provided the answer.