The shades came off, his arms went wide and a smile came out. The man whose stoicism is so prodigious and cool and cold that it earned him the nickname "The Iceman" could not remain composed. Not after Henrik Stenson's first win in years, not after the controversy and character damage he inflicted upon himself. The decision to join LIV Golf coupled with his performance at Trump Bedminster has delivered Stenson and his family generational wealth. But it has come with a cost, too.
"It's been a busy 10 days," Stenson said on the 18th green Sunday evening, trying to encapsulate the whirlwind that had dropped him in pastoral New Jersey, "and I'm extremely proud of what I did."
A week after being stripped of his European Ryder Cup captaincy, Stenson finished first among the 48 players who went 54 holes in the third LIV Golf Invitational event with a 11-under total score, a two-under 69 on Sunday delivering a $4 million check. Stenson also split an additional $1,500,000 with his fellow Englishmen—yes, he's from Sweden, but LIV Golf mistakenly announced Stenson as an Englishman early in the week—Ian Poulter, Lee Westwood and Sam Horsfield for finishing second in the concurrent team event. It was as good of a response as Stenson could make to the questions staring him down after his about-face, although it's fair to wonder if they are questions that can ever be properly answered.
Anyone who defects to LIV Golf faces a line of inquiry. About morality and ethics, about loyalty and legacy, about optics and competitive concessions. About joining an operation that threatens to tear golf's professional fabric apart. Stenson is not immune to such questions; when asked on Thursday how he could justify his involvement with the Saudi-backed circuit to those who lost family members in the Sept. 11 terror attacks—families that protested this event's presence in the shadow of the World Trade Center due to Saudi Arabia's involvement in 9/11—Stenson replied, "Yeah, I think we can just say that our hearts goes out to anyone who lost a loved one in that terrible tragedy. That's all we can say, really."
Stenson, however, faced another level of scrutiny. His burden is less layered and complex than those aforementioned entanglements, and its simplicity makes it all the more problematic. In a game that pounds its chest on integrity, Stenson cheapened his by breaking his word.
Let's rewind the clocks to March, when Stenson was introduced as the European captain for the 2023 Ryder Cup. The announcement had been delayed due to Stenson's rumored involvement with LIV Golf, rumors he didn't deny when playing in February's Saudi International. DP World Tour officials had been adamant that involvement with LIV put you on the Ryder Cup outs. But then Phil Mickelson said what he said, and LIV Golf was seemingly torpedoed. Even so, the former European Tour had to ensure that if Stenson was tapped to lead, he wouldn't jump ship should LIV be resurrected, and put the match and Old World circuit in a bad spot.
At his Ryder Cup press conference in March, Stenson declared the appointment meant he would not be joining any breakaway tours. "Yeah, there's been a lot of speculation back and forth, and as I said, I am fully committed to the captaincy and to Ryder Cup Europe and the job at hand," Stenson said. "So we're going to keep busy with that, and I'm going to do everything in my power to deliver a winning team in Rome."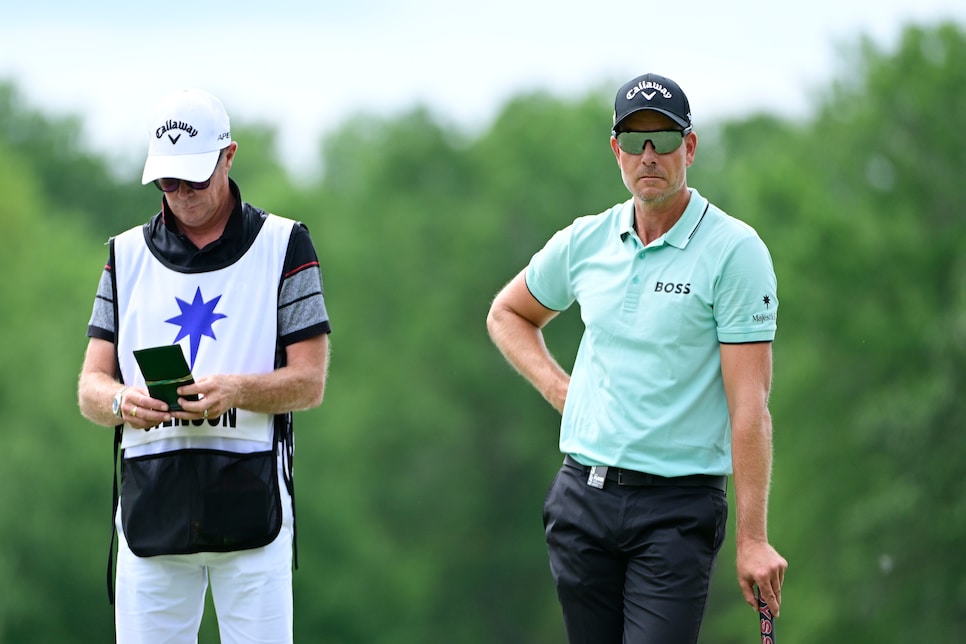 Asked again later in the press conference if the captaincy meant he had to give his word that he would not join LIV Golf, Stenson replied in the affirmative: "The captain does sign a contract. He's the only one that does that. Players and vice captains don't. But the captain has an agreement, and those agreements are between Ryder Cup Europe and the captain, so I'm fully committed to my role as a captain and working hard towards the result we want in Rome."
Stenson is not the only LIV player to say one thing and do the opposite. Brooks Koepka is guilty. Same with Dustin Johnson and Bryson DeChambeau. But those players were speaking about themselves. Stenson's commitment was to something bigger than himself. To a team and a tour and a continent.
Stenson made the situation worse, deflecting accountability for flip-flopping and attempting to put the blame on Team Europe both in a social-media post and doubling-down on the stance this week at Trump Bedminster.
"I don't feel like I've given it up. I made every arrangement possible here to be able to fulfill my captain's duties, and I've had great help here from LIV to be able to do that. And still, the decision was made that I was to be removed," Stenson said. "I'm obviously disappointed over the situation. But it is what it is, and yeah, we move on from there now."
When asked if he knew he would lose his captaincy with his move to LIV, Stenson deflected blame again, saying the decision was made for him. "We had … we had discussions and I informed them of the decision to go and play in LIV tournaments. [Team Europe] had a short period of time where they were kind of discussing or debating what was going to happen, and I was informed of their decision shortly after," Stenson explained.
Except it wasn't their decision, it was his.
One would think those with LIV Golf would do their damndest to distance Stenson from the fallout. That message didn't get to the broadcast booth this week, with analyst Jerry Foltz trying to convey the ambience at Trump Bedminster resembled a Ryder Cup. "Players will tell you the same thing. We get ridiculed for saying such things, but the players will tell you it's got that atmosphere," Foltz said. "That feel … They get ridiculed for it, too, but it's something special out here. It's just that simple." After spending the week in Bedminster this reporter can confidently state this event resembled the Ryder Cup as much as your Thanksgiving family football game resembles the Super Bowl.
Still, this is the world Stenson now occupies, which in so many ways is the antithesis of the Ryder Cup. At LIV Golf, there are millions to be made playing golf that doesn't seem to matter. At the Ryder Cup, there is no money involved, although that's the point: What is on the line can't be bought.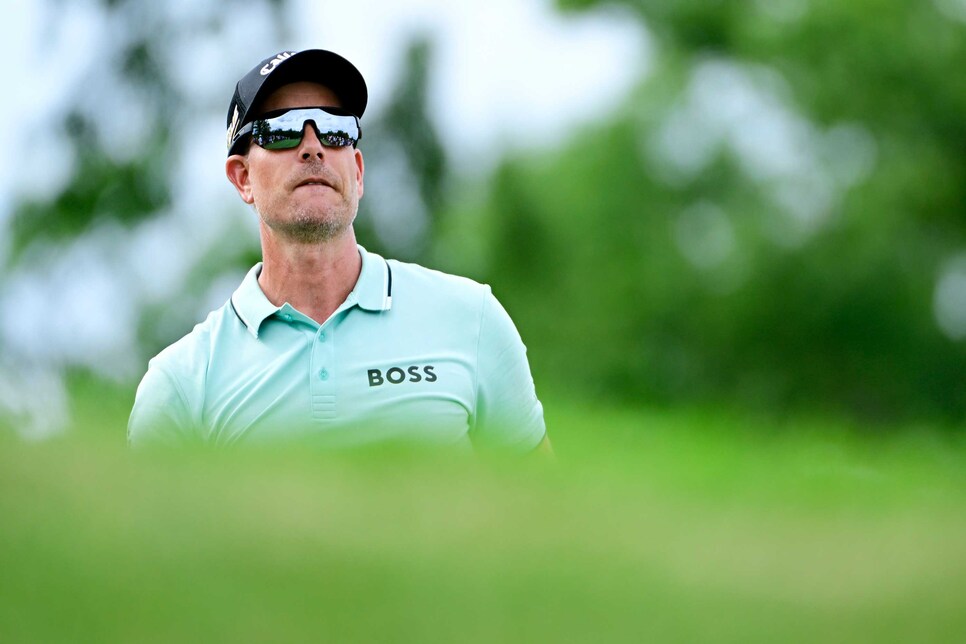 What makes this particularly sad is that Stenson asserted how much his captaincy meant. "It's a huge honor as you know, and just looking back at, you know, being a junior back in Sweden, back in the day, watching Seve [Ballesteros] and [Jose Maria] Olazabal play in the Ryder Cup; and then having that dream of one day playing in the Ryder Cup and I managed to achieve that dream and do it multiple times, and then getting the question of leading Team Europe, it's beyond the dreams, really," Stenson said back in March. Once a man breaks his word it's hard to take his other words seriously, but assuming those sentiments came from the heart … well, Faustian bargains can be a tough swallow.
For what it's worth, the Iceman was not greeted with a chilly reception by the fans at Trump Bedminster, but the proceedings this week illustrated that the LIV fan and golf fan are not one and the same. There's a chance the DP World Tour reverses its stance, and it's clear he hasn't let the stripped appointment go. "I guess we can agree I played like a captain," Stenson quipped after his win on Sunday. And as Stenson alluded to earlier this week, he could pursue legal action against the DP World Tour. What route, we're not sure, contracts being legally binding and all.
That is for a later time. This week, Henrik Stenson played good golf and was rewarded handsomely. The question now is: was it worth it?