Analysis
The good, bad and ugly of being on the ground for the LIV Golf circus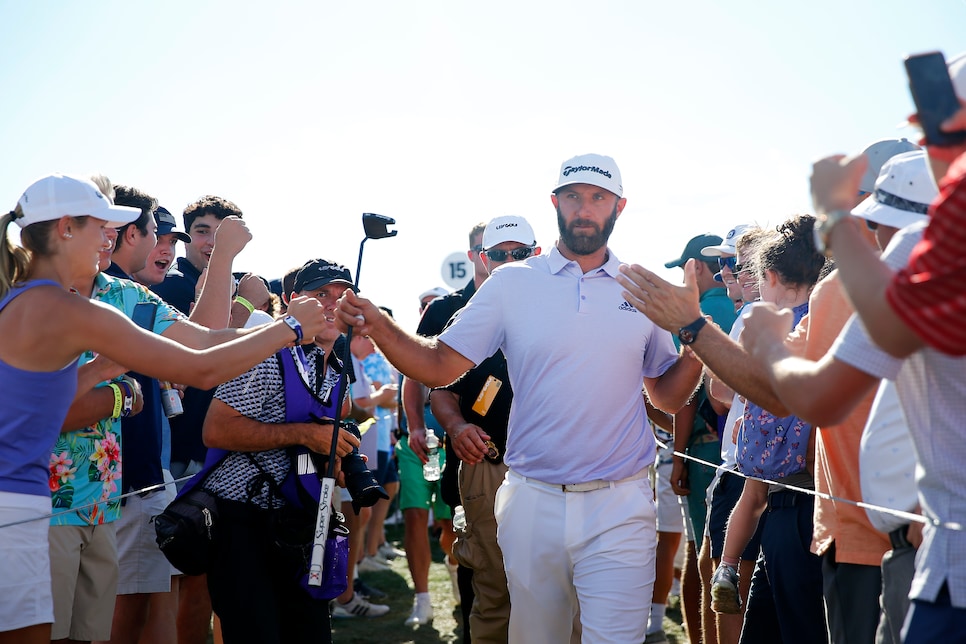 Dustin Johnson is greeted by fans as he walks to the 16th tee during the second round of the LIV Golf Invitational—Bedminster.
Jonathan Ferrey/LIV Golf
BEDMINSTER, N.J. — Phil Mickelson played in silence—or as silent as it can be with music blaring from two-story speakers perched above the green—as he made his way up the 18th hole. He is the de facto face of this operation, and in spite of his controversial remarks he endures as one of the game's more popular figures. That should be especially true here, for though he has California roots Mickelson has long been treated as an adoptive son of the New York metropolitan area. Yet Mickelson was not the primary attraction Saturday afternoon, not when fewer than 60 yards away former President Donald Trump was standing on a porch commanding the biggest gallery on the property and leading chants of "Four more years!" The only cheer louder than this political rally at ostensibly a golf tournament came from the 18th green a short time later, when a hype-man began firing T-shirts from a cannon.
The folks who run this event call it "Golf, But Louder." Trump calls it a "celebration." Families who lost loved ones in the Sept. 11 terrorist attacks, who staged multiple protests this week outside this course's walls, call it an abomination. LIV Golf has, frankly, been called a lot of things. But for all the oxygen spent on this entity and its novelty and its drama, little of the discussion has been on the supposed product at the center of this hoopla. You know … professional, competitive golf. For all its noise and promise of disruption, the novelty of the fledgling circuit will wane and drama has only so much juice. Eventually, the product needs to speak for itself.
Three events in, it remains unclear if the product has the ability to do so. Or, judging by the happenings at Trump Bedminster, if golf is even the product being sold.
There are multitudes to the LIV Golf experience as a consumer. It has pluses. It has shortcomings. It has strings attached.
Let's start with the selling points, and make no mistake, there are selling points. Chief among them is access. If you're looking for an up close and personal connection with your favorite player—or any player—LIV Golf has the upper hand on the major championships and PGA and DP World Tours. Part of that is due to limited crowds, which, depending on whom you ask, is by design, or a byproduct of aversion, or that word has yet to trickle to the masses that there's a new golf league to be seen.
Whatever the catalyst, the reality is there aren't many fans on-site compared to a PGA Tour event, giving the ones who are here an unobstructed and intimate view. Even on Saturday, when the crowd seemed to double in size from Friday's gate, there were no more than 150 people that roamed hole-to-hole with Mickelson, Bryson DeChambeau, Dustin Johnson and Brooks Koepka.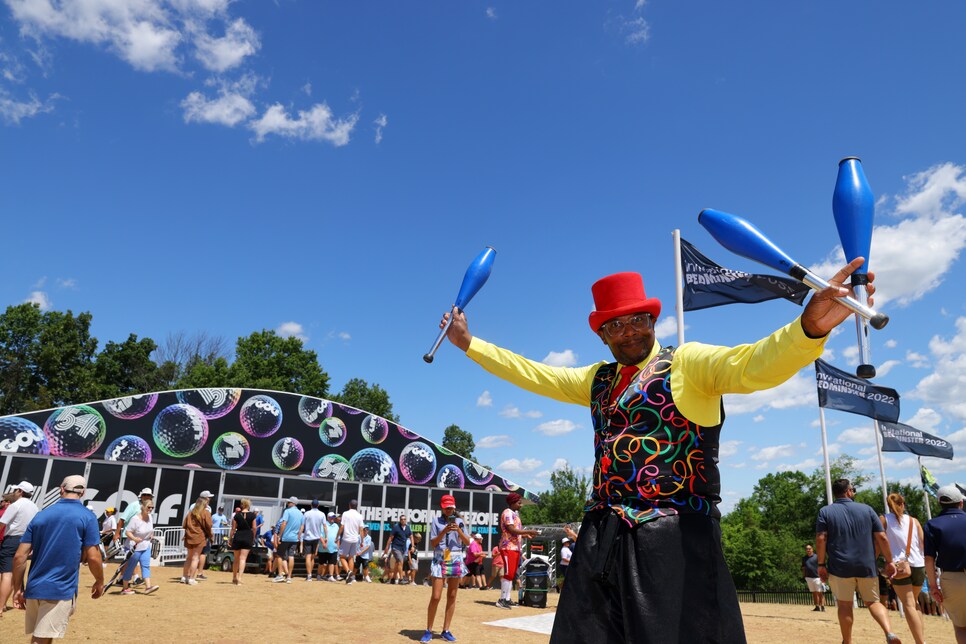 A juggler performs in the fan village during the second round of the LIV Golf Invitational at Bedminster.
Mike Stobe/LIV Golf
You can hear player and caddie conversations. You can hear the sounds you usually only hear on television. You can see the looks of agony and frustration and delight; heck, it seems like you can feel those pains and pleasures. Save for one hole (more on this in a second), you could be right next to any player on a tee box or green, and the rope lines are generously close to most fairways. It's pretty darn cool.
There is the connection between patron and contestant. This is not to cast judgment, but the truth is most professional golfers during tournament play are inward facing. They will acknowledge applause; the rest of the time, the blinders are on. In some ways it can make fans feel like voyeurs, watching someone do their thing without being truly part of the encounter. At least at Trump Bedminster, the LIV members are going out of their way to let fans know they see them and hear them. A reporter saw more player-fan and player-volunteer interactions in two days than the past eight years on the PGA Tour, and from players who don't necessarily have the best reputations when it comes to gallery rapport.
There was no better example of this than DeChambeau. A number of times on Saturday afternoon, the former U.S. Open champion stopped for photos or fist-pumps, and on the ninth he went over to a mentally challenged man in a wheelchair. DeChambeau chatted, posed for a photo and thanked him for coming out. Maybe there's a mandate from above for players to be on their best behavior. Maybe they're more relaxed with their signing bonuses and guaranteed paydays. It could be genuine, or it could be forced, but to fans the impetus doesn't matter. What matters is the interaction happened.
A volunteer marshal holds paddles during the second round.
Chris Trotman/LIV Golf
The concession prices are cheap. Tickets are cheaper (as of Saturday morning a weekend pass could be had for $2 on secondary-market ticket providers). Autographs are easy to grab and a fan village is not short on attractions. The music that rings throughout the pastoral New Jersey hills isn't for everyone, yet it's not a distraction, and a majority of fans seem to dig it. It is a friendly environment in an era when the common fan is being pushed to the periphery by major sporting leagues.
In short, LIV Golf nailed all the ancillary features and trappings of pro sports. Yet, to the zealous golf fan, is that enough to overcome a wobbly foundation?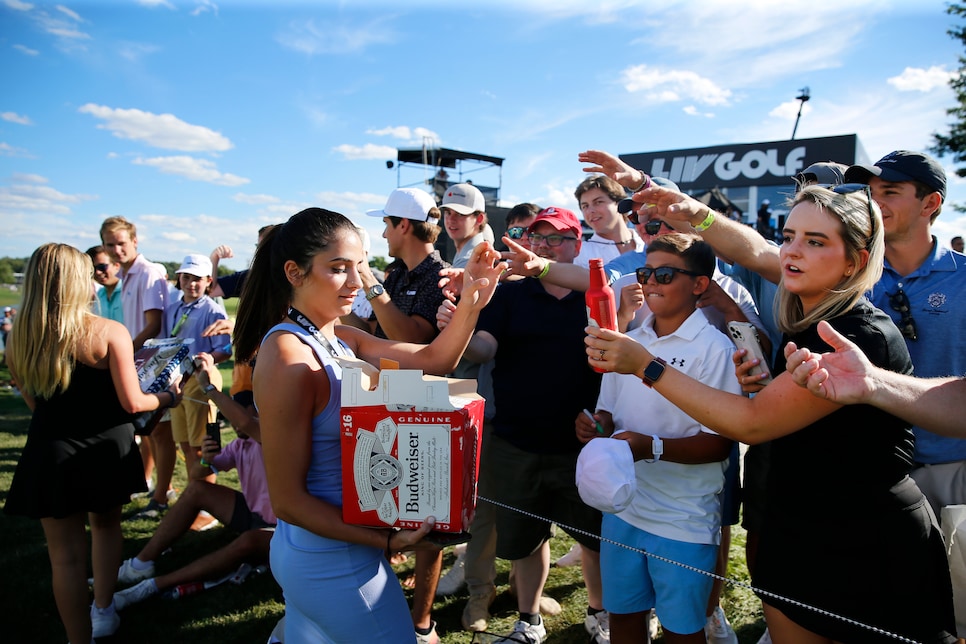 Beers are handed out to attendees during the second round of the LIV Golf Invitational-Bedminster.
Jonathan Ferrey/LIV Golf
Because if LIV is targeting true diehards, the actual competition falls short. Out of the 48-player field at Trump Bedminster there are (generously) a half-dozen players that qualify as stars. Fewer are in their primes. As currently constituted, it is a league of injury-prone players, rank-and-file names and those stuck in the purgatory that is pro golf in your 40s. Even with more players coming—and to be sure, more are coming—the dynamic remains the same.
Speaking of dynamics, those around LIV are adamant the team component is what gives this staying power. It's clear LIV is laying the breadcrumbs for these clubs to be regionally centric—with teams representing Australia, South Africa, Asia, the United Kingdom and the United States—with sponsors attaching themselves in a manner similar to the Formula 1 model. While initially conceding the team concept is "a whole intangible that is difficult for anybody to grasp," Mickelson asserted this was a format to move LIV forward. "I notice how people like to identify with a team rather than just individuals, and so … that's something I don't fully grasp how big that could be," he said Friday.
Only, at least at Bedminster, it doesn't seem the fans grasp it either, seemingly not knowing team names let alone who are on those teams. It's confusing to keep up with on-site. And because of the aforementioned field makeup, fans don't seem that invested in the shot-by-shot outcomes of competition. Heck, they don't know most of the guys inside the ropes. The gallery vibe isn't to watch a competition; it's to see professional golfers in person. It almost feels like they went out for a picnic and happened upon a golf tournament. They are here to be entertained, with no attachment to the outcome.
It seems too easy to say because it's been a common criticism of LIV, yet it rings true at Bedminster: It feels like an exhibition.
Which is fine! Spoiler alert: Even diehards can't get up for every event of the more than 40 PGA Tour stops. And there are plenty of attendees at PGA Tour and sports events that are there strictly for social purposes. They don't care to see Bryson and Brooks battle or DJ dominate or if Phil can again find age-defying performances. They are just looking for something to do on the weekend. It may not be for the zealous, and maybe by design. You could make the case LIV does a better job of appealing to the casual or non-fan better than most leagues, and that is a big demographic.
Only that's not all there is, is it?
Much of the attention to LIV Golf has been paid to its backers, the Public Investment Fund, which is the sovereign wealth fund of Saudi Arabia. The country has been accused of human-rights atrocities, making the PIF's ties to LIV Golf problematic. In Bedminster, the outcry has been slightly different due to Saudi Arabia's connections to the 9/11 terrorist attacks, two of which happened just 40 minutes away at the World Trade Center.
The players have done their best to sidestep this minefield. Henrik Stenson, who is leading the competition with one round to play, offered his sympathies to the 9/11 families early in the week but nothing more. When asked about the lack of gay rights in Saudi Arabia, Paul Casey, a former UNICEF ambassador, said he didn't know enough to comment. They say they're not politicians even though there's nothing really political about the line of questioning. Players want nothing to do with these inquisitions; they just want to play golf and to be paid for it, and would like us to stop asking about their decisions.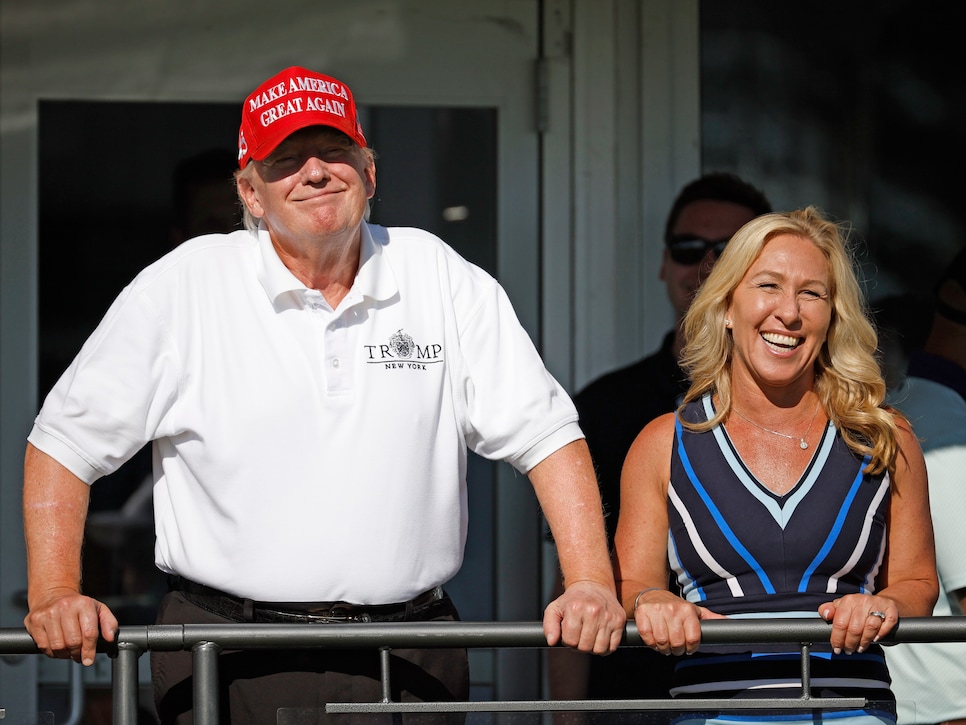 Former U.S. President Donald Trump and Marjorie Taylor Greene are seen on the 16th tee during day two of the LIV Golf Invitational.
Jared C. Tilton/LIV
Amplifying the ethical clouds that hang over LIV Golf is its relationship with President Trump. He is the former leader of this country. He is also at the center of a congressional investigation into the attack on the United States Capitol on Jan. 6, 2021. No matter your thoughts on Trump, it's fair to say when he's involved everyone else takes a backseat. Any hopes that Trump would stay out of the spotlight this week have been sorely mistaken.
You couldn't avoid it if you wanted to, as Trump has flown around the past two days in a golf cart to various parts of the course and has held court in a suite adjacent to the 16th tee. Where he goes the crowd follows. On Friday, he walked onto the tee mid-competition, and on Saturday he was joined by Marjorie Taylor Greene, the controversial Congresswoman from Georgia, who implored fans to chant Trump's name while putting down President Joe Biden. Yes, this is Trump's course. He has his backers. But whatever your leanings it seems weird that a golf tournament would turn into a political spectacle. Given the LIV finale will visit Trump Doral, this is likely not an aberration.
Of course, that's what LIV Golf wanted, right? A spectacle different from anything else in golf. If you want to see the circus for yourself, tickets remain readily available for Sunday in Bedminster and later stops in Boston and Chicago and Miami. There will be guys with T-shirt cannons. There will be sights. There will be more protests and ethical questions. There will be a show. And you might even see some golf.