LIV Golf
Ryder Cup Europe drops Henrik Stenson as 2023 captain ahead of jump to LIV Golf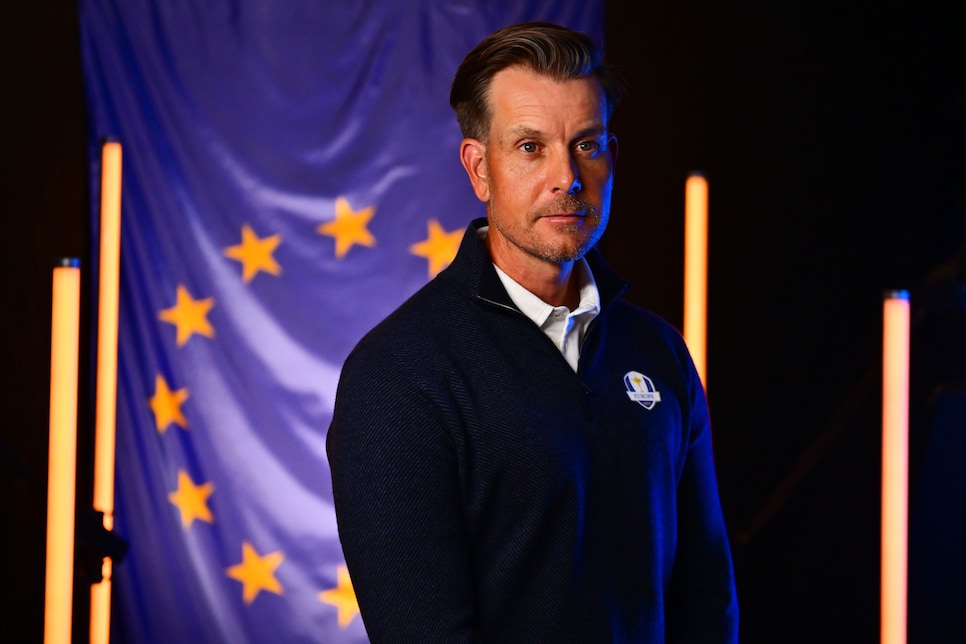 So far at least, the probable make-up of the next European Ryder Cup team has gone all but unscathed in the face of LIV Golf recruitment. Lee Westwood and Ian Poulter, long-time mainstays, were long shots to make the 2023 squad anyway. Only 40-somethings Sergio Garcia and Paul Casey—both of whom were likely to play in just one more edition of the biennial contest—have made the jump from the PGA Tour/DP World Tour, swayed by the money Saudi Arabia's Public Investment Fund is pumping into the LIV project.
But that relatively happy state of affairs has changed. Following a prolonged and increasingly loud period of speculation, Henrik Stenson, who was named captain of the Old World side in Italy for next year in March, has been relieved of his duties ahead of an announcement that he would play in next week's LIV Golf Invitational event in New Jersey.
Ryder Cup Europe released a short statement Wednesday announcing its decision:
"Ryder Cup Europe today confirms that Henrik Stenson's tenure as Captain of Team Europe for the 2023 Ryder Cup at Marco Simone Golf and Country Club in Rome, Italy from September 25 – October 1, 2023, has been brought to an end with immediate effect.
"In light of decisions made by Henrik in relation to his personal circumstances, it has become clear that he will not be able to fulfill certain contractual obligations to Ryder Cup Europe that he had committed to prior to his announcement as Captain on Tuesday March 15, 2022, and it is therefore not possible for him to continue in the role of captain.
"Confirmation of the new 2023 European Ryder Cup Captain will be made in due course. Ryder Cup Europe will be making no further comment on any aspect of the process until that time."
Later on Wednesday, Stenson came out with a statement on Twitter that he was joining LIV Golf. He noted that he was disappointed of being stripped of the captain's job and that he was hoping to keep it, having worked out with LIV Golf officials plans to make sure he could fulfill the responsibilities. "While I disagree with the decision, for now it is a decision that I accept," Stenson said. "I have a huge respect and admiration for the Ryder Cup and those individuals behind it who I know are doing their utmost to act in the best interests of the historic event."
Speaking in the wake of the announcement, 2014 Ryder Cup captain Paul McGinley was clear that "due process" is likely to be followed when it comes to selecting Stenson's replacement. In other words five men will be involved: the three most recent Ryder Cup captains—Padraig Harrington, Thomas Bjorn and Darren Clarke—DP World chief executive Keith Pelley and David Howell, chairman of the DP World Tour tournament committee.
"I feel a bond with Henrik through all the times we've played together in Ryder Cups and particularly when I captained him," McGinley said. "He was an awesome player for me, one of the stars of the team, both on and off the course. I'm sure this was not an easy decision for him. But, ultimately, he has made that decision. It's something that disappoints me. But I can understand. I'm not going to come down on any of the guys who have gone to LIV. They've been offered huge amounts of money. For Henrik, it's life-changing at this stage of his career. It's unlikely he is ever going to earn that kind of money going forward. So I can understand.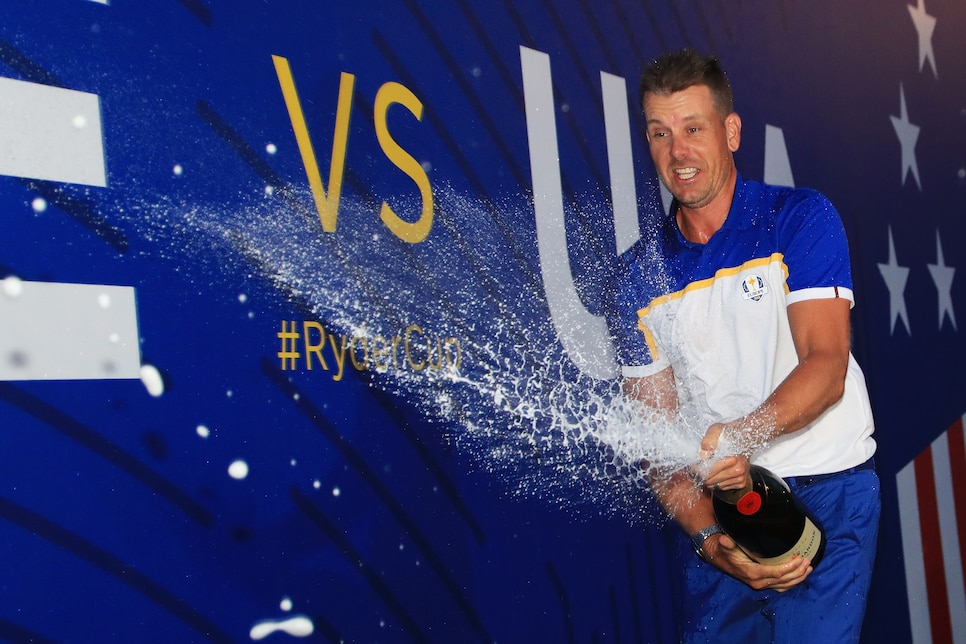 Stenson, spraying champagne as he celebrates Europe's 2018 win at Le Golf National, played in the match five times during his career.
Andrew Redington
"But is he doing it to revolutionize a game that needs to be changed? No. He's doing it for money. I'm sure he's not going to come out of this looking good, but that is for others to judge, not me. I had a great relationship with him as a captain and a player over the years. So I'm not going to slam him for making a judgement call. Everyone is entitled to their own view of things. But this is incredibly disappointing for the Ryder Cup. There is no doubt about that."
Clarke, the 2016 European captain at Hazeltine National, was equally downcast when reached for comment.
"It's obviously disappointing that Henrik is no longer going to be Ryder Cup captain," said the Northern Irishman. "He clearly has his reasons. And good luck to him. As for the process to find who will replace him, I was part of the last committee. I'm not sure if they will have the same committee again so that we can take a look at candidates and go through the same process."
Arguably the most upset publicly was Harrington, captain of the losing European side in 2021.
"I certainly empathize with anybody who has made the decisions they've made, going to play a new tour, when the financial incentives are quite impressive," Harrington said. "I do think it's different in Henrik's case. He signed a contract not to do that, he was specifically asked not to do that. So, no empathy there. He took the RC job when LIV was in doubt. Now LIV is pretty much mainstream normalized, he's jumped ship. … Financially being the Ryder Cup captain in Europe is very lucrative, obviously it's better to go over to LIV. But sometimes when you sign up to something you have to accept you made a decision at the time and you've got to stick with it. He's done what he said he wouldn't do."
None of this will come as much of a surprise. Stenson, the 2016 Open champion, played at St. Andrews last week in the 150th Open but missed the cut by one shot with rounds of 75-70. After finishing play on Friday, he was asked about his upcoming schedule and said it was "undecided." Approached by Golf Digest about whether he was considering a jump to LIV, Stenson responded: "I have no comment on that at all."
Before Stenson accepted the Ryder Cup job in March, the Swede also was reportedly flirting with the idea of playing on the LIV Golf series. But when he was named captain, he seemed to close the door on joining the breakaway circuit: "There's been a lot of speculations back and forth, and as I said, I am fully committed to the captaincy and to Ryder Cup Europe and the job at hand," Stenson said in March. "So we're going to keep busy with that and I'm going to do everything in my power to deliver a winning team in Rome."
While the R&A had made it clear during the Open that no LIV players would be asked to give official pre-championship interviews, Stenson was also a notable absentee from that roster. As European Ryder Cup captain and a past Open champion, he seemingly would have been included.
Stenson's draw for the two rounds at the Old Course also hinted at backroom tensions. The five-time Ryder Cup player toured the premises alongside British Amateur champion, Aldrich Potgieter, and journeyman Luke List. Neither, of course, owns anything like the status enjoyed by Stenson.
Published reports said that DP World Tour officials talked to Stenson one more time after the Open to see if they could persuade him to stay. Apparently, they couldn't.