Ryder Cup 2023
The European Ryder Cup captaincy drama, complicated by Saudis, heats up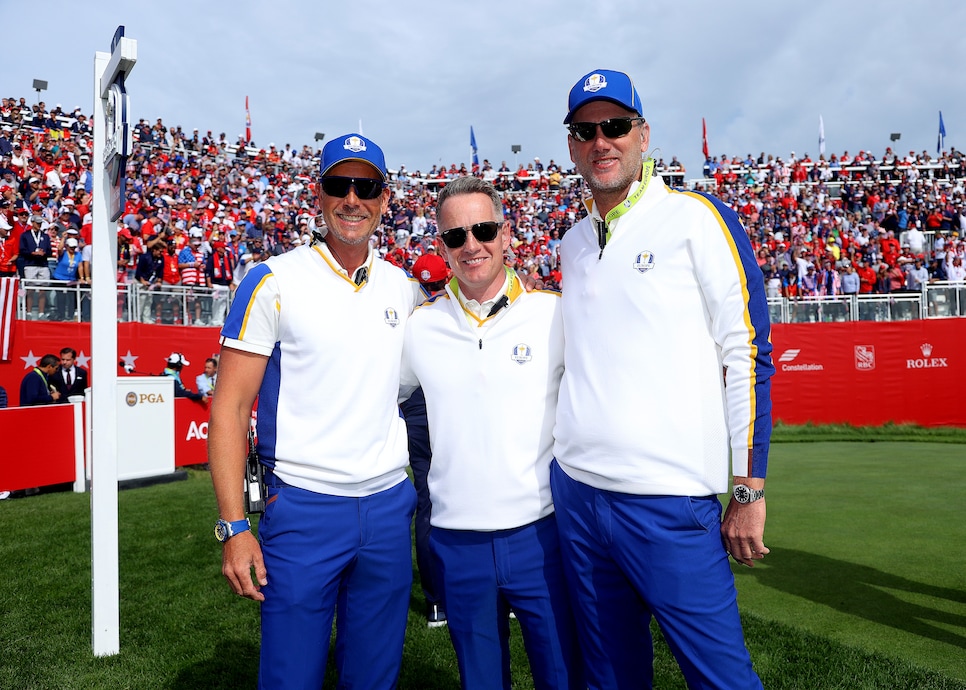 European vice-captains pose at the 2021 Ryder Cup: Henrik Stenson (left), Luke Donald (center) and Robert Karlsson.
Andrew Redington
PALM BEACH GARDENS, Fla.—Last October, Lee Westwood made it clear that he no longer sought the 2023 European Ryder Cup captaincy and preferred to focus on golf and making the team. He was considered by many to be the presumptive favorite for the captain's seat, speaking as recently as August about taking the reins, and his withdrawal created a vacuum.
Now, according to multiple people involved in the process, that space has been filled by four primary candidates: Luke Donald, 44; Henrik Stenson, 45; Robert Karlsson, 52, and Paul Lawrie, 53. Of those three, Donald, Stenson, and Karlsson were vice captains at Whistling Straits in 2021 while Lawrie hasn't been a vice captain since 2016 and sits on the board of the European Tour Group.
The next captain will be chosen by a five-person committee consisting of the last three captains (Padraig Harrington, Thomas Bjorn, and Darren Clarke), European Tour CEO Keith Pelley, and David Howell, the chair of the tour's tournament committee. The consensus is that a choice will be made by mid-March, with the possibility of an even longer delay—perhaps extending into April, after the Masters.
Westwood, 48, has been consulted by that panel for his opinion on the candidates, and though he wouldn't share details of that discussion publicly, he did seem to feel that for practical purposes, the field had been reduced to two.
"Donald and Stenson are probably the two who are out front at the moment," Westwood said on Friday at the Honda Classic. "They're a little bit younger and a little bit more in tune with the current players."
The process on the European side has been slower by months than prior years. Harrington's captaincy (for 2020, which was then pushed back by the pandemic to 2021) was announced in January of 2019, Bjorn emerged for 2018 in December of 2016, and Paul McGinley got the nod for 2014 in January 2013. The reason for the ongoing delay will not surprise anyone following golf for the past year: Here again, the threat of the Saudi Golf League has thrown a wrench in the works.
A source close to the European Tour said that there is serious concern about naming a captain and having him subsequently join the SGL. In this case, they are particularly worried about Stenson and have had ongoing discussions with him for the past few weeks. Stenson's name has been mentioned in connection with the Saudi Golf League, and that has reportedly made European Tour leadership uncomfortable. Additionally, the various complications of the SGL have prevented figures such as Pelley from devoting as much time and energy to the Ryder Cup, which has furthered the delay. There is a sense, too, that there's no pressing need to decide immediately, since the captain's responsibilities aren't particularly urgent at this point in the process.
At the Honda Classic, Harrington was adamant about staying silent.
"I have been specifically asked not to talk about it," he said. "An actual do-not-discuss order. I'm not allowed to discuss the timeline; I'm specifically not allowed to discuss who's in it. They won't want opinions getting out there. There's four guys in there with a chance and if I start talking about one, it could be misconstrued as me favoring them."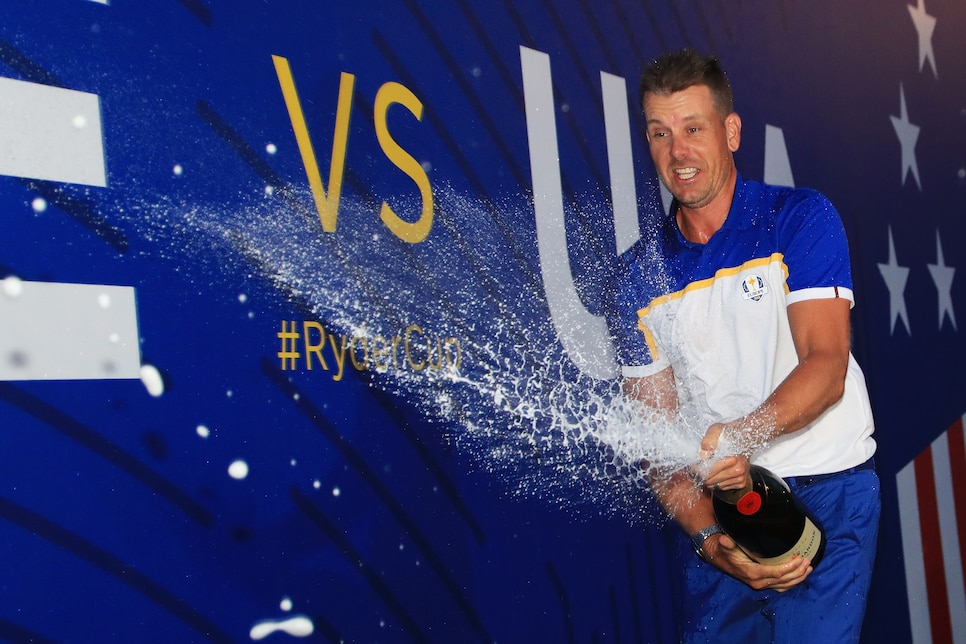 Henrik Stenson of Europe sprays champagne as he celebrates after winning the 2018 Ryder Cup.
Andrew Redington
Stenson, though, was more open to speculating. This past Monday, he said, he sat down for a formal 45-minute discussion over Zoom with the panel (Guy Kinnings, the European Tour's Ryder Cup director, also joined), and the other candidates have done likewise. He was asked to prepare some thoughts on his own leadership plan, and then fielded questions.
"It felt somewhere between a job interview and a school presentation," he said. "It's been a while since I've done that. They'll take the conversation and digest that, and come back with an answer, and I think they're looking somewhere towards mid-March."
Ian Poulter is another name that was bandied about as a potential captain in Italy, and at 46 it's not long before he'll be a serious candidate. But, like Westwood, he's chosen to devote himself to making the team for the current cycle.
"I'm definitely not one of the four," he said. "I'm definitely not ready for it. The way I feel and the way I'm playing right now, if you're around the top 50, are you going to want to have a distraction for 12 months, and all the obligations, and travel? It's hard to do that and try to play properly."
Poulter said that the four candidates were announced at a meeting in the past two weeks. He reiterated what Westwood said about Donald and Stenson being the two favorites, but, unlike Westwood, he was willing to share his preference.
"I would say Henrik," he said. "From a perspective of having played a lot more golf in Europe in the last 10 years than what Luke would have done, and because of that he's probably got a closer relationship with the younger players. And that would be my reason between him and Luke. The other two are great guys and very worthy players, but from a relationship standpoint, I think you still need to have a bond with players you've played with recently."
While the source close to the European Tour emphasized that Stenson had not necessarily been a slam dunk before the Saudi complications, it appears that it did present a major obstacle to his candidacy. Whether that obstacle is overcome to the satisfaction of the European Tour could be the decisive factor in who is ultimately chosen.
"That's more of a question for the panel," Stenson said, when asked if it would affect his candidacy. "You have to ask them to see how they look at it. There's been a lot of players in discussions."
Westwood has also been tied to the Saudis and seemed concerned that it could impact his own chances.
"I don't think it should have any bearing," he said, "but it may have a bearing in the future, yes."
Donald may end up as the beneficiary of all this complication and delay. On Thursday at the Honda Classic, he spoke about being one of the four candidates for the job, and almost seemed surprised that he was potentially so close to the top seat.
"I was told that they were doing something that stopped them making a decision until towards the end of March," he said. "Certainly, being a candidate for being a captain is a little bit sooner than I thought I was in the pecking order."
When pressed on the Saudi issue, he seemed to indicate that it could be a major problem, though he wouldn't mention anyone by name.
"They made it pretty clear that if you were involved with the Saudis that you weren't going to be part of the Ryder Cup," he said. "The European and the PGA Tour have a strong alliance now, so that was the case. I think before that happened, obviously Westwood said he had a chance to play another one, and I'm not sure if it affected anyone else."
A secondary difficulty in choosing the next captain is the sheer wealth of candidates available to the Europeans, and that will only become more challenging in the next decade. The generation of European golfers in their late 30s and 40s has been phenomenally successful, which means that the current candidates will be joined in the near future by players such as Westwood, Poulter, Justin Rose, Sergio Garcia, and others. Some, like Graeme McDowell, who at 42 was thought by some to be too young to be a major candidate this time around, and Martin Kaymer, who is 37 but has served as a vice captain, will undoubtedly be in the mix in the next decade. The surplus of potential captains creates a bottleneck, and it's inevitable that qualified candidates will have to be excluded—including, almost certainly, any of the four candidates who misses the cut this time around.
"That's a part of why I was considering doing it at this stage," Stenson said. "I'm three years younger than Lee and if he felt like he wanted to focus on the game, I'm even younger and also focused on my golf game. That was certainly one part of it—that we have a very strong generation. We're not going to struggle to find strong candidates to lead Team Europe. If you get asked and you turn it down, that may be your only shot."
"Somebody's going to miss out, aren't they?" Westwood said, putting it more bluntly. "Somebody who you think will get it will miss out. Will probably be my fault."