ABU DHABI — He's been down before, of course. In the early 2000s, Henrik Stenson was having trouble hitting courses, never mind fairways, from the tee. At the end of 2002, for example, the Swede was ranked the 336th best golfer in the world, having plummeted 254 places over the preceding 12 months.
Remarkably, only three years after that nadir, Stenson was up to 32nd, en route to a more than decade-long period of ascendency during which he established himself as one of the best players on the planet. He still wasn't hitting many drivers, but that didn't seem to matter, so proficient was he with a 3-wood from the tee.
Those were the days. But now the 45-year-old Gothenburg-native is ranked 187th, a far cry, again, from the form that saw him win the 2016 Open Championship in that unforgettable duel with Phil Mickelson at Royal Troon. There is a Players Championship victory in there, too. And a Tour Championship triumph that clinched the 2013 FedEx Cup, the same year he finished first on the then-European Tour's Race to Dubai.
So we're talking proper player here.
Most recently though, Stenson's name has been often mentioned in possible connection with two things: the Saudi Super League that may or may not be launching, and the 2023 European Ryder Cup captaincy. The latter of which makes perfect sense. By the time the matched are set to be played in Italy next year, Stenson will be 47, traditionally the sort of age that the Old World skippers tend to be.
On the subject of Saudi, Stenson is predictably saying just about nothing at all. Bring it up in his presence and only an enigmatic smile hints that he may be headed in that direction. He's got a little more to say about the Ryder Cup, having played in five versions of the intercontinental skirmish between 2006 and 2018. He is also well aware that the level of commitment has evolved over the years. Today, the captain has to be part of everything, leaving no stone unturned so that the team can perform to its highest level.
"It's good to be in the mix as a potential captain," Stenson says. "I'll have to wait and see though. I haven't had any discussions with those making the decision. Lee Westwood withdrawing caught a lot of people by surprise, me included. I thought it was more or less a done deal. But you have to respect his position. He is still in the top 50 in the world, so he can't be blamed for wanting to focus on maintaining that. I'm not sure what I would have done in his position.
"But I think it is important that anyone in contention for the job knows what he is signing up for," Stenson continued. "You have to know how many days, weeks and months are involved. There is so much that goes with the captaincy. It's not just showing up in Rome to kiss the Ryder Cup for a few days. It has changed so much from what it was when I was first in the team back in 2006. Captains got the job back then because they had had a long and successful career. They were part of Ryder Cup history. And it felt like the job didn't really begin until the matches were quite close."
Still, all of that is for the future, possibly. The subject most energizing Stenson's active and forever humorous mind right now is his own play. As a measure of his level of performance lately, his most recent top-10 finish on the PGA Tour is a T-9 at the 2019 U.S. Open, although he did win the unofficial Hero World Challenge at the end of that year. His play in the biggest events last season is another point. Missed cuts at the Players, the U.S. Open and the Open Championship book-ended a tie for 38th at the Masters and T-64 at the PGA.
Which brings us bang up to date. And the news is better, if not promising. At last week's Abu Dhabi HSBC Championship, Stenson closed with a bogey-free, seven-under-par 65. Having split, sort of, with long-time swing coach Pete Cowen, he is now working with Cowen's associate, Mike Walker.
"I've been on a kind of new journey over the last few months," says Stenson, whose 72-75-75 start meant he still only posted a T-39 finish. "Technically, I've not been good for a couple of years. So I felt like I needed to hear, at least to a degree, the same input but in a slightly different manner or voice. Which is why we decided that Pete should take a step back and for Mike to look at me day-to-day. It's not a big change. They obviously work hand-in-hand. I'm not reinventing any wheels. It is more a matter of simplifying things."
There have been signs of life. In a month-long sojourn to his home circuit last August and September, Stenson racked up top-four finishes in the Czech Masters and the European Masters, as well as a T-15 at the Italian Open and T-30 in the BMW PGA at Wentworth. Not earth-shattering, but promising.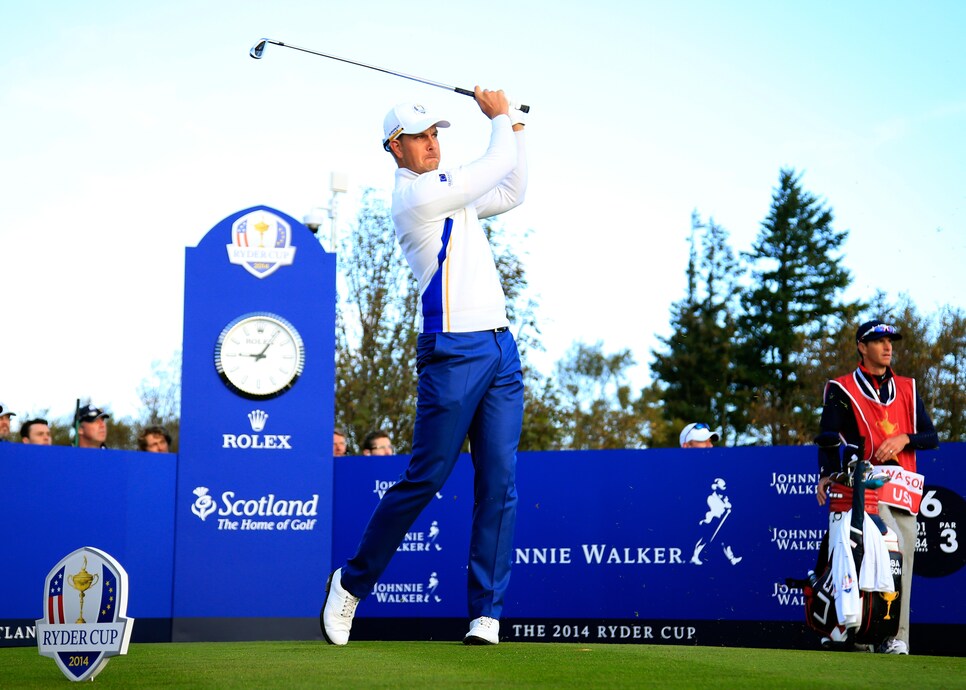 Stenson says he hasn't talked to any decision-makers yet regarding the potential of being Europe's 2023 Ryder Cup captain.
Getty Images
"Those were some strong and decent results," Stenson says. "A lot of that was down to course management, combined with good chipping and putting. I kept things tight and picked up shots when I had the chance to do so. But I was certainly not firing on too many cylinders tee-to-green. That's pretty much where I'm at. I'm devoting myself to a bit more of a long-term process.
"First you have to untangle a few things, find the roots of the problems and go from there," he continued. "Once you go down that path, the hardest thing is building confidence. When you're not good technically, it's hard to be good mentally. I haven't been feeling good over the ball because I haven't been swinging well or playing well. It's a bit of a journey. But I'm excited and working hard to get better. And any good score like this one helps. What I want to get back to is being able to stand over a shot feeling confident. I want to hit the shots I'm 'seeing.' If I can do that, I know I can still compete to a very high level."
So it would be wrong to write off such a talented individual. He's been down before and come back. He knows how it's done. And his upcoming schedule—one betraying no hint of Saudi beyond next week's Asian Tour event in the Kingdom—indicates a serious commitment to climbing the rankings once again.
"I'm playing the next two weeks in the Middle East," confirms Stenson. "One on the DP World Tour and the other nearby [big smile]. Then I'm going to ski and try to stay in one piece, unlike last year. Then I'm picking up the PGA Tour at Honda and playing the full Florida swing. Honda, Bay Hill, Valspar, Players. After that is less clear. I'm not in the Masters or the U.S. Open. So as things stand, I'm only in the PGA and the Open. That will make my schedule a little different. So there might be a few others coming in that I haven't played before, or at least for a while."
And the Ryder Cup captaincy?
"If I were to be offered the job, I'm not sure it would change my schedule too much this year," he insists. "Maybe more next year. It would presumably get more hectic the nearer we get to the match. But I'll worry about that if and when it happens. For now, I've got work to do on the range."