Old Head
With Ryder Cup behind him, Padraig Harrington lays out strategy for playing 'mixed bag' of tours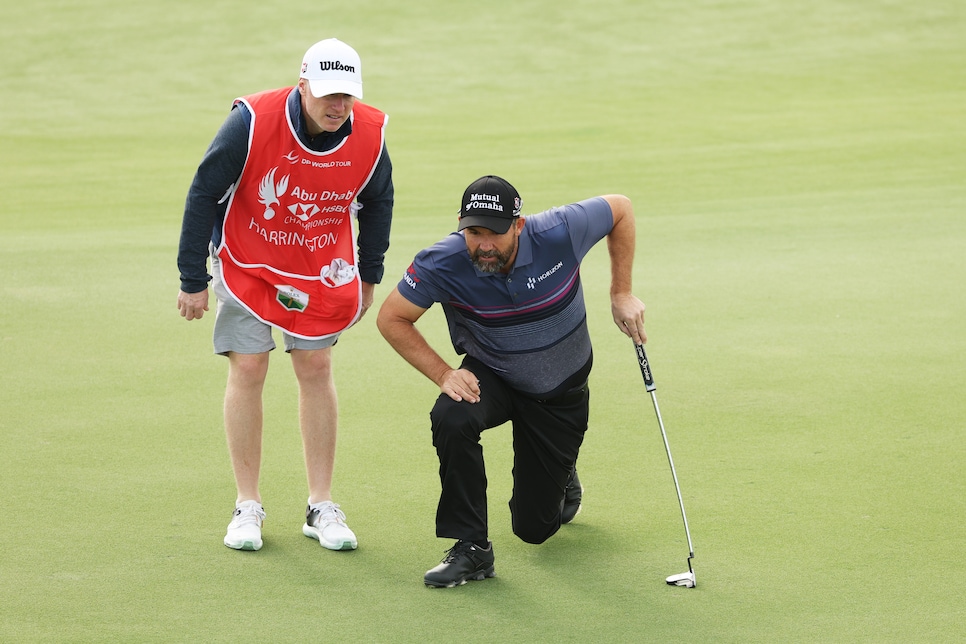 ABU DHABI — If you thought Padraig Harrington was kept busy during the two years he spent as the most recent European Ryder Cup team captain, you ain't seen nothin' yet. Speaking after a windswept second-round 71 at the Abu Dhabi HSBC Championship that took him to even-par, 144, seven shots behind the leader, Scotland's Scott Jamieson, the Irishman detailed the complicated playing schedule he intends to follow over the next few months.
Three circuits are involved—the PGA Tour, the DP World Tour and the PGA Tour Champions—as the three-time major champion attempts to add further titles to an already stellar career. That Harrington has not been approached by those representing the 'maybes-aye, maybes-no' Saudi Super League is perhaps just as well. The poor man wouldn't have time to fit it in.
But first things first. Harrington was born to play golf on challenging days like the one confronting the 132-man field assembled in the largest of the United Arab Emirates. Battling blustery winds that often gusted upwards of 30 mph, the crafty Irishman manipulated, steered, fondled and caressed his ball around the 7,425-yard Yas Links course. With 35 players still to complete their second rounds, his was the second-best score returned (only Jeff Winther's 69 was better), a remarkable feat for a 50-year-old.
Which is not to say everything went to plan. It did not, Harrington perpetrating a feat he claimed was unique in his experience. Chipping on the eighth hole, he stubbed his wedge behind the ball which moved maybe three-inches, until the club-head hit it again on the follow-through. In all, the shot travelled maybe five yards.
Other than that though, "two chip" Harrington thoroughly enjoyed himself on a day that would not have looked out of place in his native Ireland.
"These are my sort of conditions," he said with a smile. "With my game now, it's hard to go out there and try to shoot the really low scores. But today I used my head a lot. You have to be really smart in wind like that. Plus, I started with two birdies, which gave me something to hang onto. If you're two or three-over par early on a bad day, you can't figure out how to get those shots back. But if you're a couple under par, you can take a few hits.
"Plus, the fact that I don't know the course very well actually helped," he continued. "I was playing one hole at a time without ever thinking, 'I've got to make birdie there, or that hole is tough.' I stayed in the moment, which is always a good thing."
Not when it comes to scheduling though. Forced to look ahead, Harrington claims to have come up with a "mixed bag" program that will hopefully allow him to play his best, no matter where and when. He is keen to win for what would be the 16th time on the European/DP World Tour, saying "that would be a nice achievement at my age." The overall plan is to play virtually every "big" event in Europe and all four majors, interspersed with Champions and PGA Tour starts. Typically, he's thought it all through.
"Playing the Champions Tour the week before the majors makes sense," he says. "It will be better for me to play three rounds rather than four. Physically, it's tough for me to compete in a 72-hole tournament with practice rounds. In comparison, the Champions Tour is like a week off. I can even ride a cart for all five days. That extra day does make a difference."
Returning to his earlier theme, Harrington sees another key difference between "senior and junior" golf: adapting to the levels of scoring and what areas of the game are key to that art.
"On the Champions Tour, I've got to get used to scoring better," he says. "On the main tours, my game has been very much built around resilience and working hard to shoot the scores I'm shooting. Shooting a 70 or 69 on a tough course is a different talent than shooting 65 on an easy golf course. I've got to learn that again.
"I learned a lot from the couple of events I played on the Champions Tour," he continued. "I have a distinct advantage off the tee. And I was number one in 'strokes gained approaches over 200 yards' on the PGA Tour last year. But when I play the Champions Tour, I'm going to have to get better at hitting the wedges close."
Inevitably, the already lengthy conversation—no one ever has a short chat with Harrington—turned to Europe's stunning and record-breaking Ryder Cup defeat at Whistling Straits last September. He claims to have no regrets and would do nothing differently, given the information he had at the time.
"I wouldn't change a thing I did," he claimed. "Not at all. I would love to have won but the year's delay did us no good. Our guys weren't quite at the same level of form."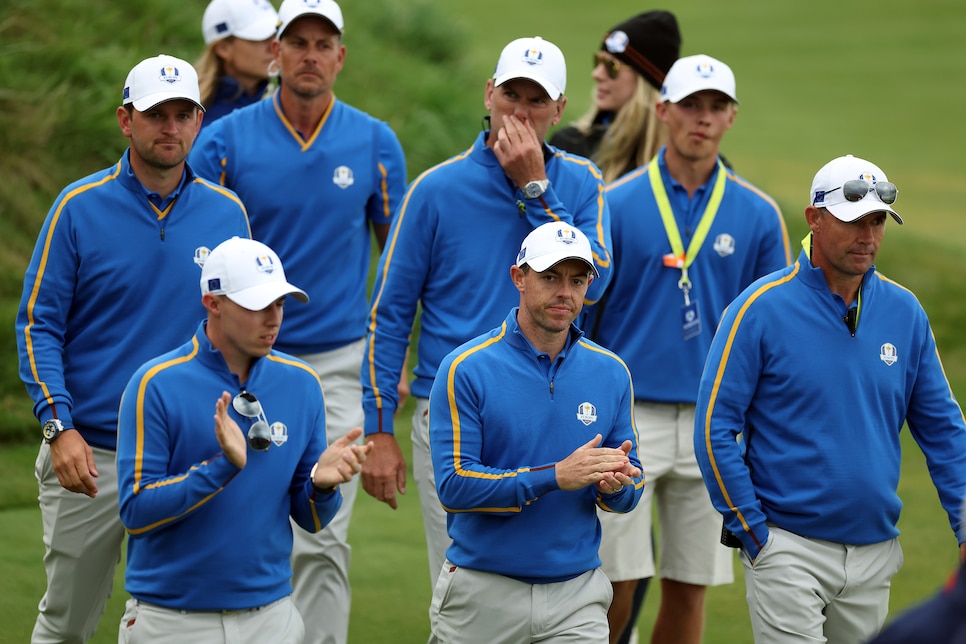 As for the identity of his successor, Harrington, who will join his two immediate predecessors, Thomas Bjorn and Darren Clarke, tournament committee chairman David Howell and chief executive Keith Pelley in making the decision, was pleading varying levels of ignorance on a few fronts.
Did Lee Westwood's withdrawal from consideration surprise him?
"It was assumed that it was going to be Lee. But I can see where he is coming from. He's playing good golf, so why not try to make the team as a player? It does put the cat amongst the pigeons though. All I can say is Luke Donald is great behind the scenes. I would thoroughly recommend him and his management style. He's very experienced and knows what he needs to do."
Should obvious candidates like Ian Poulter, Graeme McDowell and Henrik Stenson make the jump to whatever the Saudis come up with, would that preclude their becoming captain?
"That's way above my pay grade. But I assume we would know who is on the table before we enter the room."
Has that meeting been arranged to discuss your successor?
"No. I don't know anything."
Not quite true, of course. There is at least one thing Padraig Harrington definitely knows how to do: play good golf in a strong wind.