Second Guessing
In aftermath of Europe's record Ryder Cup loss, Padraig Harrington discusses what he could have done different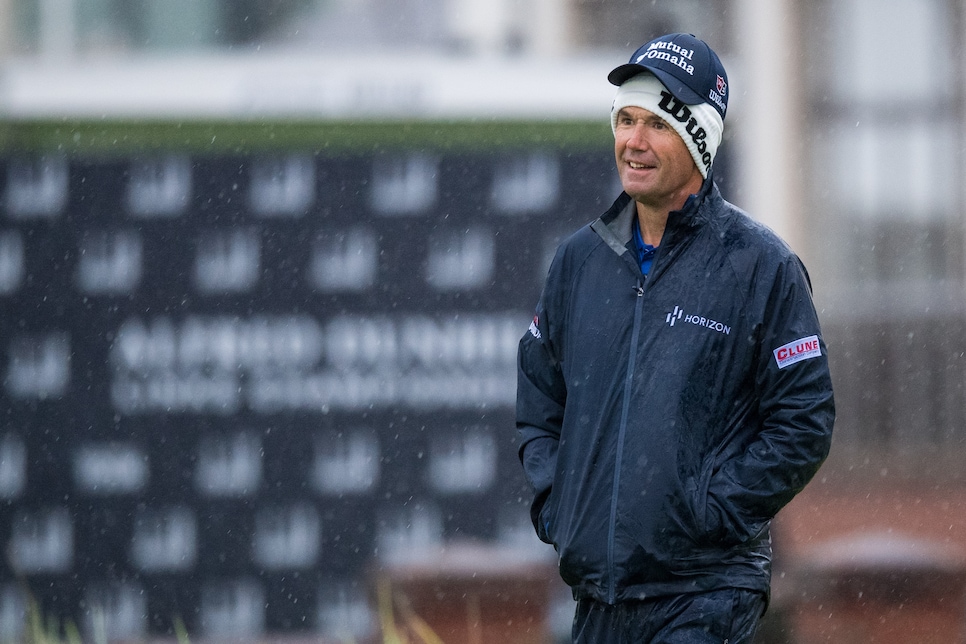 ST. ANDREWS, Scotland — Four days into the rest of his life as a former Ryder Cup captain, Padraig Harrington is doing just fine, thank you very much. His golf might be a little rusty - he opened with a three-over par 75 at Carnoustie on the opening day of the Alfred Dunhill Links Championship - but post-round the 50-year old Dubliner was his usual amiable self. Already, one senses, the record-breaking 19-9 defeat suffered by his side at Whistling Straits is receding into his memory's middle-distance.
Which is not to say Harrington didn't want to talk, always one of his favorite things to do. He did, to the point where he admitted that his desire to explain, as much as he can, what went on last week is weighing heavily on his ever-active mind. Even if he hasn't been frequenting any social media sites, or reading the newspapers, he is well aware that questions are being asked of his decision-making last week.
As ever though, Harrington has his own theories on just why things went very much America's way. Over the course of the three-day match, the visitors failed to win any of the five sessions of play.
"They now do everything we've learned," said Harrington with a smile. "We've taught them a thing or two over the last 20 years. They've caught on. Every little bit of innovation that Europe has introduced to make an edge, they now have. They do what we do. So it's going to be hard to find an edge going forward. I'm not sure there is one. But we won't know that until we find it. One thing that will be interesting though, is if they travel over to Rome for (pre-match) practice in 2023. They have sort of committed themselves to that."
Harrington, a veteran of five Ryder Cups as a player, was also at pains to point out that, contrary to what some critics have been suggesting since Sunday evening, wholesale change in how the Europeans go about their Ryder business is unnecessary. Apart from being a great healer - an important factor given the extent of the loss - time in golf always means change. Class might be permanent, but form is forever transitory.
"We just have to do more of the same," insisted Harrington. "We don't need to alter anything. That's key. Two years is a long time in golf. We could be in the ascendency by then. They are on a right peak at the moment. To have so many players right at the top of the world rankings is not something we've seen for a long time. But in two years time that might not be the case. We've been very successful in Europe so we should just keep going forward with what we're doing. There's no need to panic. As strong as they are, time is a great leveler. There are always ebbs and flows."
Okay, let's get down to some specifics. In this 21st century age of statistics, were Harrington's decisions on pairings and who played when and where based on the numbers, gut-feelings, or a mixture of both?
As it turns out, instinct led the way, with the stats supporting those moves.
"We clearly picked the team based on what we (he and his vice-captains) knew to be best," explained Harrington. "And the great thing was that the stats never contradicted those decisions in any significant way. Yes, there were times when another partnership might have been mildly stronger, but there were other 'intuition reasons' why we went the ways we did.
"We never strayed off into any tangents," he continued. "There was not a lot of change. Which was the great thing about the stats. Everything we came up with, the stats guys were able to back up. Maybe we could have strengthened one partnership or weakened another, but we were never far enough off that we had to change what we thought. It was nice to have that confirmation. We were able to go with what we felt best. Our intuition dominated."
Sometimes, however, reality in the shape of an early deficit did force Harrington's hand. While the stats told him that he really shouldn't be leading off with his best player, Jon Rahm, he felt he had to. The need to chase and build momentum superseded the orthodox practice of attempting to get his weakest pair playing the strongest American couple.
"You don't want to lead with your strongest group into their strongest group," he said. "The way to win is to play your weakest group against their strongest group. You want your 1-2-3 playing their 2-3-4. Which is what the Americans did. They never led with their strongest group. But we had to lead with Jon and Sergio (Garcia), never mind what the stats said."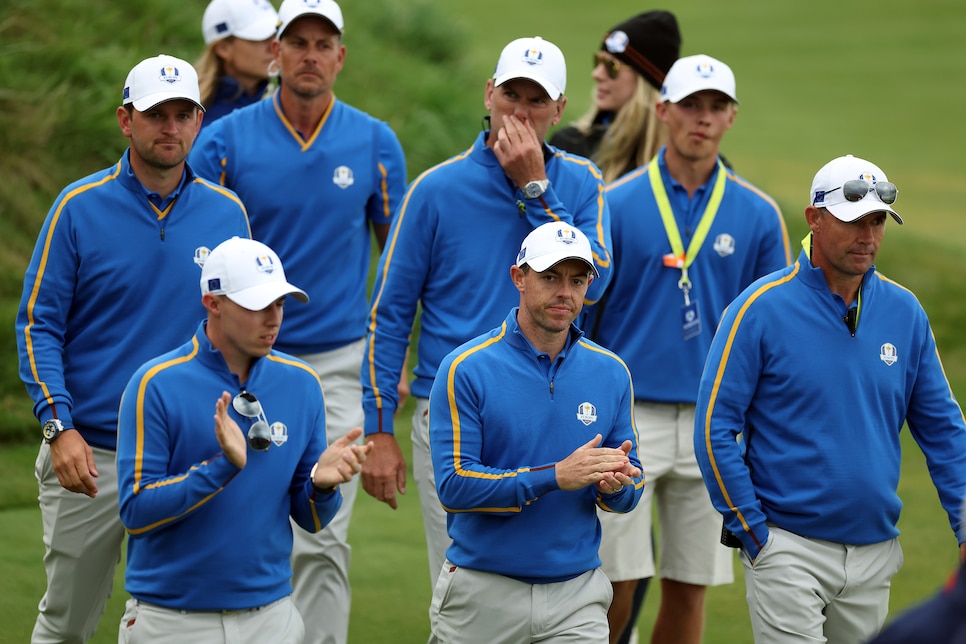 Perhaps the biggest decision Harrington - or any captain for that matter - has to deal with is an old Ryder perennial: Do you go with a player who is performing badly but winning points, or another who is playing well but losing? Then there was the case of Rory McIlroy. Clearly one of Europe's best players, the Northern Irishman was equally obviously struggling in his first two matches, neither of which went beyond the 15th green.
"In Rory's case I could have put him out Saturday morning as one of our best players," shrugged Harrington. "But I would have been pushing him out there to play five times if I do that. So I'm taking a chance on him and then messing him up for the singles. Why do that? Likewise Paul Casey, why put him out there when he's not winning points? So I gave them a chance to rest so that they would be stronger in the singles. Of course, if they'd won three points or even two points by that stage, I'd have said 'to hell with it, out you go.' There's so many things going on, I mean endless things. People have no idea, but that's why you have vice-captains."
As for how he has been feeling since it all went so very much pear-shaped for him and his team, Harrington is predictably philosophical.
"I'm okay," he insisted. "I don't want to get involved in it all. Certainly, I want no part of social media. But, as I said, there is a part of me that wants to explain. That's frustrating. I'm the sort of person who'd like everybody to know exactly what happened and went on. For example, did no one see the U.S. guys putting their weakest group against our best group? People say why didn't you play Sergio Garcia on Friday afternoon. But 12 does not go into eight. Sergio was a pick and at the end he played nicely, did exactly what we wanted. And we ended up leading with him the whole weekend. But on the first day you've got to give everyone a chance to play and see what you have out there."
Prior to the matches, Harrington had expressed at least mild concern that a bad result in the matches would affect his "legacy." Any lasting negative reaction seemed unlikely given his status as a three-time major champion, but has his natural concern lingered in the wake of a truly awful score-line?
"I did what I needed to do in the team room," he said. "The fact that my players are happy is all that counts for me. I was so worried that I wouldn't do a good job. That's the biggest pressure and stress. But there is nothing we could have done differently. My team gave 100 percent. There's nothing more I could have asked from them. From my perspective, I'm very comfortable saying there is nothing more we could have done."