HAVEN, Wis. — From four feet away, the sight of Rory McIlroy's face was shocking. It was just off the 16th tee at Whistling Straits, where moments earlier he'd finished a lead-off 3-and-2 victory against Xander Schauffele, and if you expected any emotion at all, you'd expect indifference. Instead, while being interviewed by Sky Sports, he was weeping.
"I love being a part of this team," he said, between pauses to collect himself. "I love my teammates so much, and I should have done more for them this week. I'm glad I put a point on the board for Europe today, but I just can't wait to get another shot at this. It is by far the best experience in golf, and I hope little boys and girls watching today aspire to play in this event or the Solheim Cup because there's nothing better than being part of a team, especially the bond we have in Europe. And no matter what happens after this, I'm proud of every single one of those players that played this week."
McIlroy was hitting on a profound theme, which is the unbelievable emotional bond between members of Team Europe that can be difficult for Americans to understand, especially since it originates in an individual sport. Rory himself found it difficult to understand before he played in one—earlier in his career, he called the event an "exhibition" and it wasn't very important to him, and on Sunday he referenced those remarks, calling them "naive and stupid." Today, he sings a very different tune.
"The more and more I play in this event, I realize that it's the best event in golf, bar none."
Between the end of play on Sunday and the end of the team's press conference, no fewer than five European players were spotted crying publicly, and undoubtedly more broke down behind the scenes. At one point during that press conference, almost the entire team was laughing at a joke, but if you happened to look at Tommy Fleetwood, he had started to cry, too.
To lose the Ryder Cup is a frustration for Americans, and they've worked incredibly hard to become more competitive—hard work that bore fruit with the massive 19-9 victory at Whistling Straits. But if losing is vexing for them, it's emotionally devastating for Europe. When asked to summarize the feeling, Lee Westwood didn't mince words.
"How much it hurts and how much you despise it [losing]," he said, "and how much you can't wait for it to come around in two years' time and win it back."
"We play a selfish sport week-in, week-out," Ian Poulter said, "and when we have this team spirit that we have"—here, he too broke down in tears—"it's special to put the shirt on. It's special. It's special to get around all these guys in a way that you would not imagine. It means a lot in Europe to represent Europe in the Ryder Cup, and that's why it hurts and that's why you see all the emotion you see."
"I hate this tournament," Westwood said later, after breaking down again when he mentioned sharing the moment with his son. "It makes you so emotional, but that's what makes it great as well … if you haven't got pride and passion, then it's not for you. Don't even bother turning up."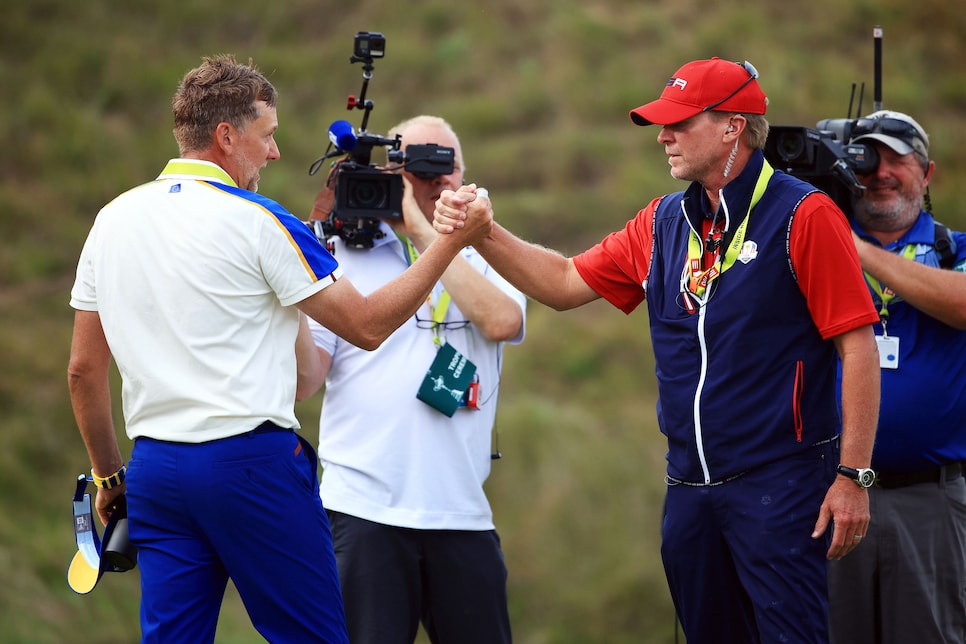 Ian Poulter congratulates U.S. captain Steve Stricker after the Americans finished off a resounding 19-9 win.
Mike Ehrmann
Poulter and Westwood each won a tough singles match on Sunday, against Tony Finau and Harris English, respectively and afterward, both reckoned with the possibility—a likely one—that it would be their last Ryder Cup match. Poulter, 45 and playing for the seventh Ryder Cup, said it made things difficult for him while he was trying to close out Finau, while Westwood, 48 and playing for the 11th time, used the circumstance of playing long after the Americans' victory was assured to steal a point from English.
The truth was, though, that you didn't have to be a veteran to have perspective. Shane Lowry, playing in his first Ryder Cup at age 34, came away from his first experience blown away by what it meant to be a part of the team.
"I have probably done something that I only could have dreamed of," he said. "I won the Open by six shots in my home country, and this week is by far … the best week of my golfing career. Honestly, to be able to share the team room with these boys, to be able to play for Paddy [Harrington], it's just been so special. I said to the lads last night, I'm having the time of my life, and we're six points behind. What's it going to be like when we're leading?"
In a strange way, it seems like the bond between the Europeans only grows stronger when they lose, fortifying them because while a win is shared with everyone, they can only turn to each other for true understanding after a loss.
There is also no underestimating how it galvanizes them for Rome. The word from Davis Love III after the trophy ceremony was that Americans were coming up to him—well-lubricated, to judge from the performance at their press conference afterward—and mentioning Rome, the site of the 2023 Ryder Cup. If they feel ready to prove themselves on foreign soil, it's a very safe bet that a wounded group of Europeans, who conducted listening to the Americans celebrating nearby why conducting their session with the media, will be eager to meet them on more friendly ground.
"It's still such a great experience to be part of these Ryder Cup teams," McIlroy said, "and this will just fill the fire even more for us in two years' time in Rome."