Loud and Clear
Ryder Cup 2021: For the Americans, a resounding win, a rowdy celebration, and a clear message they're not messing around
Sunday at Whistling Straits was as much about this Ryder Cup as it was about the ones still to come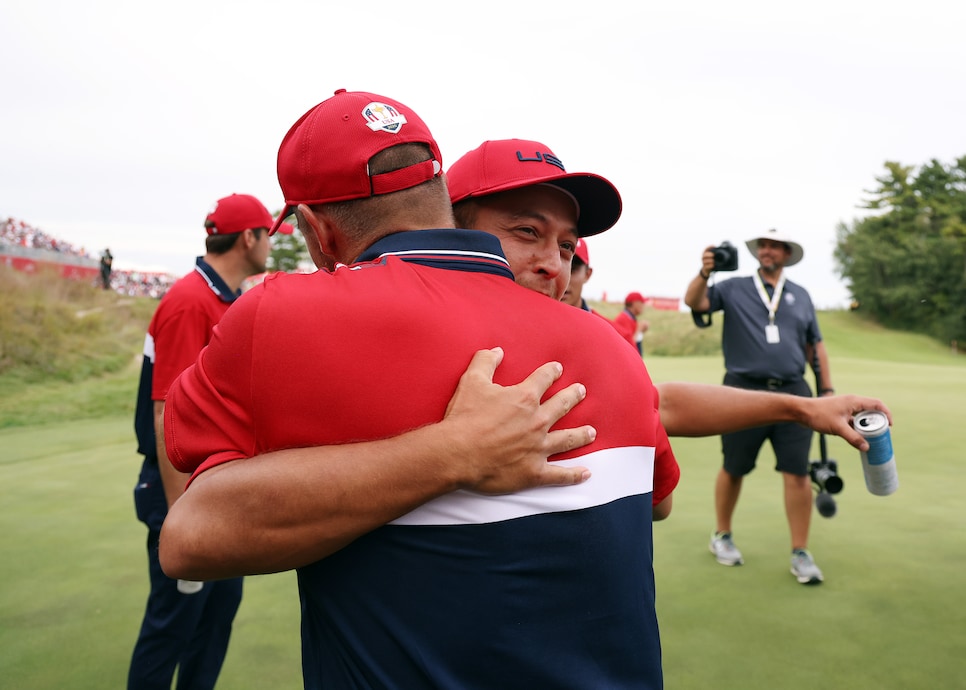 HAVEN, Wis. — Europe needed a miracle; they got a massacre. A new crop of Americans, armed with breathtaking golf games and a ravenous appetite for European humiliation, never considered taking their foot off the gas on Sunday at Whistling Straits—which, of course, they could have, seeing as they entered Sunday's singles session with a Medinah-proof lead of 11-5. They could've gone through the motions like a college kid who shows up to Friday afternoon class but really just wants to start drinking already. But for these 12 young men, simply winning back the Ryder Cup wasn't enough. They wanted to deliver a generational blow and sow existential dread in their opponents, just as the Europeans did seven long years ago.
"I woke up this morning and I was trying to tell the guys, let's get to 20 points," said Patrick Cantlay. This was the team's goal from the beginning of the day: Break the record for biggest blowout in the modern Ryder Cup. Why?
"Because this is going to be the next era of Ryder Cup teams for the U.S. side. We've got a lot of young guys, and I think they'll be on teams for a long time. I wanted to send a message."
Cantlay did his part, fending off a highly emotional Shane Lowry for a comfortable 4-and-2 victory. So did fellow 20-something Justin Thomas. And Scottie Scheffler. And Bryson DeChambeau. And Jordan Spieth. And Collin Morikawa, who clinched the victory before 4 p.m. local time.
The essence of this team can be summarized by the last match of the day, which wrapped up a good hour later. During the dead time between clinching putt and celebratory swigs, Xander Schauffele wanted to know who was still on the course. "Berger is last," Cantlay told him as he raised his eyebrows, lamenting the absence of the fun-loving Berger—known by "Boog" to his teammates—who tends to be the life of the party. Surely he would lay an egg against Matt Fitzpatrick, who was desperate to win his first point in his second Ryder Cup appearance—especially after Fitzpatrick won the 15th hole to go 1 up. A gentler soul may have. But this United States team harbors a ruthlessness that the preceding generation of Ryder Cup losers didn't.
Twenty was no longer feasible but a record point total of 19 still was. So Berger locked in, knowing the ensuing party would run deep into the Wisconsin night, and scratched out a 1-up victory to polish off the most lopsided Ryder Cup since continental Europe joined the party in 1979. An 8-4 thumping in singles brought the final tally to a hard-to-believe 19-9. Yep, you could call that a message.
"It was a special week all the way around," said captain Steve Stricker, whose laid-back leadership style—"put us in position but stay out of the way," as Jordan Spieth put it—meshed perfectly with his team of alpha males.
"I don't know what else to say, and I've said it a number of times all week long and how these guys came together, and how they started two weeks ago when they showed up for the practice round. I could see the camaraderie then," Stricker said. "I could see the willingness to prepare and get ready for this event prior to us even arriving. So a lot of these guys have played a lot of golf with each other. … These guys are young, they want it, they're motivated. They came here determined to win. I could see it in their eyes."
This—playing against the strongest American side ever, with an average World Ranking just above 8—was always going to be a huge ask for an aging European team that entered in scratchy form. But the U.S. has held the talent advantage in quite a few of these shindigs and left almost all of them without a trophy. Past Ryder Cups have made one thing clear: Talent only goes so far without passion, and this group is overflowing with that. The other side noticed.
"I think the most important thing for the U.S. team is a lot of young guys that are great players have bought into the Ryder Cup," said Rory McIlroy, who salvaged a brutal week with a singles victory over Schauffele. "I think that was probably missing in previous generations."
Enter six American rookies, four of whom were captain's picks. Stricker, then, deserves heaps of praise for eschewing experience and entrusting the kids. They wasted zero time taking this competition by the throat with a dominant 3-1 win in foursomes, which the Europeans have historically dominated, on Friday morning, and matched it with a 3-1 four-ball victory in that afternoon's session, which the Europeans have historically dominated. Through Saturday morning's foursomes, the only Europeans who had won a match were Jon Rahm and Sergio Garcia.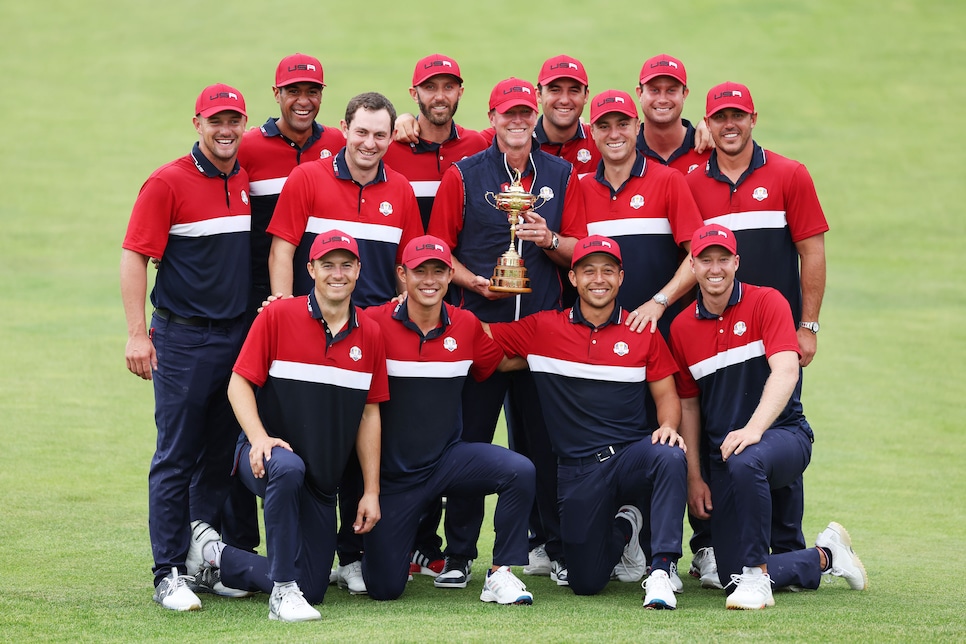 "And I had to play f---ing amazing just to get to 17 in all my matches," Rahm said.
A half-hearted rally flickered out on Saturday afternoon, rendering Sunday's festivities a mere formality. The Europeans knew they were going to lose and they had time to chew on it. It struck a note with the core group of 40-somethings that carried their side to seven Ryder Cup victories in nine tries.
"It was a 25-minute drive into the golf course this morning," said 45-year-old Ian Poulter, "and I had [son] Luke in the car, [wife] Kate in the car, and there was not a lot of conversation. Your mind starts wandering: Is it going to be my last match in a Ryder Cup outfit?"
Poulter preserved his undefeated singles record but lost both his foursomes matches alongside McIlroy and admitted the odds of him playing another one of these are not in his favor. Paul Casey, 44, and Lee Westwood, 48, face the same setting sun.
"They've had their changing of the guard—Tiger's not in and Phil's got a radio in his ear. They've handed the baton over," Poulter said. "In the team room last night, there were a couple emotional people speaking. You just wish you were 20 years old again. It's hard. When you've played so many and been part of so many successful teams, it's hard when you get old and you know there's not many left. The best years of those Ryder Cups are behind you."
The Americans have no such issue. The average age of this team was 29.4, practically diapers in the golf world. And yet the oldest player on the squad, Dustin Johnson, was the only one to play all five matches. He won all of them in a legacy-boosting performance.
"This week—yes, we had a lot of young guys, they are rookies in the Ryder Cup, but it didn't feel like they were just because they have all played well in such big moments and big tournaments that it didn't feel like they were rookies," Johnson said. "And they didn't play like they were rookies. They stepped up to the plate and they all wanted it. And like all of us have said all week, the one thing we all have in common is we all hate to lose. And so that's how we came together." Even Brooks and Bryson, who hugged it out after the winning team's press conference. With, of course, an assist from Mr. Bubbly.
"I'll tell you, winning the Ryder Cup, this is possibly way better than any tournament I've won in my entire life," DeChambeau said after an electric week that featured a 417-yard-bomb, an eagle on the par-4 first on Sunday and a whole buncha love from fans. "The group of people, the collective game of golf, it's so much bigger than just a singular tournament. It's about people coming together and doing something special for the game of golf. And I couldn't be more proud of Captain Strick and everybody putting their hearts out and making it the coolest experience I've ever had in my golf career."
After Morikawa made it official, Cantlay trudged up the hill short of the 18th fairway to watch the rest of his teammates finish their matches. Phil Mickelson zoomed by on the back of a golf cart with his wife by his side.
"You know, I would offer you a spot seeing as you played so well and all that," Lefty said, "but that's just not how I roll." The party had begun, and the Americans wasted little time grabbing drinks to sip on and a few more for later. Remember, Justin Thomas and Daniel Berger chugged beers at noon on Saturday; this team clearly feels comfortable celebrating early. Their attitude screams if you don't like it, then beat us.
The U.S. team that heads to Rome in two years will include many of the same young men who so thoroughly dominated this week. The European side will almost certainly feature a host of fresh new faces that'll be keen to protect home field. This whipping surely sent a shiver down the spine of European golf fans, but the true mark of Ryder Cup dominance comes only with a road victory. Americans of yesteryear have learned this the hard way, hardened by six consecutive losses overseas. This group, however, holds little of that scar tissue. They are unburdened by past failures, focused instead on the opportunies that lie ahead.
"This is unfinished business," says Jordan Spieth, who is somehow still just 28 years old. "I think this was one of those first wins—we needed to win this one and I think it was a massive stepping stone for this team. The group that we have here that have really known each other since almost back to grade school, [and we need to] continue to try to work hard to be on these teams that go over there.
"It's one thing to win it over here, and it is a lot easier to do so and it is harder to win over there. If we play like we did this week, the score will look the same over there in a couple years. And that's what we're here for."