Time to reevaluate?
Ryder Cup 2021: Europe's day of reckoning arrives as lopsided loss hints dramatic changes are in order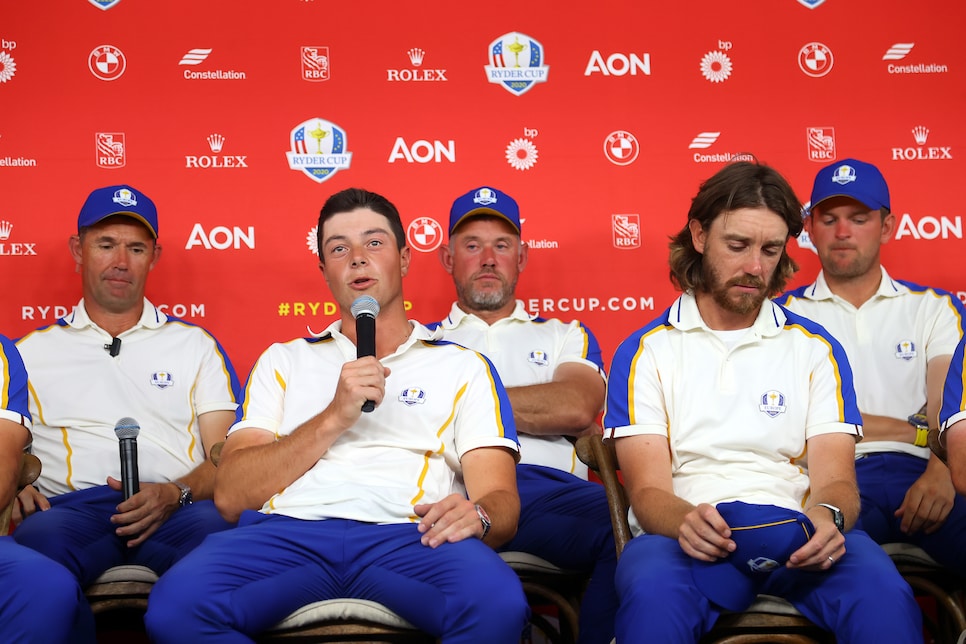 HAVEN, Wis. — Saddled with the weakest European team in decades, captain Padraig Harrington had few strings that he could pull that would have changed the outcome appreciably in the 43rd Ryder Cup. Not that he had a string he could pull.
His lineup was threadbare.
And it was facing a United States team dressed to kill.
Younger, deeper, highly motivated and more battle-tested than recognized due to its participation in the Presidents Cup, the American dozen came together like no team in the modern era of the Ryder Cup with its 19-9 triumph at Whistling Straits, a record margin since players from continental Europe bolstered Great Britain & Ireland in 1979.
Europe will struggle mightily in the near future having to contend with a U.S. team that featured eight players in their 20s—four of them major champions in Jordan Spieth, Justin Thomas, Collin Morikawa and Bryson DeChambeau, and two more destined to join them sooner rather than later in Patrick Cantlay, the PGA Tour Player of the Year, and Olympic gold medal winner Xander Schauffele.
That is a core group poised to become every bit as formidable as Europe's juggernaut of yore: Nick Faldo, Seve Ballesteros, Ian Woosnam, Bernhard Langer, Jose Maria Olazabal and Sandy Lyle.
That's a problem Europe can't do much about. The task for the Old World is replenishing the cupboard, reassessing its qualifying process and using its off year more effectively.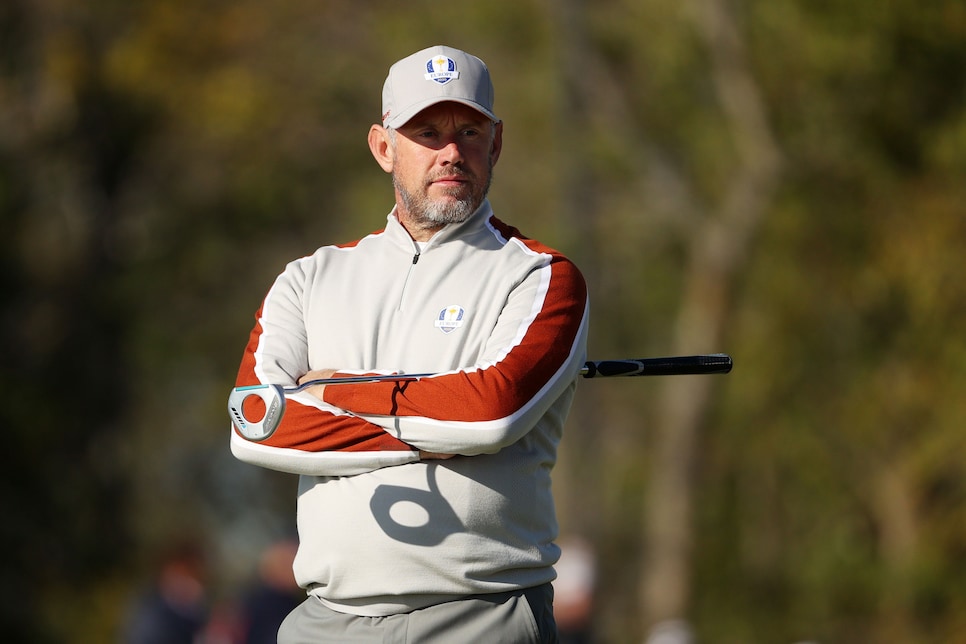 Lee Westwood's experience wasn't all it was cracked up to be as he struggled with his game at Whistling Straits.
Patrick Smith
Harrington, a three-time major winner and a stalwart of European teams after its Big Six moved on, won't escape criticism entirely. A few of his moves were head-scratchers, but only a few. Questioning them is too convenient. Different decisions would not have yielded a different outcome. Only a slightly closer one.
"This is going to be bad because Paddy is going to be questioned, and that is not fair," said Ian Poulter, one of three players Harrington took with his captain's picks.
Europe's primary weakness this week was fielding as many 40-somethings as players in their 20s—four each. Two were wildcard selections: Poulter, 45, and Sergio Garcia, 41, the latter who was a terrific complement to Jon Rahm, the World No. 1, who went 4-0 before running out of gas and magic and guts and falling to Scottie Scheffler in singles. Scheffler is 25, but played two fewer matches than the robust, rock-solid Spaniard.
Automatic qualifiers Paul Casey and Lee Westwood are 44 and 48, respectively, and Europe would be well-served if they made their last appearances or channeled Ponce de Leon. Same for Poulter.
Not that the loss falls on their shoulders, but the Ryder Cup, we have maintained repeatedly while watching America err continuously on the side of experience, is a young-man's event. It is four days of anticipation and building tension followed by three days of constant motion and intense, almost ineffably high pressure. There's a reason Dustin Johnson this week became just the third man to go 5-0 since the 28-point format was instituted in '79, joining Larry Nelson and Francesco Molinari.
Players expend incalculable energy during the Ryder Cup, even when not competing. They have to keep their games sharp. They are on the course walking alongside and supporting their teammates. And they do all of this amid sleep deprivation and altered eating habits. All 24 players are invested in the five sessions that could go as many as 504 holes combined over some 30 hours of a 58-hour period.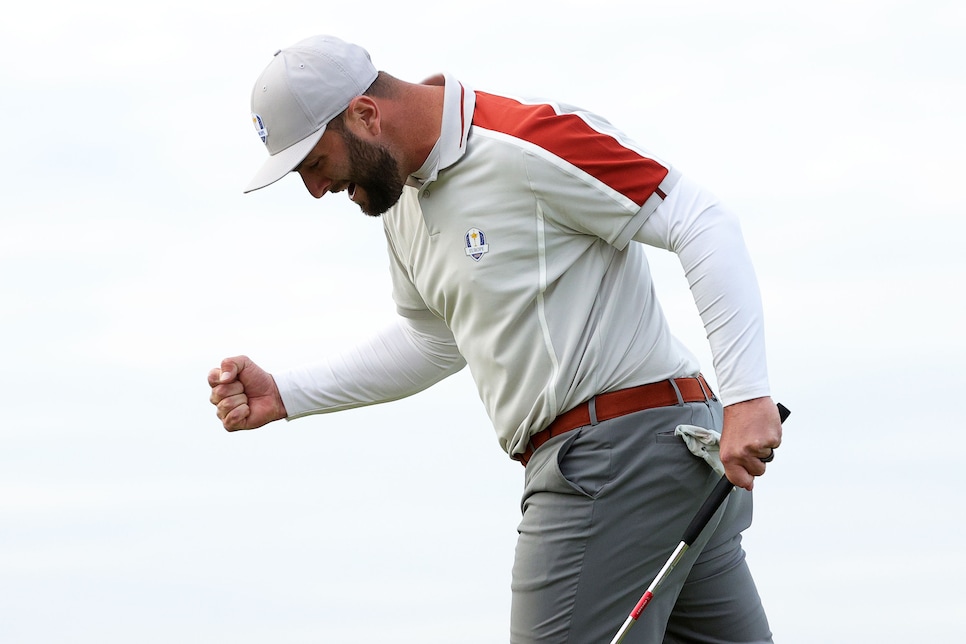 In Jon Rahm, the Europeans have at least one young player they look like they can rely on, but there needs to be more to help support him in the years to come.
Stacy Revere
So Europe has to get younger. It can do that immediately by changing its qualifying process to give its future captains more picks and fewer automatic qualifiers. Harrington had three captain's picks at his disposal, which he used on Shane Lowry, Garcia and Poulter. Stricker, meanwhile, because of the pandemic, asked for and received six, and the American skipper used them wisely. Especially important were the selections of Spieth, a natural partner with close friend Thomas, and Scheffler, chosen expressly to accompany his quirky fellow Texan DeChambeau.
Had Harrington had just one additional pick, Westwood likely would not have made his team as last man in on the World Points List. (Then the question becomes, would Harrington have picked him?)
Warning signs blared on the first hole of Westwood's foursomes match with English compatriot Matt Fitzpatrick Friday morning when the veteran of 10 previous Ryder Cups was set up with a six-footer to win the opening hole against Berger and four-time major champion Brooks Koepka. Westwood didn't hit the hole, and he and Fitzpatrick lost the next two holes and never recovered.
Instead of Westwood, who surely will be a future captain, Harrington, with an additional pick, could have added Victor Perez of France, Robert MacIntyre of Scotland or Guido Migliozzi of Italy, the next three names on the European Points List and 29, 25 and 24 years old, respectively.
"We have to look at systemic changes behind the scenes," Harrington allowed. "There's a changing of the guard in Europe, and a lot we have to look at."
Finally, Europe has been adversely affected by the loss of the Seve Trophy, which ended in 2013, and the Eurasia Cup, played from 2014-18. Harrington called the loss of both off-year team match-play events "a big miss" because it gave the Europeans an opportunity to test partnerships and provide their players a taste of competing as part of a team rather than solely as individuals.
For years, as Europe has dominated the Ryder Cup, it was thought that America suffered from its Presidents Cup responsibilities. But while Schauffele, Cantlay and Daniel Berger were Ryder Cup rookies, they had been members of past U.S. Presidents Cup teams – winning teams, it should be pointed out. And the successful Cantlay-Schauffele pairing that won twice in foursomes here was battle-tested at the 2019 Presidents Cup in Australia.
Europe lost Sunday for just the fourth time in the last 13 matches, an astounding run of success, and since 1979 it owns an 11-9-1 edge. So blowing up its system, its culture, its strong use of analytics, would be foolhardy. Before Sunday, it twice beat its American rivals by nine points.
But for the first time since 1983, the United States owns consecutive wins on its home soil and is loaded and hungry, with the likes of Patrick Reed hankering to get back in the action and promising players like Sam Burns, Max Homa and Will Zalatoris pining for a shot.
Europe's nucleus of Rahm, Rory McIlroy, Viktor Hovland and Tommy Fleetwood, plus perhaps the return of Molinari (whose absence this week was another blow) is solid. Harrington said as much: "There's plenty of guys here. … We'll draw lessons from this week, but most of these guys were winning in Paris, so there's still quite a winning mentality there going forward."
Indeed, but chances are high that preventing America from winning abroad for the first time since 1993 when the Ryder Cup goes to Rome in 2023 will be no less of a challenge than what they faced this week.
That has to be a sobering thought. The Euros will have to adapt. And quickly. Because their long reign of domination is in peril.