Party like it's 1999
Ryder Cup 2021: Team USA gave one of the most hilarious press conferences in golf history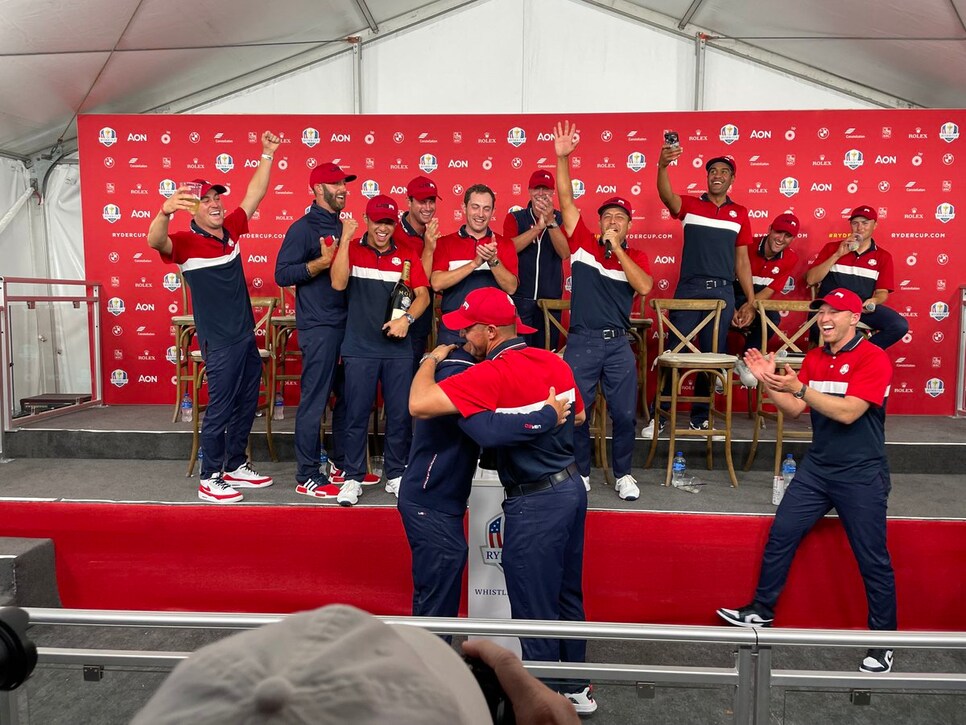 The winning Ryder Cup team's press conference is always one of the highlights of the week, and this year did not disappoint.
Shane Ryan
HAVEN, Wis. — It's like missing the closing credits for "The Hangover." If you put down the popcorn and got out of your chair before the winning U.S. team's televised press conference on Sunday evening of the Ryder Cup, you missed arguably the most entertaining half hour of the week.
The tone was set when Xander Schauffele, a cigar in his hand and clearly buzzed (they'd shown him on the NBC broadcast chugging a full beer during the on-course celebration), offered in response to one earnest question, "For me, personally, I had no idea we had media after all of this, so we're going to enjoy this one for now, and collect ourselves shortly after."
Meaning, they were going to party all night and sleep it off for a day or two.
There are few better press conferences in sports than the winning Ryder Cup team's gathering. They have plenty of time to drink before they gather, and having them all come in at once lends a certain locker-room atmosphere that is unseen in golf.
And this one was particularly rowdy, probably because eight of the players are under 30 and six were rookies, and they'd never had the opportunity to be this loose in front of a national television audience.
It seems about the only guys who even tried to answer a question thoughtfully were captain Steve Stricker and the older sage, Jordan Spieth. The rest … well, let's get to just how funny they were in sitcom-eque form:
• A reporter jokingly noted for Stricker that the Chicago Bears lost on Sunday. The captain caused a stir in Packerland at the opening ceremony by admitting he was a Bears fan.
Tony Finau: Why do you have to say that?
Dustin Johnson: Next time, let's not tell all the Green Bay fans that you're a Bears fan.
Finau: We're not talking about Ls, we're only talking about Ws today.
Collin Morikawa: That's messed up.
• Stricker was asked what decisions most led to the victory. He fumbled for an answer.
DJ: Let's be honest, Captain Strick did an unbelievable job of putting us all in the best position we could be in to win our matches.
Xander Schauffele: Attaboy, Strick.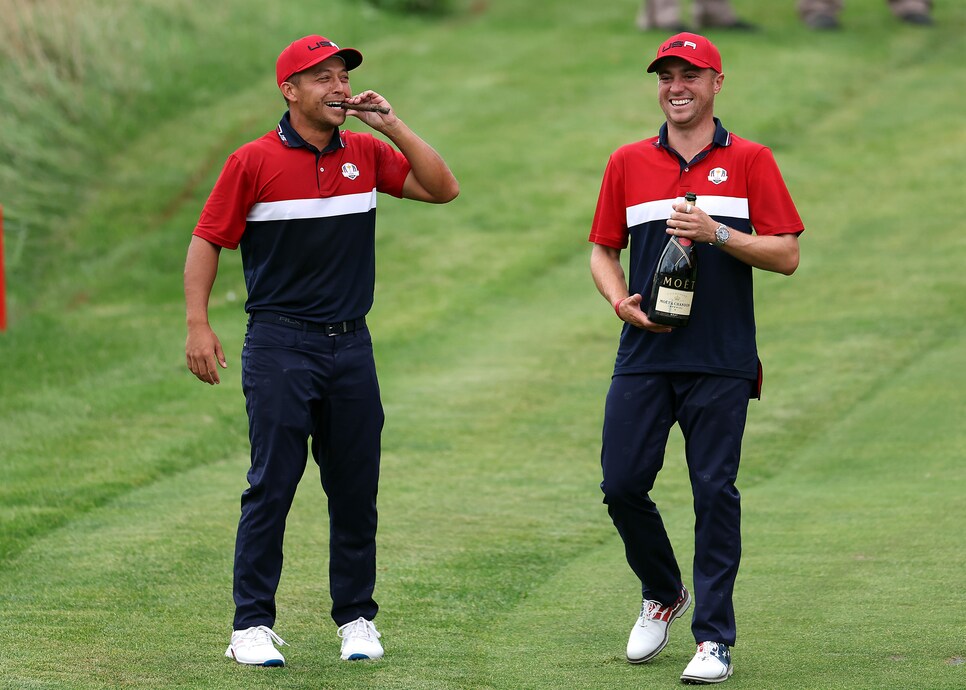 Xander Schauffele and Justin Thomas celebrate.
Richard Heathcote
• It was noted that a few bromances seemed to have been formed during the week, including Johnson and Morikawa, who went 3-0 together.
DJ: Yeah, we got a bromance. It's OK.
• So you remember Molinari and Fleetwood in 2018. Will you go in bed together with the trophy?
DJ: If you want me to, absolutely. I ain't scared. (Laughter).
TF: I'll share some pictures we posted later today; we'll see how it goes.
• Bryson DeChambeau was asked how special it is to win the Ryder Cup in his first try.
BD: Why did you single me out? We have plenty of rookies. I mean, I can tell you …
Jordan Spieth: Because you haven't been in media in a long time.
DJ (easing the tension): I just want to know what it feels like to fly one 400 on No. 5.
TF: How did it feel, Scottie (Scheffler), watching your guy sail it at the green on 5?
Scheffler: I'm sure there's some good memes of his direction and my direction, and it's certainly nice to have on my team than playing against it this week, that's for sure.
• Spieth was asked what Phil Mickelson brought to the squad as a vice captain. He passed it on to DeChambeau and Scheffler.
Scheffler: Phil did a wonderful job for us. He kept things loose. I think he was really well-timed with how excited he got for certain things, so like for instance, Bryson's 420-yard drive.
DeChambeau: There's some things that cannot be repeated, let's just say that.
Scheffler: He was pretty jacked up for a few moments. He did a pretty good job keeping us loose. I think yesterday Bryson and I lost No. 12 to go 1-down, and Phil was standing on the tee box, and he just kind of smiled and looked at us. He goes, "Man, this is great, isn't it?" In my head, I'm like, Phil, get away from me, this is not great, we just bogeyed No. 12. But it was exactly what we needed at the time, and he did a wonderful job, and he's great to have on the team.
Stricker: Anything Phil said during this whole competition, I cannot repeat.
• Stricker said he would get a tattoo on his "cheeks" if the U.S. won.
TF: You don't say; say it ain't so.
CM: Who's the tattoo artist? Xander can do it. Anybody know a good spot in Sheboygan?
• And then, just when the presser was about to adjourn, Thomas just had to go there … Bryson and Brooks.
JT: I think before this is all over we should have Brooks and Bryson hug in the middle of the room. To prove how much of a team we are, they are going to hug.
They did so, in the middle of the room with the trophy between them.
Now that's a great Hollywood ending.