News
Henrik Stenson named 2023 European Ryder Cup captain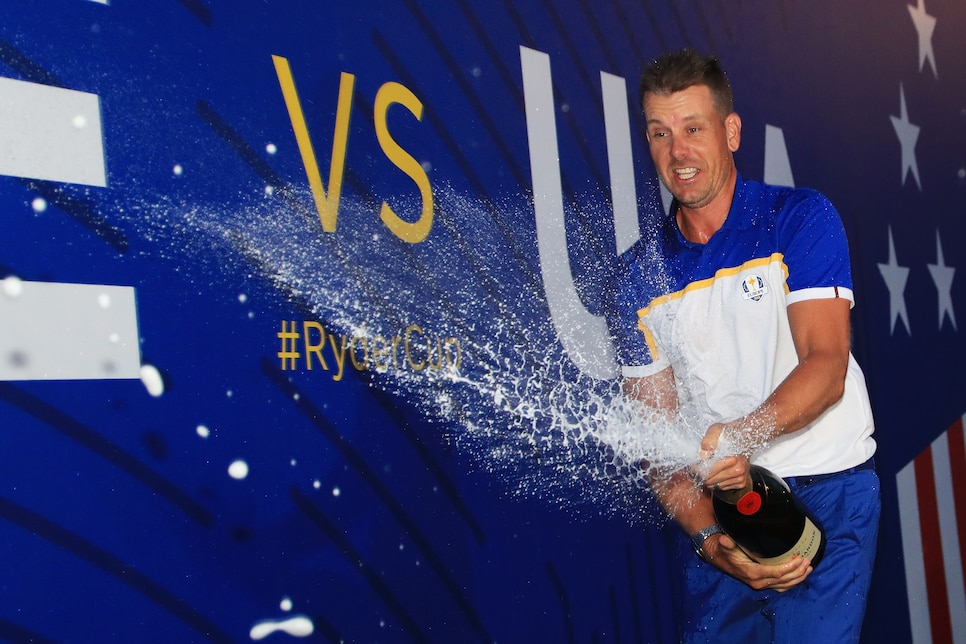 Henrik Stenson will lead Europe into the 2023 Ryder Cup matches at the Marco Simone Golf & Country Club in Rome, Italy. Chosen by a five-man panel comprising of the last three European captains—Padraig Harrington, Thomas Bjorn and Darren Clarke—as well as DP World Tour chief executive Keith Pelley and tournament committee chairman David Howell, the 45-year-old Swede emerged as the successful candidate from a four-strong interview process. Former European number-one Robert Karlsson, former world number-one Luke Donald and 1999 Open champion Paul Lawrie were the others in contention.
Stenson, one of nine Swedes to play Ryder Cup golf, becomes only the fifth continental skipper since 1979, when the Great Britain & Ireland squad was expanded to include those from Europe as a whole. In that respect, the 2016 Open champion follows Seve Ballesteros (1997), Bernhard Langer (2004), Jose Maria Olazabal (2012) and Thomas Bjorn (2018).
Apart from his age, Stenson—who has recorded top-five finishes in all four components of golf's Grand Slam—ticks many of the boxes traditionally required of European skippers. Sweden's first and so-far only male major champion after his epic Open victory over Phil Mickelson at Royal Troon, the Gothenburg-native is a past winner of the Players Championship, twice European number-one after topping the Race to Dubai and in 2013, he claimed the FedEx Cup. In 2016 Stenson was silver medallist behind Justin Rose at the Rio Olympic Games, eight years after he teamed with Karlsson to win the World Cup of Golf for Sweden.
"Henrik has all the qualities to be a great captain," confirmed European Ryder Cup director Guy Kinnings, who was the first to inform Stenson of the panel's decision last Friday at the Players Championship. "He comes with all the credibility of what he has achieved, and as we all know a dry a sense of humour and a fantastic warm personality, but he is also a ferocious competitor. He is hugely respected by the players and admired by everyone involved with the game and the Ryder Cup."
In five Ryder Cup appearances as a player starting in 2006—when he holed the winning putt at the K Club—Stenson was three times on the winning side, accumulating 11 points from 19 games. He also served as an assistant captain to Padraig Harrington at Whistling Straits last year. On that subject, although Karlsson and Donald are likely to be two of his assistants this time round, Stenson was giving nothing away. And he was equally tight-lipped when asked about any possible changes to a selection system that was roundly criticized last time out. But, in the wake of Europe's record-breaking defeat at Whistling Straits, it would come as no surprise to hear that the number of wild-card selections will increase from the three that were available to Harrington.
"We've got time to decide these things," he said. "It's going to be an interesting 18 months. We have time obviously, and time will tell exactly how the team will formalize. But we have the old guard, the players who played a lot of Ryder Cups. Then we have the new talent on the DP World Tour, up-and-coming players who have shown some great signs. I'm sure they are hungry as ever to get one of the spots on this team. Some of them, I don't know that much, but I will have the opportunity to get to know them and play with them and see where they kind of fit in in all of this. These are exciting times. The door is open for anyone with a European passport."
Still, for all that he is more than well-qualified to fill the role of Old World skipper—and clearly has the respect of all on the DP World Tour—Stenson's rumored dalliance with the still-to-be-seen but much-rumored Saudi Super League had cast doubts over his suitability. As recently as last month in the Middle East, he was at best non-committal when asked about his future plans. Now, however, it can safely be assumed that his name is on the list of those who will not be making the jump to anything Saudi-related, even if it was a direct question he was quick to answer only obliquely.
"There's been a lot of speculations back and forth, and as I said, I am fully committed to the captaincy and to Ryder Cup Europe and the job at hand," he said. "So we're going to keep busy with that and I'm going to do everything in my power to deliver a winning team in Rome."
On his style of captaincy and the prospective make-up of his team, Stenson was a little more forthcoming. He was certainly well aware of the fact that the home team is likely to look a lot different from the aging side that failed so abysmally at Whistling Straits.
"I want to be a players' captain," he said. "I want to work closely with the players. As you know, for decades, we've had a great bond within the European team room. I want to build on that and make sure we keep that. Looking at our average age at Whistling Straits, I think it was near enough 35, while the American side was much younger. At some point, there will be a shift, and I can definitely see that happening this time around. If you look at the stats, the American side played a lot better golf than we did last time, or if we didn't come up to standard. No matter how you look at the numbers, we got out-played by a better team and there's no shame in that. So it's exciting for me as a captain to follow all the players and how they are going to want to qualify and how hard they will work to make it."
Only 564 days to go folks. Stay tuned.