LIV Golf
Henrik Stenson doubles-down that stripped Ryder Cup captaincy wasn't his decision, doesn't rule out legal response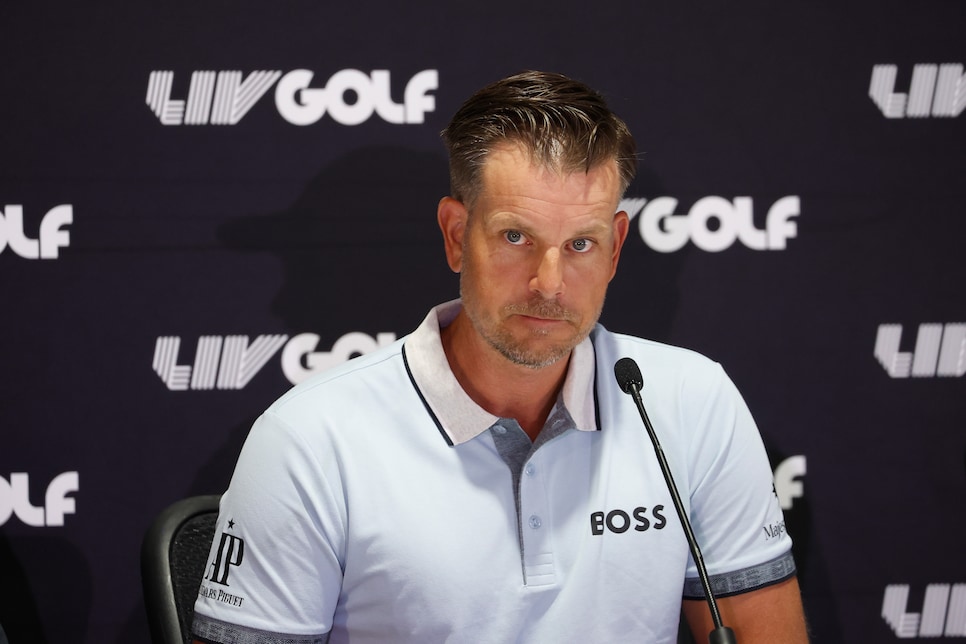 "I don't feel like I've given it up. I made every arrangement possible here to be able to fulfill my captain's duties, and I've had great help here from LIV to be able to do that. And still, the decision was made that I was to be removed," Stenson said. "I'm obviously disappointed over the situation. But it is what it is, and yeah, we move on from there now."
Stenson was one of the first names attached to LIV Golf and played at the Saudi International in February. However, once LIV Golf's efforts appeared to be thwarted in the fallout of Phil Mickelson's controversial quotes about the Saudi-backed group, Stenson signed up to be the European captain for the 2023 Ryder Cup. At his introductory press conference in March, Stenson said the appointment meant he would not be joining any breakaway tours.
"Yeah, there's been a lot of speculation back and forth, and as I said, I am fully committed to the captaincy and to Ryder Cup Europe and the job at hand," Stenson said. "So we're going to keep busy with that and I'm going to do everything in my power to deliver a winning team in Rome." When asked again later in the press conference if the captaincy meant he had to give his word that he would not join LIV Golf, Stenson replied in the affirmative: "The captain does sign a contract. He's the only one that does that. Players and vice captains don't. But the captain has an agreement and those agreements are between Ryder Cup Europe and the captain, so I'm fully committed to my role as a captain and working hard towards the result we want in Rome."
Four months later those words did not hold true, as Stenson is making his LIV Golf debut in New Jersey this week.
When asked if he knew he would lose his captaincy with his move to LIV, Stenson deflected blame, again saying the decision was made for him.
"We had—we had discussions and I informed them of the decision to go and play in LIV tournaments. [Team Europe] had a, had a short period of time where they were kind of discussing or debating what was going to happen, and I was informed of their decision shortly after," Stenson explained.
Moreover, while he stated in March that he signed an agreement to be fully committed to Ryder Cup Europe, Stenson—when pressed about said agreement—would not get into specifics. "Well, the contract between the captain and Ryder Cup Europe is obviously a private contract, and I'm not going to go into detail on what's in that contract," Stenson replied.
When trying to explain his decision last week through a statement, Stenson said he had accepted the stripped Ryder Cup captaincy "for now." Asked if that meant Stenson is exploring legal counters to the decision, the Swede offered an indirect response.
"I just expect to be treated fairly going forward depending on what the outcomes are in this whole case, and that is yet to be—yet to be seen what decisions are to be made and when we will be notified of anything like the boys are saying here, qualification and vice captaincies and all the rest," Stenson said. "So up until that point, we just wait for the European Tour and Ryder Cup Europe to make those announcements."
The PGA of America, DP World Tour and Ryder Cup have been adamant that LIV Golf affiliation would prevent players from participating in the biennial match. But as more defect to LIV Golf—as of writing, five of the 12 players from the 2021 European Ryder Cup team have left, with more rumored to be considering the jump—there is worry that the schism in professional golf could seriously damage the viability of the Ryder Cup.
When asked if he felt any regret or worry about what LIV Golf could do to the Ryder Cup, Stenson said rather than place blame he's hoping for resolution.
"I obviously feel like it's a shame that we ended up in this situation, and I just hope that we can get a resolution as soon as possible here for all tours and everyone involved, and we can all kind of co-exist together," Stenson said. "Yeah, all the players love the Ryder Cup and Presidents Cup. Yeah, it's just a shame we ended up in this situation. I hope for a quick solution."