PGA Tour
It's become a bombers duel in Detroit between Tony Finau and Taylor Pendrith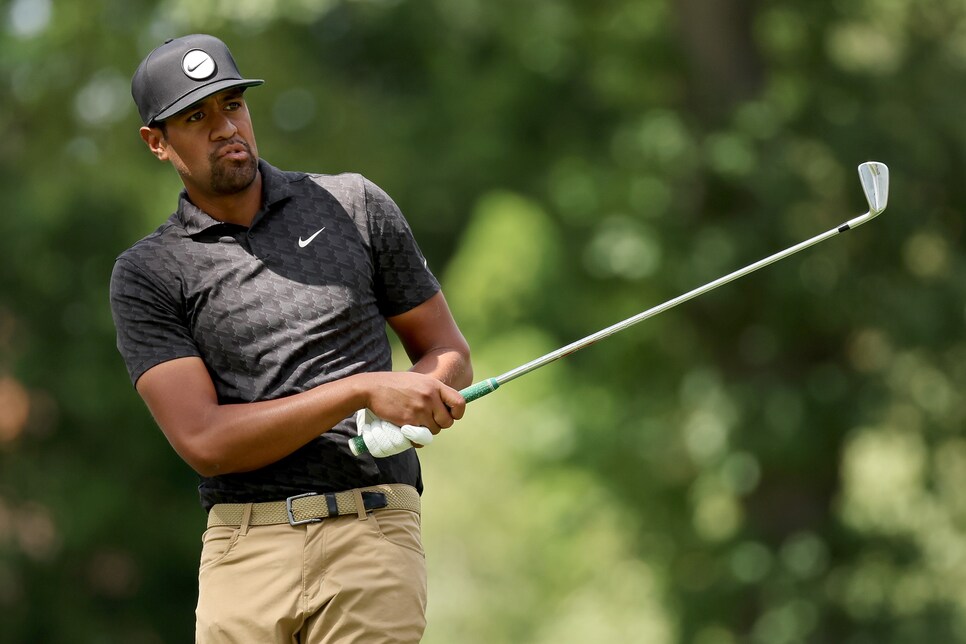 Tony Finau follows his shot from the ninth tee during the third round of the Rocket Mortgage Classic.
Gregory Shamus
DETROIT – Tony Finau is going for his second victory in as many weeks, and his primary opponent for Sunday's final round of the Rocket Mortgage Classic is a PGA Tour rookie with two career wins on PGA Tour Canada.
But give Taylor Pendrith credit, because when Finau looked to be taking control of the tournament on warm but calm Saturday, the native of Richmond Hill, Ontario, responded with birdies on four of his last five holes. The two men, who shared the first-round lead, are knotted again after 54 holes with personal-best aggregate totals of 21-under-par 195.
Finau, winner at last week's 3M Open, has yet to make a bogey this week at Detroit Golf Club and fired a seven-under 65, while Pendrith, who leads the field with 25 birdies, managed a 66 thanks to the late spurt.
"It had a nice feel to it, a lot of energy from the crowd and both played some solid golf and kind of feeding off each other," said Finau, 32, who hails from Utah and was decidedly the fan favorite in his pairing with the Canadian golfer. "I think we both have done a great job up to this point through 54 holes of maintaining our composure and playing good golf. It was nice to have him as a playing partner today and we'll have him again tomorrow."
"It was cool," Pendrith, 31, said of the atmosphere in the final pairing. "Obviously, he made a ton of birdies, and I finished the round with a lot of birdies, so it was fun. We were going back and forth. Tony bombs it off the tee and I hit it far as well, so it was fun, kind of similar games I guess, and we attacked it very well.
"It's going to take another low one tomorrow, so just keep the pedal down and try and make as many birdies as possible."
Cameron Young, seemingly a perennial contender in his rookie season and owner of four runner-up finishes, is third alone at 17-under 199 after a 65. Stephan Jaeger is next at 200 and then Patrick Cantlay, World No. 4, is another stroke back in fifth place.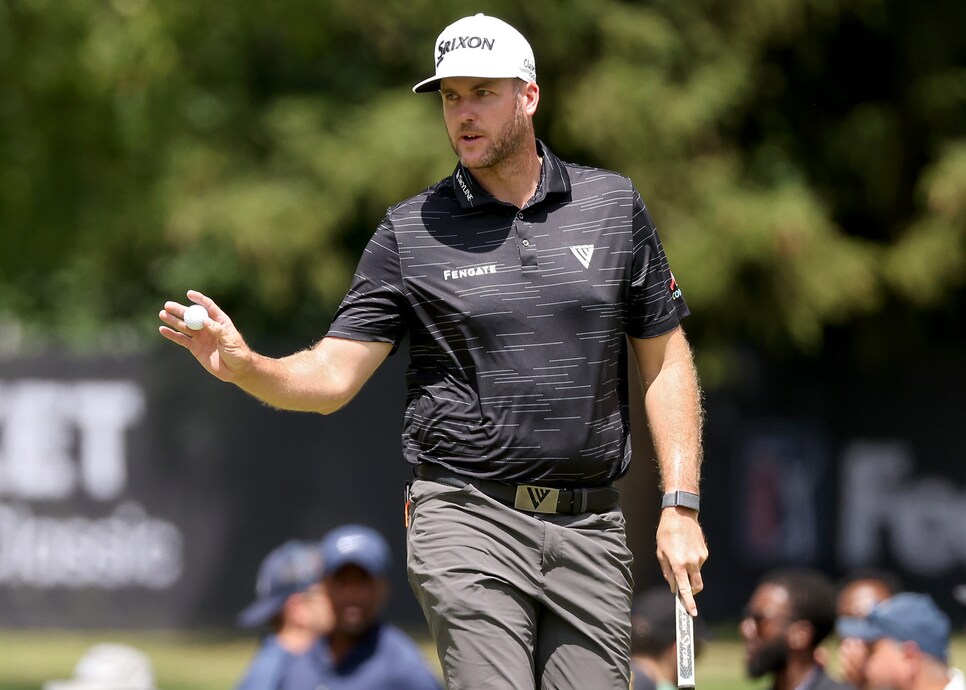 Taylor Pendrith reacts after making par on the second green during the third round of the Rocket Mortgage Classic.
Mike Mulholland
"I would love to be closer," said Young, who tied the course record on Friday with a 63 and is 16 under in his last two rounds. "I think I had a chance to shoot nine or 10 today, but yeah, I'm happy that I've kept it somewhat close. And I know those guys are playing some great golf in that group behind me today, so we'll be chasing all day tomorrow."
Nate Lashley set the tournament's 72-hole record in the inaugural edition in 2019 at 25 under par, but that mark appears in serious jeopardy against the long-hitting duo. Finau, however, wasn't about to count out some of the other pursuers. Conditions on Saturday were ideal, warm and with little wind, enabling the field to register a collective 69.70 scoring average. Sunday's forecast calls for more of the same.
"I can't say we pulled away from the guys. This is the type of golf course where someone can shoot eight, nine, 10 under," Finau noted. "But if we put together a good round tomorrow, might be a two-man race and I'm looking forward to the challenge again."
Finau, who has suffered just two bogeys in his last 125 holes, grudgingly agreed that he might be playing at a higher level than during last week's victory in Minnesota. "I think I'm hitting a lot more greens even than I did last week," he said. "I feel like I hit it as good as I've hit it from tee to green last week, so I think I've definitely elevated that part of the game."
Pendrith, making just his third start after being sidelined 12 weeks with a rib injury, has a tall order ahead of him to outplay one of the game's hottest players—Finau is 44 under par in his last eight rounds—but he showed late Saturday that he isn't going away.
"I probably have more pressure just because I've never won before, and Tony's a multiple winner and he won last week and he's playing great," said Pendrith, ranked 237th in the world, compared to Finau at No. 16. "I've got a nice opportunity tomorrow being tied with him going into Sunday, so there's 18 holes of golf left and who knows what will happen. I feel like my game's in a good spot. I'm driving it well, I'm hitting my wedges good, it's nice to see some putts go in. We'll see. It will be a fun experience and just looking forward to competing."