LIV Golf
British Open 2022: LIV golfers are mulling this plan to earn some World Ranking points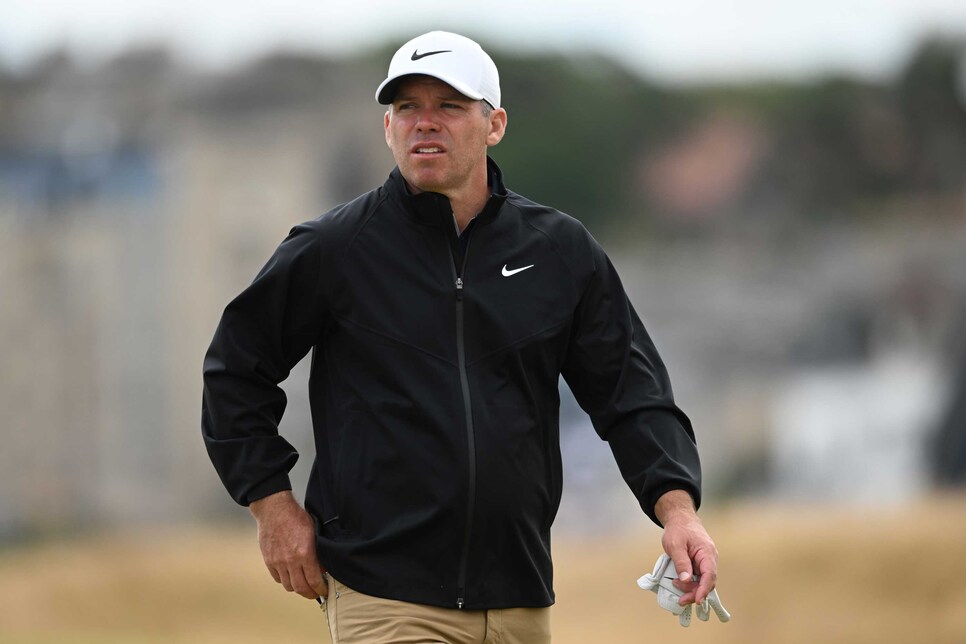 Paul Casey is planning to play his first LIV Golf event at the end of July at Trump Bedminster.
Ross Parker - SNS Group
ST. ANDREWS, Scotland — As the men's major season for 2022 ends at the Open Championship, the players competing in LIV Golf Invitational events have a World Ranking points problem. More specifically: a lack of World Ranking points problem.
At present, the Saudi-backed series does not offer World Ranking points, which are among the chief currency used to decide who gets to play in major championships. And with the players barred from playing PGA Tour events, LIV players now face the possibility of not receiving any World Ranking points until … well, who knows when.
The issue isn't as large for recent majors winners—Dustin Johnson, Brooks Koepka, Bryson DeChambeau among them—who will continue to get into the big four men's events in via exemptions for their victories. But non-winners who have been getting into majors via their World Ranking—think Talor Gooch or Kevin Na or Paul Casey—are now facing the possibility of seeing their ranking slide to the point where the invites dry up.
What then are are players to do? Turn to other tours, it seems.
"I think there's the option of playing some Asian Tour events," said Paul Casey, the World No. 28 who recently committed his future to LIV Golf. The Asian Tour has received hundreds of millions of dollars in investment from LIV Golf, is an OWGR-certified tour and has provided a pathway for its players to get into LIV events, at least for now.
"We're going to see what happens with the DP World Tour," Casey said. "But I was under no illusions that my ranking could slide and be out within however long, whatever the timeframe is. More incentive to play well this week as well to try and get points."
Casey said that there is talk among LIV players about entering Asian Tour events between the Trump Bedminster tournament set for later in July and the Boston tournament scheduled for Labor Day weekend in September. The same for playing in Asian Tour events ahead of the LIV Golf tournament in Bangkok in October.
"Do they go play to be a bit sharper? There's a lot of discussion, a lot of WhatsApp chat group feeds going around," Casey said. "I'm not part of most of them. I think the discussion was if guys turn up en masse, then it lifts the World Ranking points. So if they're going to go play an Asian Tour event, they all go together."
The next LIV event will be held at New Jersey's Trump Bedminster outside New York City from July 29-31. Then comes the Boston start at The International in early September, followed by an tournament at Rich Harvest Farms outside Chicago Sept. 16-18. At its Portland event, LIV Golf officials announced that in 2023 they would be shifting from its "International Series" schedule to a league schedule that will include 14 events, up from eight this year.
Casey acknowledged that he made his decision to jump to LIV knowing full well that it could impact his major-championship future. But the Englishman turns 45 next week, and this week's Open., where he marked his 71st start in one of golf's big four. If he doesn't get into another one, he'll be fine.
But Gooch, 30 years old and No. 40 in the World Ranking, does not want to be shut out of golf's marquee events, and so he's considering the Asian Tour route.
"Yeah, it's something that the guys have talked about," Gooch said after a final-round 69 at the Old Course. "Just to play some, but mainly for World Ranking points, so we'll see how that plays out.
"The majors are the pinnacle of golf, so that's what everyone wants to do. Without a doubt."
MORE OPEN CHAMPIONSHIP 2022 STORIES FROM GOLF DIGEST