LIV Golf
OWGR says no (for now) to LIV Golf's workaround to get World Ranking points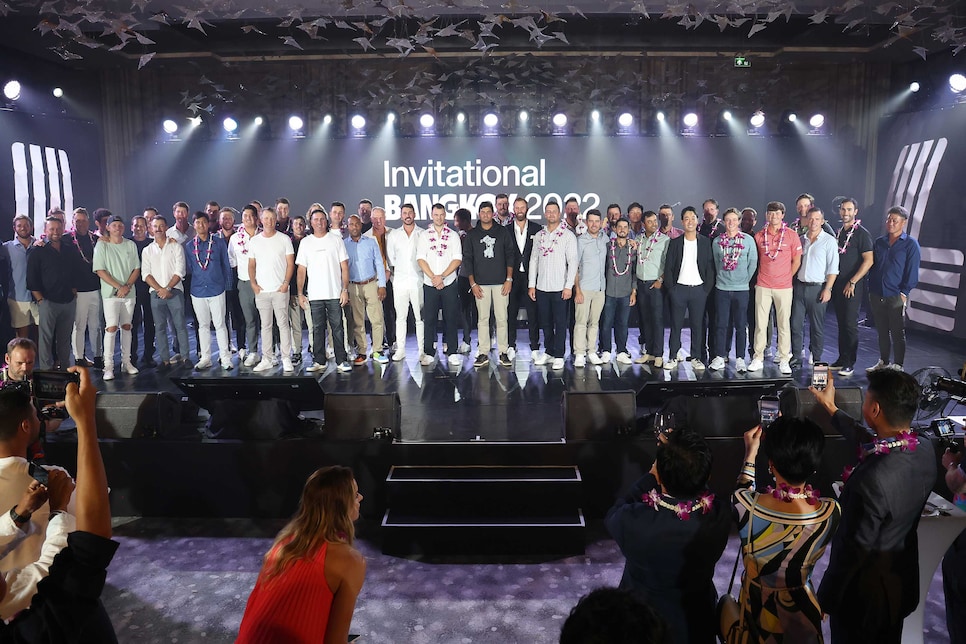 The player field poses for a photo during a welcome party prior to the LIV Golf Invitational - Bangkok on Wednesday.
Joe Scarnici/LIV Golf
With its attempted backdoor channel to World Ranking points cut off, at least for now, the LIV Golf series soldiers on with this week's LIV Golf Invitational Bangkok. The 48 players in the field at Stonehill are playing for another $25 million and, seemingly, with a growing chip on their shoulders.
In a move that appeared to be an attempt to circumvent the review process for eligibility, the upstart Saudi-backed group announced on Wednesday a partnership with the MENA Tour, a developmental tour founded in 2011 and based in Dubai that already had OWGR accreditation. LIV officials touted the move as a way for its LIV Golf Invitational events, which don't currently receive points, to immediately begin doing so starting with no-cut 54-hole tournament that gets underway on Friday.
"I think from a player standpoint, it feels great to have everyone at LIV fighting so hard for the players and their best interests," Phil Mickelson said from Bangkok. "I think for the World Golf Rankings, this is a great way to keep its credibility, while not bringing in politics into the decision-making process. I think it's good for all parties."
The OWGR didn't see it that way. On Thursday, the organization released a statement acknowledging it had received communication from MENA outlining changes to its membership structure and that it was beginning the review process on its changes. However, the ranking organization said that LIV still is not eligible for points in Thailand or in its event in Saudi Arabia next week.
"Notice of these changes given by the MENA Tour is insufficient to allow OWGR to conduct the customary necessary review ahead of the LIV Golf Invitational Bangkok (7-9 October) and LIV Golf Invitational Jeddah (14-16 October)," the OWGR statement read. "Only after the review is complete will a decision be made on awarding points to the MENA Tour's new 'Limited Field Tournaments', defined by the MENA Tour in its Regulations as 'any MENA Tour-approved tournament, which comprises of a player field of less than 80 players.'"
Begun in 2011 and approved for World Ranking points in 2016, the MENA Tour, with events primarily in the Middle East and North Africa, has not conducted a tournament since before the pandemic in 2019. It now appears to have the ability to go forward with financial help from LIV Golf while absorbing LIV events into its schedule—and thereby ostensibly helping LIV to meet OWGR criteria.
On Thursday, the MENA Tour sent a letter to its membership—which now includes LIV golfers—with an updated schedule through June 2023 and revisions to its player categories. Those categories include recent participants in the Ryder Cup or Presidents Cup in the last five years, major winners since 2010 not otherwise exempt, and players ranked in the top 150 in the world as of Week 23 of this year, which corresponds to the first LIV event in early June in London. The events listed offer purses of $20 million or $75,000 and the letter states that "all events shall be open to MENA Tour members to enter."
After the OWGR's statement came out, MENA Tour commissioner David Spence spoken of his disappointment with the decision. "We have had various communications with OWGR since submitting our 2022/23 schedule, MENA Tour handbook, exemption criteria and our field ahead of our opening event of our new season which tees off today," he said. "None of this communication pointed towards any technical reason for the LIV Golf Invitational Bangkok to be treated any differently to any MENA Tour event, every one of which has received OWGR since we were accepted into the OWGR framework in 2016.
"The OWGR states: 'The primary objective of the Ranking is to maintain, review, update, administer and promote the recognition of a system that fairly ranks the relative performance of golfers participating in the leading men's professional tournaments throughout the world.' Clearly, the MENA Tour's first event of the 2022/23 season, the LIV Golf Invitational Bangkok, is one of those tournaments and accordingly should be included in this week's OWGR events. Not including our event in this week's OWGR render the results and subsequent player movements inaccurate."
LIV Golf already has a partnership with the Asian Tour, which submitted an application to OWGR on behalf of LIV on July 6. However, because the Asian Tour has an established set of membership guidelines, LIV had to reach down to the MENA Tour, which has access to the Asian Developmental Tour and then by extension to the Asian Tour and LIV Golf.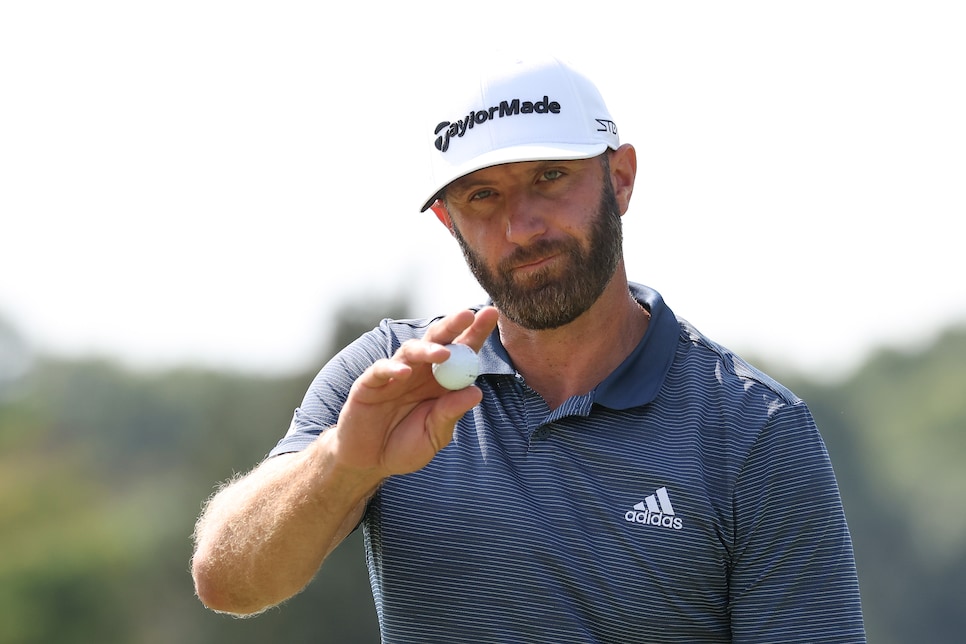 Dustin Johnson is among the LIV golfers who has spoken out about the need for the OWGR to allow LIV events to award World Ranking points, cited the quality of the players competing in the no-cut, 54-hole events.
Jonathan Ferrey/LIV Golf
The process for OWGR inclusion can take one or two years to complete—and after that there is a standard three-year probationary period. Furthermore, the OWGR bylaws state that a prospective tour must adhere to the OWGR guidelines for at least one year immediately prior to inclusion. That would seemingly keep LIV Golf outside the OWGR universe until at least 2024.
"I think with the quality of players we have out here, with the events we are playing, we should have [ranking points],'' Dustin Johnson, who has slipped to 23rd in the world, said in a press conference on Thursday. "I don't see how they don't award us points. I think it's supposed to be a non-biased organization. We are playing golf, competing with some of the best golfers in the world, so yes, we should be awarded points."
"For me it's fairly obvious that the world rankings don't make sense without recognizing this tour,'' Graeme McDowell told SI.com. "I understand there are boxes you have to tick. I understand that the guy making those decisions from the world ranking are very conflicted in this situation. Common sense has to prevail at some point."
The OWGR added in its statement on Thursday that official MENA Tour events played over 54 or 72 holes with a 36-hole cut remain eligible for OWGR inclusion. MENA's letter to players indicates 15 upcoming tournaments. However, a source familiar with OWGR criteria told Golf Digest that MENA risks decertification if it appears that it might be changing its competition format to align with LIV. As of now, there is no indication that is being considered. Of course, MENA's decertification would represent another blow to LIV Golf's goal of joining the OWGR.