BOLTON, Mass. — The question coming into LIV Golf's fourth event was the same one asked and unsatisfactorily answered in the nascent tour's three prior starts: Could a no-cut, 54-hole tournament ever feel like a real competition? The controversial new circuit was certainly hoping so this go-around, having bolstered its 48-player roster at The International with six more PGA Tour stars including World No. 2 Cameron Smith.
Come Sunday, Dustin Johnson provided a different response when he rattled home a 35-foot eagle putt on the first extra hole to win the LIV Boston Invitational in a playoff—the first in LIV history. Maybe all it took was 55 holes to create an ending that finally came with a bit of excitement.
For what it's worth, Johnson said his competitive juices were flowing as much as any other tournament he ever played. Golf fans may find that surprising—even hard to believe—given his 24 PGA Tour victories included the 2016 U.S. Open and 2020 Masters. But the 38-year-old said his body told him this felt like competition.
"Yeah absolutely; if not more," Johnson said. "Especially with that [$4 million winner's] check you get. You can feel it, your b---hole puckers up a little bit coming down the last few holes, for sure."
Johnson, along with LIV newcomers Anirban Lahiri and Joaquin Niemann, the two other in the playoff, certainly made the product more compelling than had been the case for LIV's London, Portland and Bedminster events. The trio each finished 54 holes at 15-under 195, Johnson shooting a Sunday 65, Lahiri a 64 and Niemann a 66. And those weren't even the day's low score. Lee Westwood flirted with posting a sub-60 number, needing two birdies on his final three holes to do just that. Instead, he made two bogeys and a birdie for a 62 that left him one shot out of a playoff.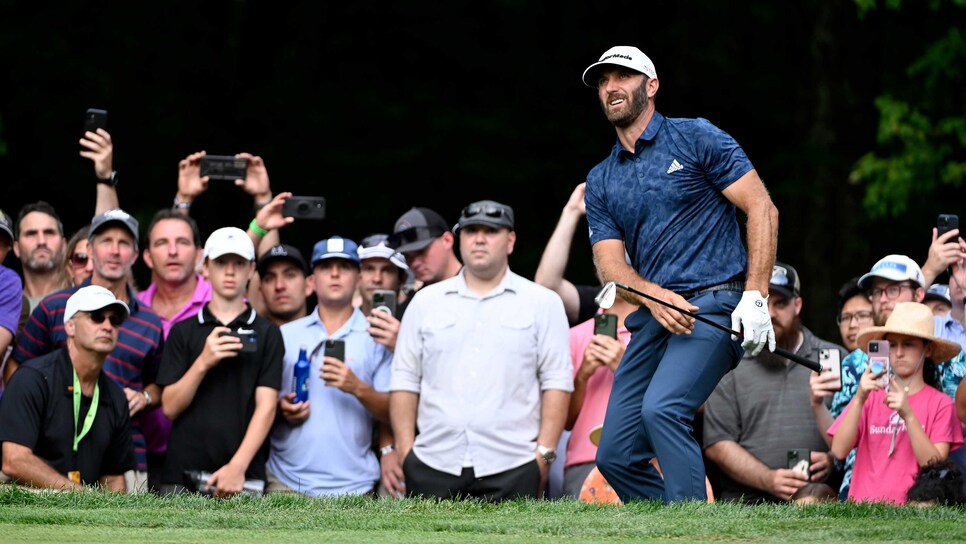 Before Sunday at The International, Dustin Johnson hadn't won a tournament since the 2021 Saudi Invitational.
Charles Laberge/LIV Golf
But Johnson was the one who provided the biggest fireworks. Returning to the par-5 18th, the first playoff hole, he hammered an eagle putt up the hill with so much force it rammed the back of the hole, bounced up and fell in. The sudden victory gave the fledging series its first American winner.
"I felt I had a really good read on it [but] I might have hit it a little harder than I wanted," said Johnson, who hadn't won a tournament anywhere since the 2021 Saudi Invitational. "As soon as I hit it, I begged it to hit the hole and it did. I think the hole is dented."
Making his LIV debut less than two months after winning the 150th Open at St. Andrews, Smith also did his best to add some entertainment. The 29-year-old Australian began the third and final round five shots off the lead but rallied with a 63 to finish at 14 under and one shot out of the playoff. After missing a birdie putt on No. 2, his last hole thanks to LIV's shotgun start format, Smith tied for fourth with Westwood.
Smith had faced criticism before teeing off this week from major winners Gary Player and Fred Couples. Couples mocked LIV's use of 54 holes while Player remarked, "What sort of tour is that? 54 holes, no cut, a team event. It's never going to compare to the regular tour."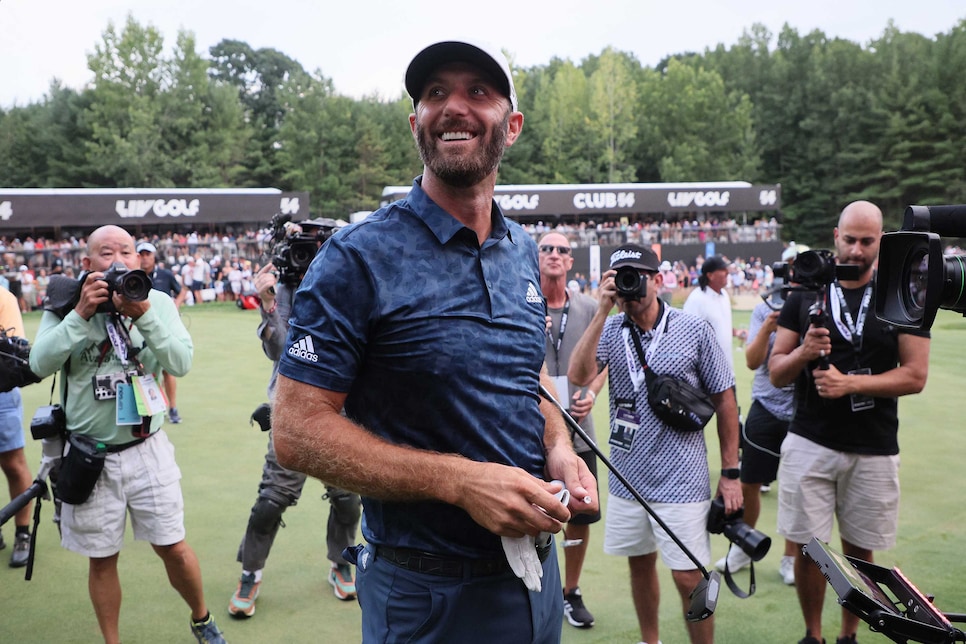 Johnson was all smiles after pocketing the $4 million first-place prize money payout.
Andy Lyons
But Smith, a six-time PGA Tour winner, pointed to the fans, who didn't seem to care about the divide in professional golf, nor the fact LIV blasts loud music during competition and now allows players to wear shorts.
"The competition here is fantastic, it's loud and it feels like the course has a heartbeat. I love that and I can't wait to keep going."
But was the drama in Boston an exception or a sign of something new? LIV plays its next event outside Chicago in two weeks, and the question will no doubt linger there too.