Down Wentworth way, around and about DP World Tour headquarters, it's a proud boast. There, at the home of what was once the European Tour, the BMW PGA Championship is known as the flagship event. Has been for a long time. But, given the current adversarial state of world golf, a change of nomenclature is surely in order. This year at least, "battleship" might be a more appropriate description for this $8 million gathering of the Old World's great and good.
Next week 19 players committed to the LIV Golf series are scheduled to take on the storied Burma Road course alongside tour loyalists like Rory McIlroy, Matt Fitzpatrick, Viktor Hovland and Jon Rahm. It is a situation almost guaranteed to provoke conflict between two camps that have so far shown little or no inclination to compromise. We're talking deep black and vivid white, with no sign of a single shade of gray in between.
Only this week, DP World Tour chief executive, Keith Pelley, singled out the so-called rebels (who are allowed to play in DP events at least until a legal appeal against fines and suspensions levied by the tour is heard in February 2023) for not-so special treatment. In a memo circulated to members, Pelley made it clear that, while the LIV players will not be given any on-course competitive disadvantage in the shape of unfavorable tee times, "they will not be required to play in the pro-am on the Wednesday and will not be in TV featured groups."
In a further memo sent only to the "naughty 19," Pelley made a request: "Out of respect for our partners, our broadcasters and your fellow competitors, we would kindly ask you to consider not wearing LIV Golf-branded apparel during your participation at Wentworth."
It's a harsh reality, one far removed from the much-vaunted camaraderie and bonhomie that has long characterized European Ryder Cup sides. Long-time stalwarts like Lee Westwood, Ian Poulter, Graeme McDowell, Henrik Stenson, Martin Kaymer and Sergio Garcia—never mind major champion and former Captain America Patrick Reed—are suddenly far from welcome in what used to be their home from home.
"I'm not critical of anyone who has gone to LIV," says one DP World Tour professional who asked not to be named. "If I was offered a few million pounds, I would go. But I wouldn't be petty on social media. That has disappointed the players. It has gotten to be personal."
Oh yes. In the wake of his Tour Championship victory last week, McIlroy summed up his mood with some inevitably well-publicized remarks. "It's going to be hard for me to stomach going to Wentworth in a couple of weeks' time and seeing 18 of them there," said the Northern Irishman, winner of the BMW PGA in 2014. "I hate it. I really do."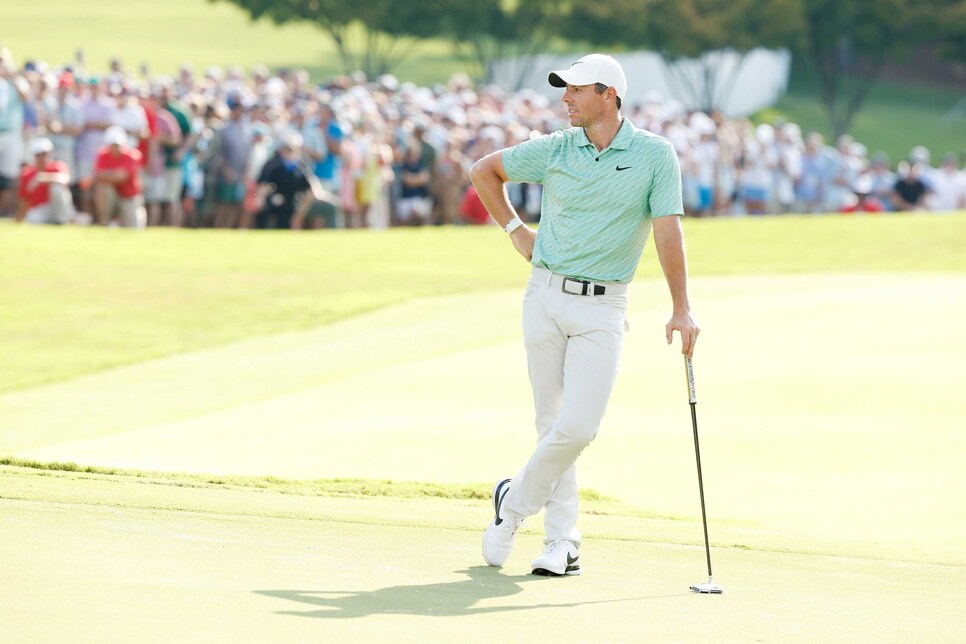 Strong words. But do they reflect a wider and prevailing mood amongst the more rank-and-file members of the DP World Tour? In the wake of McIlroy's Tour Championship victory last week, his comments focused almost exclusively on the PGA Tour and its on-going conflict with LIV Golf. No mention was made of what is still, technically at least, the four-time major champion's home circuit. Nor was there any hint of the transatlantic strategic alliance that exists between the PGA and DP World Tours.
"It was a little strange that Rory made no reference to the European Tour," says Scotsman David Law, currently ranked 41st on the season-long Race to Dubai. "It would have been nice to hear that, say, the Scottish Open was going to be one of the 20 elite events next year. That would be a huge benefit to us, if we are really in a strategic alliance. But as long as they have guaranteed our prize money for next year and given us the opportunity to earn one of the 10 PGA Tour cards on offer, they are doing what they said they would do. They are not obliged to do anything above and beyond what has already been agreed."
Still, not everyone is quite so sanguine when it comes to the deal that saw the Europeans choose Americans rather than Saudi Arabians as business partners. Even if the alliance guarantees record levels of prize money over each of the next five years, as well as a "transformed" DP World schedule in 2024, doubts remain.
"I'm very worried for the European Tour," Westwood says. "But I have been telling Keith and other members of his board how this is all going to go for 12 months now. I told him that the strategic alliance and getting into bed with the PGA Tour was a mistake. I had a meeting with Keith and [PGA Tour commissioner] Jay [Monahan] in Ponte Vedra and heard what they had to say. And I didn't like it. I mean, what company or organization gives away its 10 best assets at the end of every year? No one does that, especially to a rival or competitor. Now, the European Tour is nothing more than a feeder tour. Even if Keith is unwilling to admit that."
Again, strong words. But Westwood is not alone in finding fault with Pelley's decision.
"Strategic alliance is just a phrase of convenience," says one European Tour insider. "It's more a case of 'yes, I'll lend you some money but in return I'll take half your house.' That's what the PGA Tour is doing to the DP World Tour." Then there is Garcia. The Spaniard was recently scathing in his assessment. "What they are doing is a shame because the European Tour is going to become the fifth best in the world," said the former Masters winner.
Another close observer of all things DP World is equally skeptical, but at least offers a possible alternative to the Rory/Tiger plan that will see the introduction of those 20 elite PGA Tour events in 2023.
"I admire the likes of Rory and company for getting together and recognizing what an awful idea the LIV tour is," he says. "But they have come up with completely the wrong answer. They have the moral high ground. So why not be about growing the game? Why not be about dispersing money around the world in order to grow the so-called feeder tours? They are making enough money at the top, so what not create opportunity? Instead, they are taking all of the money. It just goes to show that good people trying to do the right thing can still be really stupid. Where does Pelley think giving away the top-ten players on his tour at the end of every year actually leads? It's madness. There has to be something we're not seeing. But I'm not sure what it is."
Pointing to the quality of the field that will line-up at Wentworth next week, there are those within the DP World family who still harbor regrets that the tour did not opt to accept the Saudi cash that was apparently on offer. And at least one player, asking for anonymity, thinks changes at the top might be the quickest route to compromise and an end to the current hostilities.
"We are well past the stage where all sides should have sat down together and sorted something out," he says. "We've even had players having a go at each other on social media. It's really messy and disappointing. Maybe for something positive to happen there needs to be a change in leadership on all sides. Certainly in two of the three organizations.
"And yes, it would have been nice to know what would have happened had we gone with the Saudis. But when Keith spoke to us in Ireland earlier this year, I went into the meeting full of skepticism, but I came out fully behind the tour. The deal the Saudis actually put on the table wasn't the one they had advertised. Given that, Keith was right to use them as leverage in coming to a deal with the PGA Tour."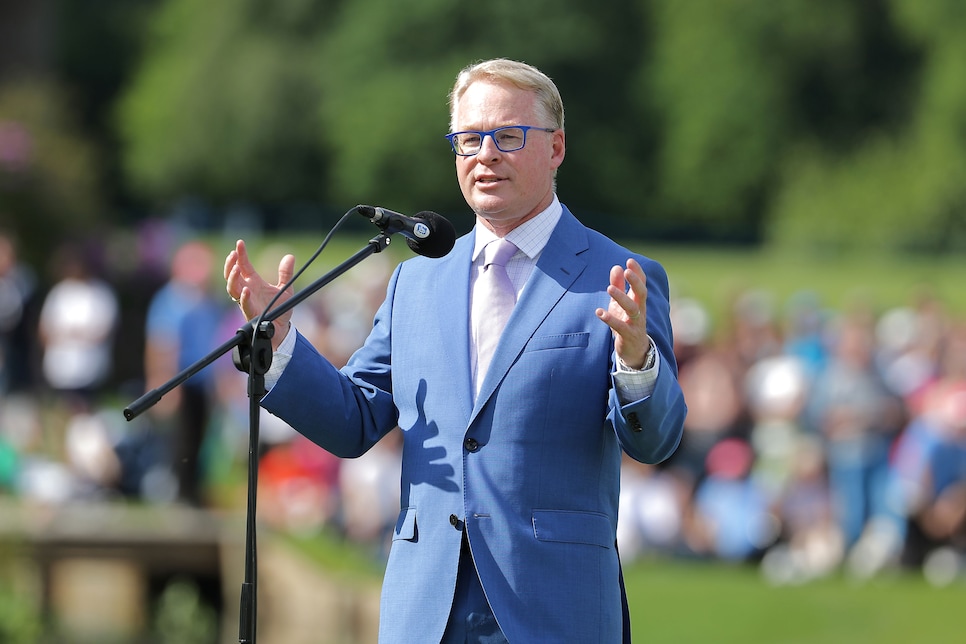 For all that note of positivity, perennial problems have continued to dog the DP World Tour in 2022. Apart from the early events in the Middle East and the Scottish Open immediately before the Open Championship, the circuit has endured the usual lengthy periods of fields best described as mediocre. Take the run of events between the Open and next week. Six of the seven have been completed so far, the winners ranked 329th, 341st, 304th, 211th, 275th and 131st in the world. Mediocre might actually be kind, a fact surely not lost on prospective sponsors.
"The fields have been really poor since the Open," Law said. "We have too many events. That's the basic problem. We had an incredible venue in Hillside for the Cazoo Classic the week after the Open. But only 138 played. The tour couldn't fill the field. The same was true a week later when the Hero Open was at Fairmont, then again for the Cazoo Open at Celtic Manor. All three events are owned by the tour. Why not turn them into one and get a great field and great coverage? We actually dilute our product by having 40 events on TV every year. We want people to miss golf for a week.
"At Hillside we played third-fiddle to the Senior Open and the Women's Scottish Open. So we had an 8 p.m. finish time on Sunday. It would have been better for us to just not have an event that week. I know we'll have fewer events in 2024. If we have $150 million to play with, why not host 30 events with $5 million on offer every week? That would be a really attractive proposition for a lot of players. You might even get guys with PGA Tour cards playing a few."
All of which is—possibly—for the future. More immediately, the DP World Tour has questions to answer. Which is what Pelley will be doing Tuesday during a players meeting at Wentworth. It promises to be a lively affair.