Par means many things to many people. For the USGA, it's a gold standard worthy of protection. For everyday golfers, a par is something to celebrate. For the advanced analytics crowd, it's a wholly arbitrary and essentially irrelevant number. For all the beating par takes, it does serve a genuine purpose—a benchmark for comparison. Golf has no standardized field of competition, and players compete at different times. Without those simple shorthand figures, -7 or +2, keeping score in this game would be downright impossible. Ask a pro what he shot after a round and he's far more likely to say four under than "68." It's how we conceptualize scores.
Cameron Smith, then, accomplished something genuinely extraordinary during an uncannily windless week on Maui. In edging Jon Rahm to win the Sentry Tournament of Champions by a shot, the 28-year-old Aussie scored better than any other PGA Tour player ever has over the course of a golf tournament. At least in relation to Old Man Par.
Smith's winning 34-under total—not a typo—broke Ernie Els' previous 72-hole scoring record of 31 under, set at Kapalua in 2003. Prior to Sunday, the lowest winning score in relation to par for any tour event was Pat Perez' 33 under to win the 2009 Bob Hope Classic, a five-round event. Smith at the Sentry isn't exactly Tiger at the U.S. Open at Torrey in 2008, or even Phil at the PGA at Kiawah in 2021, but the now four-time tour winner earned some pretty impressive real estate in the record books.
"Mate, it was intense," Smith said after the round. "Jonny and I played well the whole day. We had Matty [Jones] in the group in front lighting it up as well. So, yeah, unreal round, something I'll never forget for sure.
"I was just trying to hit one shot at a time. I know that sounds cliché. We spoke about it earlier in the day. We wanted to get to 35 under. We missed it by one. So, I mean, in that sense, disappointing but it's great to come away with the W."
Some context for the record-breaking performance: Despite no rain in the forecast either day, the tour opted for preferred lies on Thursday and Friday. That made the already scoreable Plantation Course at Kapalua even more scoreable. The Coore-Crenshaw redesign is breathtaking in its scope and a legitimately fun track that tumbles down a mountainside toward the Pacific, but it needs wind to protect it from a field full of the most recent PGA Tour winners. Absolutely begs for it. The fairways are the widest on tour, wide enough for resort-goers to enjoy their yearly round without having to buy another box of balls at the turn. The greens are huge. The tropical humidity and frequent rain keep the course soft, and all the par 5s are reachable. (Side note: There's no reason the fifth hole should play as a par 5 going forward. Guys hit 9-iron in all week. Don't be surprised if Kapalua's 2023 New Year's resolution is to become a par 72.) Without wind, well, this is what happens. It's a common theme in low scoring. No wind.
This also wasn't the greatest relative performance in PGA Tour history; this wasn't Tiger winning a U.S. Open by 15 or Ken Duke shooting 65 at the Players Championship on a day when scores averaged nearly 76. Heck, Smith barely won at all. When Els shot 31 under in 2003, he won by eight. When Dustin Johnson shot 30 under at TPC Boston a few years back, he won by 11. But perhaps those cushions actually freed those men to play even more aggressively, to swing away with impunity.
Smith, however, never enjoyed any such breathing room at Kapalua. There is something to be said for playing the way Smith did with another man on your tail—especially when that man is the No. 1 ranked golfer in the world. Each of Smith's eight-footers came under the watchful eye of Rahm, who kept Smith's mullet within arm's reach all weekend. (That's to say nothing of Smith's fellow Aussie, Jones, who shot 62-61 over the weekend, the lowest back-to-back scores in tour history, broke the old Sentry scoring record with a 32-under showing and finished third.)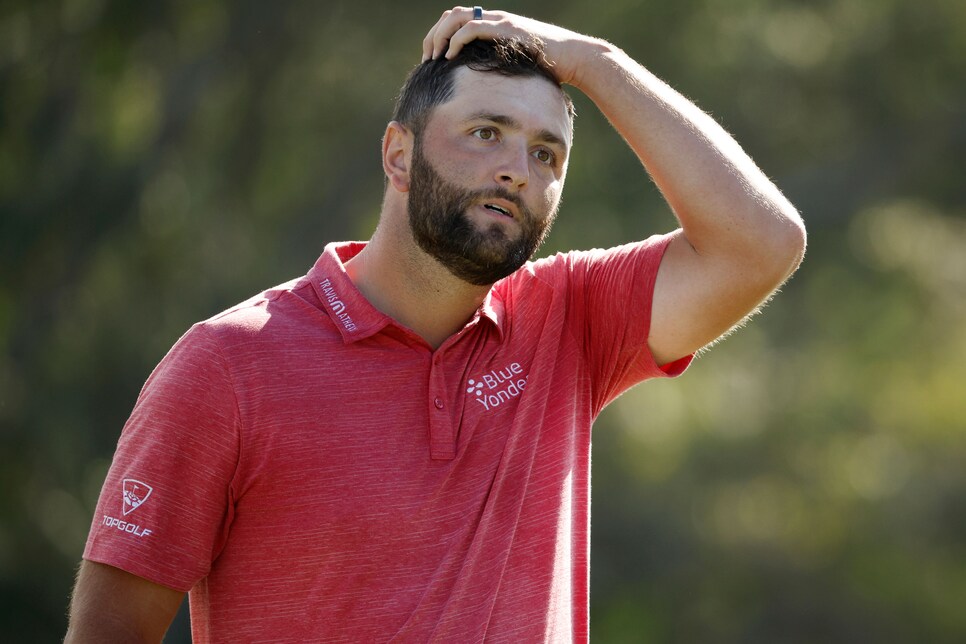 Jon Rahm hasn't played since October, but hardly looked rusty as he pressed Cameron Smith throughout the weekend in Maui.
Cliff Hawkins
Smith got his nose out on front on Thursday with an eight-under 65 and followed it up with a 64, good for a three-shot lead heading into the weekend. Despite another 64 on Saturday, he saw his lead disappear, for Rahm's 12-under 61 matched the course record set by Justin Thomas about two hours earlier.
Smith and Rahm were knotted at 26 under with 18 holes to play, five shots clear of the field, set for the type of mano-y-mano battle broadcasters love to call a match play situation. Smith went 1 up with a birdie at No. 4 and did not trail the rest of the day. Up in the group ahead, Jones steadily climbed the leader board with a five-under front nine before deciding to skip a couple steps on the back, jarring an approach from 85 yards for eagle on 13 and flushing a long iron to within four feet for a second eagle at 15.
Smith and Rahm hardly seemed to notice, busy picking off birdies of their own. "I was not paying attention to whatever was going on [ahead of] me," said Rahm, who was making his first start since playing on the European Tour in his native Spain in October. "I knew I needed birdies and I was just looking at where Cam was at. That was it."
As for the low scores, Rahm pulled out the old reliable: "This golf course only has one defense and that's the wind. If people are shooting between 20 and 26 under with 20-mile-an-hour winds, what do you expect us to do when there's absolutely no wind?"
Smith has developed a well-earned reputation as one of the best putters in pro golf, and he did nothing to counter that on Sunday. When Rahm made birdie putts on 13, 14, 15 and 18, Smith rolled matching birdies each time.
More impressively, it was his ball-striking, which can get squirrely, that proved too much to beat. Smith's swing can get a bit long and loose, and he's prone to a foul ball. And he's not exactly long, ranking 85th on tour in driving distance last season.
That was pre-Kapalua Cam, though. Smith didn't just out-score Rahm, he out-played him. He cruised in the mid-to-high 170s in ball speed, a noted increase from last year, and frequently outdrove his playing partner. Smith led the field in strokes gained/off the tee and varied trajectories beautifully with his irons. He won this tournament with his ball-striking—and yet, as so often happens, the tournament came down to a putt just outside the circle of love. On the par-5 18th hole, Rahm was over the green in two and his eagle putt had run out of speed on the low side. He tapped in for 66, and Smith needed to hole from 42 inches got birdie at the last to seal the victory. He pounded it right in the center.
The victory brings Smith all the way to World No. 10. It'll net him a boatload of money and sets him up in the FedEx Cup race, where he's jumped from 33rd to third. But in a game so deeply tied up in confidence, the most valuable takeaway from this week comes in the form of indisputable proof: Cameron Smith now knows that when he's playing his best, he can beat absolutely anyone.
"There's many reasons why Jon Rahm's the best player in the world, and I witnessed it over the weekend," Smith said. "But to be able to hold him off, yeah, it was quite satisfying."