Seeing Red
Justin Thomas' response to trying to set course records is as cutthroat as it gets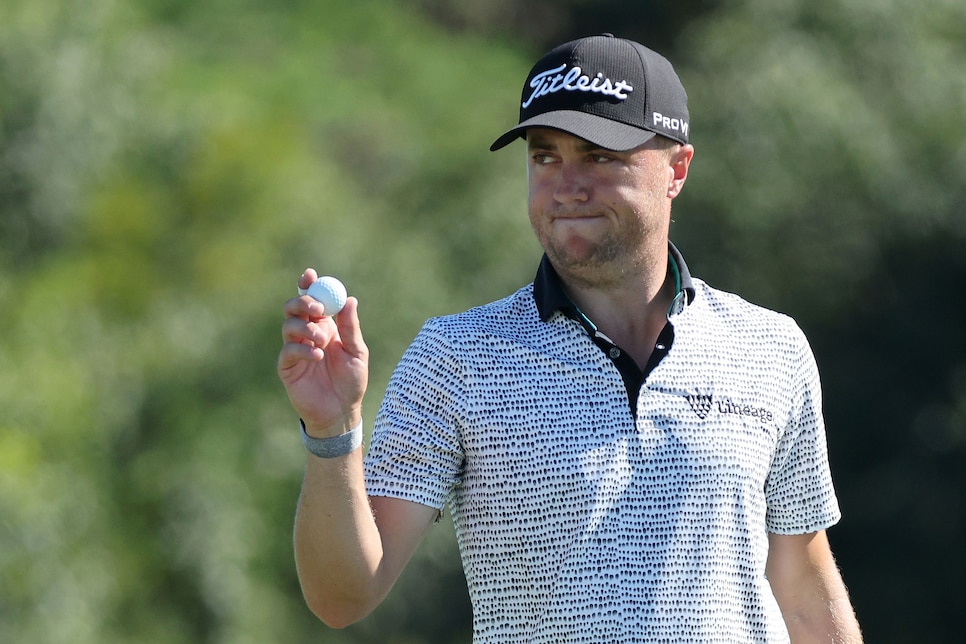 When it comes to heaters, Justin Thomas knows a thing or two about getting on them. The 14-time PGA Tour winner showed that talent once more on Saturday at the Sentry Tournament of Champions. Starting his third round 12 shots back of the lead and 2½ hours ahead of the final pairing on the tee sheet, the 28-year-old decided to give everybody a target score by shooting a 31-30—61 to break the Plantation Course record at Kapalua.
"It was all really solid and kind of in front of me, didn't do anything crazy, didn't … just took advantage of all the, I felt like, easy opportunities and chances that I had," said Thomas, who despite the torrid play remained nine shots off the lead when the day ended thanks to Jon Rahm matching that 61 later in the afternoon. "If there's such a thing as an easy 12 under, I definitely felt like it was."
Low scores in PGA Tour events have become standard operation procedure for everybody looking to contend. At Kapalua, Thomas says it's a combination of things that play into it: "Golf fans just need to understand what cause scores. I think everybody, they just see, 'Oh, they're hitting it so far now, that's why it's so low.' It's like no, it's so low because it's so soft and if you give us soft conditions, fairways this big, course this short, we're going to shoot nothing. Then if you give us not very much wind, we're going to shoot even lower."
The nonchalance in Thomas' response indicates just how comfortable he is with going low. According to stats guru Justin Ray, Thomas now has nine rounds of 62 or lower on the PGA Tour since 2015. He holds course records at Waialae (59, Sony Open), Erin Hills (63, U.S. Open) and Medinah No. 3 (61, BMW Championship), among other venues.
Thomas explained his appetite for course records was first whet during a practice round for the Junior World Championship almost two decades ago, when he set his first one as a 9-year-old. Thomas humbly noted it was an executive course, but proudly boasted the record he beat was none other than Tiger Woods'. (That said, Thomas also noted he hasn't given Tiger grief for this for fear of the verbal retribution he'd hear back.)
Tour pros are known for making sure when playing recreational rounds at a course that they avoid setting course records, leaving those marks for locals to aspire to. But Thomas' response to whether he has ever consciously looked at a course record and made sure NOT to break it to allow the "poor stiff" who holds the mark to keep it offers a glimpse into his alpha mindset.
"No, I'm too competitive for that," Thomas said. "To be perfectly honest, I don't care about some stiff. I would much rather beat 'em."
It sounds more vicious when read on a screen than it did hearing it out of Thomas' mouth. But either way, it speaks to the drive of Thomas and his will to step on the neck of any golf course he plays.