PGA Tour
Jon Rahm, Cameron Smith ride waves of birdies in spectacular TOC duel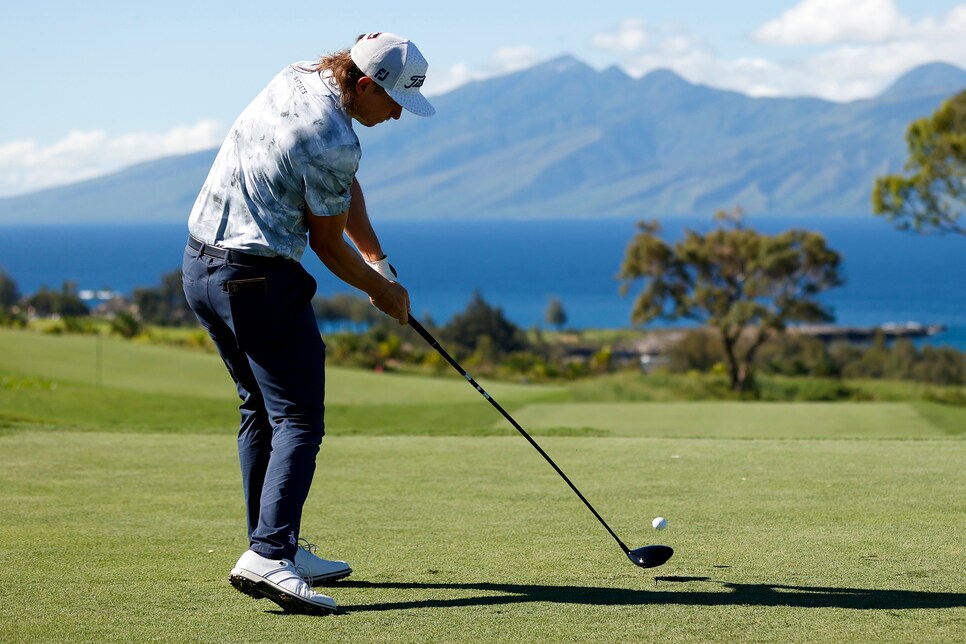 Cameron Smith plays his shot from the seventh tee during the third round of the Sentry Tournament of Champions.
Cliff Hawkins
They are playing the Rodney Dangerfield Open this week at the Plantation Course at Kapalua Resort. It's getting no respect.
Scoring in the third round of the event officially known as the Sentry Tournament of Champions wasn't just good on Saturday. It wasn't just low. It wasn't just impressive. It was downright insolent.
The leaders, Jon Rahm and Cameron Smith, submitted the second-lowest 54-hole scores in relation to par in PGA Tour history, 26 under. Rahm, the No. 1 player in the world, posted a 12-under 61—and only tied the course record set a few hours earlier by Justin Thomas. Australia's Matt Jones shot 62 and didn't even get a consolation prize. Smith had a nine-under 64 and saw his three-shot lead after 36 holes disappear.
The field scoring average among the 38 players was 67.711, the lowest in relation to par (-5.289 strokes) since PGA Tour record-keeping began in 1983. And they didn't even play preferred lies like they did the previous two days. The course firmed up, the wind decided to play coy, and guys who get paid to make birdies went out and made a whole bunch of them.
"There are birdies to be had on every hole," Jones said.
Here are three more takeaways from the third round. Take it away, Rodney.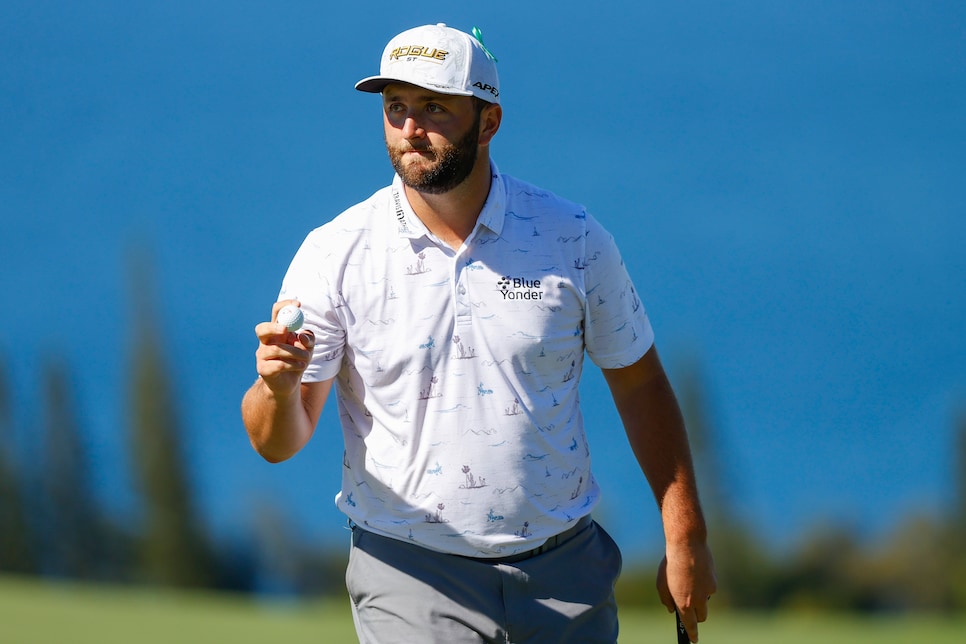 Jon Rahm waves on the fourth green during the third round of the Sentry Tournament of Champions.
Cliff Hawkins
Given all the low numbers, it's rather amazing that Rahm and Smith have separated themselves from a field that knows how to win golf tournaments. The duo are five clear of third-place Daniel Berger, who has posted three straight 66s and appears to have very little chance of winning as he sits five shots back.
Rahm and Smith were paired together in the third round, and all they did was combine for 20 birdies and an eagle against one bogey, which Rahm suffered at the fourth hole—his only bogey of the week. They produced some special golf, answering each fine shot with another. On the 17th hole, Rahm guided home a putt of 28 feet, 10 inches. Smith, from 28 feet, nine inches, calmly answered. Rahm could be seen clapping as he left the green.
Expect more of the same Sunday afternoon.
"Yeah, it was really good fun out there today," said Smith, who has led since the first round. "Obviously playing nice golf helps. But watching Jon was pretty intense there on that back nine, some of the best golf I think I've ever seen, definitely some of the best putting. Hopefully we can do much of the same tomorrow and we'll see what happens."
"It's definitely a doable golf course, but you still have to hit the shots," Rahm said. "And come tomorrow we got to keep doing the same thing. We had a fun battle today and I'm guessing tomorrow's going to be more of the same. We're going to need a lot of birdies to get ahead and get the win."
No doubt, Thomas can go low
Justin Thomas waves after putting on the 18th green during the third round of the Sentry Tournament of Champions.
Gregory Shamus
In the realm of fearless, conscience-free scoring, Justin Thomas has no peer.
The field pummeled the Plantation Course on Saturday, but nobody (except Rahm, of course) bullied the place like Thomas. Eight birdies, two eagles and no bogeys with 113 feet of putts made added up to a relatively "easy" 12-under 61, a course record that Rahm stole a piece of later in the day.
"I wasn't crazy aggressive today. When you have wedges in your hand with soft greens, you just, you attack. It doesn't matter if you're in last or first. You're just trying to make birdies and I felt like that's what I did," said Thomas, who opened with a one-over 74 on Thursday and stood last among the 38 players in the winners-only field. "I was so far back, it's not like I could really look at the leader board and try to play any differently. It was just try to birdie every hole we played."
According to stat man Justin Ray, the score was Thomas' ninth of 62 or lower on the PGA Tour, the most of any player in that span. Included in that spasm of unconsciousness is the 59 he shot in the first round of the 2017 Sony Open in Hawaii at Waialae Country Club—which means he holds the course record at both tour stops in the Aloha State. Then there is the 61 at the 2019 BMW Championship at Medinah Country Club near Chicago. That's another course record.
His 63 in the third round of the U.S. Open at Erin Hills in Wisconsin obviously falls just outside the aforementioned standard, but, still, that's another course record.
It turns out Thomas has been doing this kind of thing a long time. He remembers breaking a course record when he was 9 years old during a Junior World practice round. "It was like an executive course," he said. "I just remember because Tiger had the course record, and I remember beating him, and it was like the coolest thing obviously I had ever done at that time."
Major champion follows major winner
Masters champion Hideki Matsuyama had himself a nice day. He fired a third-round five-under 68 and sits inside the top 10 on the leader board. And he was pleased to learn that Yuka Saso, the reigning U.S. Women's Open champion who father is from Japan, has been following in his gallery at Kapalua.
"[She] herself is a U.S. Open champion and I don't know if she learned much from me, but I'm definitely happy that she would want to follow me and watch me play," Matsuyama was quoted as saying on the PGA Tour's Instagram account.
It'd be cool if Hideki returned the favor somewhere.