The Bucket Hat Debate
Bucket hats: A debate on acceptable golf attire
*All products featured on Golf Digest are independently selected by our editors. However, when you buy something through our retail links, we may earn an affiliate commission.*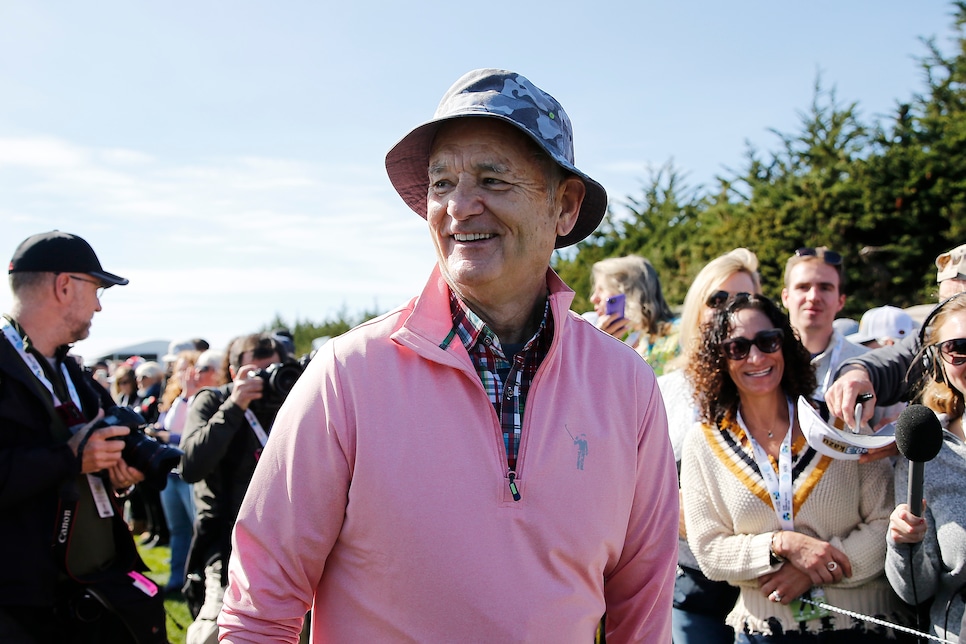 The battle between sun protection and style on the golf course is a constant one for golfers. Preventing over-exposure to the sun's harmful rays is not only about health and safety, but it can be a challenge for maintaining comfort, style and mobility. There are a variety of ways to stay safe in the sun. Proper sunscreen habits should be your top priority, followed by consistent hydration, quality eyewear and common sense in seeking shade.
Hats are a great way to shade yourself from the sun and if we're getting technical—a bucket hat will provide the most coverage. Baseball caps typically only cover the upper half of the face, while wide-brimmed hats can extend the coverage to the entire face, ears and back of your neck. Though the sun-protection qualities of bucket hats are verified, their style and appropriateness have been somewhat hotly contested.
When the question was posed to Golf Digest editors, dozens of opinions flew in ranging from "The only people who should wear them are old heads protecting themselves from the sun" to "I'm wearing a bucket hat right now." We asked a few of the editors to expand on their opinions to get to the bottom of the bucket hat dispute.
Opinion 1: Team Bucket Hats
"Growing up in the south, I've played many rounds in 100 degree weather. On top of sunscreen, I've found that a good bucket hat is a necessity when the sun is beating down on you. I have one from Imperial that does a great job of keeping the sun off my face, neck and ears while also being small enough to stay out of my peripheral vision throughout my swing." —Madeline MacClurg, Assistant Editor
Opinion 2: Not a great swing thought
"If you read our piece "debating whether hoodies are acceptable golf-course attire, you might recall my reasoning for being against hoodies was not dress-code related. It was much more related to me being a simpleton, and thinking they'd be too restrictive to my golf swing. My argument against the bucket hat is identical. I'd never be able to make a swing without wondering if the stupid hat is going to get in the way. Not a great swing thought, some would say.
"But I also can't pull it off. Everyone knows what works for them—and a bucket hat ain't and will never be it for me. There are bucket hat guys. Guys with full beards in Ray-Bans who wear Hawaiian shirts with three buttons undone revealing their chest hair who can pull off looking manly while drinking a fruity summer drink. Or older dudes protecting themselves from the sun, or Briny Baird—but only if he's wearing the P.F. Chang's bucket hat. Other than those three groups, everyone else wearing a bucket hat is forcing it, in my opinion. Plenty of sunscreen on the back of your neck and a forward-facing cap will get the job done against the sun, trust me." —Christopher Powers, Assistant Editor
Opinion 3: Too Old School
"When I think of bucket hats, I think of older gentlemen wearing white crew length socks who have a bad case of the shanks. In my opinion, the style lends itself to the reputation of golf being old school and boring. While I understand their functionality for maximum sun protection, I think you can still protect yourself wearing a cool baseball hat with plenty of sunscreen! My favorite is the Coola Classic Organic Sunscreen Spray in SPF 50 ($10). It's water- and sweat-resistant, plus it's available in mango or fragrance-free options!" —Nicole Rae, Social Media Manager
Fast and Free Women's Run Hat
This women's hat is designed for running, so it's got summer-ready qualities that are also great for golf. The ultra-lightweight fabric has a ton of stretch and is sweat-wicking for a comfortable and breathable wear. It's got an adjustable back closure and comes in pink, black, white and two patterned options.
Opinion 4: Those old guys are onto something
"I'll be forever grateful to my grandpa for getting me into golf. Turns out, he was also right about bucket hats. I believed as much as a kid, eventually amassing quite a collection of bucket hats, including a bright orange Nike one that went quite well with all the Knicks gear I used to wear to school. (Younger folks will have to believe me when I say being a Knicks fan used to be cool.) Sadly, though, I didn't have the guts to be a headwear trendsetter and at some point I tossed these tops—even that orange beauty—in favor of baseball caps. What a stupid I am.
"Don't get me wrong, the standard cap is cool, but the floppy, circular brim of the bucket hat keeps you cooler, drier, and better protected from the sun. It's science. And it's now #ComebackSZN for these bad boys. A couple years back, I bought one before playing a round of golf in the rain during British Open week, and I plan on rebuilding my collection from there. I'll just probably leave the bright orange to Rickie Fowler." —Alex Myers, Senior Writer
Opinion 5: Not all bucket hats are created equal
"To level this argument, let's establish for what our side is fighting. Picture not Gilligan, LL Cool J or Johnny Depp in Fear and Loathing in Las Vegas, but the gentleman Panama Jack himself. We're not talking about any fuzzy or neon caps, but a simple, wide khaki bucket. Headwear, first and foremost, is about practicality and acting as the primary shield between man and sun. Running through your options on a sunny day—visors are just a brim and won't shield the top of your head or ears, cabbie caps offer no protection except to maybe the top third of your forehead (plus it looks dumb on everyone, I promise), baseball caps are the most popular option, they look good on just about everyone, but fall short in the protection-from-the-elements department. Then of course, bucket hats.
"The perfect bucket hat is a couple things: Breathable—perfect for sweltering temperatures, preferably with a stretchy absorbent liner—essential for the excessive sweaters; equipped with a drawstring, to help keep the lid on your head when swinging driver out of your shoes; and most importantly, a wide, 360-degree brim shields the entirety of your precious dome equally. To conclude, its usefulness is second-to-none. Look, are you wearing it semi-ironically? Of course, but if you get funny looks on the course, just know they're born not of ridicule, but deep-seated, white-hot jealousy." —Michael Sneeden, Supervising Producer