Editors' Choice
Best Sunscreen And Lip Balm For Golf
*All products featured on Golf Digest are independently selected by our editors. However, when you buy something through our retail links, we may earn an affiliate commission.*
We'll bypass the part where we tell you how important it is to use sunscreen and lip balms with SPF (Sun Protection Factor) when you play golf. You know that. And if you choose to ignore it, well, you might as well skip this section. Let's get right to the basics of skin protection. In addition to wearing protective clothing, you should be applying sunscreen at least twice per round and lip balm with SPF at least four times per round. Though we recognize the ease of use of chemical-based sunscreens and their effectiveness in preventing burns and other skin damage from UV rays, Golf Digest does not endorse those products based on advice from the Environmental Working Group (ewg.org). If you see active ingredients such as oxybenzone, avobenzone, homosalate or octisalate listed on the sunscreen bottle or tube, you should know those ingredients are linked to several health issues because they are absorbed into your bloodstream. The safer choice is a mineral-based sunscreen that physically blocks the sun's rays. The ingredients to look for are zinc oxide or titanium dioxide. The following winners in this category are mineral-based. Although they might not be the most user-friendly, they're safe and effective for golfers.
RELATED: Help for battling the sun. 6 tips that will keep you better protected the next time you go to the course.



Everything you need to know about sunscreen
Now you've read about our best pick sunscreens for golfers, we're here to answer all your questions, from how often to reapply sunscreen during a round, to why sunscreen often leaves your face so pasty, and whether or not you really need to smear on a layer of SPF for those early morning, cloudy (and even cold!) rounds. (Spoiler: yes! You really do.)
Why is sunscreen so vital? And do I really need to wear it every day?
Not only does a habit of wearing sunscreen reduce the skin's early aging process, but it lowers your risk for sunburn and skin cancer, which affects an estimated 9,500 new people every day in the U.S., according to the American Academy of Dermatology (AAD), and results in thousands of often highly preventable deaths each year.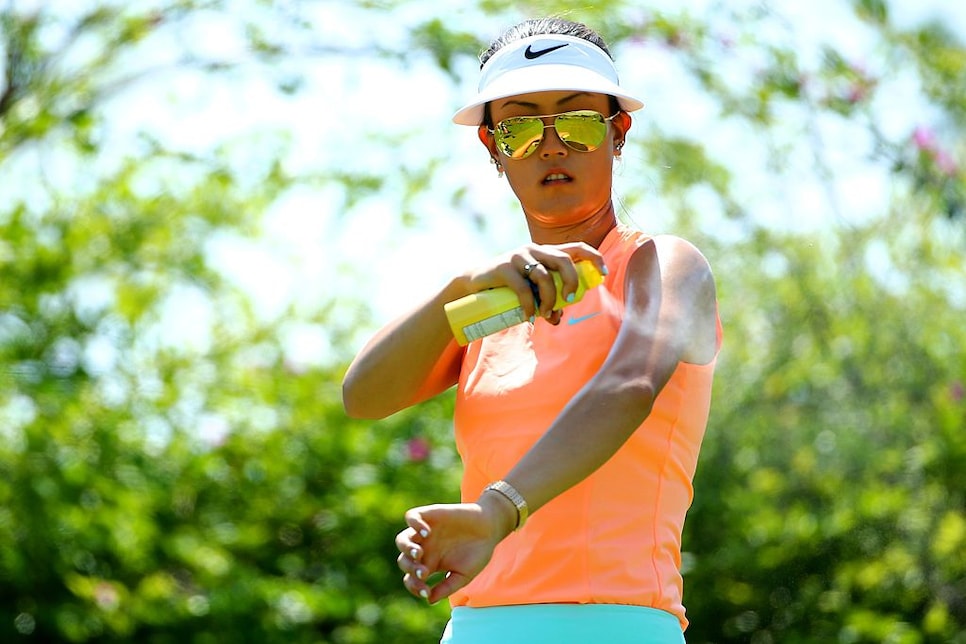 Michelle Wie of the US sprays sunscreen on her body during the third round at the par-72 Jian Lake Blue Bay Golf Course in Sanya on China's Hainan Island on October 31, 2015. CHINA OUT AFP PHOTO (Photo credit should read STR/AFP via Getty Images)
STR
Sunscreen is especially important for golfers, who often spend many consecutive hours outside. Applying sunscreen every morning ensures skin is protected from every day exposure to harmful rays, and re-applying during rounds, or opting for a stronger formula when you know you'll be playing in sunnier conditions (particularly between the hours of 10 a.m. and 4 p.m.), is crucial.
Are all sunscreens created equal?
According to nonprofit and non-partisan organization, the Environmental Working Group, of 1,850 popular sun protection products tested in their annual guide, 75 percent included ingredients that could be harmful to overall health, or produce a counterintuitive effect of actually increasing skin's sensitivity to sun. So yes, not all sunscreens are created equally, and it's important to educate yourself as a consumer when it comes to buying the most effective sunscreen for you that also works with your needs and lifestyle.
The following sections will offer you a guide to frequently asked questions, so you can shop and play confidently. But first, let's get some vocab straight.
SPF stands for "Sun protection factor." According to the FDA, it's a measure for how much ultraviolet radiation, or light energy from the sun, will produce a sunburn on the skin compared to unprotected skin. So the higher the SPF, the better protection offered.
What about Broad-Spectrum sunscreen, and UVA/UVB?
Broad spectrum (aka full-spectrum) sunscreen is formulated to protect your skin against both UVA and UVB rays. UVB rays are shorter in wavelength and therefore more likely to harm and burn your skin. The best sunscreens work against both types of UV (ultraviolet) light.
Word to the wise: Just because a sunscreen advertises a higher SPF doesn't mean it works better against UVB rays. The EWG recommends a sunscreen that advertises no more than 50 SPF as any higher than that is likely an inflated number, meaning the formula works against more UVA than UVB rays.
PACIFIC PALISADES, CALIFORNIA - FEBRUARY 16: Justin Thomas of the United States applies sunscreen during the pro-am prior to The Genesis Invitational at Riviera Country Club on February 16, 2022 in Pacific Palisades, California. (Photo by Cliff Hawkins/Getty Images)
Cliff Hawkins
What's the difference between a physical and chemical sunscreen?
Physical sunscreens are formulated using minerals (they're also often referred to as mineral sunscreens) that disperse the ultraviolet light. Currently, that means they're made with zinc oxide and/or titanium dioxide (that's also what leaves your skin a little pasty-looking after application—but it's a sure sign it's working). Chemical formulas range in ingredient lists, but can include the likes of avobenzone, octisalate, and meradimate. All of these work by absorbing the sun's ultraviolet light, and are usually lighter in weight and therefore easier to blend in (but might be a little oily to the touch).
The EWG's findings particularly advised against sunscreens with active chemicals homosalate or oxybenzone, which has been found to disrupt natural hormone levels, for adults and children. They also advised staying away from sunscreens formulated with Vitamin A, which, when mixed with the sun's rays, has been found to increase the chance of tumors.
Many sunscreens offer a combination of physical and chemical protection, and the FDA is currently urging manufacturers to provide further research on the effect and efficacy of these chemicals long term.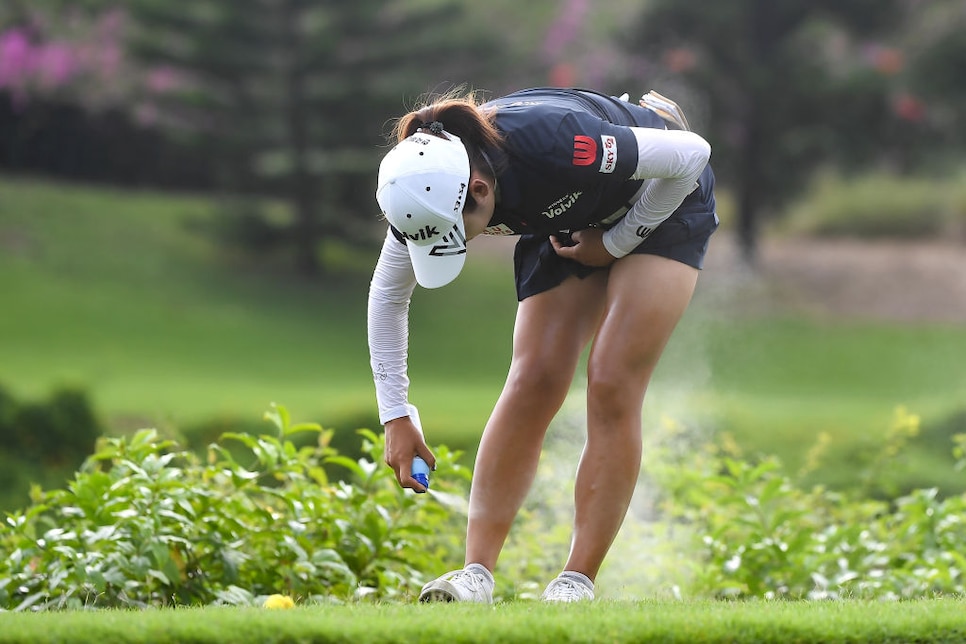 Do I need a different sunscreen for my face and body?
Face sunscreens are often formulated to be lighter and better when layered with serums or moisturizers, as well as specially formulated for dry, sensitive, or acne-prone skin. While you can, especially in a pickle, use face or body sunscreen for one or the other, face sunscreen is usually gentler, especially important for fragile skin near the eyes which are especially sensitive to the sun.
How often should I reapply?
The EWG's report also found that sunscreens, which, the report says, aren't regulated by the FDA to the standards needed to keep consumers safe, are only on average about half as effective as indicated on the bottle. To play it safe, follow instructions for the lower end of when to reapply (so if the product recommends 4-6 hours, go with 4) and purchase the highest SPF you can find, for both face and body, tapping out at around 50 SPF. If you've just been sweating, or taken a dip in the pool, go ahead and reapply regardless of timing.
European regulations, which are stricter when it comes to sunscreen than the American equivalents, result in fewer sunscreens on the market. A good (though not fool-proof) fact-check is to see if your preferred sunscreen is available in the same formulation on the European market.
Is a moisturizing lotion with SPF good enough? What about an SPF lip balm?
As an everyday morning ritual, many dermatologists say moisturizing SPF (or SPF makeup) provides some protection. So if that's how you incorporate sunscreen into your daily routine, great. But for avid golfers, you'll want to invest the time to find a safe face sunscreen you love. And in general, before a round, definitely apply to your face and body.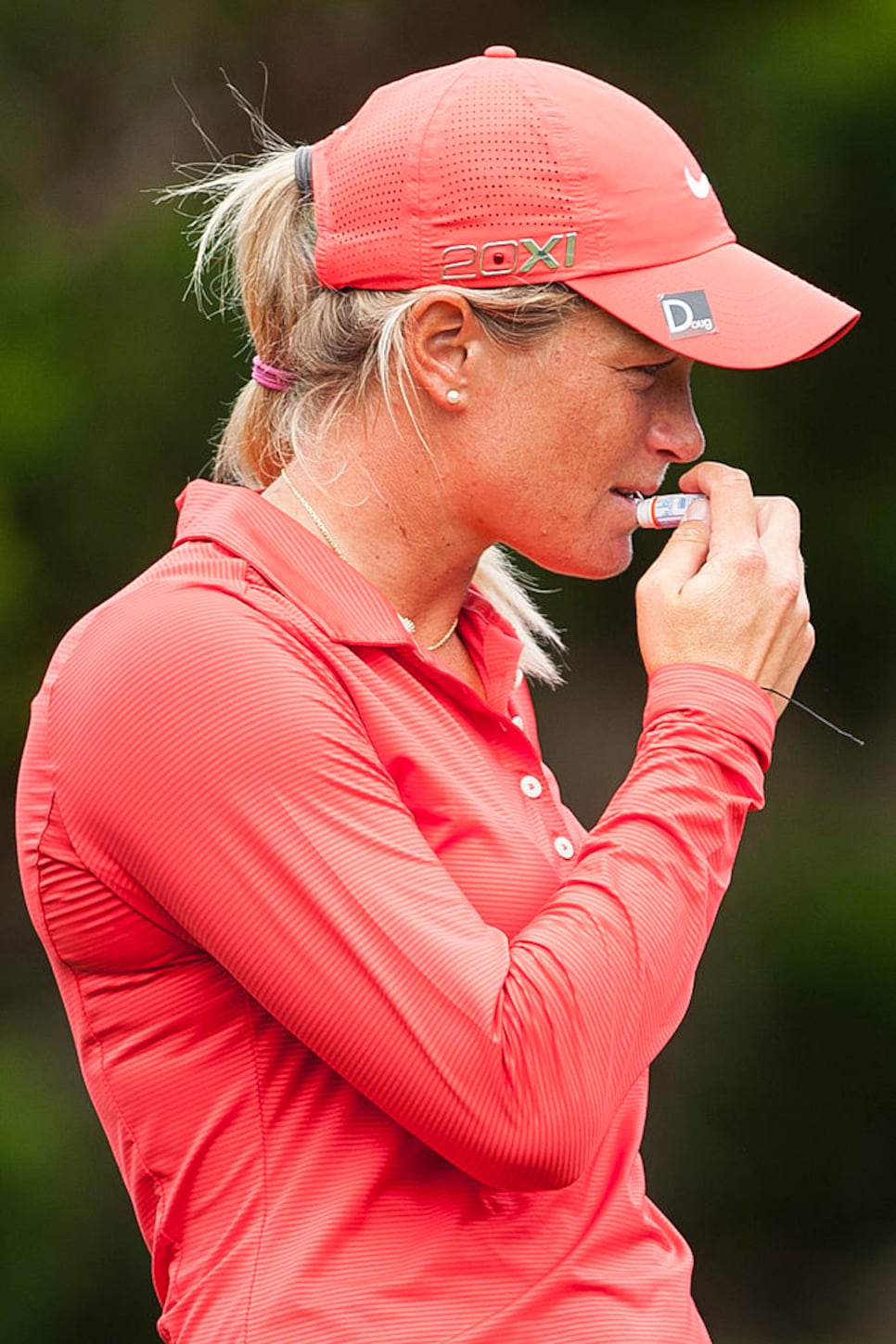 TAOYUAN, TAIWAN - OCTOBER 28: Suzann Pettersen of Norway applies suncream on the 2nd hole during the day four of the Sunrise LPGA Taiwan Championship at the Sunrise Golf Course on October 28, 2012 in Taoyuan, Taiwan. (Photo by Victor Fraile/Getty Images)
Victor Fraile
And while you're at it, yes, throw an SPF lip balm or SPF chap-stick into your golf bag. Just as the delicate skin around your eyes and face benefits from some special attention, so does your lips. (And these usually come with the added benefit of keeping your lips moisturized—especially good for colder, windier plays.)
What about a powder sunscreen option? Or a stick? And a spray?
The EWG report recommended sticking with the classic lotion option, which is easier to see on the body, and thicker, meaning you're more likely to apply it thoroughly and correctly. Sprays also result in a fume issue, and sticks can be hard for some to blend into their skin. If you're playing in windy conditions, a spray can be particularly difficult. This goes for a powder option as well. But of course, if you've found an option that works for you, stick with it (so to speak). For example, many golfers swear by their powdered sunscreen, especially for the face, which is compact and light, easy to keep in the golfer's bag, and less likely to result in a greasy clubs-issue. (We've also heard golfers get excited about powdered sunscreen as good option for the post-round refresh, as it eliminates shininess for a quick and easy post-game look.)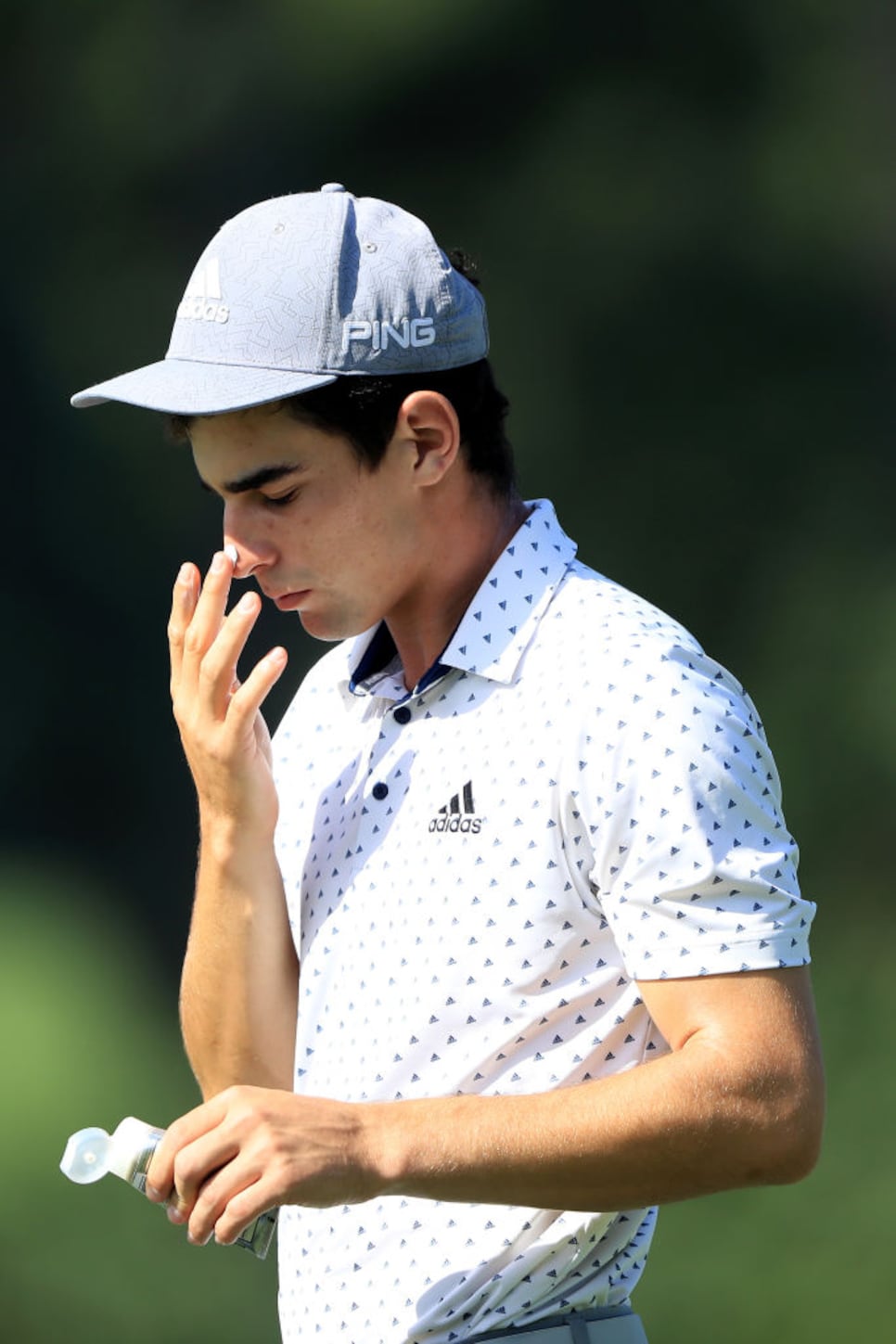 ATLANTA, GEORGIA - SEPTEMBER 03: Joaquin Niemann of Chile applies sunscreen during a practice round prior to the TOUR Championship at East Lake Golf Club on September 03, 2020 in Atlanta, Georgia. (Photo by Sam Greenwood/Getty Images)
Sam Greenwood
Am I applying my sunscreen correctly?
According to the AAD, aim to use about 1 oz. (aka the amount to fill a shot glass) to cover your whole body. Slather generously across all exposed skin, paying special attention to areas that covered with clothing that might be revealed as you play—below socks, under sleeves, around the neckline. And don't forget ears, hair parting, and the tops of your hands. (No one wants a glove tan!)
And finally, sunscreen is a great defense against harmful exposure, but works especially well in conjunction with other forms of sun protection from long sleeves to shades to hats.