Editors' Choice
Best Training Aids For Golf
*All products featured on Golf Digest are independently selected by our editors. However, when you buy something through our retail links, we may earn an affiliate commission.*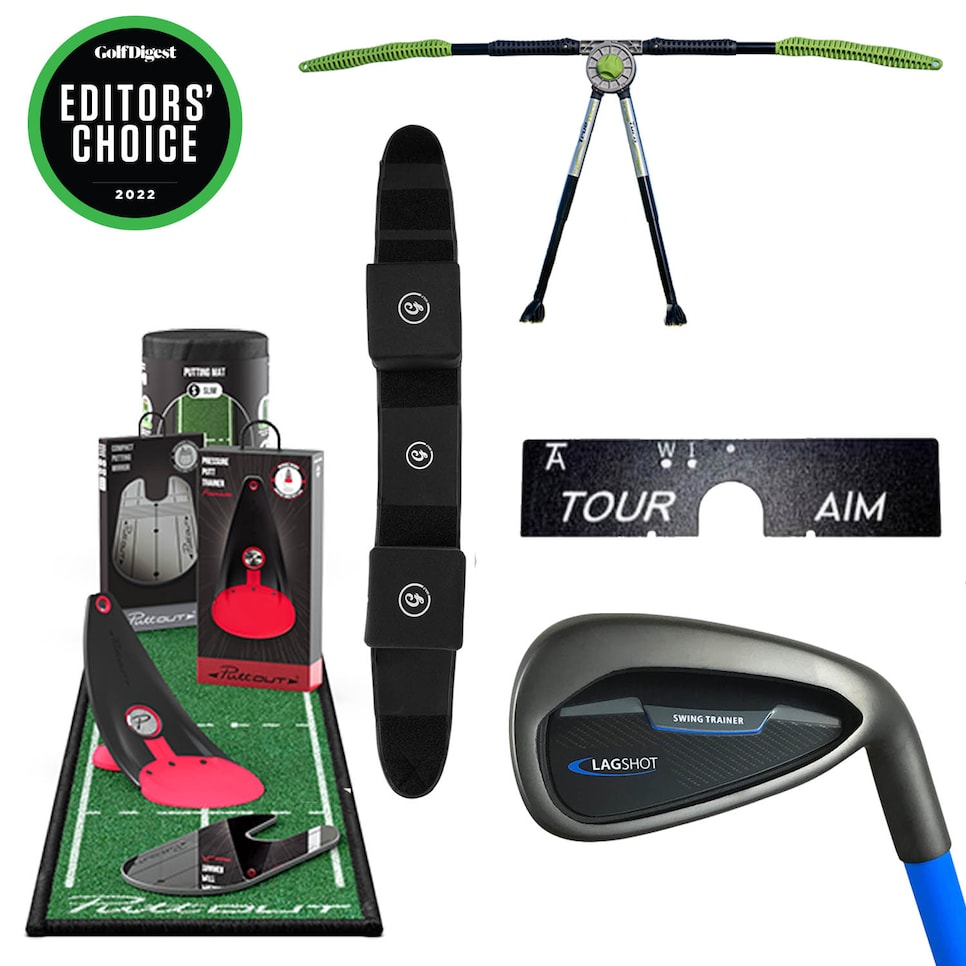 Golf is easy. For those who've never tried it! Even the greatest players in the game lose their form on occasion. Which is why so many training aids exist in an array of sizes, shapes and configurations. The best ones are well-conceived, smartly designed products that enable golfers to see, and feel, specific faults. Numerous devices can improve the full swing, short game or putting stroke. Others assist pre-shot, post-shot, during the season, and even in the offseason. You get the idea. We've whittled down the current crop to a few of our favorites, which comprise the 2022 Editors' Choice Award winners.
Related: Best Swing & Game Analyzers
Putter Stroke Test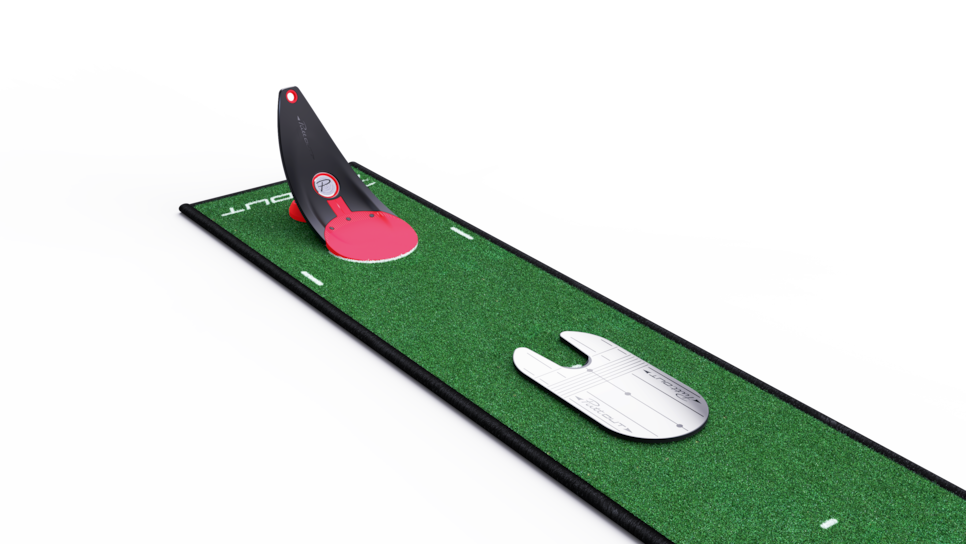 PuttOUT Travel Studio
In 2022, PuttOUT Golf created putting "studios" featuring its popular putting cup, the Premium Pressure Putt Trainer. The versatile, fun Travel Studio combines a putting mat and mirror with the aforementioned cup. The sporty setup requires minimal space indoors and stores easily when not in use. With the Slim Putting Mat, players can stroke putts up to eight feet that break a few inches or so. Meanwhile, the Compact Putting Mirror (8" x 4") is a useful tool to check eye placement and putter position at address. Several indicator lines on the mirror help to confirm clubface path and aim during the stroke.
Setup Checks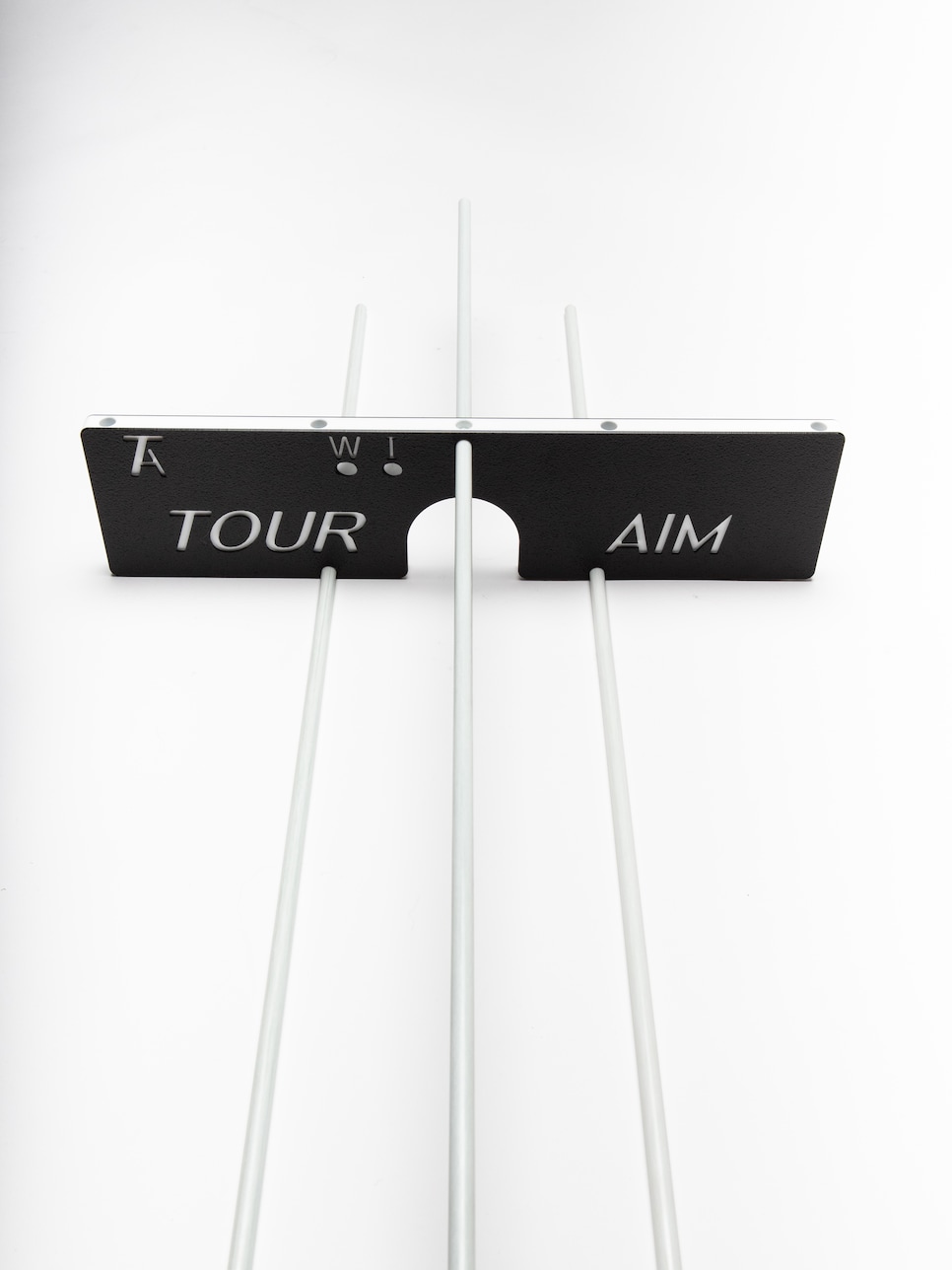 Tour Aim with Alignment Sticks
We've all seen how poor alignment at address can lead to poor shots. That's why savvy golfers place clubs or thin rods on the ground during practice sessions. The multidimensional Tour Aim looks simple enough but takes the concept to new heights. The hard-plastic receptacle holds standard-size, fiberglass alignment sticks in various angles and directions. The result? More productive, efficient practice time. During full or partial swings, players get instant feedback for body position and alignment, clubhead aim, even an indicator for swing plane. While putting, golfers can see their feet-and-shoulder alignment, aim, stroke path and clubface angle at impact. Receptacle is sold alone or bundled with Tour Sticks alignment sticks.
$222
$90 (for three)
|
Tour Aim Golf
Swing Efficiency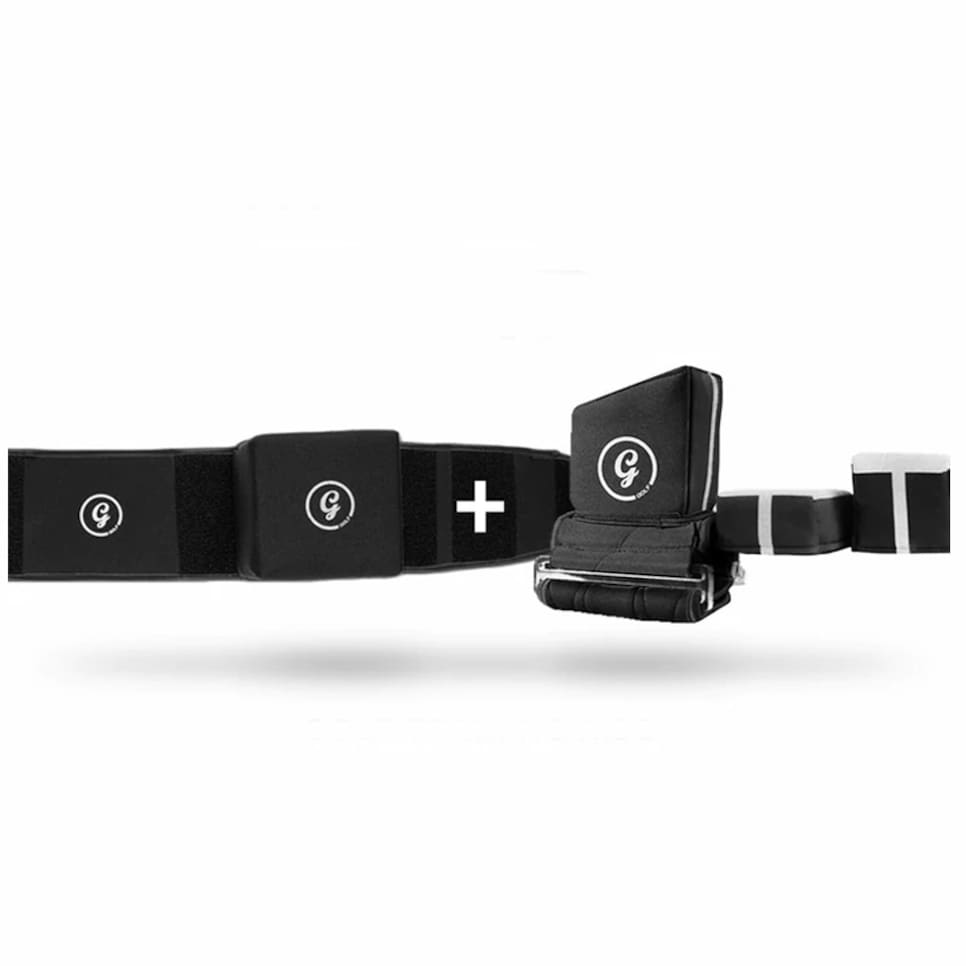 George Gankas Golf GBox Set and Shallower Combo
Making the proper shoulder turn and body rotation can be challenging for some golfers. The GBox Golf Training Belt (comes with two neoprene boxes) and GBox Shallower enable players to feel good and bad movements while hitting balls. The GBox, for instance, lets golfers know when they swing "too far from the inside." In short, the trail elbow bangs into the trail-side box. To miss it, players must keep the club on-line longer, thus generating the improved motion (no forward slide). Golfers can use the multipurpose GBox Shallower armband-and-neoprene-wedge for putting, pitching or full swings. They'll feel the arms "connected" (no chicken wing), eliminate the over-the-top move, and more. 
$150
$140
|
Gankas Sports
Swing Tempo Training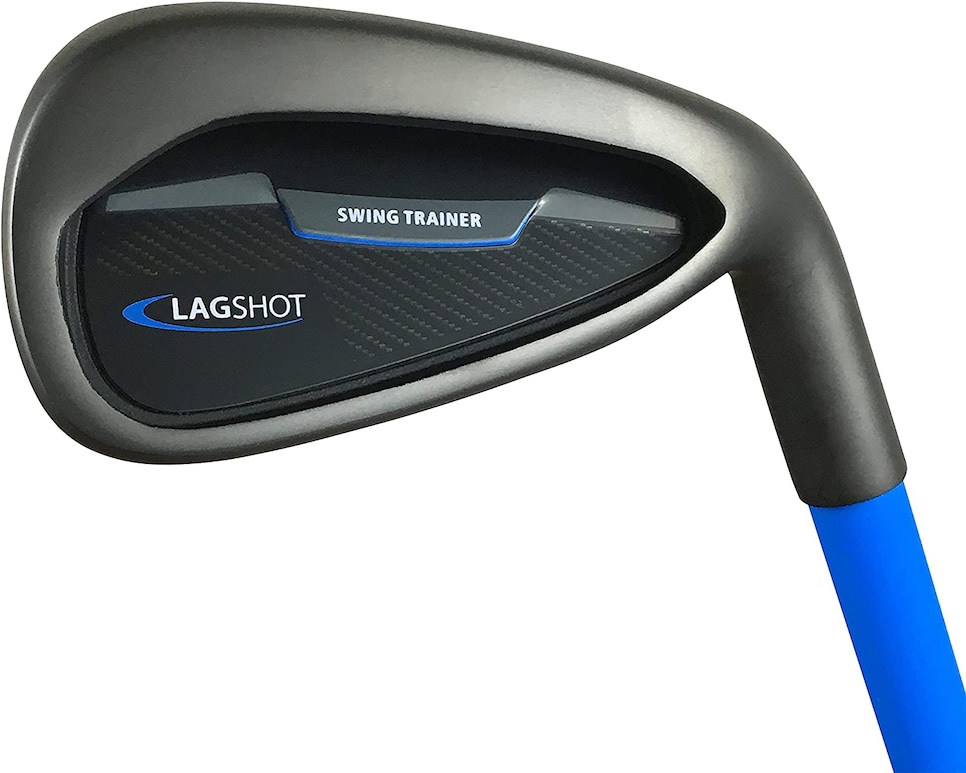 Lag Shot Swing Trainer
Most golfers can only dream of replicating Fred Couples' effortless swing. Built with an extra-heavy head and ultra-flexible shaft, the Lag Shot forces players to make a smooth, rhythmic motion. While hitting balls, the body should start both the backswing and downswing. Allow the club to follow, which will create lag for power. If, however, the hands pull too hard too soon, the whippy shaft will bow (bend) too much on the downswing. Invariably, the clubface will be open at impact, or the sole will slam into the turf before a clean strike can occur. Available in men's versions (driver, 7-iron or wedge), women's (7-iron) or juniors (7-iron). 
Upper Body Stabilizer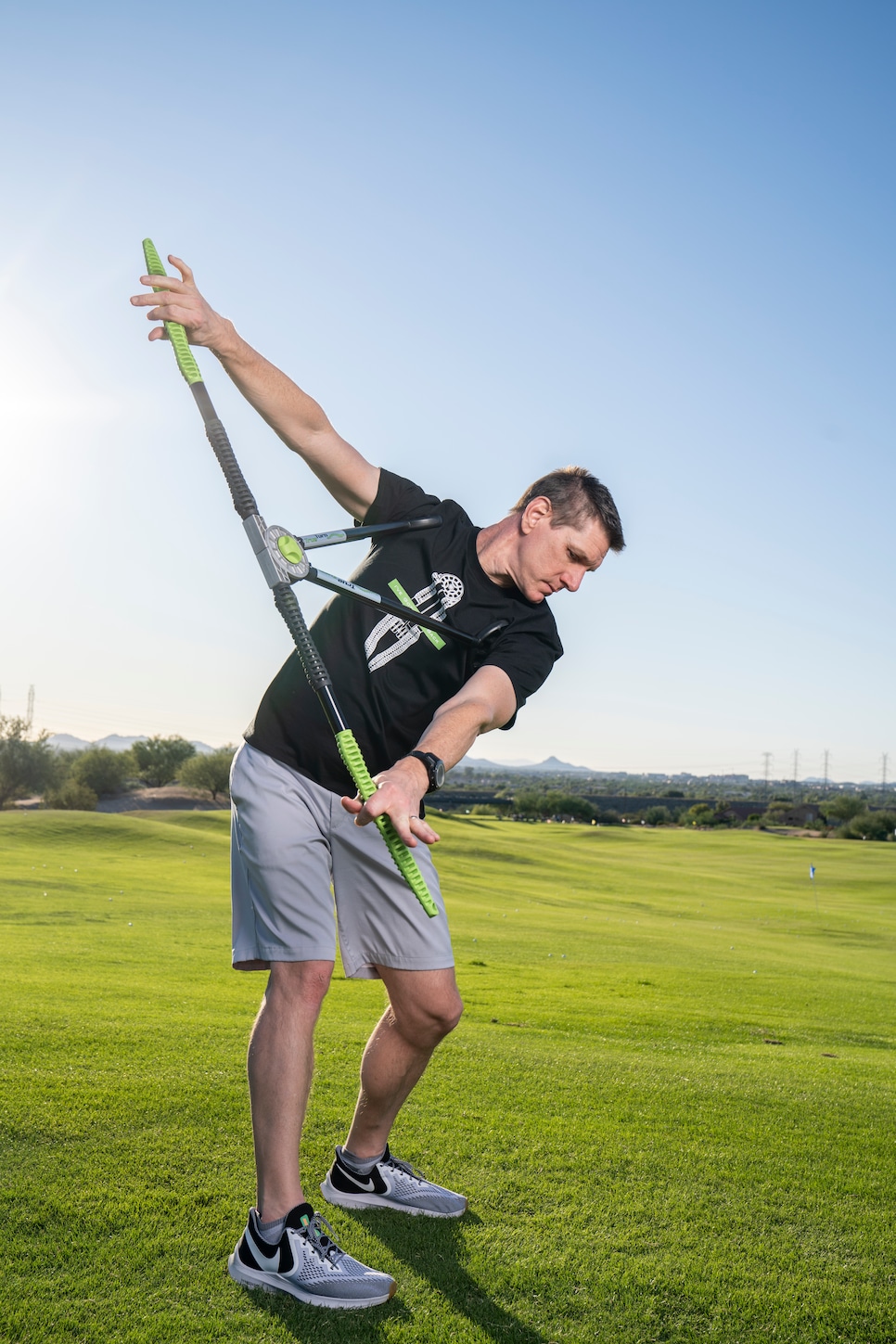 True Turn Pro
As golfers age, they lose hip and spine mobility, which is critical for a healthy, repeatable swing. The True Turn Pro enables players to regain flexibility while feeling the spinal and pelvic movements required for a good swing. The apparatus also primes muscles and joints for speed-training programs. With arms extended, go ahead and grip the device with hands split to isolate specific areas of the trunk (thoracic spine). By contrast, a golf club used for stretching won't pinpoint specific arm movements so players can't get a true rotation (stretch) in the torso. The company's website has instructional videos aimed at helping boost range of motion, joint stability and strength.
How to find the best training aid for your game
There's a famous "Tin Cup" scene with Kevin Costner, the washed up ex-pro, is covered in training aids head-to-toe, the portrait of a frustrated golfer doing everything he can to get back into the game. Matt Trenton, general manager of the 20,000 square-foot retail store Golfdom, thinks about that image every time he works with clients searching for the best training aids.
"We're starting from a point where they're already frustrated, they're irritated," Trenton said. Keeping this in mind, he says the best training aids are intuitive and pragmatic. "The game's hard enough."
Whether you're having a Costner moment yourself, or just curious about what's on the market, we've broken down frequently asked questions when it comes to buying training aids, including how to pick the best aid for your swing, how much money to spend on a gadget, and whether it's better to go high- or low-tech.
And if you're feeling really lost, check out our Editors' Choice selections for 2022 to kickstart your research and help you narrow down options.
In its traditional sense, a training aid is any device that helps a golfer or instructor isolate and practice motions or techniques. This can range from quick, household fixes like a towel, water bottle, or cardboard box, to more advanced solutions like a Doppler Radar, technology that was originally designed for missiles. The range is incredibly vast and includes everything from launch monitors to face tape to hitting nets. Trenton even knows someone who uses a powdery Dr. Scholl's foot spray on driver faces, a kind of impromptu DIY solution.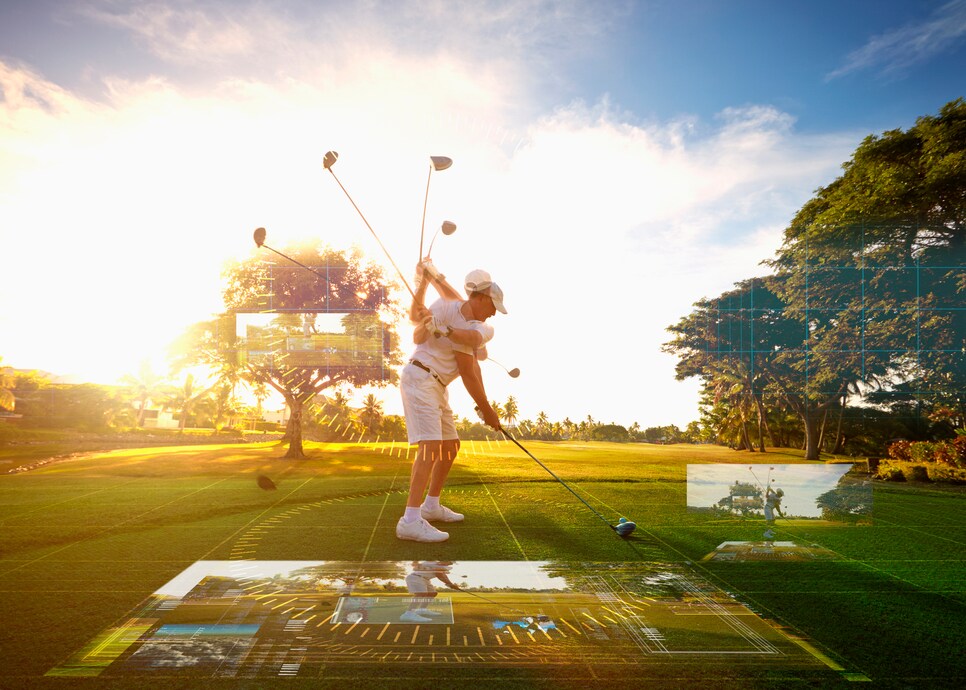 Colin Anderson Productions pty ltd
How do I pick the right training aid for my swing?
"That question will be answered better by reflecting on your mis-hits," Trenton said. First, you have to "diagnose" the problem. He usually asks clients to begin by describing a good hit to him, followed by a bad hit. With just this anecdotal evidence, he can tell a lot about what a golfer needs to work on, even without a proper fitting. From there, he's able to recommend the best gadget to proceed with.
But once you know what aspect of your game or swing you need to work on, you'll still have to consider which training aid is right for you, a personal decision that comes down to price, feel, practicality and style, as we break down in the following section.
What should I look for in a training aid?
Different instructors and shop attendants have personal relationships to different aids and might be more likely to suggest one brand over another based on their own preferences. When choosing for yourself, and filtering advice from experts, there are a few points to consider.
First, a training aid is only as useful as the frequency in which it'll actually be used. Trenton said that clients come in asking for training aids because they're already frustrated and unhappy with their games. Accordingly, he usually opts for low-tech, even analog, solutions that don't require a whole lot of setup or steps. He cited the classic problem of high-tech training aids that are so annoying to pair with a phone, clients simply give up.
Think, too, about whether a portable option is a better fit for you. Do you want an aid that specifically fits in your golf bag? Or does a larger aid that requires less intense setup make sense?
Most aids are simple tools dressed up for golf. Where years ago a water bottle might have done the trick, today there are multiple devices on the market that serve the same purpose, just marketed differently.
"We fall back on our personal experience," Trenton said. "They're kind of all gadget-y in a way. It depends on what the golfer's trying to do."
And how advanced or expensive an aid is really says nothing about the devotion of the player. As Trenton noted, you'll see putting mirrors—affordable, easy-to-use solutions for putting aids—all over the tours. And even the most sought-after instructors still fall back on the classics: sticks, towels and cardboard boxes.
"The best instructors in the world aren't necessarily using the best technology," Trenton said.
The key is finding an aid you can actually feel. That's what's going to stick with you and prove the most rewarding. While some players do well with data and numbers, most benefit from more physical, visceral feedback.
How much money should I spend on my training aid?
"Golfers are famous for taking things that are super cheap and making them super expensive," Trenton said. Take the alignment stick, for example. They're really just glorified driveway sticks, used to mark where a snow plow is supposed to go. You can find these for under $15 at a hardware store, or you can opt for a name brand version and spend double that. According to industry research, most golfers look for solutions below $100.
But if you have the resources, are tech savvy, and enjoy data, spending $40,000 on a device that documents the swing and even helps diagnose problems might be a right fit for you.
The short answer? "As much as it takes is my answer to how much money you should spend on anything," Trenton said.
What should I look for in a putting aid?
Go for an aid that encourages repetition and practice. Trenton recommended a tool like the PuttOut Pressure Putt Trainer, an affordable contraption you could even place in your office and play around with throughout the day. Aside from that, all the previous advice for training aids still holds true when it comes to putting.
Is it better to use a tech or non-tech aid?
In Trenton's opinion, he opts for high-tech devices to diagnose swing problems, but recommends clients to lower tech options they can feel and understand. But this comes to personal preference. Analog solutions are tried-and-true. While techy aids can lead to more detailed data, at the end of the day you need to be able to feel the difference to influence your swing.
In a nutshell, training aids are really all about having a little nudge to "keep you honest and make you practice." And help you out of those Costner moments, of course.