Best Swing & Game Analyzers
We all want to play better, and most of us would love to play faster. Maybe even a little smarter, too. Could one device get us all three? Impossible? Perhaps, but nothing comes closer than the miracle-working game-analyzer, GPS, stat-tracker and artificial-intelligence-driven on-course live guide than Arccos Caddie, our 2020 Editors' Choice. Arccos Caddie's suite of information, which includes PGA Tour-like ShotLink-level statistics for every aspect of your game, is fueled by the nearly weightless grip-cap sensors that communicate with (or without) your phone to produce data and statistics. It's a virtual cornucopia of performance assessment that is more revealing than a full-length mirror in an exam room. Arccos Caddie not only shows you what you do well and what distances you hit each club in your bag, it shows you trouble spots. Like how your 5- and 6-iron are carrying the same distance, or why your relative handicap from the sand is that of a 100-shooter but the rest of your game is trending toward the low 80s. That's right: The same "Strokes Gained" data the PGA Tour has made famous is now part of the suite of offerings Arccos makes available to users to self-monitor their progress, letting them not only compare their games to the best but to other 90-shooters, so they know exactly what they need to do to reach more immediate goals. More than a glorified golf homework tool, the GPS element of Arccos is active during your round so you instantly know how far it is to fly the bunker. (Soon to be available, its new Arccos Link device, barely bigger than a Zippo lighter, lets you download all that data without carrying your phone in your pocket.) On top of all that, Arccos Caddie can sync up with your PGA pro so your teacher can zoom in on what your next lesson should focus on before you make your first warm-up swing. Lingering over all these assets, of course, is Arccos Caddie's greatest feat to end slow play: an A.I.-driven virtual caddie that knows you so well it can recommend a strategy and the smart club choices for not only every tee shot, but every approach shot whether you're in the middle of the fairway or the middle of the forest. Just one of the many reasons that Arccos Caddie users improve an average of 4.2 strokes in one year. Let's hope the USGA leans in to golf's global slow-play problem and at some day in the near future gives this feature full approval for recreational play. What's the objection to better, faster, smarter golf?
Related: Best Training Aids For Golf
*All products featured on Golf Digest are independently selected by our editors. However, when you buy something through our retail links, we may earn an affiliate commission.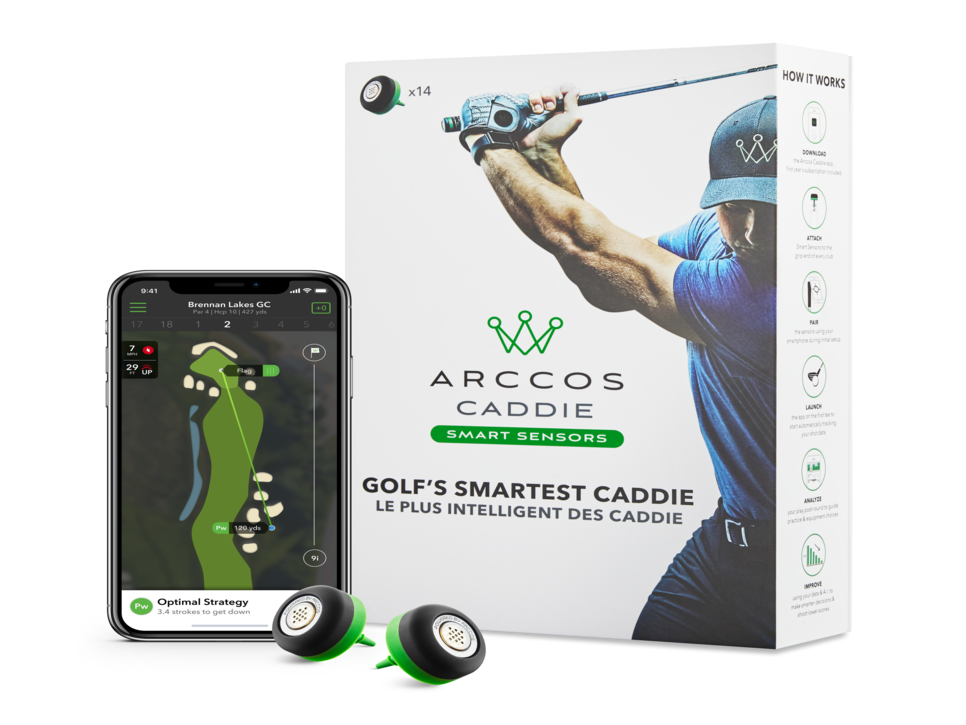 It has never been easier to see exactly where your swing—and your game—is, and a blizzard of new technology is putting the power of a college research facility in your golf bag for about the cost of a new driver. The HackMotion wrist sensor comes in two flavors. A consumer-level version for $495 monitors your wrist and clubface angles at three key moments in the swing and corrects for squareness with an audible tone. The professional version ($795) lets you track your full swing, face rotation speed and swing tempo, and measure those trends over time.
The Blast Golf stroke analyzer connects to the butt of the club to provide detailed data on your putting stroke—and, now, full swings as well. An add-on $59 yearly subscription takes your swing data and prompts you with targeted instruction content to improve performance.
The free 18Birdies app works like a superpowered scorecard, merging GPS data on the course you're playing with the shots you hit to prompt you with swing and strategy advice. The $45 annual premium subscription offers an algorithm-driven personal caddie to help with club selection, access to real-time coaching and PGA Tour-style strokes-gained statistics for your decidedly less than pro game.