Opportunity Seized
British Open 2021: Marcel Siem never lost hope after losing his game, and now he's back contending in a major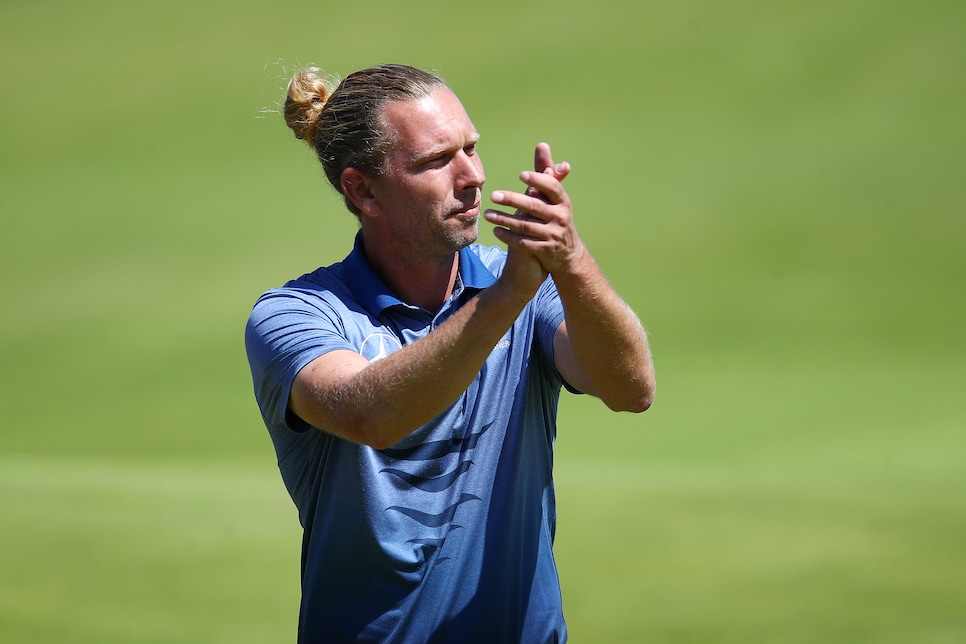 SANDWICH, Englan​d—​Marcel Siem holed a birdie putt on the 18th at the Open, fist-pumped like hell—it's his thing—basked in the applause, signed for 67, made his way to Mediaville for a TV interview, and another, and another, and another, and another, and one last Q&A with scribes. Answering the same questions over and over requires some level of mental acuity, and the German had to break into the energy reserves. He was working off just five hours of sleep—the phone would not stop buzzing Thursday night, which tends to happen when you shoot 67 in a major championship on your 41st birthday.
"I'm not professional enough yet to put it in a corner and not look at it," says a man who turned professional more than two decades ago and once cracked the world's top 50. At six under heading into the weekend, firmly in the mix at the first major he's played since 2015, Siem is a man in demand. Perhaps this whole center-of-attention thing just feels new, which makes a lot of sense when you consider what his last half-decade has looked like.
Siem won his fourth European Tour title in November of 2014 then decided life as an occasional winner wasn't cutting it. He tried his hand at the hottest swing trend, getting the club shut at the top of the backswing and rotating like hell through impact. Not everyone can be Dustin Johnson, though, and Siem totally and completely lost it. He hung around the European Tour on past-champion status for the next couple years before that dried up. He then faced the question every golfer chasing this dream dreads having to face: Should I keep doing this?
"Sponsors all gone, you have a certain lifestyle that you're used to," Siem said. "You can't play the big tournaments anymore. The prize money's not coming in, but the costs are still there. I wasn't sure if I should keep going. I lost my swing, I was injured."
He kept going. Boy, did he keep going.
This week at Royal St. George's marks the 13th straight week Siem has played a tournament, and they have not been glamorous tournaments. He caddied for himself—or, put differently, he carried his own bag—in five or six of them, he estimates. The grind began in South Africa at the Limpopo Championship, a Challenge Tour event where he finished T-25. There were two more Challenge Tour events down there back-to-back European Tour events. Diamonds in the rough, if you will. He missed the cut in both. After that, back to the Challenge Tour for a T-66, a missed cut and a T-36, and this is starting to get bleak. But the man inside the arena cannot allow himself to think that way.
"Richard Bland, Gregory Havret—there's a lot guys in my age going back to the Challenge Tour," Siem said. "If you don't accept that you lost your card, and you still think you're a European Tour player, and there should be a caddie around you, and you should be play for 2 million euros, you cannot compete on the Challenge Tour. There's no chance. You're grumpy, you're upset all the time. Once you make friends on the Challenge Tour and accept that's where I am, that's the only way forward. I'm so happy that I understood that."
Understood. Past tense, for his days on the Challenge Tour are numbered. Perhaps you're wondering how Siem got into the field in the year's final major—he did so by winning last week's Le Vaudreuil Golf Challenge by a shot. The $40,000 winners check must've felt like a million bucks, for it brought him that much closer to getting his card back—and got him into this week's Open, the first he's played since 2015.
"Monday, Tuesday, Wednesday I felt horrendous," was how he described his energy levels this week. "Yesterday, I was actually feeling quite good, because I had a late tee time. I only have five hours of sleep this morning. First 10 holes, I felt really, really tired, my legs wobbly. Then, all the sudden, the crowd started to come, pressure was coming, I felt a little nervous, and I felt great again. I think that's gonna help me again on the weekend, because the pressure is going to be high."
Weekend pressure at a major championship. Marcel Siem is a long way from a T-25 at the Limpopo Championship.
MORE BRITISH OPEN 2021 STORIES FROM GOLF DIGEST: