Live Blog
The Open 2021 live updates: Louis Oosthuizen, Collin Morikawa battling on Saturday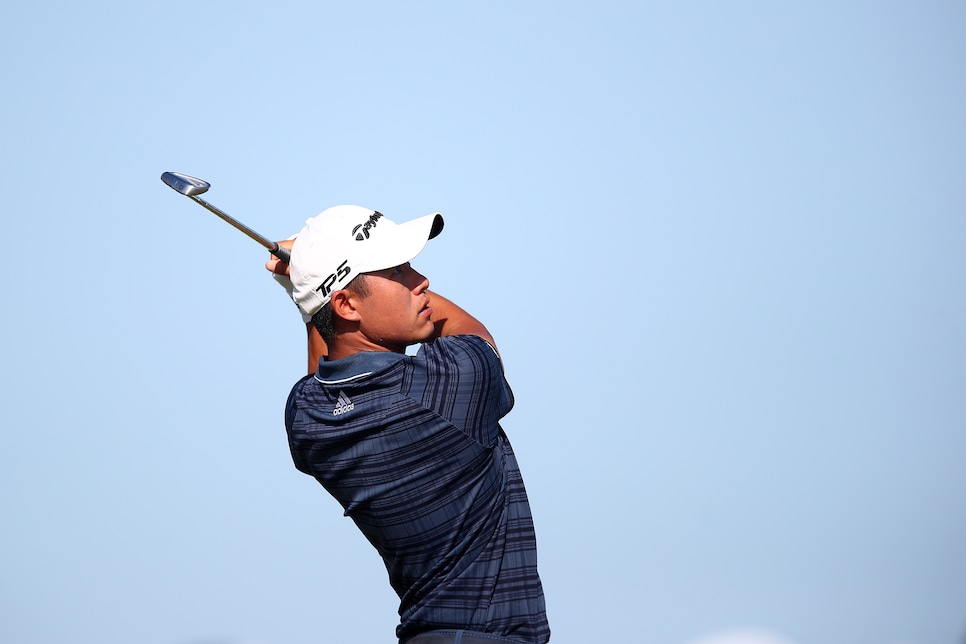 Photo By: Christopher Lee
After 36 holes at the Open Championship, there's a familiar name at the top of the leader board - Louis Oosthuizen. This marks the third straight major he's placed himself in serious contention heading into the weekend. The question now is, will it be the third straight runner-up (and what would be the seventh major runner-up of his career), or can he finally take down career major No. 2 at Royal St. George's?
We're going to find out this weekend, with the South African holding on to a two-shot lead after tying the 36-hole aggregate scoring record of 129 (64-65, 11 under). Giving chase are a pair of major winners in Collin Morikawa (nine under) and Jordan Spieth (eight under), who is looking to win his first major since the 2017 Open Championship at Royal Birkdale.
As our very own Joel Beall points out, Oosthuizen has a number of statistical hurdles to overcome these final two days if he's going to get it done, specifically, his driving. He and Morikawa don't tee off until 10:55 a.m. ET, but the anticipation is already building. We'll keep you updated on everything that happens up until then and after here in our live blog.
(Scroll down for the latest updates)
2:47 p.m.: Good lag from Morikawa, a tap-in giving Oosthuizen a one-under 69 for a 12-under total. Morikawa misses his birdie try. That will be a two-under 68 for him, an 11-under total. The two will be in the final group tomorrow, with Spieth at nine under and Conners and Scheffler at eight.
2:40 p.m.: As the Spieth debacle was happening, both Morikawa and Oosthuizen made pars on 17. On the 18th, Morikawa damn near hits the flag stick from 200 yards out, leaving about 10 feet for birdie. Oosthuizen's approach is short, which will be a terrifying two-putt.
2:35 p.m.: Spieth's birdie burns the left side. That will be a….oh no. Spieth misses a tap-in for par. That's back-to-back bogeys, now three back of Oosthuizen. That was a dagger.
2:30 p.m.: Morikawa plays it safe on the 17th, going a bit long into the green but giving himself a chance at birdie. At the 18th, Spieth's approach from a divot is safely 20 feet left of the pin. Oosthuizen, from the same spot Spieth was in at the 17th, follows Morikawa, and while birdie is likely out of play so is bogey.
2:24 p.m.: On one of the easiest par 4s on the course, Spieth's poor approach leads to a bogey, and with Oothuizen making 2 at the 16th, there's now a two-shot disparity between the two, with Morikawa's par keeping him at -11.
2:19 p.m.: Spieth gets too cute with his approach, as it loses steam running up the slope and falls back down, leaving a nightmarish up-n-down for par...on the 16th, Morikawa hits a great approach to 15 feet but Oosthuizen tops him by putting one inside eight, with both men looking to make a move.
2:14 p.m.: Morikawa flushes his iron into the 15th, but his birdie attempt just misses. No shame there; 15th only surrendered 3 birdies all day ... Despite his irons no longer talking to him, Louis saves par at the 15th. Three still tied for the lead.
2:09 p.m.: Oosthuizen may be coming apart with his irons. Flails his iron shot at the 15th way right of the green, putting him in another tough position to save par...ahead Spieth's birdie just misses, a par keeping him at 11 under.
2:03 p.m.: Spieth plays it safe at the short par-3 16th, keeping his ball well away from a treacherous pot punker behind the green. Behind, Oosthuizen finds the fairway at the 15th … Marcel Siem birdies the final hole to finish even for the day, his six-under total still inside the top 10.
1:59 p.m.: Eagle runs a bit by, but back-to-back birdies moves Morikawa into a tie for the lead with Louis and Jordan.
1:56 p.m.: Whoops. Oosthuizen tries to bump-n-run, but the shot does not run, staying off the green. His fourth, with a putter in hand, is a better shot, but like Spieth a disappointing par at one of the easiest holes on the course.
1:51 p.m.: Things are moving quickly. Morikawa puts his approach to 20 feet, giving himself a 20-footer for eagle to move to 12 under. Oosthuizen badly hooks his approach from 240, leaving another difficult chip ahead. We may have a new leader in Morikawa.
1:46 p.m.: Extremely poor eagly try for Spieth, and now he has 10 feet left for birdie ... which he can't make. Real disappointing 5 from Spieth, likely giving one back to the field. Both Morikawa and Oosthuizen find the fairway at the 14th.
1:44 p.m.: Morikawa has put himself in the picture, dropping a 30-footer for birdie to move to 10 under. And it proves to be a two-shot swing, as Louie bogeys to drop to 11 under and in a tie with Spieth.
1:41 p.m.: Spieth's second is just short of the par-5 14th, giving him a good chance for birdie. Behind, Louis sails his approach to a bad spot left of the green, requiring some creativity to save par … Rahm finishes with a three-under 67 to stand in seven under for the week, currently good enough for T-6.
1:35 p.m.: BANG. Spieth makes the putt to stay afloat … Corey Conners turns in a four-under 66 to creep up to eight under, which is looking pretty solid at the moment.
1:32 p.m.: Spieth's ball actually stayed out of the bunker, which may have been a bad break. Chip rolls past the hole by six, seven feet. Behind, Oosthuizen's tee shot just misses a pair of pot bunkers and trickles into the rough. Not a lot of red on the course at the moment.
1:28 p.m.: Ouch. Spieth finds the fairway at the 13th, but his approach comes up inches, INCHES short of being perfect, instead rolling into a pot bunker. Just brutal.
1:21 p.m.: Holy Moses; Spieth makes a 10-footer to save par at the 12th. That feels like a pretty big damn moment. Seriously. Can't overstate how important that par save was. Wheels looked like they could be coming off after bogey on 11/drive on 12, but his approach, nifty chip and clutch putt manages to keep the train on the tracks.
1:17 p.m.: Spieth manages to get out of the gorse, but his approach flies the green, leaving a mean up-n-down. Behind, Louis misses his par attempt to bring his advantage to one, while Morikawa can't get his birdie putt to fall.
1:12 p.m.: Spieth compounds the error by snap hooking his drive into the deep gorse on the 12th. Has to fight to keep the big number at bay.
1:07 p.m.: A pretty good out from Spieth—who was hitting from his first greenside bunker of the week—but can't convert the putt, falling two behind Louis. Frittelli makes bogey after his tee shot goes way left, now four back.
1:03 p.m.: Well, Louis isn't tearing it up, but he's not making many mistakes, either. He makes a sensible two-putt at the 10th, which could loom large depnding what happens with Spieth at the 11th.
12:58 p.m.: Spieth pulls his tee shot at the par-3 11th into a pot bunker, but others haven't had trouble out of that sand earlier today. Behind, Louis finds the safe part of the 10th green out of an odd lie.
12:55 p.m.: Spieth rolls in a beautiful 12-foot curler on No. 10 for his fifth birdie of the day. That moves him to 12 under for the tournament as he continues to put the pressure on Oosthuizen. Of course, it's tough to put pressure on someone who never hits a bad shot.
12:48 p.m.: And here comes King Louie again. Oosthuizen birdies the ninth hole to regain the two-shot lead he began the day with. The South African hasn't been particularly sharp and yet he makes the turn in 33. Must be nice. Playing partner Collin Morikawa shoots and even-par 35 on the front to remain at nine under, but he's now four back.
12:41 p.m.: After a wayward drive on No. 9, Spieth does a great job slashing a wedge onto the green. He almost makes the 20-footer for birdie, but settles for par and a front-nine 32 that has him at 11 under and one shot out of the lead. Behind him, Morikawa has turned it around with back-to-back birdies to get back to nine under. Oosthuizen remains in the lead at 12 under. Again, these aren't the scores we were expecting at the beginning of the week, but with the wind staying away, these guys are going to have to keep making birdies over the last 27 holes to win this thing.
12:28 p.m.: What a par for Jordan Spieth at No. 8. That's one we're going to remember if he winds up hoisting the claret jug on Sunday. Spieth was in high stuff left, then got lucky to avoid higher stuff on his second before a beautiful chip-and-run to three feet. Spieth remains at 11 under, one behind Oosthuizen and two ahead of playing partner Dylan Frittelli.
12:25 p.m.: Hey, let's talk about someone who isn't playing in the final two groups, shall we? How about Corey Conners, whose birdie on No. 14 gives him three in four holes as he climbs to eight under for the tournament. It's been a strong year in the biggest events for the Canadian. He finished T-8 at the Masters, T-17 at the PGA, and solo seventh at the Players.
12:23 p.m.: Both Oosthuizen and Morikawa take advantage of the par-5 seventh with a pair of two-putt birdies. For each, it's the first birdie of the day, but it's good enough to regain the lead. Up ahead, Jordan Spieth is in trouble after a poor driving iron. But he gets a huge break (surprise!) when his second shot somehow takes a huge hop out of some deep rough. He'll have a chance to get up and down to save par.
12:12 p.m.: Spieth juuuuuust misses for eagle on the par-5 seventh. But he can't complain after hitting what looked like a slice on a second shot that got a generous bounce onto the front of the green. At three under through seven holes, Spieth has pulled even with Oosthuizen, who is still even for his round. Playing partner Frittelli also just misses an eagle, but moves to nine under with his second consecutive birdie. Horns up!
12:07 p.m.: Despite missing three greens in his first six holes, Oosthuizen remains at 11 under. But it looks like he'll be at least joined in the lead by Spieth, who found the par-5 seventh green in two. With two bogeys in his first six holes, Morikawa has fallen to seven under.
11:55 a.m.: And it's a bounceback birdie for Jordan Spieth after hitting it to about eight feet on the par-3 sixth. Spieth moves back to 10 under, just one back of Louis Oosthuizen. Meanwhile, playing partner Dylan Frittelli also birdies the hole to move to eight under and in a share of third place with Collin Morikawa. These former Texas teammates make a comfortable pairing. Oh, and shout-out to NBC's Dan Hicks for giving Golf Digest a shout-out for the recent Jordan Spieth cover story.
11:46 a.m.: Morikawa's birdie attempt just slides by on the low side at No. 4. Up ahead, Jordan Spieth is unable to get up and down as he records his first bogey of the round. So we've still got Louis Oosthuizen holding a two-shot lead like at the start of the day, only he's leading Spieth, with Morikawa another stroke behind.
11:40 a.m.: Morikawa hits a marvelous approach on the fourth to give himself a chance to get back to even for the day. Ahead, Frittelli flys his approach left of the green at the fifth. Staying there, Spieth's approach is ripped, but too strong, going through the green and leaving a touchy up-and-down ahead.
11:33 a.m.: JORDAN SPIETH. From 40 feet at the fourth, Spieth drops a birdie putt to move to 10 under. The man is feeling it.
11:30 a.m.: DJ gives one back at the fourth, making bogey after his approach hits a camerman and bouncing hard short of the green ... Morikawa's chip at the third is solid, leaving four feet to save par.
11:25 a.m.: Louis pulls his tee shot at the par-3 third, won't be the easiest up-n-downs from there. Morikawa misses, but it's an OK miss, short and to the left.
Up at the 10th, Danny Willett holes out for eagle from the fairway, moving to six under for the event.
11:20 a.m.: Oof. Louis just misses his second straight birdie. But it's better than Morikawa, who takes bogey after finding the pot bunker off the tee.
11:13 a.m.: Spieth flares his shot to the right at the par-3 third but gets a bounce off the mound and rolls onto the green, giving Spieth 40 feet or so for birdie. Links golf, baby!
11:12 a.m.: Morikawa finds another pot bunker, this time off his drive at the second. Louis, meanwhile, splits the fairway ... up at the par-5 seventh Rahm is in a bit of trouble, his fourth from 150 yards finishing 10 feet from the pin. Desperately needs that to keep momentum on his side.
11:10 a.m.: Spieth birdies. Let the chaos begin.
11:05 a.m.: Oh my! Spieth escapes from the high stuff and with vigor, his approach at the second trickling to four feet at the second. Has that left to move to nine under ... Louis' birdie putt at the first just misses to the left, but nothing wrong with par to get things going.
11:01 a.m.: Spieth flares his drive to the right into the gorse at the second, while DJ makes another nifty chip for back-to-back scrambles ... at the first Louis hits a magnificient approach to 10 feet from the first cut, giving himself a great to continue to paint this course red. As for Morikawa, his approach gets snagged in the window and rolls into a pot bunker.
10:58 a.m.: At the first both Spieth and Frittelli lag their approaches for pars, nothing wrong there...Rahm birdies the sixth to get to red figures for the day and six under for the tournament...Cam Smith is making a move, now three under through seven to get to seven under, good for T-4 at the moment.
10:56 a.m.: Final group is off. Collin Morikawa's tee shot leaks into the right rough, while Louis Oosthuizen's drive is pulled but stays in the first cut.
10:46 a.m.: Jordan Spieth gets his title push underway, playing a nice cut to find the fairway at the first. Fellow Longhorn Dylan Frittelli puts his tee shot into the rough. Won't be an easy par from there for Frittelli...ahead DJ makes a beautiful chip from a tough spot right of the green, giving himself a good look to save par.
10:36 a.m.: Dustin Johnson, whose beard is now as long as the gorse, is on the tee and finds the left side of the fairway. Johnson is playing with reigning Rookie of the Year Scottie Scheffler, who follows Johnson's lead. There is a lot of swagger in that group. Er, game.
10:29 a.m.: OH NO. Siem leaves the shortie...short. Very disappointing par. As for Koepka, wheels are off, starting par-bogey-bogey. Eight back with a crowd between him and the lead, his tournament hopes are fading and fading fast.
10:23 a.m.: SIEM! The German fist-pumper puts his approach to tap-in range at the first. Sadly, no fist pump.
10:16 a.m.: Crowd favorite Marcel Siem is off, although the cameras are having a hell of a time figuring out where it went (they might have been shocked to show an actual golf shot, to be fair). Andy Sullivan also off, his ball leaking into the heavy rough … As for Casey, his fourth from the junk JUST finds the green then scoots to five feet, giving him a heck of a chance at an all-world bogey.
10:13 a.m.: Paul Casey having trouble at the first. His drive goes into the gorse, and his second can't get out. He muscles his third way left, also into the heather. Not what the Englishman needed, to say the least.
10:07 a.m.: Sorry for the lack of updates but we haven't seen a golf shot in 12 minutes. Just the messenger.
9:56 a.m.: Brooks Koepka begins his day with a decent shot at the first, goes a bit to the left but stays in the first cut. Kopeka is part of the crowd at five under.
9:51 a.m.: Our man Jazz Janewattananond got this shot, from this stance, to here:
9:48 a.m.: Jon Rahm begins his day with a bad miss to the right in his approach, and will be in a tough spot to get up-and-down to stay at five under at the first.
9:42 a.m.: Big game hunter Brian Harman holes a 30-yard chip at the second for birdie. And good thing it ran into the pin or else that bad boy was off the green and into the great unknown. Shot moves Harman to five under.
9:36 a.m.: Tony Finau begins his day, also at four under. Also appears to be wearing a Kandinsky painting as a shirt. Count Finau among the crew needing a strong early push to get into the proceedings.
9:31 a.m.: Aside from Young Bob's 65 and Jason Kokrak's 66, not much red on the yellow board. Chalk that up to tough pin positions rather than wind.
9:25 a.m.: Rory just had an eight-footer that went 360 degrees around the hole before deciding to stay out. The run has ended. Long live the Rory run.
9:20 a.m.: Wind is starting to pick up, just a tad. We're not going to see carnage, but expect to see a bump in scores for the afternoon wave.
9:15 a.m.: Shane Lowry begins his day by finding the fairway. The Irishman has an outside chance to defend his title, four under through 36 holes, but will need something special to get in the Sunday mix.
9:10 a.m.: Good news is we can't possibly jinx Robert MacIntyre, because his round is over. And what a round it was, a five-under 65 for the 24-year-old Scotsman, vaulting him 48 spots up the leader board into a tie for 17th at four under. He'll have a legitimate crack at his second top 10 in this tournament on Sunday, the first a T-6 at Royal Portrush in 2019.
8:55 a.m.: Welp, we sufficiently jinxed Rory (who just made another bogey to fall to two under) and now we've jinxed Sergio. Right after hitting publish on our last update, he lipped out a short six-footer for par, then missed the three-foot comebacker for bogey. Four-putt double, which drops him to two under. HOT start.
8:51 a.m.: It's been all Rory, all the time early on Saturday, but some other big boys are getting their rounds underway, including Sergio Garcia. The Spaniard made birdie at the first to reach four under, which currently has him in a tie for 17th. He's been a ghost at the majors since his 2017 Masters win, so it's nice to see him hanging around at the top of the board again.
8:33 a.m.: It appears as though we made the grave mistake of getting too excited about a Rory McIlroy charge. On cue, he misses a three-foot par putt, dropping his second shot of the day. He's now eight back.
8:18 a.m.: Here comes Rory! In the least surprising news ever, the four-time major champ is making an early Saturday morning run, going out in four-under 31 to get to four under for the championship. It's a mini run, but a run nonetheless. If he can have an equally explosive back nine, he might just be able to sneak back into this thing. But for now, he's still seven off the lead.
MORE BRITISH OPEN 2021 STORIES FROM GOLF DIGEST: