Apparel
U.S. Open 2020: Dustin Johnson has a new look for the U.S. Open and it's anything but navy
DJ's expected to bench his typical monochromatic navy uniform for some bolder looks at Winged Foot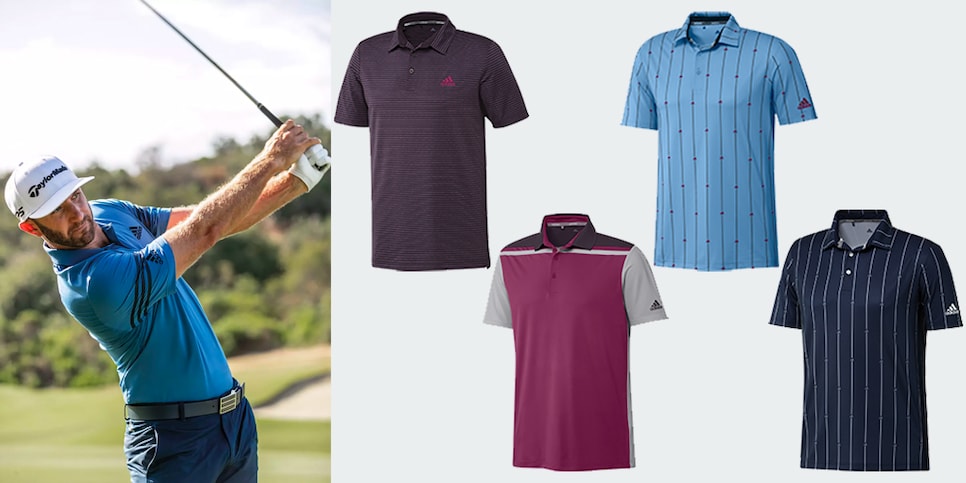 Navy blue is a color we've become accustomed to see Dustin Johnson wearing on the golf course. Why's that? He said the color makes him feel powerful and put together—and it seems to be working as he's worn navy on Sundays in more than half of his 23 career wins. Get ready to see Johnson deviate from his solid-navy-golf-shirt realm with a shift toward bolder looks at the U.S. Open. His pre-tournament apparel scripting from Adidas includes lots of stripes, a berry-colored golf shirt and even a pinstripe-like look.
On Friday, Johnson will wear a light blue golf shirt with unique vertical, berry-colored stripes with the Adidas logo incorporated into the design. It's a fun remix of traditional stripes and a nice pop of color on the primarily blue outfit. Over navy pants, the look is athletic and stylish.
Going into the weekend, DJ will bring his brightest look of the week (perhaps even of the year). The Ultimate365 3-Stripes Polo Shirt (coming soon) is color-blocked with a berry shade on the front with gray on the back and sleeves. A black collar and shoulder design tones down the brightness a bit and when paired with black pants will serve as a strong fall-golf look.
For the final round, Johnson will wear a nearly all-navy ensemble with the navy version of Friday's vertical stripe golf shirt ($65). In navy, the shirt almost resembles a pin-striped look that will flatter DJ's long torso—it's also a great way for shorter golfers to elongate their upper half. DJ has won three times in his career wearing blue stripes, though all horizontal stripes, perhaps he'll start a new trend in the athletic referee-like stripe.