Apparel
You might be surprised how particular Dustin Johnson is about his style
Dustin Johnson discusses his style choices on and off the course and gives us a peek inside his at-home fashion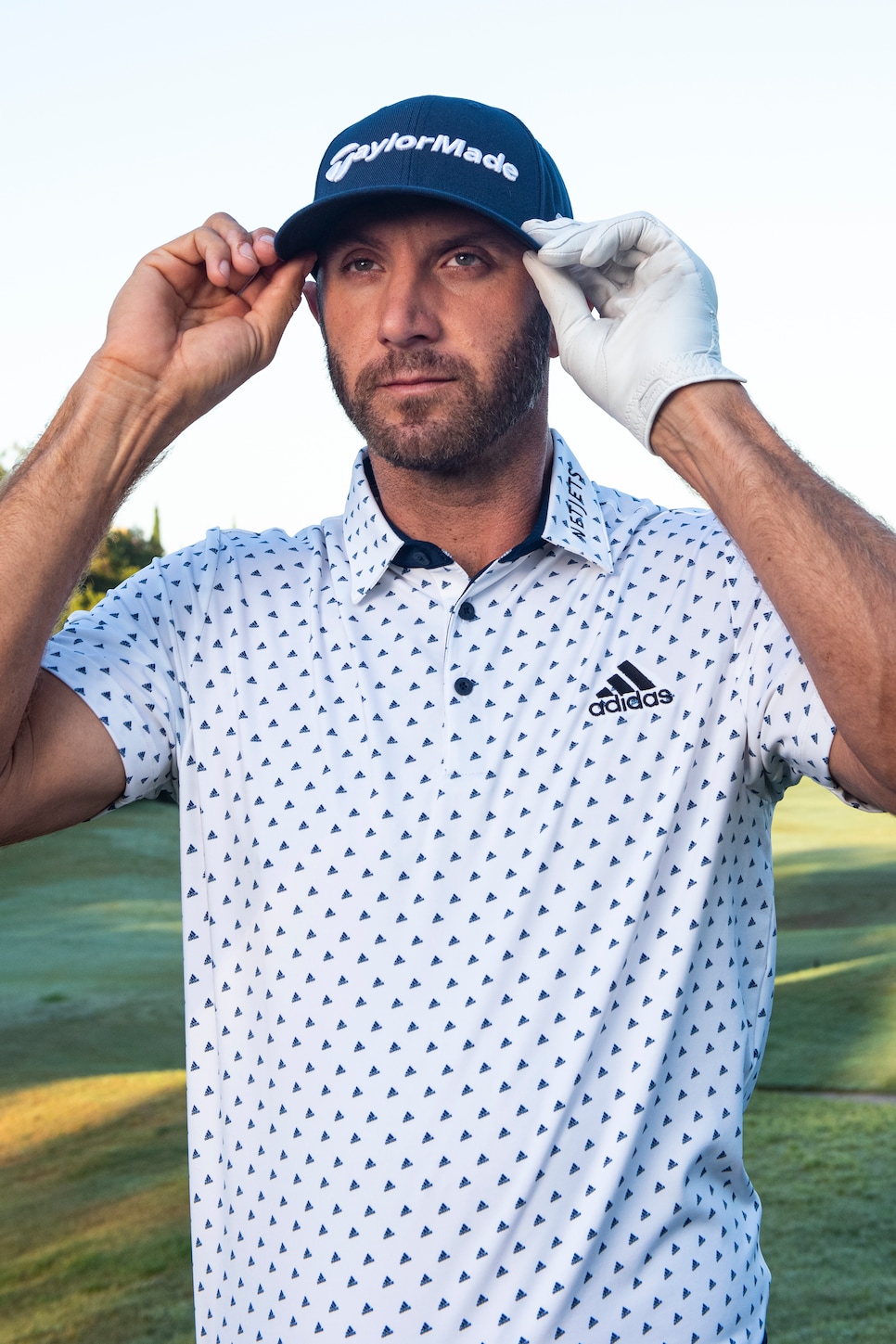 When it comes to his style, Dustin Johnson is meticulous about color coordination. It makes him feel more put together and ready to take on the challenges for the day—on or off the course. His matching obsession is why he gravitates to dark and solid colors.

"Black, white, grey, blue...that's about the extent of the color palette in my closet," Johnson says. "I'll wear a little bit of color every once in a while, but I always have to make sure that I have shoes that match, because I always have to match."

Johnson says he can't play golf wearing clashing pieces: "I just feel all messed up," the 2020 FedEx Cup champion says.

Related: Dustin Johnson meant it when he said winning the FedEx Cup was big to him. So here's why
*All products featured on Golf Digest are independently selected by our editors. However, when you buy something through our retail links, we may earn an affiliate commission.*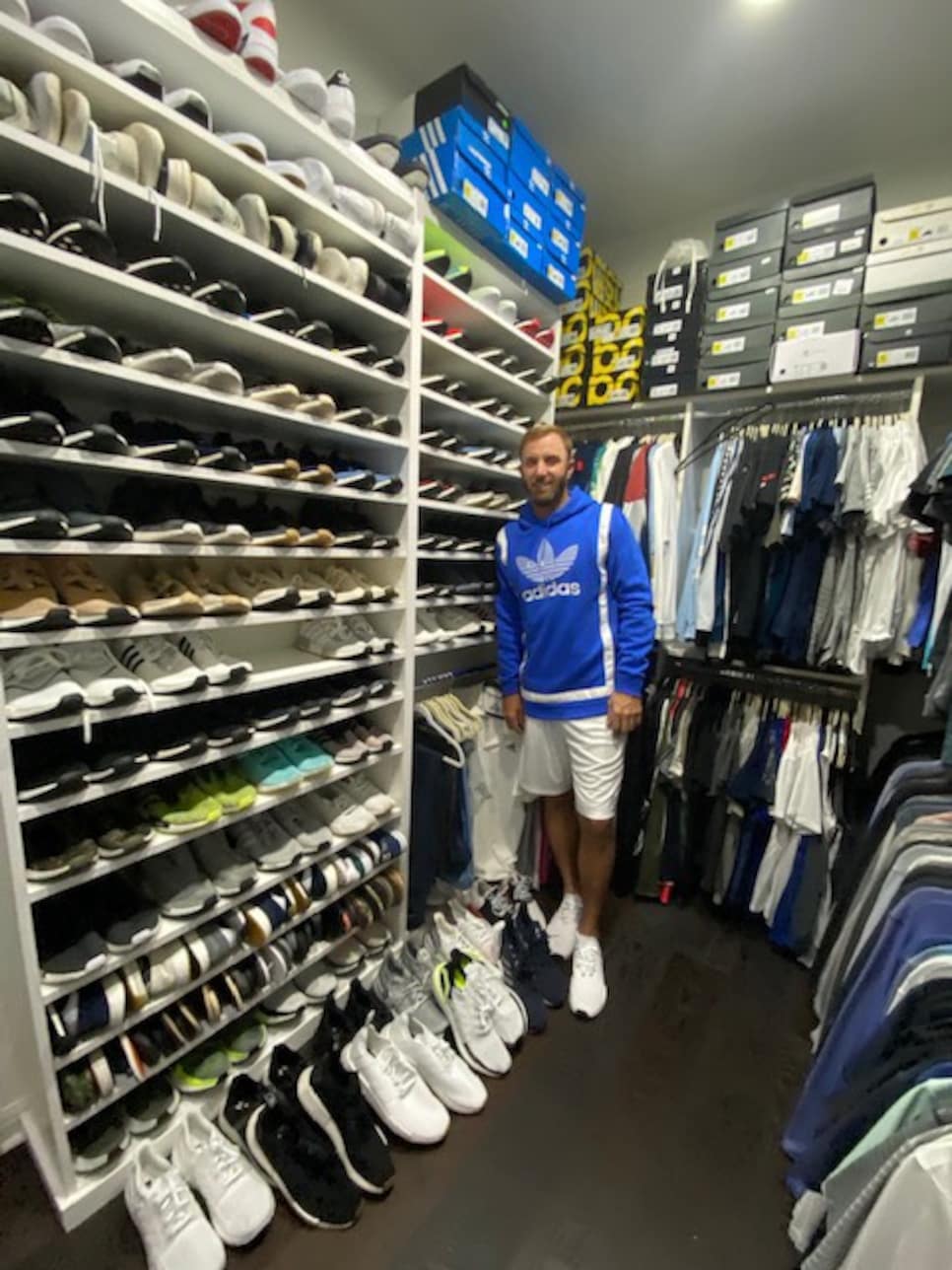 Image courtesy of Dustin Johnson
To help, Johnson travels with a duffle bag dedicated to just shoes. Generally, he'll have four pairs of golf shoes and up to seven pairs of sneakers with him. At home, the top of his closet is lined with shoe boxes and estimates he has about a couple hundred pairs of shoes. One thing you won't find in this collection: a pair of dirty kicks.

"I can't wear dirty shoes," Johnson says. "If I'm wearing them and something gets on them, I get really upset…I will try to clean them depending on where I am and then when I get home, I'll wash them or get them out."

DJ would sooner play barefoot than with scuffed shoes, and despite his copious amounts of footwear options, often plays sans-shoes on his days off.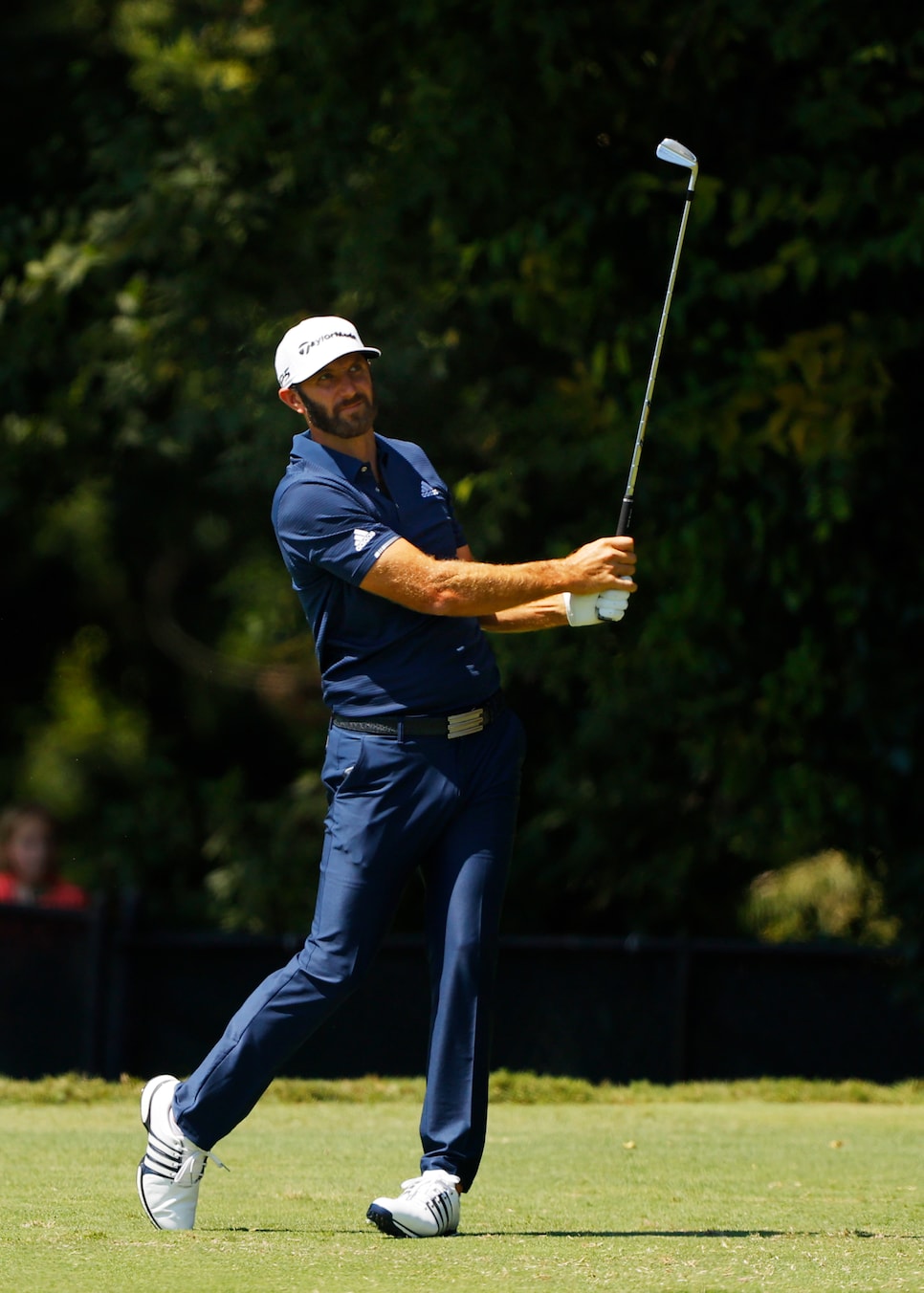 When he does wear shoes, style is the top priority. On course, Johnson rotates between two Adidas options: the traditional leather Adidas TOUR360 XT and the ultra-athletic CODECHAOS, which launched earlier this year. He also likes the brand's more casual Adipure SP shoe, a spikeless street-style golf shoe.

"Looks are the first thing, they gotta look good." Johnson says. "Obviously when you put them on, they have to be comfortable and when I hit, I'm looking for stability…but overall, comfort is not as important as looks."


On the apparel side, comfort has become a higher priority for the 35-year-old father of two. Even for a nice dinner, you'll typically find him in a pair of joggers and a dress shirt. He estimates it takes about eight minutes to get ready for a night out.

"I wear a lot more casual clothes than I used to," Johnson says. "No more suits…I used to wear a lot of dress shirts and jeans or dress pants, but it's way too hard to do that, way too much effort."

Related: Best New Golf Stuff: The coolest products that we're talking about right now