News
Dustin Johnson meant it when he said winning the FedEx Cup was big to him. So here's why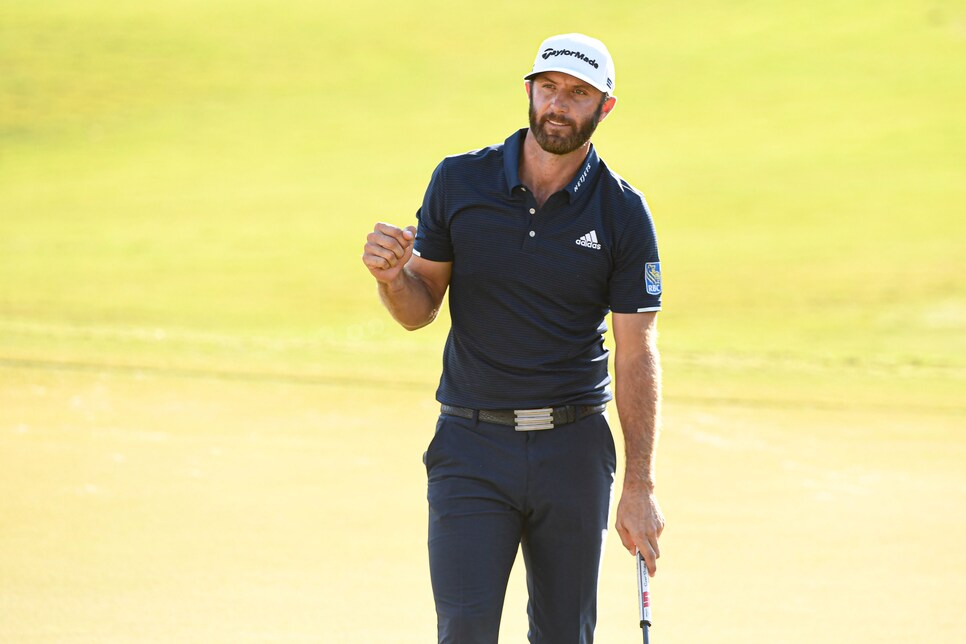 ATLANTA — Dustin Johnson said it himself on Monday evening at the Tour Championship: He needed this one. For all his otherworldly talents and for history.
Already a major champion, the top-ranked player in the world and with at least one victory in each of his 13 seasons on the PGA Tour, there was little he hadn't accomplished. Now he can add another line to his already Hall-of-Fame resume: FedEx Cup champion. In the previous 13 iterations of the season-long competition, his name had been noticeably absent from the hardware. No more.
Johnson finally captured the elusive title thanks to steady nerves, finding enough fairways and sinking a few clutch putts when his big lead began to dwindle. A final-round two-under 68 gave him a three-stroke victory over Justin Thomas and Xander Schauffele at East Lake. With it, he took home $15 million and, more importantly, put his name alongside the fellow stars of his generation, from Tiger Woods to Rory McIlroy.
"Being a FedEx Cup champion is something that I really wanted to do," Johnson said. "I wanted to hold that trophy at the end of the day. It was something that I wanted to accomplish during my career."
What a career it's been so far for the 36-year-old. The victory was the 23rd on tour for Johnson, putting him 27th all time in career wins.
And what a month it's been, too. Monday marked his fourth straight start with the 54-hole lead, a stretch so impressive that no one had done it since Tiger more than two decades ago in 1999.
How good was Johnson during the span?
It took Collin Morikawa shooting a final-round 64 to catch him and win the PGA Championship at TPC Harding Park in August. Two weeks later, at TPC Boston in the playoffs opener, Johnson left the field in his wake, finishing at 30 under for the week to win The Northern Trust by 11 shots. Last week at Olympia Fields, Johnson finished tied atop the leader board after 72 holes and only got beat when Jon Rahm holed a 66-footer on the first hole of sudden death.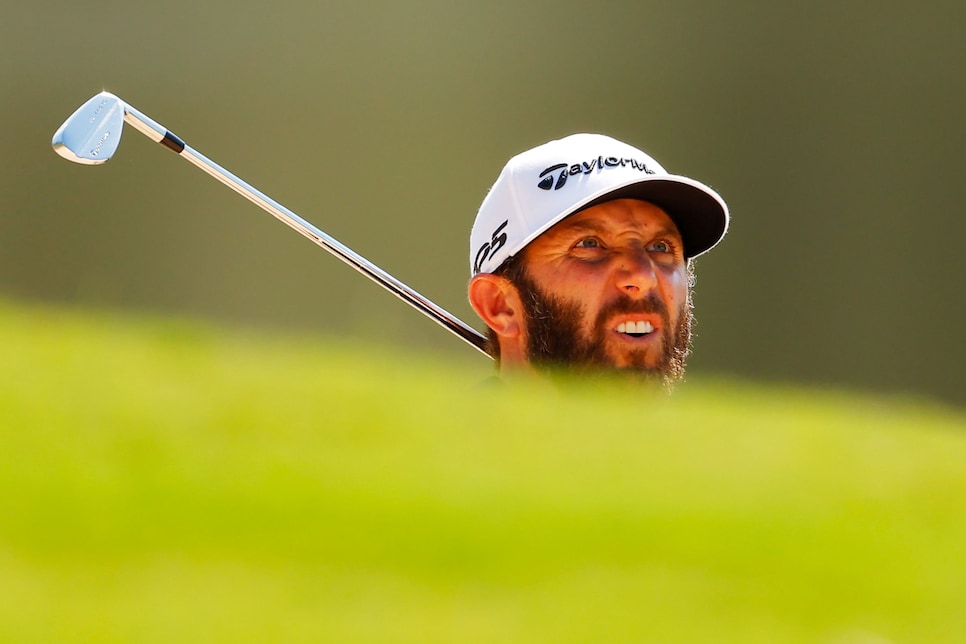 There were trying moments for Johnson during Monday's final round, but he remained his even-keeled self.
Kevin C. Cox
This week, he start the season finale at 10 under, spotted with a two-stroke lead over Rahm by virtue of being atop the FedEx Cup standings. By Sunday night, his advantage over his nearest competitors—Xander Schauffele and Justin Thomas—had ballooned to five. Which also meant something else: Anything short of victory would have almost certainly been viewed as another missed opportunity in a career with more than a few.
There were certainly moments on Monday when Johnson's resolve and his game were tested.
After making three birdies in his first six holes, Johnson hit a snag on the seventh, blowing his tee shot right and into the trees. Forced to punch out, he was unable to get up and down and made bogey. One hole later he found trouble off the tee again, driving into a fairway bunker and then three-putted from 50 feet for another bogey, dropping his lead to three.
But faced with a testy seven-foot par putt on the ninth after rolling his lag putt from 53 feet past the hole, he drilled it. Three holes later, Schauffele put the heat on when he stuffed his approach to five feet to set up an easy birdie. Johnson rammed his first putt from 25 feet past the hole but again steadied himself to make the five-footer coming back to save par and maintain a two-shot lead.
Then on the 13th, Schauffele made bogey while Johnson holed a 21-footer to save par. He let out a small fist pump and made four pars and a birdie to secure the victory.
"That was a big swing," Schauffele said. "He's here to win the tournament. He made that putt, which I didn't. That was a pinnacle moment I think."
In the tournament—and in Johnson's sometimes star-crossed career. For all his accomplishments, he's had more than a few blunders along the way, from falling down in major championships to infamously falling down a set of stairs at Augusta National.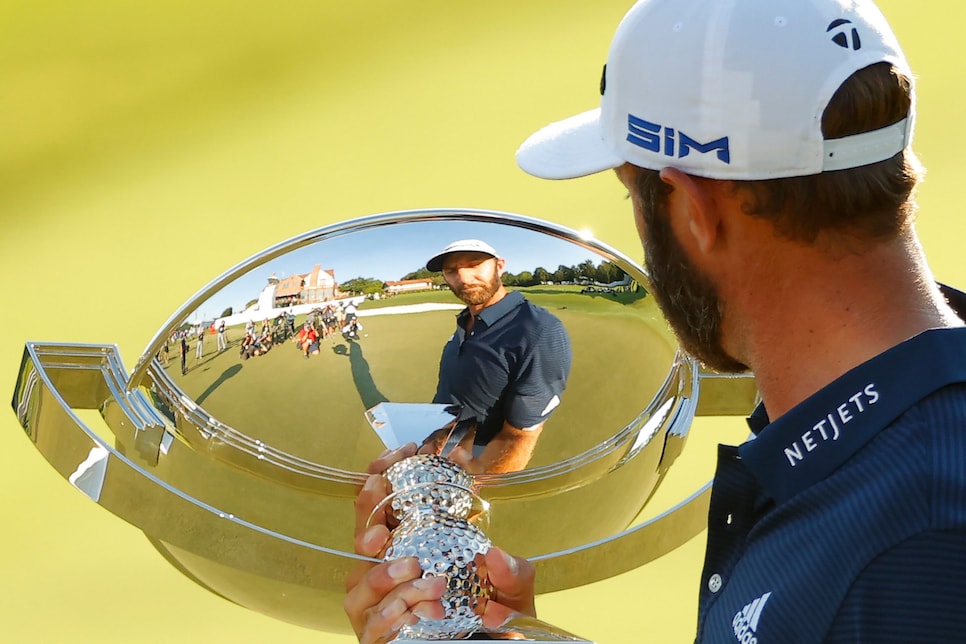 Dustin Johnson indulges in a literal moment of reflection after claiming the FedEx Cup.
Kevin C. Cox
That includes at the Tour Championship, where four years ago he had a chance to win the FedEx Cup but faltered with a final-round 73. He didn't want to blow another one.
"Having a five-shot lead today, yeah, I needed to finish it off," Johnson said.
The victory also came almost a year to the day that he underwent arthroscopic surgery to repair cartilage damage in his left knee. While the procedure was described as "routine," perhaps the knee was more problematic than he was letting on. Though Johnson finished second in the first two majors of 2019, he struggled to find his form in the weeks and months afterward, at one point going eight consecutive starts without a top-15 finish in what was his longest such slump in years. Then he finished in last place at last year's Tour Championship.
Even this season—during which he won three times and with this latest victory likely wrapped up Player of the Year honors—had its moments of frustration. Just six weeks ago, in his first start after winning the Travelers Championship in June, Johnson inexplicably shot a pair of 80s at the Memorial. The following week he shot 78 in the opening round of the 3M Open and withdrew, citing a bad back.
The slump didn't last, and no one has played better since, a fact that isn't lost even on the normally humble Johnson. Asked on the eve of his Tour Championship victory if he feels like he's the best player in the world right now, his answer was simple.
"I do," Johnson said with a certain tinge of confidence that was ever so slightly detectable in his otherwise easy-going drawl.
And finally he's a FedEx Cup champion, too.