SANDWICH, England — Recent soccer-related reactions in this country give the impression that a second-place finish amounts to a failure. Or, to borrow from a (fictional) American NASCAR driver: "If you ain't first, you're last." It's a harsh mantra in team sports. In major-championship golf, it's positively ludicrous. Finishing second in one of these means you've beaten 99 percent of the best players in the world. There is a million-dollar check in your future, a bevy of World Ranking points, congratulations from every angle. It is, by any reasonable standard, a wonderful result.
Until you do it six times.
Louis Oosthuizen does not need the money. He already has a big, beautiful tractor to ride with his three daughters, which is all he really needs. He's never seemed particularly concerned with World Ranking points, and he already has the admiration of his peers. He's been second in each of the four majors before, twice at the U.S. Open and PGA Championship, and twice in the last 55 days.
All this to say: Louis Oosthuizen has no interest in another runner-up finish. Can you blame him?
"Finishing second isn't great," the 54-hole leader at the Open said on Saturday. "So I will play my heart out tomorrow and see if I can lift the claret jug again."
He is three-fourths of the way to doing so. It'd be a narrative-shifting, wire-to-wire victory at the Open Championship, the type of performance that lives on in pub banter for decades. He opened the week at Royal St. George's with a 64, followed it with a 65, and is alone at the top after a 69 on Saturday. At 12-under total, he holds a one-shot lead over Collin Morikawa, a three-shot advantage over Jordan Spieth and a four-shot cushion over Corey Conners and Scottie Scheffler.
The 38-year-old South African, blessed with a demeanor so metronomic he cannot remember the last time he lost his cool, wasn't particularly disturbed by playing the back nine in one-over 36 and squandering an opportunity to put some daylight between him and his very capable chasers. He'll focus instead on the positives: flagged iron shots at the first two holes, a blemish-free front-nine 33, a final birdie at the 16th that ensures he'll lead for the sixth time in his last 10 major-championship rounds.
"I mean, there's lots of golf left," he said, sounding like a man who's been beaten a few times before, "but it was so great with all the fans there. It felt like it was a Sunday afternoon really when I made the putt and I was taking the lead.
"You need to believe that you can lift the trophy, as well, and if you think about it beforehand that you might win this championship, I think that's great. You have to believe you can do it."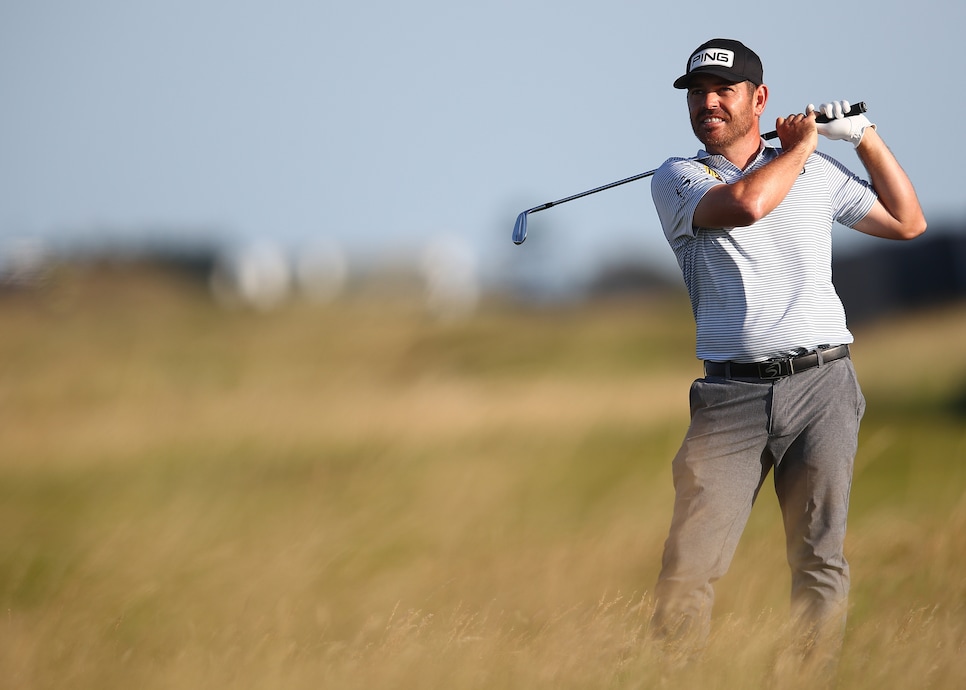 Louis Oosthuizen watches his shot on the 13th hole during the third round of the 149th Open.
Christopher Lee
None of those recent major leads have ended with him holding the trophy. That hasn't happened since 2010, when he emerged from semi-anonymity to win the Open, at St. Andrews, by seven. His syrupy swing captivated golf pundits and audiences alike that week. This wasn't just another good tour swing; this was a Hogan-level move that'd serve as a model for juniors the world over. So long as he avoided the putting yips, the thinking went, he'd win heaps of tournaments and ball-strike his way to more majors.
It hasn't quite materialized. At least not yet. Oosthuizen has enjoyed a terrific career, living inside the top 50 of the World Ranking for more than a decade and racking up seven European Tour victories since that Sunday at the Old Course. And yet, for the last decade his story has been defined by the tournaments he's watched someone else win. There was the 2012 Masters, where his Sunday albatross would've entered the pantheon of all-time golf shots, if only he'd won; the 2015 Open, back at St. Andrews, where his putt to prolong a playoff with Zach Johnson caught the low lip; the 2017 PGA Championship, where he failed to keep pace with Justin Thomas; this year's PGA Championship, where one horrid swing at the 13th doomed his pursuit of Phil Mickelson; and last month's U.S. Open, when Jon Rahm birdied the final two holes to clip him by one.
There's a common theme there: Oosthuizen hasn't handed those tournaments away. There hasn't been a Phil-at-Winged-Foot moment, or a Dustin-at-Chambers-Bay. He was leapfrogged each time by a guy who happened to reach a gear he could not quite match.
Morikawa, seeking a second major victory in his first Open start, could well step into that role. The 24-year-old, who swings like a 34-year-old and carries himself like a 44-year-old, was two over after six on Saturday but rebounded with birdies at 7 and 8, and a back-nine 33 sent an ominous message: I'm not going anywhere.
"I think the biggest thing I can draw from the PGA is just knowing I can get it done," he said. "But I think confidence just comes from hitting good shots, quality shots, seeing putts go in. There is a lot to draw from, especially this week. I don't have much experience on links golf, and pretty much all the highlights in my head are from this week. Thankfully there are quite a few. Hopefully we can just use that momentum from the first three days and just bring it into the last 18. It's going to be a grueling 18, but I look forward to it."
There's also Spieth, the crowd favorite here for his whole-hearted embrace of links golf. This looked a three-horse race until Spieth bludgeoned his third past the hole on the 17th and missed the comebacker, then three-putted from 20 feet on 18—the product of a dead-shove that drew gasps from the fans that adore him.
Oosthuizen, too, will have plenty of support on Sunday. As every American player will tell you, Open fans seem to possess an enhanced knowledge of the game. They know there is no such thing as "should" in this torturous sport, that the golf gods are not a giving bunch. But if there's a player who could use a break, a man who deserves to have a coin flip go his way, it's the 38-year-old who is tired of finishing second.
MORE OPEN STORIES FROM GOLF DIGEST: