Longhorn Longshot
The Open 2021: If you're looking for a Sunday sleeper at Royal St. George's, we've got one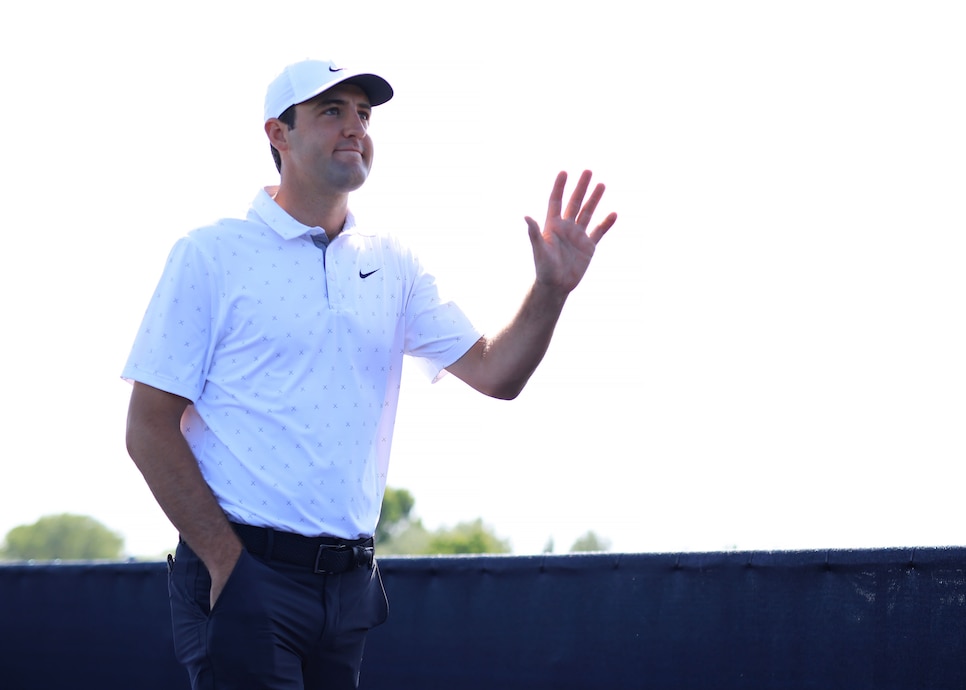 Scottie Scheffler walks to the 1st hole ahead of Saturday's third round at Royal St. George's.
Matthew Lewis/R&A
We tend to think that pedigree is a prerequisite for winning a major—and it usually is—but there are always exceptions, and at Royal St. George's, the exception tends to be the rule. This is something Scottie Scheffler should keep in mind heading into Sunday's final round of the 149th Open Championship.
At Royal St. George's, kindness and fortune smile down on the previously uninitiated.
With a kick-in birdie on the home hole at the links course in Sandwich, England, Scheffler completed a solid one-under 69 and finds himself one of only four players within four strokes of the pace set by South Africa's Louis Oosthuizen. That's an important marker because each of the last 31 major winners were within four shots of the lead after 54 holes, according to stats expert Justin Ray. At eight-under 202, Scheffler, 25, is exactly four behind.
So that closing birdie was rather important, which came after he bounced his approach over a slope and then watched it feed left and cozy up to the hole.
"I was rooting for it to go. Once I saw it take that bounce over the ridge, I was very pleased," Scheffler said. "I was even more pleased when I got up there and it was a kick-in.
"[It gives] me some momentum going into tomorrow. I wanted to sneak a few there towards the end of the round. I knew those holes wore going to be gettable, so it was a little bit frustrating not giving myself too good a chances on 16 and 17. So it was nice having a little gimme there on 18."
Other than Oosthuizen, you'd be hard-pressed to find many players who have a better major record in the last two years without winning than Scheffler. Starting with last year's PGA Championship at Harding Park, where he ended up T-4, Scheffler has posted five straight top-20 finishes. The only thing that slowed him down was COVID-19, which forced him out of the 2020 U.S. Open at Winged Foot.
His major finishes in 2021: T-18 at the Masters, T-8 at the PGA Championship and T-7 at the U.S. Open.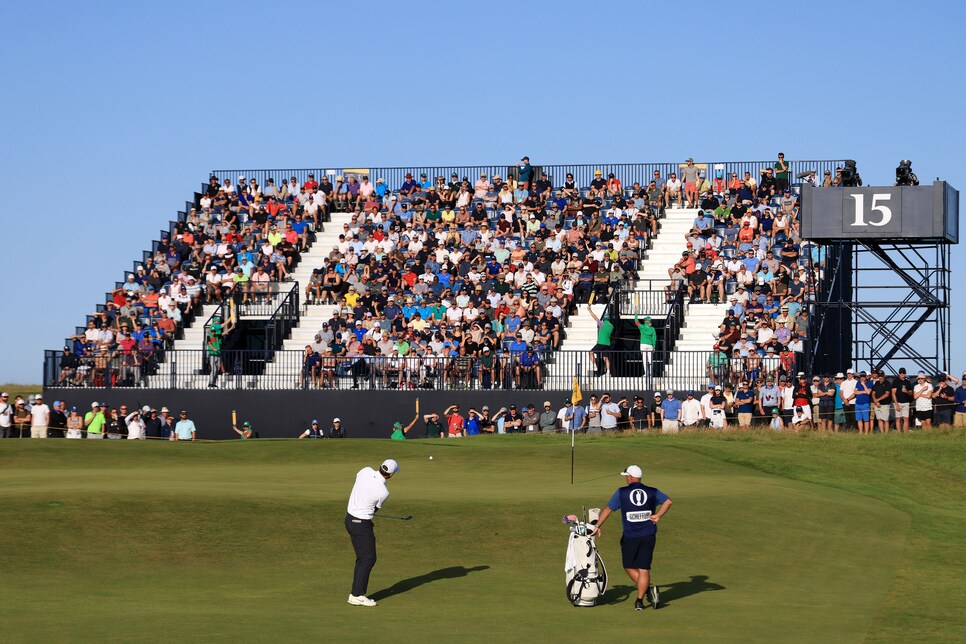 Scottie Scheffler plays a chip shot on the 15th hole during Saturday's third round.
Chris Trotman
Now here he is in his first Open Championship (and just his ninth career major), and the 2020 PGA Tour Rookie of the Year sits T-4 with Canada's Corey Conners and a stroke behind fellow Texas Longhorn and 2017 Open champion Jordan Spieth. Collin Morikawa is three ahead, and Oosthuizen is another stroke better.
That's it. That's the entire list of players ahead of him.
"I was a little bit frustrated. … Still overall can't be too upset with under par at a major, but still within striking distance for tomorrow," he said of his third round that featured an early bogey at No. 2 and birdies at Nos. 7 and 18.
Scheffler, who shot 59 at last year's Northern Trust and finished fifth in the final FedEx Cup standings, has yet to win a tour event, but it wouldn't be a surprise if he broke through at Royal St. George's. The bold, bumpy course has been a gateway to major breakthroughs starting with J.H. Taylor, who won the first of his five Open titles in 1894, the first Open played in Sandwich. In the 13 proceeding Opens at St. George's, only three men had won a major previously: Harry Vardon (twice, in 1899 and 1911), Walter Hagen (twice, in 1922 and '28) and Greg Norman (1993).
Norman interrupted what would have been a run of eight straight first-time major winners beginning with Sir Henry Cotton in 1934 and ending with Darren Clarke in 2011. And, of course, the ultimate breakthrough came in 2003 when Ben Curtis, ranked 396th in the world, not only won in his first Open appearance, but also in his first major appearance, the first man to do that since Francis Ouimet won the 1913 U.S. Open.
So, dreams and possibilities have a stronger heartbeat along the Channel shoreline, and Scheffler, who outplayed world No. 1 Dustin Johnson in their third-round pairing, has a feeling that his chances are decent.
"I think if I get off to a good start I can get myself in the mix pretty quickly," he said. "Those first five, six holes on this golf course are pretty difficult, so if I can get a few birdies there early, I think I'll be right in the middle of it."
He's been in the middle of a lot of majors in his brief career. Maybe he can work his way to the top. He'll be at the right venue for it.