Open Champonship 2021
British Open 2021: Phil Mickelson's ugly 80 and other surprises from Round 1 at Royal St George's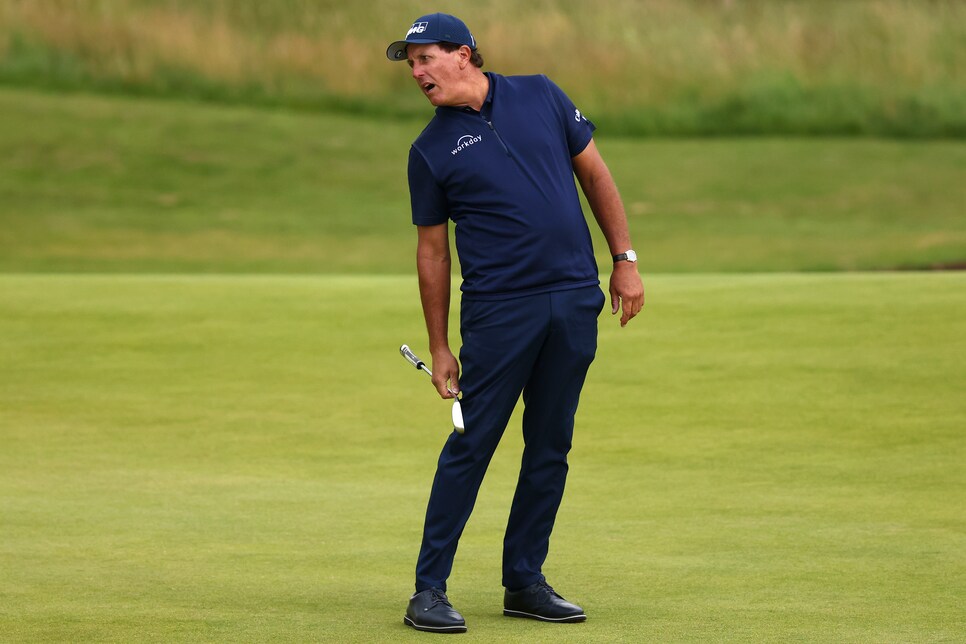 Phil Mickelson reacts after a missed putt on the 16th green during Round 1 of the 149th Open.
Charlie Crowhurst/R&A
All except the very late starters at the 149th Open Championship were treated Thursday to heaping helpings of Royal St. Gettable (nee St. George's), with greens more green and the winds less sweeping, leaving the par-70 layout set up at 7,049 yards in a rather vulnerable state.
Seven thousand yards? That's, like, 12 holes at Kiawah Island or Torrey Pines, where they played the PGA Championship and U.S. Open, respectively, earlier this year.
The results were not surprising. Forty-seven players broke par and 73 shot par or better. Seven players didn't make a bogey. Among those in red figures was a player whom we expect to break par and that was Brooks Koepka, who despite a bogey at the last shot 69. Seems like we're always talking about Brooksie in these majors, and that is to be expected when the guy now has 40 rounds in the 60s in major championships since 2016.
The surprising part of his day was reportedly declining an interview afterward. In addition to good scores in majors, this guy delivers direct hits in his interviews, so a lost moment in what was otherwise a rather eventful opening day.
All we have to say is watch out if Brooks is miffed after a 69. No one plays better with internal combustion motivation.
Here are eight other surprises from Round 1: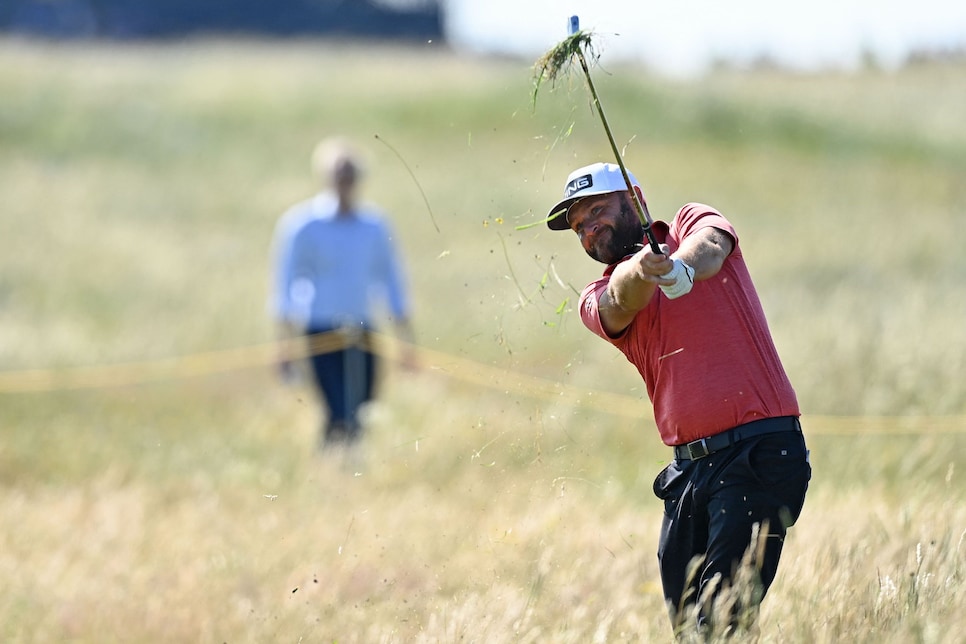 Andy Sullivan plays from the rough on the 12th hole during his first round of the 149th British Open.
GLYN KIRK
Off the Matt surprise: Andy Sullivan, 67.
A graphic displaying players with the most rounds of 75-plus in the Open since 2015 included Sullivan, who is tied with Dustin Johnson for third-most with five, thereby proving that not every comparison to the No. 1 player in the world is favorable. Thursday's handsome score came in just his 17th Open round, meaning nearly a third of his previous scores required advanced math. In fact, his 67 came on the heels of ignoble scores of 76-76-75 in his previous three rounds in the Open at Carnoustie and Portrush, respectively. Ranked 81st in the world, Sullivan gained entry as an alternate when Matthew Wolff took a pass. His performance Thursday was some kind of alternate reality.
Kickoff surprise: Jordan Spieth, 65.
New irons in the bag need a breaking in period. Or so goes conventional wisdom. Took Jordan, oh, about four holes. Shot lowest opening round since Birkdale in 2017, when he also scored 65 and went on to win. Still hasn't shot higher than 72 in any first round since he showed up in 2013 at Muirfield and started with a 69. The performance represents a bit of a breakthrough for the three-time major winner, who hadn't opened a major with a round in the 60s since shooting 69 in the 2019 PGA Championship at Bethpage. Nice having that trusty putter to lean on.
Surprisingly not that surprising: Stewart Cink, 66.
We might tend to categorize Cink's victory in the 2009 Open as having a "lightning in a bottle" quality, but the Georgia native arrived at St. George's with top-25 finishes in three of his last four appearances, and he was T-6 in 2007 at Carnoustie before beating 99-year-old Tom Watson at Turnberry two years later. (OK, Old Tom only looked 99 in the playoff.) A two-time winner this season, Cink is enjoying a resurgence at age 48 and that continued with his best score at St. George's and only his second bettering par in Kent compared to three 75s and a 77 among his previous eight rounds. Oh, and like Spieth, Cink equaled his lowest opening round from the year he won.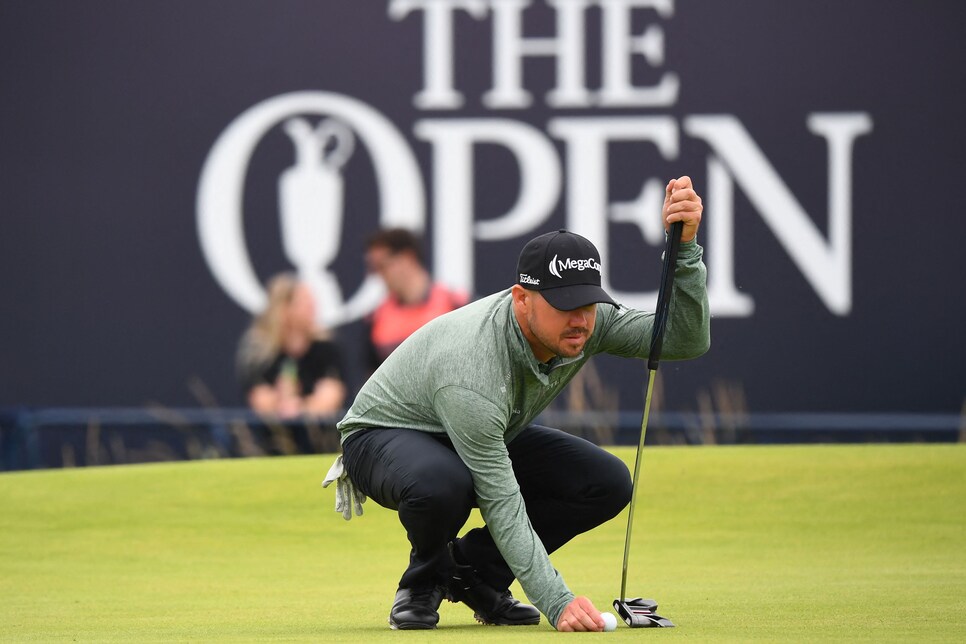 Brian Harman lines up his putt on the 18th green during his first round of the 149th British Open.
ANDY BUCHANAN
Big (smirk) surprise: Brian Harman, 65.
This diminutive left-hander hasn't rounded third and come home to cash a check in The Open since his debut in 2014, when he finished T-26 at Hoylake in 2014. Since then, the 5-foot-7 hunting enthusiast delivered a string of 70s hits, none of them representing a score below par, and missed cuts, four in a row at last count. Harman putted well on Thursday, but that's to be expected, looking at his stats on the greens this season. The problem has been finding them; Harman ranks 138th on the PGA Tour in greens in regulation, but at St. Gettable he got on 15 of them.
Big surprise (non-smirk division): Benjamin Hebert, 66.
Playing in just his third Open Championship (his first two were 11 years apart in 2008 and '19), Hebert, a 34-year-old Frenchman, didn't make a bogey. Ranked 262nd in the world, he has played in 14 events this year on the European Tour and has one top-10 finish, a T-7 at the Porsche European Open. Not to be confused with Lucas Herbert—he has, indeed, been confused with Lucas Herbert, and right there in the Open Player Guide, which says he got into the championship off his win in the Dubai Irish Open. Nope, that was Lucas Herbert. So he overcame an identity crisis as well as sparse Open experience to tie for third-best score of the day. Footnote: Hebert beat Herbert by four shots and one consonant.
Alarming surprise: Byeong Hun An, 67.
Look what this guy does when fully awake. Last we heard from the South Korean golfer he was voicing displeasure over his series of early tee times on the PGA Tour. But let this guy get a second cup of coffee and muffin, and he ties his second-lowest score of his Open career, bettered only by a 66 in the third round at Carnoustie three years ago. An has never started stronger in his previous seven Open starts, and he did it with birdies on his final two holes. Can't wait to see what he does with breakfast and lunch under his belt before his 3:54 p.m. local tee time on Friday.
Tabloid surprise (well, maybe not): Bryson DeChambeau, 71.
Proving that he and Brooks seemingly can never get on the same page, Brooks didn't talk after his 69 and Bryson said too much amidst a few brief observations after posting a score two shots higher. Can't blame his troubles on new caddie Brian Zeigler, and certainly can't blame himself. No, no, no. Equipment is sub-standard. "If I can hit it down the middle of the fairway, that's great, but with the driver right now, the driver sucks," he said after hitting four fairways, which was only two fewer than he found in the final round of the 2020 U.S. Open at Winged Foot, where he closed with 67 and won by six. Weird, right?
Skyrocket surprise: Phil Mickelson, 80.
Welp, this isn't going to help the Ryder Cup bid. It's one thing to shoot the highest score in the field and in your Open Championship career, but it's another when the scoring average is hovering around the age for full Social Security benefits (70) and you've got one of only two snowmen in the 156-player field. And it's still another when you fail to make a birdie doing it when you're kind of known for your ability to light it up, even at 51. In his 115th major, Mickelson sits outside the top 100 for just the 10th time. But he is the PGA champion. Truthfully, that fact seems even more amazing given Thursday's proceedings. For Phil, it was Royal St. Forgettable.
MORE BRITISH OPEN 2021 STORIES FROM GOLF DIGEST: