Equipment at the Open
British Open 2021: Jordan Spieth is switching irons for the year's final major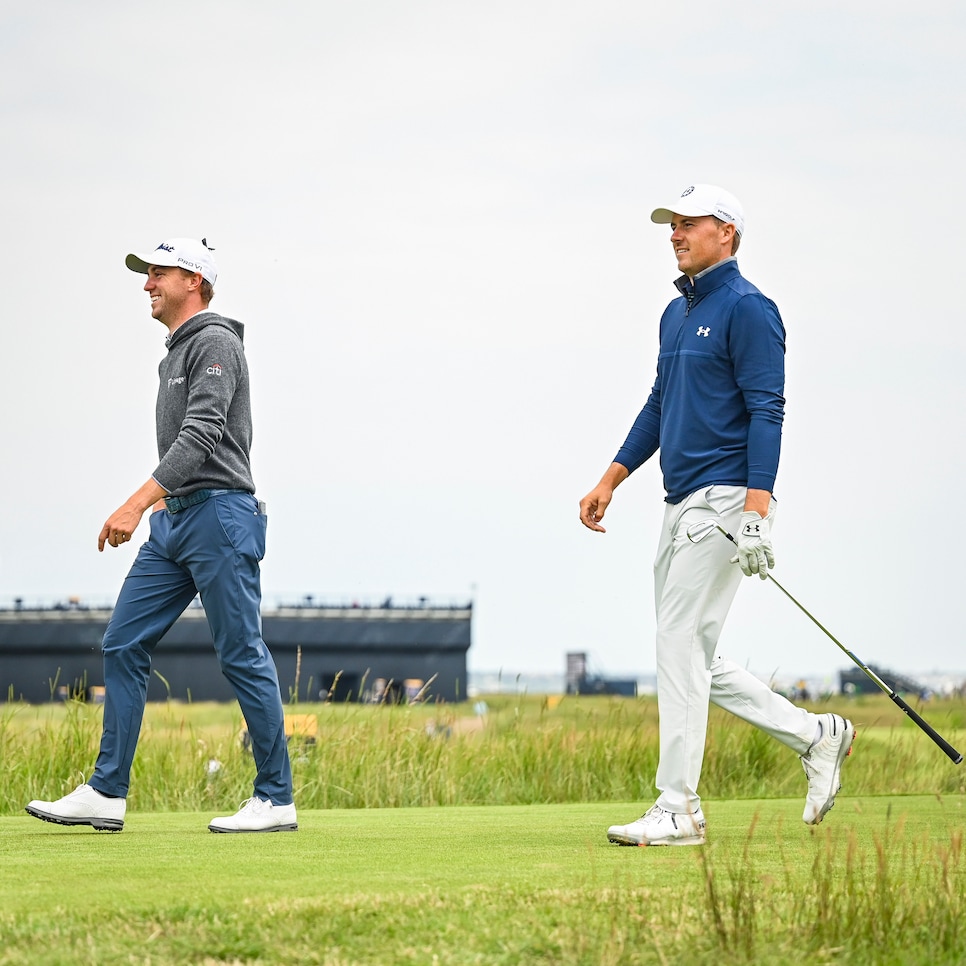 The Open Championship returns for the first time since 2019 and with it comes a likely feeling of déjà vu for one of the tournament's favorites, Jordan Spieth. Back at Royal Portrush two years ago, the three-time major champion used for the first time in competition Titleist's new T100 irons. Now, as he readies for the 2021 Open at Royal St. George's, he'll be making a change again, putting into play the company's latest version of the T100, which was introduced to the company's tour staff at last month's Travelers Championship.
According to Titleist, Spieth will be playing the new T100 4-9 irons with True Temper Project X 6.5 shafts. (A company rep says that Spieth actually left his old T100s home in Dallas.) Spieth has also been testing a new T200 2-iron with a Graphite Design Tour AD D1 105 X shaft and a T200 3-iron with a True Temper Project X 6.5 shaft this week at Royal St. George's. Those clubs, however, are game-time decisions for Spieth. Still, given the heroic shot he hit from the driving range at Royal Birkdale in 2017 with a Titleist 718 T-MB 3-iron it would not be out of character for Spieth to include at least one, if not both long irons.
Spieth, who first got to see the final prototypes during a company photo shoot the week of the AT&T Byron Nelson in May, has spent the last couple weeks at home testing the new irons and getting them dialed in for competition, Titleist's director of players promotions J.J. Van Wezenbeeck at the ready to field any questions via text or call.
"When we first introduced the new T100s to Jordan in Dallas, he commented immediately on the look and feel, how well they went through the turf, and how consistently they were flying," Van Wezenbeeck said. "Talking with him last week, as he was working through the set, he said his ball speeds were extremely consistent, and he was really happy from a visual standpoint."
Said Spieth in an email via Titleist: "[The] first thing you noticed is how they look, kind of the backside of the iron. You could see the color just kind of more matted out, and then a really clean back to it. Just very simple—stays looking almost like a blade with the forgiveness of a cavity back.
"I don't understand why you'd play any other iron to be honest," he continued. "I joke around, 'I'm not good enough to play the blades,' but in reality, I think we're just being smarter. I think we're just like, 'Oh, we can actually hit every shot that a blade can hit.' But that chance that we mishit them—which we're going to mishit a few shots in a round, even in a great round, the idea that it does carry that bunker and you make birdie on a hole where someone has to get up and down for par, I mean, it could be the difference in a tournament."
Of course, whether the move pays immediate returns remains to be seen. Although Spieth comes in as a popular choice at Royal St. George's, he finished T-20 at Royal Portrush G.C. in Northern Ireland in 2019, 14 shots behind winner Shane Lowry.
Find the right club for your game with our new Hot List interactive:
MORE BRITISH OPEN 2021 STORIES FROM GOLF DIGEST: